DAVE'S DIARY - 5 JUNE 2013 - JAYNE DENHAM FEATURE
RENEGADES AND OUTLAWS - NO VENOM IN DENHAM
"The day that she turned eight years old/ her mother said it's time to go/ joined that travelling circus show/ she was never ever coming home/ learned to break a horse and shoot a gun/ in a few years she was on the run/ a cattle thief just to survive/ when Jesse Hickman crossed that line." - Outlaw - Jayne Denham-Tamara Stewart-Drew McAlister.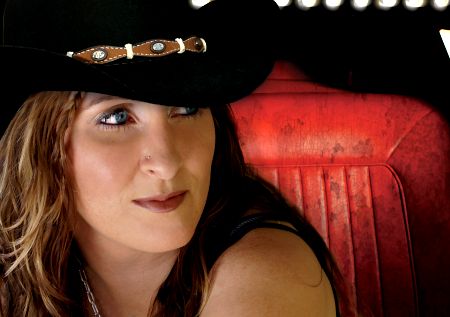 When Jayne Denham needed real outlaw women to beef up her third album Renegade she had plenty of historic heroines to explore.

She chose two female bushrangers who reigned in her home state NSW in separate centuries.

Jessie Hickman and Mary Ann Bugg earned tall tales when they rode high in the saddle in the Hunter Valley, way out west and further south in Sydney.

It's a vastly different horse power to the trucks and Utes that fuel the singer's new millennium songs.

Roughrider Hickman, who died in Newcastle at 46 in 1936, was also the subject of The Lady Bushranger - a 1996 book by Pat Studdy-Clift.

And Bugg, former wife and partner in crime of 19th century bushranger Captain Thunderbolt, preceded Hickman by half a century.

The mother of 15 children died at Mudgee at 33 in 1867.

So it wasn't hard to recreate the tragic tales of Hickman, abandoned to a circus at the age of eight, and Bugg - daughter of a transported convict shepherd - in song.

Denham, Goulburn Valley raised Tamara Stewart and Narrabri born Drew McAlister, turned those faded femme fatales into the historic focus of a salient snapshot of our history.

Their videogenic song Outlaw is a sibling of Note From A Soldier - an evocative World War 11 love tale from Denham's second album, Shake This Town.

"All of my albums I have one song that is something to do with the history of Australia," Denham told Nu Country TV.

"This is a very different story - but still a sibling of Note From A Soldier. My husband Paul was asked to film a mini movie about The Lady Bushranger book on Jessie Hickman.

That's where it all came from. He did it quite a few years ago. I had been aware of it a while and thought I'd like to write about characters in Australian history, seeing who I am as an artist, to cheer on the chicks, cheer on the female bushrangers. A lot of people don't know about them. Mary Ann was also better known for what she did with Old Captain Thunderbolt."

Although Denham is adept at turning history into song she is keen to lecture on it.

"You have to fit the facts in with good creative songwriting but I thought I hope they're not going to employ me to talk about the history of Australia," she joked.

"I'm just trying to write a song."

Denham is not sure if Outlaw will become a single and video.

"It depends on public reaction," Denham revealed.

"We have footage of the actress who played Jessie Hickman that Paul shot. We were able to use it for the album launch but not sure how it would roll out in a video. There's a lot of licensing stuff that would have to be cleared."
SPOUSAL SHELTER
"I can see the tractor scraping circles round and round/ sun slips up and finally slips away - coming down/ you've done the work of many men with those two hands/ mother nature hanging on your shoulder she's a heavy load." - Shelter - Tamara Stewart-Jayne Denham- Colin Buchanan.
Denham deepened her rural roots by moving to the bush and writing about her genetic love of trucks, cowgirls and bone crunching sports Rodeo and Roller Derby.

First single Shelter is a tribute to husband-writing partner Paul with whom she moved from Londonderry to a 10 acre farm-let at Hartley west of the Blue Mountains over a year ago.

"I wrote Shelter with Tamara and we gelled straight away and did really well together," Jayne added.

"She said how about we get together with Drew and it worked like a treat. Outlaw was the first song. We also wrote Renegade - the title track of the album together. With the album we had the title before we started writing. Outlaw was perfect because I was looking for songs that would fit under the umbrella of Renegade. We only wrote Renegade two weeks before we went in the studio.
"Paul and I moved to our own property over a year ago and now I truly understand how it feels to connect with soil you stand on," Denham says, "capturing love of the land and love of a farming couple through thick and thin being there for each other."

Denham made the video for Shelter at her home and environs.

It was all filmed in Hartley," the singer revealed.

"The kangaroo was on our verandah and back yard. All the big trees are in the street near where we live. The house is the Comet Inn - a bed and breakfast. At home we just have our plot, two dogs and Paul's got a tractor."
TRUCKING TRIO
"When I was little my dad was so big/ with his hands on the wheel of his shiny new rig/ and up in that cab I was as proud as can be/ and all the kids around here wished they were me." - Grew Up Around Trucks - Paul Denham-Garth Porter-Colin Buchanan.
Denham has long used trucks and Utes as a vibrant vehicle to drive her videogenic songs.

But Grew Up 'Round Trucks was also inspired by husband Paul - not her dad Don.

"Dad is a retired bridge engineer and when I met Paul his family had a business and he was driving trucks," Denham explained.

"He came up with the idea, wrote the guts of it and sent it to Garth (producer Porter) who finished it and made sure it fitted the album."

It rides well with Addicted To The Diesel that cemented her sponsorship by Wickham Freight Lines who provided her with her two touring trucks.

"I wrote that with Matt Scullion, whom I hadn't written with before, and Garth at his studio in Botany," Denham added.

"We had been talking about writing together for years and Matt had the title in his head and the riff, he's a riff master. I now have two Wickham Freight Line Trucks out there on the road now so that's absolutely fantastic. They have been an incredible sponsor. It's great they can help someone in country music."
SHANNON NOLL - BURNED BY FAME FLAME
"City lights are like a flame/ can lead you to fortune and fame/ light your face and shine your name/ but in a flash I've seen them turn/ can you leave you blinded and burned." - Beyond These City Lights - Shannon Noll-Lindsay Rimes-Simon Sharpiro.
Denham also duets with bush bred country rocker Shannon Noll on Beyond These City Lights - a Noll tune extolling his yearning for his agrarian ancestry.
"I met Shannon a few years ago when I was touring with the Noll Brothers," Jayne recalled.

"We kept bumping into each other at festivals. When I ran into him at the Urban country music festival I said I'm writing songs for my new album. He paused and said "I've got a song that I reckon would suit your music and your fan base.' He was really passionate about it. He wrote it about people from the country want to move to the city. He said the city gave him a lot for his life and career but he longed to go back to the country beyond the city lights. He just loved the song. He played it for me and I instantly loved it. The feedback I'm getting is it one of the best songs on the album but I didn't write it. To have him do it as a duet with is a bonus, really amazing. ABC is talking about it being a single."
RODEO AND ROLLER DERBY
"High on the shoulder, roped up tight/ we're gonna have a show tonight/ all pumped up in spurs and boots/ cowboys jumpin' out the shoot." - This Is Rodeo - Matt Scullion-Jayne Denham-Garth Porter.
Denham also covers two of her favourite sports on This Is Rodeo and Jam The Jam.

"I got invited to do the national anthem at the Professional Bull-riding Championships last year," Denham recalled.

"I happened to watch a lot more as I was in a songwriting zone at the time. I just happened to be sitting there and the bull-riders were gearing up and had the music pumping and I thought the energy of the music had so much to do with the rodeo riders getting ready. I went back to Garth and wanted the new album to be stronger and tougher and this was perfect to make it really country."
Almost as perfect as her rockabilly rooted Jam The Jam.
"I love roller skating, even in my video clip for Girls Of 75 there was footage of me in my little roller skates as a child," Jayne added.

"We wanted to shake up the style of music on the album and Paul said 'you should write a song that is rockabilly.' Roller derby girls are into rockabilly - that whole culture. Garth got so excited, He said 'my daughter is in the Sydney Roller Derby team so he said let's write a song about the culture of roller derby'. It's an incredible sport. The Sydney Roller team did a demo at my launch. I never did roller derby I'm too wussy. I like to write it from an observer's point of view. Whatever I think is cool I tend to write about. It's the same with Chick Ute. Paul has a Ute but it's not certainly not a chick Ute. We wrote it about girls who drive Utes because I think it's cool. I wish in my wildest dream that I could be that tough and that cool."

Although the Sydney Roller Derby team performed at Jayne's CD launch at Rooty Hill RSL there was no sign of another outlaw woman - Prime Minister Julia Gillard who beat Denham to the punch.

"I had friends call up and say 'you were on the news the other day,'" Denham explained.

"I said 'what are you talking about?' They said Julia was at Rooty Hill RSL standing in front of your poster.' So she was there in spirit."

So was outlaw Jessie Hickman.

"As I was singing Outlaw there was video footage of the actress playing Jessie in The Lady Bushranger.

Denham is touring nationally in July and August to promote her ABC album Renegade.
ELIZABETH JESSIE HICKMAN aka THE LADY BUSHRANGER
Elizabeth Jessie Hickman (nee Hunt) was born at Burraga, NSW, September 6, 1890.

When she was about eight years old, she was given to a travelling show, Hylands Horse Show where she learned to be a trick rider.

Later this skill was to become very useful when she became a champion rough rider.

It has been claimed that she became an Australian Champion Female Roughrider in 1906 but this is not so.

No organisation with the capability of bestowing such a title came into existence in Australia until the 1940s. However, her skills were put to good use - or perhaps not so good use - when she became a cattle duffer in the area now covered by the Wollemi National Park NSW.

Jessie joined Martini's Buckjumping Show when it was formed in 1901 and made quite a name for herself as the show's star female roughrider.

Contrary to earlier belief, Jessie was never Martini's mistress, never became ring-mistress of the show following Martini's death and never went under the name of Mrs. Martini.
It was an entirely different woman that filled these roles.

Her name was Julia but she performed in the show in the early days under the name of Miss Devine - a name that Jessie never used.

After Martini's death in 1907 and the sale of the show in 1910, Jessie was under the protection of an English sailor, Ben Hickman.

The two had a son - a son who was not taken from Jessie whilst in prison but given at birth to a friend of Jessie to raise as her own child.

After the birth of her child, Jessie turned to a life of petty crime in Sydney which resulted in her serving two terms in Long Bay Gaol 1913 to 1914 and 1915 to 1916.

World War 1 has started by then and Ben had enlisted in the Australian Imperial Forces and sent to France where he was seriously wounded being shot twice in the chest.

Ben returned to Australia following the war to marry Jessie in 1920.

It was a stormy marriage and they separated in 1924.

During those years Jessie had met a cattle duffer when she visited her brother at Kandos.
This meeting led to her taking up her cattle-duffing career.

She became an excellent bush woman and her escapes and pranks made miserable the lives of the police stationed in the area.

They were the stuff that legends are made of.

Finally, in 1928 the police caught up with her and she was put on trial for cattle duffing.

Not one to stick to closely to the truth, Jessie convinced the jury at her trial that the cattle had strayed into her herd without her knowledge.

Whether or not this was true, she was acquitted.

This final brush with the law made her decide to restrict her operations.

Ben had divorced her during the year and this, together with her failing health and increasingly erratic behaviour tipped the scales in favour of a much quieter life.

Despite the myth that she died of pneumonia, Jessie died of a brain tumour in 1936 and is buried in an unmarked pauper's grave at Sandgate Cemetery, Newcastle.

Ben remarried and claimed that he found happiness with his second wife - something he had not done with his first wife, Jessie.

He died at The Entrance NSW at the age of 89 and was cremated and his ashes scattered at the Northern Suburbs Crematorium, Sydney.

Their son died of cancer in 1996 and is buried in Nowra Cemetery, NSW.
*******************************
Our thanks to Di Moore for the updated biography here of 20th century Aussie bushranger
Jessie Hickman.

Di Moore is Jessie's grand-daughter, now a retiree living at West Wyalong. She can be contacted by phone on 6972 3152 if you have factual information about her grandmother.

Di is seeking a publisher for her biography of Jessie and hopes to have it available in October, 2014.
The full title of the book is Out of the mists, The Hidden History of Elizabeth Jessie Hickman

MARY ANN BUGG
Mary Ann Bugg was eldest child of convict James Bugg and his Aboriginal wife Charlotte and born at the Australian Agricultural Company's Berrico outstation on 7 May 1834.

A further seven children were born in the aftermath, with her parents marrying in 1848.

Mary Ann returned to her family at Berrico in the mid-1840s where she was "brought up in settled habits like other children on a station".

On June 1, 1848, she married ex-convict Edmund Baker at the Anglican church at Stroud.

In July 1851, Mary Ann and new partner, shepherd John Burrows, had a son James born at the Turon River.

By February 1854 when their second son, John, was baptised, Burrows was shepherding at Louee station near Mudgee.

The couple separated in 1854 or 1855, again for unknown reasons.
By mid-1855, Mary Ann was living with ex-convict James McNally.
A daughter Mary Jane was born early in 1856, a son Patrick William late in 1857, and another daughter Ellen in March 1860.

Early in 1861, Mary Ann fell pregnant to ticket-of-leave convict Frederick Wordsworth Ward who had been granted permission to reside in the Mudgee district until his period of servitude expired in 1866.

In mid-1861 Fred, best known as Captain Thunderbolt, took Mary Ann back to her father's farm at Monkerai where their daughter Marina Emily was born in October 1861.

But Fred was not around to greet the new arrival.

Ticket-of-leave regulations decreed he remain in his muster district and attend a three-monthly muster, so he broke one rule when he left the district, and broke another when he failed to return in time for the muster.

His ticket-of-leave was revoked - he compounded the problem by riding in on a stolen horse and was sentenced to another three years servitude. He returned to the Cockatoo Island penal settlement soon afterwards.

Fred and Mary Ann fled to the Culgoa River, north-west of Walgett, where they camped until early 1865 when Fred joined forces with another three villains and began robbing in the district.

Mary Ann was apprehended by police in March 1865 after they found stolen goods in her camp but she feigned labour and the police were forced to leave her at Wilby Wilby station.

Fred and his gang rescued her early in April and took her down to Tamworth where Fred engaged another part-Aboriginal woman to assist with her delivery.

He and his gang then returned to bushranging.

Their daughter Eliza was born in mid-1865.

In March 1866, the police encountered the Wards again at their Pigna Barney Creek camp in the Barrington Tops.

Mary Ann was taken into custody for vagrancy.

After her conviction, a Parliamentary outcry led the Attorney General to recommend release on the grounds the charge was not properly prepared.

Early in 1867, Mary Ann was apprehended by police for being in possession of stolen goods.

Although she claimed to have purchased them, she was unable to produce receipts so she was again sent to gaol.

A concerned magistrate looked into her case and found that a shopman could attest to her purchases. Again she was released from gaol.

Mary Ann fell pregnant again late in 1867 and their son Frederick Wordsworth Ward junior was born in August 1868.

By that time, Fred and Mary Ann had separated, and she was working at Griffin's Inn at Carroll.

In 1869 Mary Ann encountered John Burrows again and they settled together in the Mudgee district, spending the rest of their lives together.

The last of Mary Ann's fifteen known children were born in the 1870s.

In her final years - presumably after Burrows death - she worked as a nurse to support herself.

She died at Mudgee on 22 April 1905 at her home in Gladstone Street, Mudgee, her cause of death listed as "senile decay".