DAVE'S DIARY - 28 JUNE 2011 - KINKY FRIEDMAN & VAN DYKE PARKS - MELBOURNE TOUR 2011
KINKY FRIEDMAN-VAN DYKE PARKS
TOFF IN THE TOWN & PRINCE OF WALES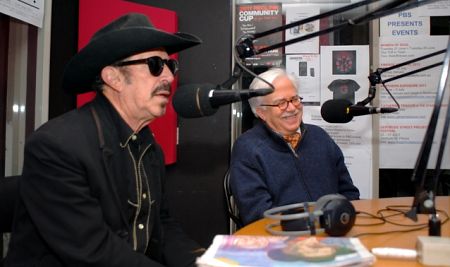 Kinky Friedman & Van Dyke Parks - PBS Studio - photo by John Karpik
The winter moon was in the fourth house and the sun was homeless and conspicuously absent.

Yo, a creative cosmic collision when singing Texan crime novelist Kinky Friedman and touring partner Van Dyke Parks descended from volcanic Chile ash to land on the mean streets of Melbourne.

First there was their downtown digs - one of two apartment blocks named Medina in Flinders St.

Just due west of the Vinnies soup kitchen that was doing a roaring trade. And south east of Etihad stadium where Kevin Rudd was headlining the Vinnies CEO sleep-out for the homeless the following night.

The Kinkster, CEO of Kinkajou Records, declined the offer to sleep on cardboard with 200 high profile peers including Kevin Rudd - an evictee from Boganville in national capital Canberra.

Friedman, 66, was enjoying the sleep of the just at a Melbourne Medina - he had roughed it under the stars at another Medina many times.

That Medina is where The Kinkster hangs hat, cigar, cats and dogs when home on the range at his Echo Hill ranch in the Texas hill country.

The 400-acre ranch, celebrating 60 years in the Friedman family in 2012, doubles as a holiday camp for disadvantaged city students and Utopia - a shelter from the storm for homeless canines.

Medina is also the Texas apple capital 24 miles west of Kerrville - refuge of tribes of Kerrverts in the Bandera county hill country.

But at this Yarra front Medina there was no sign of refugees, canines or Kerrverts of any persuasion.

Kinky was hungry and requested Chinese fish - across but not from the Yarra - at Crown Castle where pokies' pawns and prawns outnumbered royalty every night of the week in this chess tourney.

A short stroll through the ground floor gambling graveyard convinced The Kinkster he would find more fortune at Lucky Chan's.

He chose flounder - not the Bobby Braddock song I Lobster But Never Flounder.
THURSDAY TOFFS IN TOWN
Word association is a lethal weapon for comedians - especially when the first gig is advertised as The Toff In Town.

The Toff In Town is an upstairs restaurant-bar of some repute at Curtin House in Swanston Street.

Easy to find when the promoter Adam Yee is handy.

But a slip of the tongue or a hearing abnormality can be disastrous for weary world travellers.

Just 100 metres west of the Medina on Flinders St was another upstairs venue with truly similar name.

Yes, the famed Top Of The Town - a plush bordello described by some as a house of ill repute.

It was an ideal opening for Van Dyke to take his baby grand all the way to the Top and tickle the damsels' ovaries.

Piano players in brothels were popular features in days of yore.
But Parks, 68 and holding, was deprived of such ribald glee - instead he tickled his ivories up on Swanston Street.
There was also a photographic record of the Negro penis signing at the scene of the rhyme - courtesy of Brunswick bon vivant and audio-visual ace Kip Karpik who was on the road again with The Kinkster.

Karpik also scored a scoop at David Heard's Acid Country show on PBS-FM by capturing the artists in the studio with a deaf dog.

It's not clear if the Acid Country matinee caused as much mock shock as Brian Wise's Off The Record interview on RRR-FM.

But it was at the Toff - not the Top - where we found keyboard king Van Dyke making final adjustments to a substitute piano at sound check when the baby grand wouldn't fit into the slimline lift.

Maybe the Top Of The Town would have provided a wider opening for a baby grand pianist.
Not so for the hungry novelist taking an opportunity to sample his cigar as an appetiser on the Toff balcony that overlooked the majestic mystique of the newly wed Doyle mall down below on windswept Swanston Street.

No army marches on an empty stomach so The Kinkster inspected those culinary choices beyond the passing parade of trams.

In direct line of sight from the balcony vestibule were three well-lit shop fronts - Vietnamese and Thai restaurants and Off Ya Tree, offering body piercing, tattooing and other exotic experiences.

The Kinkster already had the munchies so he declined the opportunity of tree offerings and settled for Thai treats.

VAN DYKE PARKS PIANO AT TOFF
Meanwhile back at the ranch there was a light in the Toff tavern.
When the curtains opened at Curtin House the pianist in the spotlight was resplendent in multi-coloured bowtie, Geelong Grammar light blue shirt and pressed denim in traditional faded blue.

Mississippi born and Louisiana raised Van Dyke may have long called California home but reached to his roots to resemble a Dixie colonel.

Brisbane double bassist Robert Davidson, spiritual and musical guide of sorts, accompanied Parks as he strolled back through time to an era when antebellum mansions and southern belles rang for their muse.

Parks patter was soft and sweet.

< photo by John Karpik
"I knew Kinky when I was a brunette," quipped the artist who was born in Hattiesburg and raised in Lake Charles and chose a cameo of Waltzing Matilda as his stage intro.

Van Dyke did rabbit gags in his entrée for the jaunty overture to Jump and Opportunity For Two - his album-length interpretation of the Uncle Remus Brer Rabbit tales.

"These are the survival tales of a rabbit but I have no sexual expectations tonight," Parks joked.

He spent almost an hour exploring highlights from a career that embraced an endless variety of musical forms and styles.

He also joked about his cult status among promoters.

"They say 'who is Van Dyke Parks?'" he explained, 'get me a young Van Dyke Parks.'"

He added: "we're going forward because we can't find reverse."

The artist honoured the 19th century American composer Louis Moreau Gottschalk - the "Chopin of the Creoles" with Night in the Tropics.

"This was New Orleans circa 1857," he said of a song by the composer who died at 40 in exile in Rio after collapsing on stage from malaria and reportedly taking an overdose of quinine three weeks later.

He also delved into romantic nostalgia in Wings Of A Dove - not the Bob Ferguson penned Ferlin Husky hit used in the 1983 Robert Duvall movie Tender Mercies.

And then there was Orange Crate Art - title track of his 1995 album with Brian Wilson.

"Brian had a major impact on me in the seven short months I spent with him," the artist revealed of the Beach Boys legend with whom he wrote the group's Smile album - a psychedelic epic.

He also performed an impassioned tribute to late bluegrass master John Hartford with Delta Queen Waltz.

Van Dyke branched into calypso with his jaunty foxtrot FDR in Trinidad and environmental plea Cowboy.

In his entrée for Cowboy - he denounced the evolution of Hawaii from natural beauty to a land of golf courses after the 1893 dethronement of Queen Lili'uokalani.

He explained the United States got the Hawaiian territory by aiming a cannon at the Queen adding that he's "obsessed by means by which we got here, and to question that."
JACK NICHOLSON AND STEVE YOUNG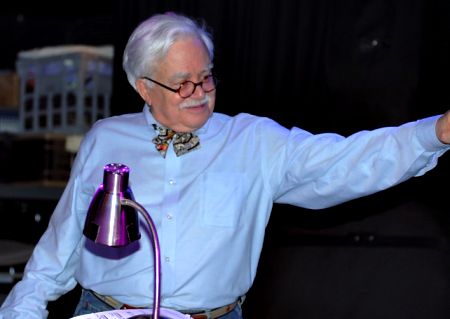 photo by John Karpik
Van Dyke revealed that when he was broke he approached a young Jack Nicholson to save his bacon by scoring a movie.

Parks also performed Sail Away then All The Golden - his tribute to the frequent Georgian born Australian tourist Steve Young from his eclectic 1968 album Song Cycle.

"When I was 24, I didn't know anything then, but I wrote this song for Steve Young - a great American songwriter," he explained.

He also wrote the liner notes for Steve's 2000 album Primal Young. Steve toiled as a postman in an era that included working with Parks in the Greenwood Country Singers.

Van Dyke later played accordion on Angel Of Lyon and Silver Lake on Young's 1993 album Switchblade Of Love and Jig, Scotland Is A Land and Little Birdie on Primal Young.

It was no surprise to learn Van Dyke appeared as a child actor in 1956 Grace Kelly movie The Swan and had recurring roles on Jackie Gleason TV show The Honeymooners.

The pianist's session work, movie and TV score composition and writing for artists diverse as Beach Boys, Randy Newman, Cher, Bonnie Raitt, Everly Brothers, Ry Cooder, T-Bone Burnett, Divinyls, Little Feat and the late Phil Ochs and Tim Buckley.

He also played a lawyer and wrote the music for 1990 Nicholson movie The Two Jakes, another Nicholson film Going South and had acting roles in Popeye and the Twin Peaks TV series.

Movie and TV shows featuring his music included Wild Bill, Brave Little Toaster, Casual Sex, Bastard Out Of Carolina, Private Parts, The Jungle Book, Out On A Limb, The Company, Next Door, Club Paradise and Harold And The Purple Crayon.

As impeccable as his CV may be the multi-talented artist demonstrated a little humility - he helped stack stage-side chairs at the end of the show.

It was the far cue for jovial Jan Juc journeyman Peter O'Keefe to lead a nocturnal posse corralled by Van Dyke's partner Kinky to the exotically named Celestial Lane.

The lane - the reported birthplace of Chinatown - was also home of the Cantonian culinary hotspot - the Supper Inn.

So it was fitting that The Kinkster hosted a dinner for his God-daughter Pia Akerman - a journalist for The Australian.

Pia's pa Piers - a character in Kinky's novels and former L.A flatmate in the seventies - was set to appear on ABC-TV Sabbath show The Insiders hosted by former Chiltern footy star and Vinnie's CEO Sleep-out speaker Barrie Cassidy.

But now it was Pia - not the News Ltd executive columnist Piers - who had the Kinkster's full attention as O'Keefe expanded on his one time career as a chef in Austin, Texas, by impersonating a dumb waiter.

THE KINKSTER AND FRED NEGRO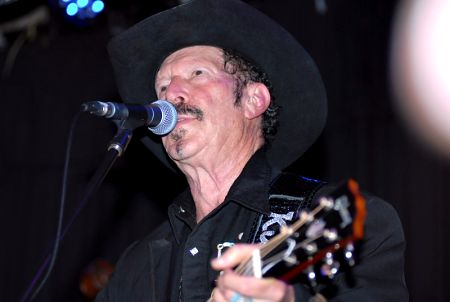 photo by John Karpik
Van Dyke's touring partner Kinky probably needs no introduction - the icons collided at a Jimmy Webb birthday party more than 40 years ago.

The collision destined Parks to be a frequent member of The Kinkster's Texas Jewboys out on the Lost Highway.

They co-wrote Take It Easy Trailer Park on Friedman's 1983 album Under The Double Ego and Parks played on live cuts of Homo Erectus, Asshole From El Paso and Wild Man From Borneo on 1992 disc Old Testaments And Revelations.

They sharing billing and occasionally the stage at the two Toff shows that were punctuated by a concert at road works ravaged St Kilda venue The Prince Of Wales.

There was no sign of Timbertop refugee Charles, second spouse Camilla or their mounts.

Horseback may have been a more direct route and means of travel to the St Kilda show.

Kinky opened with Nashville Casualty And Life - one of his serious pearls in the snow.

"This one's about honour," The Kinkster advised, "get on her and stay on her. This is a little thing I had out a few years back but I had to put it back in. I send it out tonight to my favourite artist - Freddie Negro. I said I'd sign anything but bad legislation. Then a few years back it wasn't a great career move to sign Freddie's dick. It wasn't a great career move but it does rival the time I signed a man's scrotum in Scotland. My definition of an artist is a man who is ahead of his time and behind on his rent. My other favourite artist is John Callahan who was bugled to Jesus last year."

Callahan, who became a quadriplegic at 21 after booze-fuelled car crash, died at 59 on July 24.

He drew black humour cartoons by clutching a pen between both hands - his quasi memoir was titled Will The Real John Callahan Please Stand Up?

Two animated cartoon series have been based on Callahan cartoons. Pelswick - a 2000 children's show was on Nickelodeon - and Quads is a 2001 Canadian-Australian co-production.

A proposed biographical movie, with Robin Williams in the title role, was planned in 2000 but never produced.
VAN DYKE AND RICK PERRY

The Kinkster also paid tribute to touring partner Van Dyke.

"I'm getting up in years myself," Kinky confessed, "I look up to Van Dyke for wisdom and advice and get very little, I might add. I'm 66 but I read at 68 year-old level. I'm too young for Medicare and too old for women who care. Because of my advanced years I have worked out my last will and testament with my lawyers. When I die I'm going to be cremated and the ashes are to be thrown in Governor Rick Perry's hair."

The Kinkster ran against Republican Governor Perry in the 2006 Texas Gubernatorial campaign as an independent.

Perry recently scored headlines for having used a handgun - concealed in his shorts - to shoot a coyote who menaced him and his Golden Retriever while they were jogging in state capital Austin.

Kinky was blessed by the absence of coyotes on his tour bus during his run for that head job.

"It was a very long campaign," Kinky added, "running as an independent is tough when you have the Crips and the Bloods. If we had - what you have - mandatory voting in Texas I would have won. The crowd always picks Barabas - they say kill Jesus, pick Barabas. You know we haven't heard a lot from Barabas over the years. He never saved a soul, never won a football game.

Instead I was endorsed by Willie Nelson.
Willie gave me some very good advice before the election. He said if you're ever going to have sex with an animal always make it a horse because that way if things don't work out at least you've got a ride home. I have only two things of interest in life - Libya and Charlie Sheen."

The Kinkster performed feminist anthem Get Your Biscuits In The Oven (Get Your Buns In The Bed) and dedicated Lady Yesterday to John Walsh - "the world's most dangerous Albino" and now head of the ESPN cable network.

PASS THE CIGAR TO WILLIE
The artist performed Autograph before promoting his cigar company with a parody of smoking laws.

"There's a bunch of countries - Japan, Korea, Israel, France, Italy, Spain, Portugal and Greece - that have a much higher smoking per capita than Australia, or America. Also every one of those countries has a longer life expectancy than Australia. The only thing we can conclude from this is that speaking English is killing us. Politicial correctness means if a new Richard Pryor walked in we couldn't make him a star. Or Lenny Bruce or Mel Brooks or George Carlin."

The Kinkster performed his timeless political correctness parody They Ain't Making Jews Like Jesus Anymore and dedicated Homo Erectus to Vinnies marketing and fundraising manager and photo-journalist Carol Taylor and her elderly partner.

Then it was Sold American and a gracias to the support act Puta Madre Brothers with a warm invite to Texas where "Jesus reportedly told the Mexicans don't do anything until I get back."

David Heard & Kinky enjoy a smoke outside
PBS - photo by John Karpik
Next it was back to Shotgun Willie Nelson - one of two Texans about to record another Kinky tribute album.
The other is Jesse Dayton.

"The only three things of interest to Willie are his music and drugs. He got busted on his bus coming across the Mexican border. I saw him right after the bust. He looked terrible - he looked like he just lost 6 ounces. Later that day was a rare spectacle of Willie Nelson in handcuffs signing autographs for law enforcement officers. Willie's the hillbilly Dali Lama.

The only other area of interest for Willie is the sport of golf. I myself don't play golf - the only two good balls I ever hit was when I stepped on a garden rake. Willie has this golf course outside of Austin. A woman came in and was complaining she had been stung by a bee. The golf pro said 'where did it sting you?' She said 'between the first and second holes.' The golf pro said 'well, I can tell you right now, your stance is too wide."
OSCAR WILDE

Then it was time for the next tune.

"This is the first pro-choice country song ever written," the artist said.

"It's probably the only pro-choice country song. During the campaign I supported gay marriage. I said they had every right to be as miserable as the rest of us. The interesting thing I also supported prayer in schools. You won't find any politician in Australia at any level who supports gay marriage and prayer in schools. I was against wussification in schools. I wanted the Ten Commandments put back in public schools. I said put em back in - just call them the Ten 10 suggestions. About that time they had a campaign by undercover cops to arrest drunks in bars in Dallas. That's wussification of the worst kind. I pointed out the last time Oscar Wilde was arrested was by undercover cops. I think I was the only candidate who even mentioned Oscar Wilde. Oscar was busted in 1895 in a hotel bar in London by undercover cops. The undercover cop came up to Oscar who was really walking on his knuckles. He said 'Oscar Wilde' and Oscar says yes. The undercover cop says 'do you know who I am?"' Oscar turned to the barman and said 'good God, there's a man here who doesn't know who he is.'"

The artist then peformed Rapid City, South Dakota, and introduced Ira Hayes - a "Native American Thanksgiving prayer."

"I don't think you have Thanksgiving here," he added.

"Neither do The Native Americans. The Native American Thanksgiving prayer is 'thanks for nothing.' The Native Americans also believe you can't own land, you can't own a house, a horse, river or a waterfall. The only things Native Americans can own is a casino. This is the true story of a Native American hero - Ira Hayes."

The Kinkster praised the Internet for making his novels available as audio books and E-books.

"You will also be able to read my Texas Monthly columns - Drinker With a Writing Problem. That's the good side of The Inernet. There's also a bad side - a dark side. Say there's a 57 year old pedophile in New Jersey who pretends he's a 27 year-old surfer from San Diego to a 15 year old girl in Wyoming who really is a middle aged vice cop in Miami.

Don't get me wrong folks I despise paedophiles as much as anybody but you do have to admit they always slow down in school zones."

TOM - THE NAVIGATOR
By now it was time for a reading from Kinky's latest book - Heroes Of A Texas Childhood.

The Kinkster chose The Navigator - a chapter on late professorial DFC award winning father Tom.

"Writing this book - a non-fiction book - l discovered there's a very fine line between fiction and non-fiction - and Van Dyke and I snorted it in 1974," the author revealed.

"When I'm Governor of Texas this book will be mandatory reading. This is a story about my dad who died 10 years ago."

Parks and Davidson rejoined The Kinkster on stage for a cameo on Wild Man From Borneo before his encore - the evocative Marilyn & Joe love story with obligatory audience whistling.

"Whistling can some times be a cosmic experience," he added, "some times it can be very tedious."

And then there was a tribute to Kinky's favourite songwriter.
"This is a song by my favourite songwriter who died in obscurity," The Kinkster explained.

"Woody Guthrie wrote so many songs that were visionary. This song he wrote from a newspaper story and it reflects exactly what's happening in America today. The bad guys are no longer the gangsters. Now they're the banksters. It's probably here as well. This is a true story about a great outlaw in Oklahoma - Pretty Boy Floyd."

The morning was still young when the audience decamped with swags of autographed books, vinyl and other memorabilia.

That sure looked like Pretty Boy Floyd directing traffic from Fitzroy St road works to young lasses displaying their wares under the chilled red lights of Disrobe and Grey Streets.