DAVE'S DIARY - 8 JUNE 2009 - KEITH ANDERSON
KEITH ANDERSON - HARVESTING HEARTBREAK
"I've changed the pre-sets in my truck so these old songs don't sneak up/ but they still find me and remind me, yeah you come back that easy." - I Still Miss You - Keith Anderson-Tim Nicholls-Jason Sellers.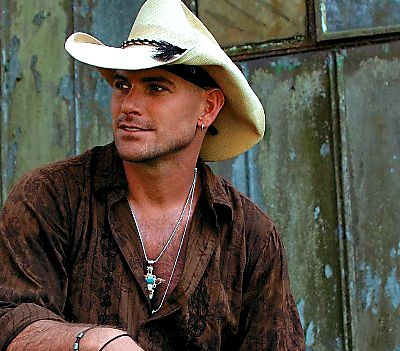 Oklahoma born singer-songwriter Keith Anderson has good reason to mine melancholia in his music.

He lost his mother Janice to cancer last year and his voice for several months this year.

Shortly afterwards an actress model from one of his videos was murdered near Memphis.

And his producer - Boy Howdy icon Jeffrey Steele - also lost his teenage son in an accident.

But now after recovery from vocal surgery, the husky singer is touring to promote second album C'Mon for Sony.

Anderson, a prolific writer, penned I Still Miss You about the loss of a woman.

But just as the song soared the charts to Top 15 it took on more significance as his mother died of cancer on June 30, 2008.

Shortly before she died he filmed the song video with Austin-based video director Traci Goudie.

"It was just a hard day emotionally," Anderson said of the video that features on Nu Country TV a year later.

"Right before that, we'd almost lost my mom for the first time. It was a really fragile time.

We'd just cancelled some shows and had to go into Dallas, where she was at the time, because it just looked horrible for about two weeks. She rebounded and got strong enough to have a second brain surgery and was luckily around for another two and a-half months.

It was just a very, very emotional time for me to be there, and so it's not acting in that video. There was a lot of emotion and intensity in those performances."

Goudie wrote a treatment embracing the broadest interpretation of grief.

Much of the video was shot in black and white - Anderson's skin tones are preserved as he plays the piano and a blue backdrop is featured in a series of shots with Keith in front of chains and scaffolding.

"I was inspired by a photo that I saw of David Bowie," Goudie said.

"To me it was like this masculine version of a narrator who's in purgatory, light blue, and he's within the scaffolding that's almost like a cage."

Goudie knew nothing of Anderson's personal torment until just days before the shoot at a downtown Nashville soundstage.

She decided to let him sleep late the day of filming and gave him a mid-day call time.

"Any artist you call and say, 'You don't have to be here at 6 a.m.,' is going to love you more," she said.

But Anderson still put in approximately seven hours on the set, with the song reminding him the entire time of his mother's impending fate.

"I would almost feel these waves of emotion coming out of him as he was performing," Goudie added.

"It translates, like on a couple of the shots when he makes eye contact with the camera from the piano. It's a tsunami."
BAND PEERS SOLACE
"I've talked to friends, talked to myself/ I've talked to God, I've prayed like hell/ but I still miss you/ I've tried sober, I've tried drinking/ I've been strong and I've been weak/ but I still miss you." - I Still Miss You - Keith Anderson-Tim Nicholls-Jason Sellers.
Anderson found solace with band members.

"Seven of the 10 guys in my band and crew have lost their mothers in the last three years, and six of those guys lost their mothers to some form of cancer," Anderson added.

"So when they say, 'We're here for you if you need to talk' or 'Man, I know what you're going' through,' they do. And it's those guys that I lean on when it's time for that song. I always walk back, wipe my face off, get a drink of water and just look at those guys for strength."

Anderson, a native of Miami near the Ozark Mountains in Oklahoma, grew up more interested in athletics than music.

Then, at 14, he saw girls go crazy when his brother sang a Dan Fogelberg song at a school talent show. After that, he learned to drum and began playing in his brother's band.

He was first in his class at Oklahoma State University, where, in 1990, he earned an engineering degree, compiling in the process a 3.9 grade point average.

One of his brothers is a rocket scientist.

"You can be a genius," Anderson retorts, "and still like to have sex and party."
BASEBALL INJURY
"I've got half a jar of moonshine/ some whiskey and some cheap wine/ left over from the last time you said your last goodbye." - Break My Heart - Keith Anderson-Bob DiPiero-Jeffrey Steele
Anderson tried his hand at professional baseball before an injury forced him to quit and choose music.

His first showcase for a pro team destroyed his chance of playing in the big leagues.
The Kansas City Royals asked him to work out for them, and he ended up tearing his rotator cuff at the beginning of the tryout.
"I was invited to Royals Stadium to try out there, and was just nervous," he recalled.

"I was one of the youngest kids on the field, and I had a real strong arm, and until I warmed up, it was a pretty wild arm. I didn't take the time to completely warm up, and the second throw to third, I knew I'd really hurt it, and so that was the end of that. And then the next season, I was just having to doctor it up with all kinds of stuff - including shots - and had a great season and was invited back and had a really good tryout that year, but once I got to college, I had to have surgery on it and just didn't recover."
Anderson did body building during rehab and was runner-up in Mr Oklahoma contest while working as a model.
Then, armed with his degree, Keith moved to Dallas and joined a large construction firm.

He became so immersed in local music he quit his job after a year and a-half and started performing.

By 1993-94, he played the Grapevine Opry and three years later moved to Six Flags Over Texas.

On the side, he worked as a landscaper, personal trainer and model.

He even formed a country duo, the Romeo Cowboys, to create and deliver singing telegrams.
BEER RUNS IN NASHVILLE
I can't stop thinkin' what the Hell they were drinkin'/ When they made this county dry/ I got a week long thirst and to make it worse/ Lord its my turn to drive." - Beer Run - Keith Anderson-Kent Blazy-George Ducas-Kim Williams
Anderson visited Nashville in 1996 to record a six-song album of his own material.
While there he met Texan singer-songwriter George Ducas at a football game and they began writing together.

Two years later, Anderson moved to Nashville.

His talent for networking soon had him co-writing with some of the biggest names on Music Row.

"It's like I've had an attention deficit disorder life," he recalled. "I've done about a million things. When you decide you're going to be a musician, you go from making an engineer's salary to basically nothing. You've got to have a lot of help along the way - financially, emotionally and spiritually."

In 2000 EMI Music Publishing signed Anderson to a contract.

"It was one of those deals," Anderson explains, "where nobody in town thought that I was really that great a writer. Then Garth and George Jones cut Beer Run, suddenly every publisher in town thought I was the greatest writer in the world. But a lot of people just wanted me for that song and those potential awards."

Gary Overton, head of EMI/Nashville kind of saw past that and saw there was a lot more there than just that song."

Anderson recalled how he helped write Beer Run and got it to Brooks.

"Joe Don Rooney now of Rascal Flatts is a buddy of mine," he says.

"We grew up in the same hometown area. We were hanging out, and he said he was going to be writing with Kim Williams the next day. He called Kim and asked if he could bring me to the writing session and he did. We all hit it off. Kim found out that I wrote a lot with George Ducas and was a fan of his. So I set up a time for me and him and George to write. First song we wrote together was Beer Run. It was Kim's daughter's idea. She came back from college, and she used the term. We'd all heard the saying but never thought about writing a song about it. So we wrote that and Kim, who was obviously big in the Garth camp because of previous cuts, sent it to Garth. He loved it but wanted to rework the whole song into more of a George Jones kind of a style. At that point Kent Blazy came in and helped finish the rewrite."

THREE CHORD COUNTRY
"Sip on Granny's moonshine while we sing the Bocephus songs/ listen to old Granddad preach about red, white & blue/ and how he kicked Hitler's ass in 1942." - Three Chord Country And American Rock & Roll - Keith Anderson-John Rich.
Anderson co-wrote all 11 songs on his 2005 debut disc Three Chord Country and American Rock & Roll that reached gold status.

Jeffrey Steele and John Rich, of Big & Rich, co-produced the album.

The Rich connection was another triumph of networking.

"I'd been friends with Amber Dotson who's now an artist on Capitol Records for a long time," Anderson said.

"We sang together in this country music showcase at Six Flags Over Texas back in the late '90s. She had become friends with John Rich. They both were writing songs over at Sony/Tree. She invited John out to see me play one time. That was when John and Big Kenny were just goofing. John had just left Lonestar. They came out and saw a writer's show I was doing, and we hit it off. We became party buddies for a while and then started writing songs together."
Owing in part to Gretchen Wilson and Big & Rich generating a hard-edged brand of music, country labels started paying more attention to Anderson.

Arista Records offered him a contract.

"It's pretty amazing," he recalled.

"I signed my deal in late September or early October and had a single out December 4. I'd only recorded four songs at that point. Then I went straight on a radio tour, and when I came home, we finished the album in January. So it all hit so fast that there wasn't really a lot of that get-signed-and-wait-two-years situation. I was real fortunate. I've got friends at other labels who have been signed for that long a period and they're still waiting. They basically hate me right now."
WILDFLOWERS AND MURDER
"Hey baby, watcha doing this evening/ can you meet me down by the railroad tracks/ I got Tom Petty playing in my Silverado/ and I've iced down a six pack." - Pickin' Wildflowers - Keith Anderson-John Rich-Kim Williams
Anderson's mother shared his first three years of success.

"She hated Pickin' Wildflowers," he said of his first Top 10 hit.

"Dad loved it. She said things - Beer Run was my first cut. I said, 'Aren't you excited? It's Garth Brooks and George Jones.'

And she said, 'It doesn't glorify Jesus.' I was like, 'Oh Mom, it will make a lot of money. I'll buy you something cool.'

"I had sacrificed so much in order to chase this, and I'm happy she got to see that happening. Hopefully she'll be watching from heaven and we'll keep growing and getting bigger and bigger."

Ironically, death returned to haunt Anderson more than three years later.

Lisa Renee Davis, a model and actress, who played a dancer in his video was murdered in March this year in a paddock near her home at Lakeland - a suburb of West Memphis.

Austin Agee, whom police visited for questioning in Davis' disappearance, shot and killed himself in his Lakeland home after detectives arrived.

A note found with Agee's body lead police to the site where they found Davis' body.

Davis, originally from the city of Bartlett, also appeared in Jason Michael Carroll's video for the aptly titled I Can Sleep When I'm Dead.

She was also an extra in Justin Timberlake film The Open Road.

Anderson's debut disc included another song with less drama.

"Every Time I Hear Your Name was about hearing that old song that was hers, smelling things and pictures, and we just kind of continued that theme of changing things that were familiar to that relationship and trying to get that out of your life, which never really works," Anderson said.

LOST IN THE MOMENT
"I smell the jasmine floating through the air like a love song/ and watch my words draw tears from your eyes/ we bow our heads as the preachers talks to Jesus/ please bless this brand new life." - Lost In The Moment - Keith Anderson-Rodney Clawson- John Rich
Anderson co-wrote the Big & Rich #1 hit Lost In The Moment with Rich.

"That song was written almost seven years ago," Anderson said. "It's an old song. We'd already spent time and money to put it on there. So you know what? Let's give fans another version of a song. It's my song, too. It's just another take on a song they know. John & Kenny would be the first to admit, that's not something that people would've seen them recording, Big & Rich singing a big wedding song. John and I always felt like that was a hit. When we first wrote that song with Rodney Clawson we started pitching it to everybody. Neither one of us had a record deal at the time. He had just left Lonestar and hadn't started with Kenny yet, and I didn't have my deal yet. So we pitched that to everybody in town, and nobody recorded it. So over the years, we both knew it was a good song, and we were both in the studio recording and had cut it. And we were talking just catching up on life really because we'd both been touring so much. And he said, "Hey, you got the first single on the new Big & Rich record!" and I said, "That's great man, and you've got another song that's gonna be on my second record." Then we discovered it was the same song. They were slotted for a single before I was. I was never mad, they're great friends. Maybe disappointed because I knew it was the kind of song that could have been a big hit, and turned out to be a really big hit. And it's the kind that could help anybody's career. But since it was their time to put it out, you just get behind it and cheer 'em on and pray for the best. Because that's part of my success, too. So it's been a good success story for all of us."

Anderson included it on his second album C'Mon.
ANOTHER ONE THAT GOT AWAY
"I remember summer 1993/ she was tall and blonde and tan and she was all in love with me/ she started talking about our future and it half scared me to death/ so I ran away but to this day she takes my breath." - She Could Have Been Mine - Keith Anderson-Chuck Cannon
Anderson co-wrote all 11 songs except for Foster & Lloyd rhapsody, Crazy Over You.

Foster & Lloyd sang along with Anderson on this cut.

His co-writers were Jeffrey Steele who also produced the album, Rivers Rutherford, Bob DiPiero, David Lee Murphy, Chuck Cannon, Tim Nichols, Jason Sellers, Vicky McGehee, Chris Wallin, Rodney Clawson, John Rich and Bobby Pinson.

Anderson wrote the single She Could Have Been Mine with Cannon.

"This friend called me one day and told me about an old girlfriend who had a beautiful daughter," Anderson said.

"I hung up the phone and thought to myself, 'She could have been mine.' That phrase wouldn't leave me, so I got with Chuck Cannon and we wrote it."

But the single didn't attain the success expected.
"I don't know if it was just the timing of it - maybe there were too many ballads out at that time, or maybe it wasn't what radio was expecting from me yet," Anderson said.

"One of hard things for a new artist is not to get pigeonholed into one thing so you can do the whole spectrum of what you love to do. I thought that song would have had a lot of reaction to it. You always hear a lot of stories about your songs, but this is the first time I've had some of my artist buddies texting or calling me going, 'Dude, I just heard your song. I've been there, I know exactly what you're talking about.' So that's been the cool thing on this one. It has connected with a lot of listeners and artists, but for some reason it just didn't work out."
ADALIENE ARM ARMOUR
"The first naked lady that I ever saw was that tattoo on my uncle's arm/ on daddy's farm that summer he drove up and helped us build the barn/ he rolled up his sleeves, his arms were lean/ he flexed and made her dance for me/ and I turned red and we both laughed and hoped my daddy wouldn't see." - Adaliene - Keith Anderson-Jeffrey Steel-Chris Wallin
Anderson drew on Chris Wallin's childhood memories for the dancing painted lady Adaliene?

"That whole thing came from Chris Wallin," Anderson added.

"I wrote that with Jeffrey Steele and Chris Wallin and Chris was talking about his grandpa.

We were actually trying to write a song about his grandpa who was a preacher, but had just been really wild growing up and had a crazy wild past. So we were actually trying to write things from his sayings from the pulpit - these fire and brimstone talks. And nothing was coming about. He started laughing and said, "I'll never forget the first naked lady I ever saw was a tattoo on his arm." And Jeffrey and Chris and I all looked at each other and it was like, "Well, there's our song." So we just made up a story and it made more sense for it to be an uncle than a grandpa."

Anderson vividly recalls writing I Ain't Hurtin' Nobody But Me.

"Yeah, in an early relationship, early on there was a jealous side of me I didn't think I had, didn't think I could have," Anderson said.

'I just became really weird and possessive and stupid. And may end up regretting it forever - but certainly learned a lot from that. Yeah, yeah, I've been there."

PINK SLIPS
"Closest I've ever been to meeting Jesus was when/ me and Bobby Pinson put our pink slips on Blue Hole Road/ my needle's showing 90, I flew right by him/ lightning fast till I had a Goodyear blow/ that old Chevy rolled and rolled and I know/ heaven must have heard the words beneath my breath." - Closest I've Ever Been - Keith Anderson-Bobby Pinson
Anderson revealed Closest I've Ever Been dated back to his baseball era.

"It's not quite a racing story but when I was still playing college baseball, I was in a summer league in Tulsa," Anderson added.

"And I was driving from my hometown of Miami to summer league, twice a week to play ball. It was about an hour and a half drive. And I was workin' construction during the day. Then going out there playing, then driving all the way back. And I was always so tired. And I completely fell asleep at the wheel on the way back. Woke up as I was just hitting the side rail. Just nicked it, but enough to where it just freaked me out."

LOST VOICE
"She dresses up her children and herds them into the car/ drives down to the mega church but can't find a place to park/ then she feels a little guilty when she takes his name in vein/ so she folds her last two dollars and she drops them in the plate." - Sunday Morning In America - Keith Anderson-Rivers Rutherford-Jeffrey Steele
Although Anderson quit touring for surgery he believes the break was a blessing.

"I feel better than I've felt in years!" Anderson said.

"It was something I knew I'd have to do, but it was still scary. I had a vocal cord that usually by the end of year, when it had been used and used and used, would give me problems. Once every year or two, I would have an internal bleed, where the vessel busts and it swells up and you can't sing, you can barely talk, and you have to let it rest. So there's a procedure that's considered minor, because they're not cutting the cord. But you know anytime you have surgery, especially if it's on you, it's not minor!"
The sabbatical was worth it.

"There are three weeks of not talking at all right after surgery,' Anderson recalled.
"You can't clear your voice, sneeze or cough. Then there's a week before surgery and last two weeks when you're rehabbing. I went to a friend's condo and hid out. I spent time by myself and the only time I'd leave was to go to the gym. It healed not just my voice, but I feel better right now physically, spiritually and mentally than I have felt in years. It was something I never imagined that I needed or wanted, but something that definitely got me back to me. Sometimes when you spend time alone you find yourself again. I went through a lot these last two years, going through my mom's illness with her and then losing her, and some other personal things. It all hit so quick. I started going through so much grief. There was a lot of stuff that went on inside that I needed to deal with so I was able to do that while I was recuperating. I did a lot of reading the Bible, getting back to basics."