DAVE'S DIARY - 23 JUNE 2005 - THE DUHKS INTERVIEW
DUHKS FLY LOW IN BLUE CLEAR SKY
"And her room had four blue walls/ they've been hers since she was small/ no sleep in sight/ oh her father is the only one/ who pretends he can't remember/ what was done." Blue - Ruth Ungar.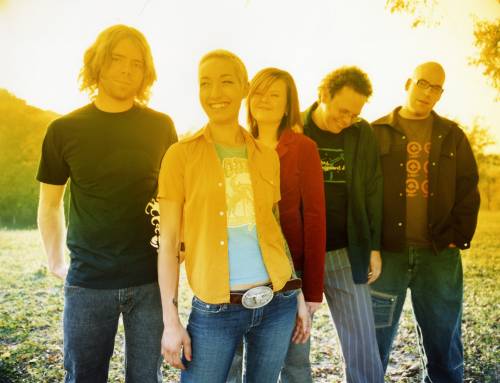 The Duhks
Death permeates the music of Canadian country folk band The Duhks but the birth of fiddler Tania Elizabeth will have extra significance when they tour here in December.

Elizabeth was born in a Melbourne hospital on her parents working holiday more than 20 years ago.

"My mum was travelling and found she was pregnant after buying a non-refundable ticket to Australia," Elizabeth told Nu Country in a call from Winnipeg.

"So I was born there. But my folks separated when I was two."

The fiddler joined The Duhks when she moved to Winnipeg at 18 and wrote The Arch Of Abundant Love to commemorate singer Jessica Havey's 21st birthday.

But the song - companion piece for Sting's anti-war song Love Is The Seventh Wave - had no title until The Duhks played the famed Merlefest in the U.S.

"Tania said 'let's send George Bush a message - let's love everyone to death'" Havey
said of the song - finale of The Duhks 14 song self titled second album on Sugar Hill-Shock.

Award winning banjo virtuoso Bela Fleck and Gary Paczosa produced The Duhks - pronounced ducks - in Nashville.
GREENCARDS

Paczosa, engineer on Allison Krauss albums, also produced Weather And Water - the second album by expatriate Australian band The Greencards.

"We performed with The Greencards at Merlefest, " Havey revealed.

"I did a workshop with their singer Carol Young. She was cool."

But it was fellow Canadian chanteuse Ruth Ungar who toured here with Wayfaring Strangers who wrote their controversial song Blue.

Ungar has released solo discs and also performs with The Mammals who feature Tao Rodriguez-Seeger - grandson of folk legend Pete Seeger.

"It was a message song about incest - a subject you rarely hear in a song," Havey said, "I had no idea why she wrote about it until she told me it was inspired by a play she was in. She did a character study. I was doing music theatre too."

Although the subject may be taboo on radio it was a rare concert conduit.

"I've only ever had one person come up to me at a show, a transgender woman," the singer said.

"She shook my hand and said that's very brave of you to do that. I really appreciate you for understanding that. I wonder how many people can actually relate to it."
EERIE VIDEO CLIP
The Duhks, (pronounced ducks), also provided solace for fellow singer Dan Frechette when they cut his song Mists Of Down Below.

"Dan had his car broken into at the West End centre and his baby guitar and heaps of his song recordings and songwriting books containing hundreds of his songs were stolen," Havey revealed.

"He wrote the song three months later and called Tania and played it for her," Havey said.

"He was worried that he had lost his touch. He wrote it for us from the perspective of a duck."


The Duhks filmed an eerie music video for Mists of Down Below at a Toronto mental institution.

The video conjures an uneasy sense of darkness and lost souls.
LEONARD COHEN
The Duhks cut historic Leonard Cohen-Sharon Robinson anti-war song Everybody Knows after their banjo player Leonard Podolak performed it at a Cohen tribute show at the Vancouver folk festival.

They also included traditional murder ballad Death Came A Knockin' after hearing Texan troubadour Ruthie Foster - duet partner of Eric Bibb - perform it at Edmunton folk festival.

Death was also resurrected in Dover Delaware - their revamp of a traditional song about the return locale for deceased soldiers.

The band earned royalties for revered singer Paul Brady.

"Bela gave us bunch of Paul Brady songs, some were great songs but no way I could do them justice," Havey revealed.

"But we chose You And I. The lyrics are simple but take on meaning in the delivery. It totally a co-incidence he was in Nashville when we recorded it. I was actually sick the first day he was in studio. He produced the vocals. He kicked my arse, challenging me saying 'I know you can do more with that. You need to make that more your own - it sounds too much like me.' It took about three hours before he was happy."
HOW THE DUHKS SPREAD THEIR WINGS
When the Duhks started in early 2002, founder Podolak had a basic notion about what he was looking for: "a really fun dance band playing traditional kinds of music."

The ambitious banjo player tracked down a raspy rock singer, an introspective guitar-builder, a freethinking fiddler and a salsa drummer.

Despite the variety of influences and personalities - or more likely because of it - the ensemble immediately clicked.

"I didn't even really know the scope and breadth of the musicians that I had recruited," Podolak says.

"And also, to a certain extent, we're all discovering that scope and discovering what we each have and what we can bring."

Podolak's parents founded the Winnipeg Folk Festival in Manitoba.

The band is based in Winnipeg and his family often hosted musicians in their home.

Vocalist Havey has known Podolak her whole life because her mum was actively involved with the festival.

Havey's uncle also lived with Podolak's family at one point.

Meanwhile, when McConnell graduated from high school, he was too burned out for college.
LUTHIER
Instead, he studied as a luthier for seven weeks with a teacher in Saskatchewan and plays his handcrafted guitar on stage.

"It totally energised me and gave me a new direction to focus on," he says about the class.

"I loved it and took to it really quickly as well. It seemed like a natural thing for me to be doing, for some reason. Right away, I thought that's what I was going to do for the rest of my life. It's like a craft and something you can pursue for the rest of your life and still not know everything there is to know about it, by a long shot. I was really excited to start following that path."

He started a workshop in his hometown, then decided to hone his craft in Spain. When he returned to Canada, Podolak persuaded him to join the Duhks.
McDonnell had once toured for a few weeks with Podolak's previous band, Scruj MacDuhk.

Fiddler Tania Elizabeth joined after a call from Podolak although she already had a solo career going.

The original drummer suggested percussionist Scott Senior, whose instruments and rhythms come from all over the world.

Together, the young quintet - whose ages range from 22 to 30 - hit the highways, blending Celtic music with world music with nods to bluegrass and folk music.
THE MUSIC
The Duhks' music has been described as "contemporary acoustic," "progressive soul-grass," and "kick-ass rock/folk fusion."

"I wanted us to be an Irish band, Leonard wanted us to do old-time music and fiddler Tania Elizabeth wanted us to be a country pop band," McConnell said.

"But the music became this crazy, organic thing that is mostly undefinable."

There are elements from Irish fiddle tunes, Canadian French and Scots/Maritime folk, and Appalachian Old Time string band in their high-energy music.

First recorded exposure came when the band released an independent album in 2002 before signing with Sugar Hill for its sequel disc.

The 14 cuts on the Duhks' self-titled release are evenly split between traditional tunes and covers, with a few self-penned compositions thrown in (several of the traditional songs and all of the self-penned tunes are instrumentals).

The band's greatest strength lies in its instrumental virtuosity.

Check out their album and video when it debuts on Nu Country TV.