DAVE'S DIARY - 5 JUNE 2005 - GREG TROOPER INTERVIEW
GREG - STORM TROOPER PROPHESY
"Down from the sky, up from the raging sea/ in the blink of an eye, water's all you can see/ all you could hear was the wind and rain/ nobody told us about a hurricane."
- No Higher Ground - Greg Trooper.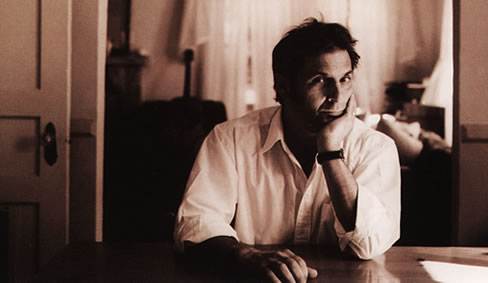 Greg Trooper
When Greg Trooper wrote No Higher Ground about a 1900 hurricane in Texas he had no idea history would repeat with the 2004 Tsunami.

Trooper's song revealed 8,000 Galveston residents drowned because U.S. authorities ignored Cuban warnings.

"The U.S Weather Bureau was very arrogant and wouldn't pay attention to what the Cuban meteorologists were warning them about this hurricane," Trooper told Nu Country TV Beat in a call from his Nashville home.

"That's what prompted the line - 'we certainly know more than the Cubans do."

Trooper wrote his song for his acclaimed Dan Penn produced eighth album Make It Through This World (Sugar Hill- Shock.)

So was it a surprise more than 200,000 perished in the Boxing Day Tsunami because of inadequate warning systems?

"I try not to cast blame," says Trooper who was born in New Jersey, learned about life in an Austin trailer park and studied music and English at university during the second of two stints in Lawrence, Kansas.

"I read this book about the hurricane - Isaac's Storm. Galveston was a vacation town.

Washington and state of Texas gave as little money as possible to rebuild the place. The Galveston people were expected to finance all reconstruction - hard when your whole city has been washed away. Galveston rebuilt itself - quite an accomplishment for a city that almost didn't exist."

Trooper, 49, says social comment songs are not his forte in a career that peaked with his new country soul disc produced at Penn's basement studio in Nashville.

"I have dabbled in political writing, it's just that I'm not good at it," Trooper joked of his vast catalogue.

Peers diverse as Steve Earle, Vince Gill, Maura O'Connell, Robert Earl Keen, Tom Russell and Lucy Kaplansky cut his songs long before former producer Buddy Miller introduced him to Penn.

Billy Bragg's cover of Trooper song Everywhere appeared on the soundtrack of Bob Hoskins movie A Room For Romeo Brass.

But the seeds for his success were sown back in his teenage days in a city not far from Asbury Park that launched Bruce Springsteen.
RAVIOLI BROTHERS
Trooper was born in Little Silver, New Jersey, and at 14 formed The Ravioli Brothers to play country.

He later formed Trooper & Scott with fellow Ravioli Brother Richard Scott.

"Where did you get all of that?" Trooper joked, "It was our east coast answer to the Flying Burrito Brothers".

At 18 he moved to college town Lawrence, Kansas, before heading further south to Austin in its halcyon seventies country boom.

It was an era that produced the famed documentary Heartworn Highways and enabled him to catch his heroes Willie Nelson, Jerry Jeff Walker, Guy Clark and the late Townes Van Zandt.

But Trooper didn't make a living from his music.
"I was desperate back then, I was living in a trailer park," Trooper recalled. We were just desperados with shitty jobs. I don't know how we did it. We were that young. I was the only one there who wasn't either running from the law or 16 and pregnant."

So he moved back to Lawrence and went to university before moving back to New York for 15 years.

"I started studying music and got bored with it then I started taking English classes but I never finished," Trooper recalled.

"I got ants in my pants and went back to New York."

It was there he recorded his first disc We Won't Dance for Wild Twin Records on vinyl in 1986.

Trooper produced the disc with Carter Cathcart of rock band Laughing Dogs.
VINCE GILL
Oklahoma born superstar Vince Gill had a huge hit with the title track and Steve Earle cut his tune Little Sister from the same disc.

"We Won't Dance is probably the most lucrative song I've ever had," Trooper said.

The singer cut his first six albums for six different labels before signing with Sugar Hill for his 2003 disc Floating.

He cut second album Noises In The Hallway in New York in 1988 but D-Ville didn't release it until 1996.

But his third album, Everywhere, cut with The Flatirons, had a bizarre history.

It was released on the ill-fated Black Hole Records, then Ripe & Ready before Koch issued it with two extra tracks in 1992.

Ironically, while living in New York, Trooper was writing for Nashville publishing companies - CBS, Polygram and Sony-Tree.
Trooper also teamed with award winning songwriter Don Henry in New York for the album's entrée song So Far To Go.

"I had known him since before moved to Nashville," Trooper revealed.
"I met him in a bar in New York through Pat Alger when he played with Artie Traum.
I went to a New York Mets game with them - a baseball game carved our friendship."

The singer also included I Thought I Was Dreaming - collaboration with Steve Earle - on the disc than ended with a co-write on the title track with Sid Griffin.

LAWYER AND SINGING SPOUSE
Everywhere also featured one of three collaborations with Trooper's singing spouse Claire Mullally - a lawyer by trade but latter day owner of Bobbie's Dairy Dip in West Nashville.

Claire sang on their co-write of Every Single Day and Rosanne Cash on Blind Spot.

"I met Claire in New York, she's from Brooklyn," Trooper revealed.

"I recorded all the songs we wrote together. Now she has something to fall back on but if you told her she had a career as a songwriter she'd laugh out loud. She mostly takes care of the ice cream parlour. She decided she'd rather prepare ice cream cones than arguments all day long."

Another of their collaborations Every Heart Won't Let You Down appeared on his Buddy Miller produced Popular Demons disc in 1998.

And The Road So Long was on his Phil Madeira produced 2003 disc Floating.

Trooper lives with his wife and son Jack, now 11, in Nashville when not on the road.

NASHVILLE AND WALTONS
Trooper's writing career bloomed when he moved from New York to Music City.

The singer wrote Light In The Window, covered by Salamander Crossing and late Bill Hearn, with actor Jon Walmsley - star as Jason of The Waltons TV series.

"That was a trip, I had no idea who he was when I wrote with him," Trooper joked.

"It was the first co-write I had when I moved down here. The publisher set it up.
My first reaction when I was told who he was afterwards was holy shit. He turned out to be a lovely and talented guy."

Trooper had 121 songs logged with BMI from his embryonic Nashville writing era with collaborators such as Keith Sykes, John Sieger of Milwaukee bands The R & B Cadets and Semi Twang, Duane Jarvis, Buddy Mondlock, Jenny Yates and Earle's guitarist Eric Ambel.

Others include Goodbye Cruel Circus (Billy Livsey,) Pink Flamingos And A Mobile Home (Fred Koller), Trampoline (Bill Lloyd) and Watch The River Flow (Deana Carter.

Trooper wrote The Heart with Tom Russell - it appeared on Sara Elizabeth Campbell disc Running For You in 1994 and Lucy Kaplansky album The Tide.

His Hong Kong Boy appeared on Russell album Box Of Visions and Right Night For Love on Robert Earl Keen disc A Bigger Piece Of Sky.

Trooper recorded the albums Straight Down Rain in 2001 and Between A House And A Hard Place in 2002 before signing with Sugar Hill for Floating in 2003.

The singer won wide acclaim for eulogy Muhammed Ali - The Meaning Of Christmas that was inspired by David Remnick's Ali biography King Of The World.
DAN PENN
"She's a mining town, after the mine's shut down/ coal turned to diamonds, but she won't let you find them/ she's a mining town." - Sad, Sad Girl - Greg Trooper.
It was a prelude to his acclaimed country soul hybrid Make It Through The World, produced by the legendary Dan Penn in his Nashville basement studio on 16-track analogue tape.

Penn, renowned for a famed Muscle Shoals era with Chips Moman and Jerry Wexler, wrote soul classics Do Right Woman, Do Right Man, Dark End of the Street and I'm Your Puppet.

He also produced artists diverse as The Box Tops, Solomon Burke and Irma Thomas.

Penn hired Goners drummer Ken Blevins of John Hiatt fame, and Dave Jacques who played electric and double bass on new John Prine disc Fair & Square.
Recent Aussie tourist Bill Kirchen plays guitar, Steve Fishell dobro and lap steel and Delbert McClinton sideman Kevin McKendree utilised Penn's stockpile of vintage keyboards, from Hammond B3 to Farfisa.

Penn suggested Trooper try a different posture for singing.

"It was great, the first time I have recorded, sitting down, what an education," Trooper
said.

I LOVE IT WHEN SHE LIES
Trooper includes only one co-write here - I Love It When She Lies.

"Amanda Hunt-Taylor came over to my house with the idea of she lied," Trooper said. "I just turned it around, it's kind of a silly song."

Trooper says Penn, unlike many Nashville producers, didn't pressure him to record his songs.

"If I could get to write with Dan I would love that," Trooper said.

"Dan and I were going to work on a song but he was happy with what I had when we recorded. But never call Dan Penn a Nashville producer. He would bite your head off.

Trooper, who frequently tours Europe, is keen to tour Australia.

"I'd love nothing more than to come and tour Australia," says Trooper, "maybe the publicity for this record will prompt that."

But it was an Irish tour that spawned Lonesome For You Now.

"I used the reference to Belfast as I go to Ireland a lot," Trooper added.

"I wrote that here but the inspiration got started there. I can't tell you how many times I have driven that road from Dublin to Belfast in rain, in shitty weather."

Trooper's incisive songs about women include personalised divorce vignette Close To The Tracks, Don't Let It Go To Waste and Sad, Sad Girl.

"It seems like on every record I've got some poor woman with a mood disorder," says Trooper of the disc that also features Don't Let It Go To Waste with memorable lyric - "I think you're as lonely as a Sunday morning that never had a Saturday night."