DAVE'S DIARY - 4 JUNE 2007 - DAVIDSON BROTHERS CD REVIEW
BROTHERS OF THE BLUEGRASS ROAD
"When I was just 13 I was busking in the street/ it's really hard to pick when it's 12 degrees." - It's A Banjo - Hamish & Lachlan Davidson.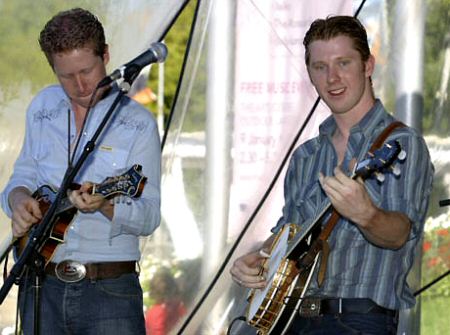 Davidson Brothers - photo by Andrew Wuttke 2004
Gippsland born brothers Hamish and Lachlan Davidson have big advantages over city bred peers.

The duo grew up at idyllic Yinnar where the brightest lights were strings of their tools of trade - not the faux glow of computer games and TV.

So it's natural they mine historic and modern memories in eight originals on second album Raised On The Road.

Although the latter day Doncaster duo guest on a brace of homegrown discs it was the bluegrass font of Nashville that was the fertile scene of the rhyme for recording.

They both play fiddle and sing but elder brother Hamish adds banjo and Lachlan mandolin to a disc that's rooted in the rich history of the genre.

Jerry Reed sideman Mark Thornton hired session aces Bryan Sutton, Randy Korhs and Dennis Crouch to flesh out the sound with guitar, dobro and bass.

At 23 and 22 the duo don't dip into social comment of peers such as Rhonda Vincent and Austin Lounge Lizards.

Instead they till the topsoil of a eulogy to a childhood gift, It's A Banjo, and the trail it leads onto on the title track.

But don't get the impression the boys are restrained by the buckle of the Bible belt of pious pioneers.
GIPPSLAND TALES
Walkin' Round Blind, Lonely Again Tonight and 2004 single Where I Wanna Be are salient signposts to a booze-fuelled adolescence.

Not necessarily the writers' but not direct descendants of Lips That Taste Liquor Will Never Taste Mine and other temperance tunes.

Young love is a staple in Sometimes and Don't Turn Me Down where self deprecation morphs into humour with "you shake it for the mailman but he don't pay the bills/ you're teasing all your daddy's friends and they're over the hill."
Touring as the Davidson Brothers doesn't pay the bills in this bluegrass backwater so the lads guest with Lee Kernaghan, Troy Cassar-Daley, Kasey Chambers and Tommy Emmanuel and soak up diverse awards.

But it was a $5,000 prize in a 2005 Nescafe Big Break contest that helped sow seeds for this disc that followed another creative peak at the 2004 IMBA Bluegrass Fanfest in Louisville, Kentucky.

The duo returns to the Bill Monroe festival at Jerusalem Ridge in Rosine, Kentucky, from September 27-30 and the IMBA in Nashville from October 1-7.

Although the lads headlined the lavish Nu Country TV Arts Centre showcase in 2005 you're more likely to catch them in the bush or Port Fairy folk fest where Hamish guested with country music queen Anne Kirkpatrick.

Further info and CD sales - www.davidsonbrothersband.com