DAVE'S DIARY - 23 JULY 2013 - TODD SNIDER FEATURE
1994 INTERVIEW
TODD SNIDER
ALIGHT GUY FLEES TEXAS
"I was only kidding when I called them a couple of' dicks/ but they still made me do the stupid human tricks/ now I'm stuck in this jail with a bunch of dumb hicks/ and 1 still don't know why, 1 think I'm an alright guy." - Alright Guy - Todd Snider.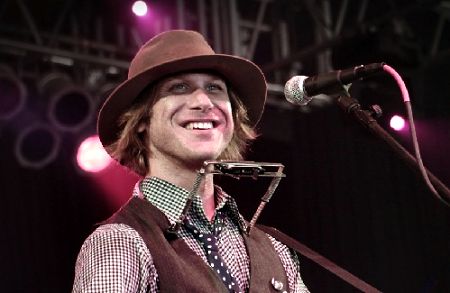 When Todd Snider was busted for not wearing a seat belt in scenic south Texas college town he spent a lucrative night behind bars.

Oregonian refugee Todd didn't pull Lone Star Beer in a San Marcos honky tonk but shared a cell with an armed robber and a speed pharmacist.

The experience was so horrific that Snider penned Alright Guy - a highlight of his heat seeking debut disc Songs For The Daily Planet. (Margaritaville-MCA.)

And Snider, unashamed protege of Texan troubadour Billy Joe Shaver, won't forget how he fought the law and eventually won.

"I was charged with not wearing a seat belt in San Marcos," Snider told Nu Country FM.

"I lived there three years and opened for Ponty Bone & Squeeze Tones that night. I think I was running my mouth off as well. I wrote that song a bunch of years later after we got dropped from Capitol."

Snider, then 28, was dumped because his eclectic music didn't fit a country or rock niche.

Margaritaville Records boss touring partner Jimmy Buffett also asked him to delineate his music without success.

Such fusion worked for Buffett, Shaver. Webb Wilder, Jerry Jeff Walker, Joe Ely, Steve Earle, Hank Williams Jr, The Tractors and many other artists who don't fill the Music Row marketing mold.

Todd recorded for Margaritaville distributed by MCA, and credits unknown Texas songwriter and club owner Kent Finlay as his career catalyst.

Finlay gave Snider, then 19, his first booking - Cheatham Street Warehouse in San Marcos - and introduced him to the music of' Billy Joe Shaver.

And history repeated itself when Snider broke with a song which almost hit the cutting room floor when recorded.
TALKING SEATTLE GRUNGE ROCK BLUES
"Well, I was in this band goin' nowhere fast/ we sent out demos but everybody passed/ so one day we finally took the plunge moved out to Seattle to play some grunge/ Washington state that is/ space needle, Eddie Vedder, Mudhoney / now to fit in on the Seattle scene/ you've gotta do somethin' they ain't never seen/ so thinkin' up a gimmick one day/ we decided to be the only band that wouldn't play a note / under any circumstances, silence/ music's original alternative, roots grunge." - Talking Seattle Grunge Rock Blues - Todd Snider.
'We had 16 songs recorded," Todd added.

"I just had to cut it down to 12 as Kevin Kinney said keep it under an hour. Four songs had to go. Some guy from Canada heard Seattle Grunge Rock Blues and thought it was cool and I decided to put out 13 songs. No-one really thought it would get on radio."

I suggested it was similar to when Mel McDaniel cut 1977 album Gentle To Your Senses and added Blow Up Plastic Girl as an afterthought.
"You just fucking knocked me out, man, oh my, God. Hang on a second, did you say Blow Up Plastic Girl?" Todd asked.

"You know who wrote that?"

I confessed I could only recall the initials K.F. and my mind went blank.

"That was Kent Finlay from Martindale, you're the first person that ever asked about Plastic Girl," Snider said.

"Wait until I tell him. He's a genius, man. But he won't come out of his house. He's got this house, three kids, a wife, 50 cats and a goat and a pig. He says he grows songs out there.

He can't sing that great anymore and I don't know how old he is. He's a peculiar man. He's brilliant and I was real fortunate to stumble into him. He let me stay in his house for three years. He was the one that made me listen to Billy Joe Shaver and Kristofferson."

Snider's savage satire of grunge puppeteers who milk a town's talents and move on with faddish fickleness became a surprise hit for him.

The song was such a late addition it doesn't even earn a track listing but now it's the singer's entree card to the pop pulpit.

Another early influence was veteran Memphis singer-songwriter Keith Sykes who wrote tunes with Guy Clark and for Jerry Jeff Walker and Rosanne Cash.

"I found him in Memphis," Todd said."

"I think my dad met his wife's sister in a bar. I knew some songs he had written on some Jerry Jeff records. I knew he made folk records 1 really liked. He made boogie records with a 4-piece band. He knew a lot about bass and drums - that was really cool. I wanted to know that. I invited him to the Daily Planet a lot before he started playing with me and trying to help. 1 went to his house or Ardent Studios. I played there four or five years and we filmed the last night there."

The defunct Daily Planet, like the Twist And Shout bar in Mary Chapin Carpenter's bit, was reincarnated after Snider's success.
EASY MONEY
"He tried to look like he had a little bit of money/ a grifter with a southern drawl/ well I could tell right away by the way he was runnin'/ that the boy was just a beggin' to crawl/ at least a junkie knows what he needs/ you get a man all strung out on green/ he'll give up everything he's got/ for just a one shot at havin' it all/ he took every last cent of his savings/ on a trip to the local track/ he had a tip from a friend, bet it all down to win/ on a horse named Heart Attack." - Easy Money - Todd Snider.
Todd penned She Just Left Me Lounge for Tex Mex singer Rick Trevino's debut but surpassed that feat with a disc which won wide international acclaim for its pumped tip parodies.

Although Snider is proud of his imagery he admits he doesn't know the full message of some tunes - especially My Generation (Part 2).

"I don't know much about what the songs actually mean," Todd adds, "I agree that there's too many TV channels - 54 stations. Shows don't go for more than 10 minutes without stopping to tell you are not done you need to leave your house now and take your money, and then you'll be finished."

Todd is elated his crime novelettes share imagery with those of Robert Earl Keen and Tom Pacheco.

"If anyone can hear Robert Earl in me I would be flattered by that," says Todd.

"The reason why a lot of information is missing from Easy Money and You Think You Know Somebody is there was a story I needed to tell for my own sake. I have my own problems to work out. If people come to listen I get a double bonus. I get to work out my problems for a living."

This Land Is Our Land, widely interpreted as an Indian rights song, is more a Woody Guthrie legacy.

"I was thinking about white people and also about Woody Guthrie says Todd, "the songs are pretty literal. Country music has taken the shape of roller disco but I'm still broke."

Todd concedes Turn It Up and Trouble were inspired by incidents at Memphis clubs and Joe's Blues heisted a David Allan Coe rap from Steve Goodman song You Never Even Called Me By My Name.

"I was playing at a club in Memphis called R.P. Tracks," says Todd.

"Joe and I and Keith Sykes. We were done and this guy said 'turn it back up. If we stopped the place would close and he would have to leave. And if he had to leave he would have to go home. And if he went home he would have to see his wife and if had to see his wife he would have to get into a fight. And I took all the shit he said and put it together to that music. I never saw him again. I never knew who he was."

Although Snider plans to tour here in spring he has more urgent commitments right now.

"We're touring with Buffett," says Snider who has definitely not ascended to Jimmy's jet set, "we're in the car for 10 hours a day, chasing him in this little van. But Jimmy treats our band very nicely."
2009 CD REVIEW
TODD SNIDER
THE EXCITEMENT PLAN (Shock)
"There was a time when I was handsome/ there was a time when I had money to burn / there was a time when where I landed was the least of my, the least of my concerns/ but it hurts to lean back in these handcuffs/ like nine kinds of shame turned to rage / as a younger man, I might have put up a fight/ but I feel like such a fool at my age." - Greencastle Blues - Todd Snider
After nine albums of self-deprecating hits and misses Todd Snider jokes that he can't even get arrested.

But last year at 42 he was thrown in a slammer in Greencastle, Indiana, for possession of grass.

So, like any decent country or folk singer he harvested hay from weed woes and wrote a humorous song about his mid-life crisis.

Greencastle Blues, not surprisingly, is one of the peaks of a 12-song disc produced by Don Was who resurrected careers of Dylan, Kristofferson, Randy Newman, Waylon Jennings' widow Jessi Colter, Old Crow Medicine Show, and young Shotgun Willie Nelson.
Snider, raised in Portland, Oregon, liberated in San Marcos, Texas, and discovered by Keith Sykes in Memphis, boomeranged from rehab for substance abuse a time or two.

And, aided by a good painter (wife Melita) and guitarist Will Kimbrough who toured here with Rodney Crowell, he was back on track.

Well, until that night in Indiana.

It's the stepping stone from wry entrée Slim Chance and marital bookend finale Good Fortune.

America's Favourite Pastime is, to use an awful American cliché, a curve ball - the true-life story of Pittsburgh Pirates pitcher Dock Ellis who won a game against San Diego Padres in 1970 while high on LSD.

He proves a mirthful master as he sings "when he finally mowed the last man down/ he was high as he had ever been/ laughing to the sound of the world going around/ completely unaware of the win."

But that's not all.

Snider's wit peaks with his match post mortem - "and while the papers would say he was scattered that day/ he was pretty as a pitcher could be/ the day Dock Ellis of the Pittsburgh Pirates/ threw a no hitter on LSD."

Snider's conversational style polarises casual listeners who don't stay the full journey.

So what are we blessed with in between?

Well, there's a co-write-duet with spritely Septuagenarian - Coalminer's Daughter Loretta Lynn - on Don't Tempt Me.

Snider's social comment on war is personalised in Bring Em Home, beating poverty in Doll Face and gypsy wanderlust in The Last Laugh, penned with Nashville journalist Peter Cooper.

There's a trip to Oregonian childhood for Unorganised Crime - the unsolved murder of Slick Willie's bar owner Willie Pendleton.

The other Willie (Nelson), is credited for the bubbles in Snider's undying love for his cheating lover in Barefoot Champagne - "if I shot my old lady the first time I'd be out of jail by now."

The sole cover - Texan Robert Earl Keen's Corpus Christi Bay as he mixes metaphors to identify with his brother.
2006 CD REVIEW
TODD SNIDER
THE DEVIL YOU KNOW (NEW DOOR-UNIVERSAL)
TODD SNIDER REAPS ROBBERS ROLE REVERSAL
"We didn't get arrested, no we did not/ didn't shoot anyone, didn't get shot." - The Highland Street Incident - Todd Snider
Todd Snider is indebted to a pair of masked bandits who pistol-whipped and mugged him in an alley behind a Memphis club in the early nineties.

The Oregon born singer-songwriter stored the saga in his memory bank for more than a decade before turning it into song on ninth album The Devil You Know (New Door-Universal.

Snider reversed the role from victim to villains in his narrative and, unlike the miffed muggers, turned it into a nice little earner.

"I said 'this must be your first day on the job," Snider, 40, revealed recently in liner notes for an album whose title track exposes the war zone he now calls home in East Nashville.
"The guy hit me in the face with the gun and I took off running right between them.
Talking to the cops later I found it was their second day on the job."

The singer reached back to the eighties to a stint as a chef with his brother at Peppers in Central Texas college town San Marcos for You Got Away With It (A Tale Of Two Fraternity Brothers.)

Snider again plays the protagonist role in a tale loosely based on Bush and Kennedy presidential families.

"I didn't want to say George Bush. When I try to do something like that, I try to make it so that it feels about a certain person," Snider revealed.

"But I was very careful to make sure that if you wanted it to be about the Kennedys, it can. I feel it dates the song less - it's already a dated endeavour you're embarking on."

Looking For A Job, accompanied by a video showing Snider driving a van with "Quit Your Job" daubed on panels, was inspired by a remark by tour manager David Hicks.

"My manager and I were in an argument, and he told me, 'man, I was looking for a job when I found this one.' I thought, 'that's great man! Can I have that?'" Snider said.

"I just sat on that one for months. The only thing I could relate it to in conversational tone was my father was a construction worker, and I heard his employees turn on him a few times."

The Snider song sequencing reveals a sardonic streak with explanation of entrée If Tomorrow Never Comes.

Kent Blazey - co-writer of Garth Brooks' hit of the same name - reportedly borrowed Snider's song Beer Run for a Brooks-George Jones duet.

"This song is not still not totally technically or legally stolen from the guy who wrote the song If Tomorrow Never Comes who explained to me at the Tom T Hall show how he didn't totally technically take a song called Beer Run from me," Snider said.

"I came up with this song as a way to let the guy know I still love him and his version of Beer Run."

Snider drew on an incident where Bob Dylan threw late peer Phil Ochs from a limo for Thin Wild Mercury, narcotic fuelled memories for Just Like Old Times, chose whimsical televangelism parody for finale Happy New Year.

Those songs have best story lines but love ballads Unbreakable, Carla and All That Matters are more melodic.
2006 CD REVIEW
TODD SNIDER
NEW CONNECTION - (OH BOY).
TODD SINGS FOR EDDY SHAVER
"Yellow rose Waco moon/ quit too late and you'll die too soon/ woman with a needle and a silver spoon/ holed up singing the devil's tunes." - Waco Moon - Todd Snider.
Todd Snider and Texan protégé Eric Hisaw eulogised Eddy Shaver in songs after he died at 38 of a heroin overdose on New Year's Eve, 2000.

Snider went into bat for Eddy's dad Billy Joe who also paid tribute to him on That's Why The Man In Black Sings The Blues on his 14th album Freedom's Child.

And Snider, like Shaver Sr, landed body blows on smack dealers.

But he also blasted the late guitarist for letting down his father, already grieving for a recently deceased wife and mother.

"I can't say I felt so sad/ the truth is I think I'm mad/ at the selfish way you just left your dad/ when you know what a hard time he had/ sleeping through a dream come true/ you just threw all that talent away."
Snider, 36, ended fifth album, New Connection (Oh Boy-Shock) with his tribute to Eddy who played on his 1994 debut disc Songs For The Daily Planet.

"When he was at his worst I could never get hold of him," Snider revealed, "then he got cleaned up a little bit before he died and I saw him a little more. The second last time I saw him me and him and Billy Joe wrote Deja Blues."

It appeared on Shaver's disc produced by Snider's producer R S Field who worked on Billy Joe's acclaimed comeback Tramp On Your Street whose title track was covered by George Jones.

Don't believe New Connection is too morose - Snider turns tragedy into a sardonic splendour.

"The day I got my record contract my dad was diagnosed with cancer," says Snider, "and a month before my record came out he died."

From the wry entrée title track it's a triumphant trip through the singer's fertile mind with a few romantic off ramps.

Vinyl Records is name check nostalgia - akin to Aussie Geoff Mack's I've Been Everywhere (which he performs live).

It segues into a tribute to his hometown Portland, Oregon, in Rose City with Kim Richey, who tap danced on his previous disc, on harmony.

Beer Run, penned with former Shaver bassist Keith Christopher, works better than namesake - a George Jones-Garth Brooks duet on Jones 2001 disc The Rock: Stone Cold Country.

Snider is not coy about honouring mentors - he duets with John Prine on his Crooked Piece Of Time and cut two tunes penned with San Marcos bar owner Kent Finlay.

Finlay elevated Snider from bus boy to main act and wrote Blow Up Plastic Girl - a novelty hit in Queensland for Oklahoma born Mel McDaniel.

Here they co-wrote ironic Statistician's Blues and Close To You for Todd's artist wife Melita.

"I actually met her paintings first and I thought they were funny," says Snider, "I remember seeing her paintings and thinking I had lost my sense of humour and here was a woman who had one. Now, I watch her paint while I write songs and her paintings and my songs are similar."

Snider love songs Stuck All Night and Easy, both with Richey harmonies, work because of their vivid imagery.

Class Of 85, penned with another mentor Keith Sykes, and Broke parody history - his own.

Snider features guitarist Will Kimbrough, who replaced Eddy on Shaver's new disc, Prine's mandolin player Jason Wilber, Chris Carmichael on fiddle, drummer Paul Griffiths and bassist Dave Jacques.

Snider's disc was belatedly released here, but better late than never, with an artist as unique and satisfying as Snider.

2004 CD REVIEW
TODD SNIDER
EAST NASHVILLE SKYLINE (OH BOY)
TODD SNIDER - ODE TO BILLY JOE
"Old timer, old timer, too late to die young now/ old timer, five and dimer/ trying to find a way to age like wine somehow." - Age Like Wine - Todd Snider.
Todd Snider has vivid memories of the night he answered a pay phone at Idle Hour bar in Nashville and had a rifle thrust into his face.

The sardonic singer-songwriter was expecting a call from his artist wife Melita but instead aborted a dope deal.

Snider's mentor Billy Joe Shaver stepped in, and with the rifle in his chest, escorted him from the bar.

The duo decamped after a barfly alerted the enraged rifle toting bar owner that Shaver wrote Honky Tonk Heroes and neither was ready to meet God.

They visited the bar after a writing session and Snider reprised the yarn in his intro to his revamp of Billy Joe's Good News Blues on eighth album East Nashville Skyline.
The Oregon born hell raiser is long renowned for turning reality-fuelled brushes with life and death into narcotic narratives.

Most have stood the test of time and some became hits for other artists.

Snider, 38, morphs tragedy intro triumph - he wrote several songs during rehab after overdoses in 2003 as he mixed painkillers for back and stomach ailments with booze and dope.

The death of best friend Skip Litz - soundman and tour manager - was the catalyst for rehab for substance abuse and depression and this disc.

''I'm still not sure what happened, but I messed up my stomach on pills and alcohol,'' Snider revealed after covering recent Canadian tourist Fred Eaglesmith's Alcohol And Pills.

''I wasn't trying to kill myself, I was just trying to see how far I could take things and how far released from pain I could get. Everyone's always called me crazy, and now I've got the paperwork to prove it."

Snider entrees with a planned hidden track - autobiographical Age Like Wine - "my life story - it lasts a minute and seconds."

The perfect entrée - according to the artist.

"I think of it as this tragic-comedy record where somebody tries to kill themselves and can't even do that," Snider revealed.

"That song kind of introduces the main character. There's a theme that goes through it that I'd been thinking about while writing these songs. Most of them I came up with in the hospital - or finished them there."

It segues into Tillamook County Jail, inspired by a recent stint in an Oregon prison for a traffic accident involving a road crew and Play A Train Song for Litz.

Some of Snider's eight drink tank encounters fired behind bars songs but Incarcerated was a whimsical reaction to a Judge Judy episode.

NASHVILLE - CASHVILLE
"There's nothing wrong with rolling in the cashville/ there ain't nothing wrong that we can't fix in the mix/ there isn't nothing wrong with Nashville/ these rolling hills of Nashville, Tennessee/ there ain't nothing wrong with you or me/ well if you ever find yourself in Memphis, Tennessee/ be sure to look up my old buddy Jason D/ he is as cool a rockin' daddy as you'll ever see/ the stone second coming of Jerry Lee/ jumpin' like a monkey on them piano keys/ not a better rock-n-roller you will ever see." - Nashville - Todd Snider.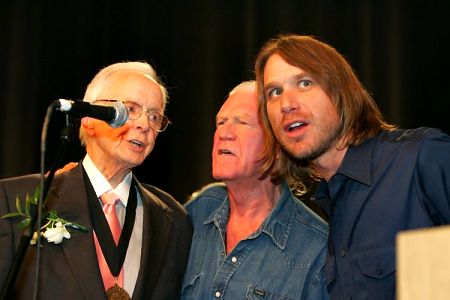 Snider cut this disc at Eric McConnell's East Nashville studio - locale for Jack White produced dual Grammy winning Loretta Lynn album Van Lear Rose.

But the singer, unlike some elitist peers, is a lateral thinker about depth and width of talent from the rootsy country to Music Row chart chaff.

He name checks Jason D Williams in Memphis and Jack Ingram in Austin as proof of diversity.

"I'd lash out at Robbie Fulks right now," Snider said.

"I think that song he wrote about Nashville is: a) not very good and b) not very funny. Maybe you just weren't good enough to work with Tony Brown. We still make good music here, and if there is a fault or burden, it might fall on us No Depression people that are so bitter. I'm hopefully not including myself. It's one of those things where there's an underground country movement. For some of the younger people, it feels based on hatred, almost like punk rock."

Snider reserves vitriol for boxing parasites who exploited Mike Tyson - Iron Mike's Main Man's Last Request.

Conservative, Christian Right Wing Republican Straight White American Males is a talking blues extension of Rev Billy C Wirtz's Right Wing Round-Up.

But there's a sensitive heart beating under Snider's satiric streaks in the triumph over suicide in Sunshine and finale Enjoy Yourself.