DAVE'S DIARY - 16 JULY 2013 - RADNEY FOSTER CD REVIEW
2006 CD REVIEW
RADNEY FOSTER
THIS WORLD WE LIVE IN (DUALTONE-SHOCK)
RADNEY FOSTER HOOKS HITS
"He was nervous and excited when he walked in/ she poured him a drink/ and they discussed the price of sin." - The Kindness Of Strangers - Radney Foster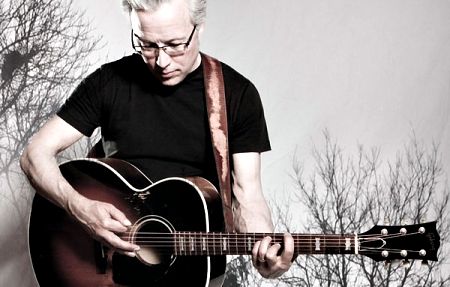 Acclaimed Texan troubadour Radney Foster chanced his soul to road test a new song about a man and a hooker.

He burned a copy for his second wife - journalist Cyndi Hoelzle - and was stunned by the result.

"I gave it to my wife and said, "honey, when you're running errands today listen to this thing and see what you think," Foster, then 46, revealed of The Kindness Of Strangers.

"And she called me a couple of hours later and was crying. And I was like, "honey, are you okay?" And she said, "Yes, I'm okay. I'm sitting here crying and have no idea who I'm crying for - the guy or the prostitute. I'm just unbelievably moved it." And I thought, "Okay, I did my job."

So what happened?

Well, the heartbroken male paid for aural therapy - not oral pleasure - and his subject prayed for him after he paid for her.

Not stereotypical twang but a highlight of Foster's seventh solo disc This World We Live In.

It's more credible than corporate radio bullfrogs whose minions select samples from narrow parameters and play them down the phone to a chosen demographic.

Foster cut three wondrous discs with Bill Lloyd as Foster & Lloyd from 1987 and has penned enough chart toppers to keep him from diluting his soulful albums that began with Del Rio, Texas, 1959, in 1992.

Godspeed, inspired by his former wife of 12 years decamping to France in 1994 with their son Julien, now 21, was one of three to grace huge selling Dixie Chicks albums.

Recent hits include expatriate Australasian superstar Keith Urban's Raining On Sunday, and smashes for Darius Rucker, Kenny Chesney and Brooks & Dunn.

He also wrote A Real Fine Place To Start - an historic hit for twice wed Missouri born star Sara Evans, making her first Australian tour in September with Georgian superstar Alan Jackson.

Radney can afford to foster new Texas stars diverse as frequent Aussie tourist Jack Ingram, Pat Green, Cory Morrow and Randy Rogers in the same way his mentors inspired him.
JACK INGRAM
"I believe in leather saddles/ old Camaros and picking your battles/ the way Waylon used to tear up a country song/ I believe love is hard to handle." - Prove Me Right - Radney Foster-Stephanie Delray.

"I think it's a generational thing," says Foster whose co-write with Ingram on Never Gonna Fly is the finale track here.

"I cut my teeth on Guy Clark and Rodney Crowell and Willie & Waylon. Wherever they lived, it was always this independently minded music based on the geography of home. I think that whatever it is that is geographically and culturally different about Texas has a profound effect on the music that comes out of there, and continues to."
Foster has long ascended from the depths of divorce on previous discs to whimsical love songs and celebration of mentors.

He entrees with romance as the surrogate stimulant on Drunk On Love - it segues into Sweet And Wild and continues in Big Idea and Fools That Dream.
Foster expands it in Prove Me Right and his imagery is superb in his escapist New Zip Code.

"A new zip code is what I need/ any place your heartache can't find me/ ain't a bar in this town where I can lose your memory/ so I'm kissing this dirt goodbye."

Foster also reaches back in biographical Half Of My Mistakes.

"It's really about growing up even though love is a particular theme in that," Foster says.

"It is what gets you through when you screw up, and when you don't, and how you look back on it."
SOLO DISCOGRAPHY
Del Rio, TX 1959 - September 29, 1992
Labor of Love - April 11, 1995
See What You Want to See - May 18, 1999
Are You Ready for the Big Show? - June 26, 2001
Another Way to Go - September 10, 2002
And Then There's Me - (The Back Porch Sessions) - 2005
This World We Live In - April 4, 2006
Revival - August 31, 2009
Del Rio, TX Revisited: Unplugged & Lonesome - August 14, 2012