DAVE'S DIARY - 5 JULY 2010 - BARB WATERS CD REVIEW
2010 CD REVIEW
BARB WATERS & THE MOTHERS OF PEARL
BUFFALO MOUNTAIN GIRL
"She played guitar and made up her own songs/ all that summer she let me strum along." - My Brother's First Girlfriend - Barb Waters.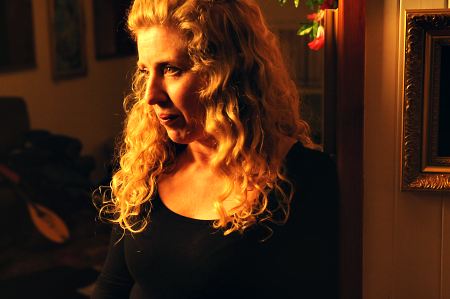 Photo by Tony Mott
The chilly mountain air in the Victorian high country is fertile fodder for songwriters.

Corryong born Lee Kernaghan and Myrtleford minstrel Barb Waters long ago decamped their roots for the big smoke.

But they have repeatedly mined a rich vein for their niches in the country music market.

They also soaked up the footy culture way beyond their birthplaces.

Lee, a latter day Queenslander, is a Carlton fan with country music loving Goulburn Valley born star Andrew Walker on his speed dial.

Barb may be a St Kilda supporter but it's not clear if former Cats captain, latter day Saint and former Murray Valley Bushrangers ruckman Steven King takes her calls.

Kernaghan abandoned brief real estate sales across the Murray in Albury for music with three singing siblings Tania, Greg and Fiona.

Waters used her literary skills from a successful teaching career to hone her songwriting in the killing fields of inner suburbia.

So it's no surprise she also exploited fraternal memories for the entrée song of her third solo CD.

In My Brother's First Girlfriend the singer recalls her brother's ruptured romance devastated her because it deprived her of an embryonic musical mentor.

But Waters, whose wry humour inspired naming of primary school band The Water Babies, doesn't seem to have suffered lasting pain.

Especially when she tears up her back pages with delicious dexterity as she colours her vibrant vignettes with vivid imagery.
SLEEPYTOWN
"No daddy wielding a shotgun/ no one of great renown/ rodeo riders, lonesome hitchhikers/ not in this sleepy town." - Sleepytown - Barb Waters.
High country palm trees, scent of lantana and unique mountain light bring childhood memories to life in salient sequencing of Sleepytown, I Used To Ride and Watch The Boys.

These are poignant pen pictures of idyllic exploits in the slow lane before rural innocence fell victim to city cyberspace.

Luckily country singers seem to be immune to many of the spiders on the web.

Waters ignites credible tales on departed friends and lovers in Don't See Them Around and I Just Saw Our Love Fly Away with uncanny insight.
She balances bleak financial challenges of a latter day chosen career with therapeutic rewards in the metaphoric Cannot Bend A Stone.

Waters punctuates her narratives with Tony Romeo penned Oh Boy - an historic hit for diva Dianna Trask, an older chanteuse raised down yonder at Warburton.

The hook heavy original scored mass airplay in an era before corporate radio killed eclectic formats.
BLACKBERRY STINGS
"She wore a blue dress, all that summer/he had a soft caress/ never said that he loved her/ she didn't know, he was not a man of words/ all bright summer long/ in the rock pools they nestled/ her dress it tore on the blackberry nettle." - Quiet Country Boy - Barb Waters.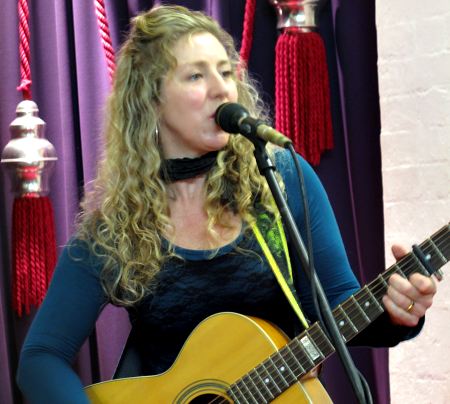 Barb Waters at Basement Discs - 25/6/10
Waters should find a home on the ABC and community radio range with maternal paeans The Poplars - replete with a lurking danger - and Don't Go Out.

Perhaps they're a perfect segue to the coming of age finale Quiet Country Boy.

The blackberry nettle that tore the mountain maid's blue dress before she fled for city halls of academia may be a far less deleterious health hazard than the telephonic tool that now bears its name.

The crisp production of Craig Pilkington enables Waters' vocals to drive the train.

With Waters sharing guitar duties with Pilkington, Ash Naylor and Chris Altmann, who adds pedal steel, banjo and mandolin, this disc never suffer from heat seeking histrionics.

The Silo String Quartet enriches the deft touch of organist Bruce Haymes violinist Jen Anderson and Dave Evans' accordion.