DAVE'S DIARY - 13 JULY 2009 - MOSE MCCORMACK
MOSE MCCORMACK - DUSTY OLD DEVIL

"Then there's old Dusty Devil knockin' at your door/ hat in hand, eyes downcast, what the hell's he lookin' for/ came from Alabama with a banjo on his knee/ came for your Tortillas, you obliged so graciously." - Dusty Devil - Mose McCormack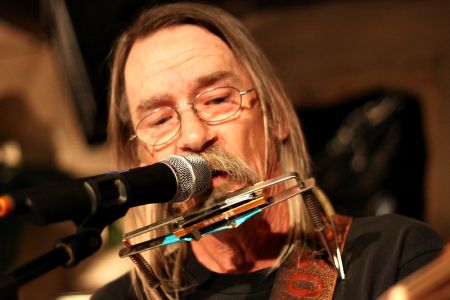 Alabama born singer-songwriter Mose McCormack never really planned to become an outlaw.

It was just a chance youthful encounter with a bank in Hawaii in 1970 that almost scored him a record he didn't need.

Mose's quick draw withdrawal found him on a jet plane back to the mainland where the FBI arrested him in Arizona.

The latter day singer was granted probation and found solace and creativity in his music.

McCormack, now 58, also kept the wolves and deputies from the door by exploiting his dual talent as a jeweller.

"My probation officer told me I had to do something for a living, something besides playing music in bars," Mose revealed in an historic magazine interview.

"So I learned how to make jewellery. My teachers were the Hopis and the hippies. I started doing that for a while and people kept telling me I could sell more jewellery if I moved to Santa Fe."

But, now 39 years down the Lost Highway, the singer has dug deep into his psyche and released five indie CDs showcasing his earthy music.

It's a vastly different memory bank that has provided Mose with lyrical liquidity that has shot his sardonic songs from the chute.

But there have been a brace of hurdles that the singer had to leap to ensure the fruits of labour boomeranged to him.

McCormack moved to New Mexico in 1973 and released debut disc Beans And Make Believe on the CMH label in 1976.

Since then the singer has released four albums - Old Soldier's Home (1979), Mosey Mack (1981), Santa Fe Trail (1995) and After All These Years in 2009.
BEANS AND MAKE BELIEVE

"That white trash trailer house rockin' to the battle of love/ on a rocky foundation/ there's a whole lot of shakin' goin' on/ where words are bullets and passion's blood/ it cracks the very foundation of love." - Battle Of Love - Mose McCormack
McCormack fondly recalls his musical embryo in the town of Dothan in southeast Alabama near the Georgia border.

"The biggest influence I had was the Baptist Church and my mother singing folk songs," McCormack added.

"My big brother was an influence too, bringing home early rock records. And then he went to college and started coming back with folk such as Ian & Sylvia. I was into Ian Tyson 25 or 30 years ago."
Tyson wrote classics such as Four Strong Winds and Someday Soon and cut a dozen albums with first singing spouse Sylvia Fricker during the sixties folk boom.

Although Ian and Sylvia wed in 1964 and had huge success it was their seventies split that was the impetus for the latter day country career of Tyson.

Tunes such as 18 Inches Of Rain, I Outgrew The Wagon, Lost Herd and Summer's Gone underpinned the Canadian singing rancher's Rocky Mountain rural roots.

Tyson, now 75, has long been a traditional western keeper of the flame keeper akin to Texan legends Red Steagall and Michael Murphey, Don Edwards and Waddie Mitchell.
"I taught myself how to play guitar by buying guitar books. I realised after learning all these songs out of these books, like Where Have All the Flowers Gone? I realised I could have written one. So I was writing since I was 18."

For more than 40 years, McCormack has been writing and recording tunes.

Like many peers he signed record deals designed to make him rich and famous.

"Beans And Make Believe in 1976 was the one that started it all," Mose told Nu Country TV.

"This is when long time producer/associate John Wagner found baby Moses floating down the Rio Grande in an empty beer crate. That's 25-year old Mose on the cover, sounds like a kid too."
OLD SOLDIER'S HOME
"Wants to be a pea pickin' farmer/ live way out in the country side/ wants to be a cowgirl singer, wants to learn to rope and ride." - Little Alma - Mose McCormack.
It was only three years later that McCormack was set to step up.

Old Soldier's Home in 1979 was the "big" record deal that was gonna launch me to "stardom," the singer added.

"I was in full launch mode and filled with 'we love you babe' when I walked into the record president's office with the finished record and he listened to it and said, "I just don't hear it anymore.'"

"Now what the hell does that mean", I said. The battle began. I refused to bend and instead of launching me to the stars, they launched me down the toilet. I retained the master, (what a trick that was), and we repackaged, named it, and put a more recent picture on it."

Just two years later McCormack - instead of climbing a steeple - hit his next hurdle.

"I recorded Mosey Mack in 1981," the singer explained about his next album for another label.

"That's a piece of Turquoise rattling around in there, for luck. This one was printed up and ready to roll when the I.R.S. tax guys rolled in first and seized everything for back taxes, shutting down the company. Now this one is only available through me at my e-mail address. The rest of them are available on C.D. Baby and the sites listed on the back of the new release."
SANTA FE TRAIL
"Last night he had a dream, saw the Mexican Eagle/ out in the desert, said it moved him just so/ one ten in the shade just south of Nogales." Sonora - Mose McCormack
McCormack first scored airplay on Nu Country FM and other Australian community radio stations when he released Santa Fe Trail in 1995.

The reaction ignited a dream.

"There's an ad on TV that shows all this beautiful scenery that pulls you right into it and at the end of it, it says, Australia come walk about," Mose says.

"Yeah man, Christmas on the beach in Australia. con mi guitara y mi Foster's en mis manos. I'd love to do a spot on your TV. I'd love to do a spot anywhere in Australia. I'm getting lots of airplay in other countries but not so much in the good ol' US. You have to have a major deal, big money, to get anywhere here. The business has turned all music to "pop."

The good news is Mose has provided us with a brace of his video clips - they began on Nu Country TV in July.

Mose's hot studio sound was energised by the Albuquerque A team.
Guitarists John Wagner and Mike Monteil, bassists Bob Barron and Dick Orr, fiddle Gretchen Van Houten, Augé Hays and Rick McGrath on pedal steel, drummer Andy Poling, pianist Jimmy Kennedy and violinist Joseph Santiago.
"Musicians have been my saving grace," McCormack added.

"If it wasn't for my musician friends I wouldn't be half as good as I am. One night in a bar, after I'd finished playing, Townes Van Zant grabbed me just to tell me how much he'd liked what I'd sung. Things like that are what's kept me going all these years. The biggest compliment I ever got from a bar-owner was from the manager of The Big Valley Ranch in Albuquerque. When I was working there, she said she had never seen so many musicians filling the place and she guessed that they must really like me."

But critical acclaim doesn't pay bills.

"Because of convoluted business why me Lord? I am forced to bootleg my own music," Mose revealed.

"I do it all here at home on my computer. I think it's a good job considering my bottom of the line printer /scanner. I shrink wrap with a Seal-a-Meal and a hair dryer. What's a po' boy to do? The photo on back is a shadow of the original cover surrounded with turquoise and beads I made. Santa Fe Trail - Moseying down the Santa Fe Trail."
AFTER ALL THESE YEARS
"If the good die young we proved em wrong/ our love is still strong after all these years." - After All These Years - Mose McCormack.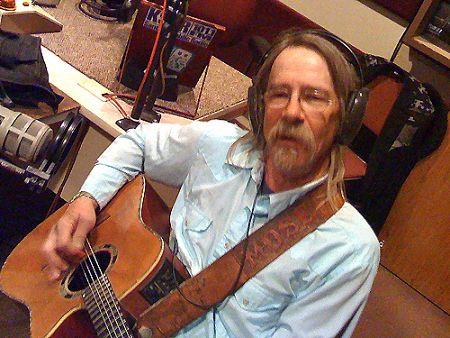 McCormack recently released a new disc, cut in New Mexico, also with the same Albuquerque A team.

"Now here we are, after all these years, to the new release After All These Years," Mose punned.

"It's funny how everything gets back to the central theme. Dig the photo on the inside with my first guitar and then the photo on the disc. There I am after all these years with my rear parked in the same chair."

McCormack hasn't swapped that chaise for the electric variety by reliving his brief outlaw era.

"Some years ago I was hanging out with my good friend who played with Jerry Jeff Walker who was playing a big gig in Nashville," McCormack recalled.

"It was CMA award time in Nashville and anybody who was somebody was in town. Well, just about everybody showed up to jam with J. J. Cale, Willie, Waylon, Charlie Daniels, you name em they were there. It was a billion dollar bash. After the show this massive entourage of super stars went club hopping. Every time we'd walk into a place, a hush would come over the place.Most people awed by the super stardom heaped upon them. My night was made when we walked into George Jones' Possum Holler bar. The usual silence and awe. Then a drunk at the bar raised his head, looked around at all the commotion, and yelled out, "Damn worthless 'outlaws', ain't a damn one of em ever rob a bank!" I just chuckled and kept the truth to myself. Pretty observant drunk."