DAVE'S DIARY - 6 JULY 2009 - KIRSTY LEE AKERS CD REVIEW
2009 CD REVIEW
KIRSTY LEE AKERS
BETTER DAYS (Compass Brothers-Shock).

KIRSTY LEE AKERS - BETTER DAYS SHOTGUN STYLE
"Knocked up, shame, shame/ I'm gonna ruin my family name." - Shotgun Wedding - Angaleena Presley-Mark D Sanders.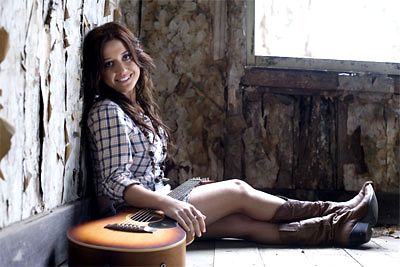 When Kirsty Lee Akers won her first Golden Guitar - second of her major trophies - at 19 she decided on an image change.

The Hunter Valley vamp, renowned for her jockey like build, decided on high ideals - not high heels.

So, at the tender age of 20, she wrote four of 12 songs on her second album.

But not Knocked Up - the song that shares name with the 2007 Hollywood movie that Loudon Wainwright 111 starred in.

That song also appeared on former Trick Pony singer Heidi Newfield's debut solo CD What Am I Waiting For on Sony-Curb.

Instead it was Mark D Sanders and Angaleena Presley - who wrote three tunes on this disc and is published by expatriate Australasian star maker Barry Coburn and singing spouse Jewel Coburn.

Her song subject is obvious but let's share a couplet - "here comes what granny's been dreadin'/ belly bull of beer in a shotgun wedding'/ smashed up car and a hand me down cot/ that's what you get when you get knocked up."

The villain is a "good lookin' guitar man."

Akers explained why she was in a perfect position to act her song and video clip that is featured on Nu Country TV.

"My mum was just 16 when she fell pregnant with me. She was really young, so I know a lot about teenage pregnancy and all its ramifications," Akers said.

"I love this song because it's funny and sparky and determined. It's about taking what happens to you in life and making the most of it. We've done a wonderful video clip to go with it - we had a lot of fun making it."

And the singer also elaborated on other changes at the time of recording her album.

"We had a little more time to work with this album, to gather the right songs and to make a statement about who I am and what I want to say," Kirsty Lee said.

"I'm now almost 21, and we were keen to get rid of the little girl image - which can be hard sometimes given my size. But I think this album has a lot more maturity, and the songs have a lot to say."
WHITE FENCE PICKETED
"Don't come home hungry wonderin' where your dinner's at/ and why I'm running around the house in nothing but a hat/ for the next 11 hours I don't want to hear a word from you/ about the woman that you married and gotten so used to." - I Ain't Your White Picket Fence Girl - Kirsty Lee Akers-Trey Bruce.
Akers loads both barrels in I Ain't Your White Picket Fence Girl where her character lays down the law and maybe a few lovers as she rips open apron strings to spread her wings to escape marital drudgery.

It's no surprise that in sibling song I Get Even that she wrote after her best friend's relationship ended - the neglected nymph fights back.

In both songs Akers has the same co-writer, Trey Bruce, whose parents Ed and Patsy wrote historic hit Mamas Don't Let Your Babies Grow Up To Be Cowboys.

Students of song might get the impression that Akers' 21 years in the coal-mining and wine making valley have left her with a pungent post romance hangover.
In her angst fuelled self penned All The King's Horses her femme fatale bids adieu to a lover and extended family with vast vats of venom.

"Cause as much I do miss your nasty mother/ and how could I forget that sleazy brother/ as much as I do miss feeling like crap/ there's no chance I'd take you back."

No, there's no way of Akers being accused of being a slave of the positive love song posse.

"That song broke a writing drought for me," Akers said of All The King's Horses.

"It rushed out in about half an hour, almost like it had been waiting to come. It's a song about re-evaluating a breakup in the light of what comes later - sometimes when a relationship ends, the person does you a huge favour. You realise that you're far better off without them."
ENVY STREET
"I know, just who my friends are/ there ain't no daggers in their backs." - I Sleep At Night - Kirsty Lee Akers-Mike Carr.
She also personalised I Sleep At Night - inspired by alleged industry backstabbing when Akers first had success.

She nails it with the lyric "pretty things with angel wings" - heavy on crocodile tears and low on sincerity.

"I'm really honest, and people don't always like that. This is a song about who your friends really are. I wrote it with Mike Carr. I'm really proud of it."

But she balances her pain with exhilaration in entrée Habit Of You, optimism in I Know You Will, love rising above personal poverty in Presley's Better Days and romantic realism in Too Far To Drive and How Long Am I Supposed To Wait For You.

Former Boy Howdy singer Jeffrey Steele - a prolific writer - and NRBQ refugee Al Anderson wrote the latter song.

Akers proves her mettle when she finishes on a defiant note - another leaving song, Let The Baby Sleep Through This.

Presley and Bill Monroe descendant Ashley Monroe - a recording artist and Catherine Britt collaborator - wrote the finale song.

At 21 Akers hints at a mature understanding of passion and pain that has long fuelled the genre.

And Graham Thompson's production ensures Akers vocals are complimented - not drowned by session serfs, headed by Nashville A team fiddler Rob Hajacos and Dan Dugmore on pedal and lap steel - and local multi-instrumentalist Rod McCormack.

Akers proves to be a petite powerhouse with staying power.