DAVE'S DIARY - 24 JULY 2004 - SOTHEBY'S CASH AUCTION
JOHNNY CASH SOTHEBY'S AUCTION
NU COUNTRY TO THE RESCUE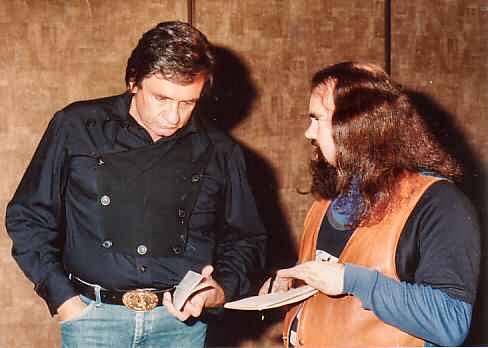 Johnny Cash with Dave Dawson
When Sotheby's of New York was commissioned to auction memorabilia from the vast collection of the late Johnny Cash and singing spouse June Carter Cash it reached out in cyber space to Nu Country.

Among the curios provided by the Cashes for the September auction were pictures taken during an Australian tour.

But the internationally acclaimed auctioneers had a problem - the pictures were undated.

So an eagle eyed Sotheby's senior Vice President noticed similar pictures in our Johnny Cash obituary on our popular web page and emailed us for a dateline.

Leila Dunbar, Senior Vice President Director Collectibles Department, sent her query to Nu Country Guru David Dawson via our web mistress Anne Sydenham.

"I'm writing because I saw the great photo of you and Johnny and read your diary," Leila wrote.

"I have one of Johnny sitting, in the same outfit, with a 2KY microphone in front of him, as well as others. This leads me to believe he was doing a press conference. Can you tell me when that was and the details? I'm assuming sometime late 70's-80's."
OUR REPLY
Nu Country, ever anxious, to honour the leading country music dynasty, was quick on the draw.

"The Cash pictures were taken when I worked as a rock and country music feature writer and columnist on the Sydney Daily Mirror from 1980-85," Guru Dawson, 57, replied.

"I believe it was a press conference during his 1981 Australian tour. I suspect the same day of the one you refer to featuring the 2KY microphone. 2KY was, at that stage, a country music and horse racing station. Sadly there are now no Australian metropolitan mainstream commercial stations playing country music here.
"Johnny, June Carter Cash and other family members including Cyndi Cash and former husband to be Marty Stuart were also on the tour.

"We also had a picture of Cowboy Jack Clement who was the opening act.

"I can't remember who took our pictures as we had a large pool of Mirror photographers.
Good luck with your auction."

Les Giesler , Cowboy Jack Clement and Dave Dawson
AUCTION UPDATE

"Thanks so much for your quick response! I will mark our photo accordingly," Dunbar replied.

"Sotheby's has the huge honor of offering the estate of Johnny Cash and June Carter Cash this September 14-16 in New York City. The estate consists of almost 800 lots, including numerous career highlights from the Cashes' half century in entertainment - awards (Grammys, CMAs, etc.), gold and platinum records, stage-worn clothing, instruments, unpublished and published lyrics, furniture and decorations, personal items, etc.

The Cashes actually contacted Sotheby's in 2000 as they were interested in simplifying
their lives. After they passed away last year, the family decided to carry out their wishes.

I will be pleased to send you a copy of the catalogue when it's published (first week in August).

Dunbar, a former fellow volunteer DJ, is well aware of the struggle of community radio and TV.

"I think your diary is terrific and I agree with you completely in regard to artists like the Cashes don't get played nearly enough," Dunbar added.

"Their music transcends genre and that scares the bejesus out of so many programmers. I certainly understand - I was a jazz DJ for an National Public Radio station here for eight years, so I've seen the challenges of play lists firsthand."
SOTHEBY'S CONTACT
Further info on the Cash auction is available from -
Leila "Lee" Dunbar Senior Vice President
Director Collectibles Department
212-606-7910 phone 212-606-7937 fax
Sotheby's
1334 York Ave.
NY, NY 10021
Leila.Dunbar@sothebys.com
CASH DEATH DATES

Johnny Cash was born at Kingsland, Arkansas, on February, 26, 1932, and grew up on a cotton farm in Dyess.

He died at 71 on September 12, 2003, due to complications from diabetes, which resulted in respiratory failure.

He was laid to rest on Monday September 15.

June Carter Cash died at 73 at 5.04 p m on May 15, 2003.

She was youngest of three daughters of Maybelle Addington and Ezra Carter who wed in 1915.

June, former singing spouse of country singer Carl Smith, married Cash in 1968.
CLICK HERE for our DIARY feature on the CASH CLAN from September 23, 2003.