DAVE'S DIARY - 13/1/2023 - CHAD MORGAN FEATURE
CHAD MORGAN NEW BOOK AND VICTORIAN TOUR
"All the sheilas think I'm handsome/ their fathers think I'm mad/ their mothers think I'm a villain/ but I'm just a loveable lad/ they say I'm like Cassanova/ I drink, I smoke I swear/ they say I'm the Sheik of Scrubby Creek but I don't care." - The Sheik of Scrubby Creek - Chad Morgan.
When Chad Morgan - The Sheik Of Scrubby Creek - tours Victoria this month after being a headliner at the 51st Tamworth Country Music Festival he emulates Shotgun Willie Nelson.
The Sheik is on the road again at 89 and celebrates his 90th birthday on February 13 in his career that began in Queensland at 15.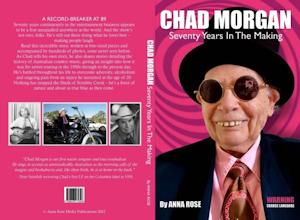 Chad OAM is also promoting his latest book Seventy Years In The Making by revered veteran journalist and author Anna Rose who discovered Chad when she was wed to late musician, author and editor Jazzer Smith.
Hobart born Jazzer died in May, 1987, at the age of 47 from Non-Hodgkins Lymphoma (cancer of the lymph glands.)
Jazzer had a colourful career as a musician, editor of Across Country, The Journal of Australian Music and Musicians (JAMM), Tamworth Country Music Capital News and 1984 The Book Of Australian Country Music.
Anna's intriguing book, published by Anna Rose Media Publications, is available at Chad's gigs, bookstores and by mail order at these sites.
https://chadmorgan70years.com.au/
Anna reaches back to Chad's birth to his mother Ivy and a timber and cane cutting father Dave he never met in St Margaret's Private Hospital in Wondai in Queensland.
Ivy and her indigenous mother Eva and Bill Hopkins raised Chad in Scrubby Creek and ignited his career at 19 when he was drafted into National Service as Air Craftsman Chadwick Morgan for six months.
Eva earlier clothed Chad and family members in shirts made from self-raising flour bags that she washed and stitched together.
In 2009 Morgan wrote The Ballad Of Bill And Eva about his Aboriginal heritage, dedicated to his grandparents and recorded it with his granddaughter, Caitlin Morgan.
Chad also built his first mandolin and guitar while living with Bill and Eva who played accordion and fiddle as his mum played banjo-mandolin.
Anna revealed Eva bought Chad his first cheap guitar and recalled The Sheik driving cars at 14 after learning the ropes on tractors and was a prolific book reader who held his own again bullies at the same age.
She details many major moments in Chad's career and life in an epistle illustrated by memorable photos of Chad - the eldest of 14 children - his two wives Pam and Joanie and their children.
Anna delves into his touring with Ashton's Circus and peers diverse as Slim Dusty, Reg Lindsay, Buddy Williams, Gordon Parsons and Terry Gordon and how he was kidnapped on King Island to perform an extra show.
She revealed Chad's strong relationships with police and how they rescued his sons from a child welfare home.
Anna also details con men advertising fake Chad concerts and how second wife Joanie, who died in 2017 after their 34-year marriage, rescued him from depression.
She also illustrates his off-stage mechanical skills that date back to his dairy farming and timber cutting youth.
Anna lists TV shows, movies and documentaries he appeared in, his many brushes with death and his time living in Melbourne and lyrics of his major hits from his 24 albums.
She revealed one of his Melbourne promoters was a singing AM radio disc jockey who became Chad's manager and told promoters that they had to hire him and his band if they wanted to book Chad for concerts.
I won't spoil that secret here although I attended the manager's funeral after he died many moons ago.
You can read other memorable Chad anecdotes in Anna's book that is launched in Tamworth where she is a major feature writer and reviewer for Tamworth Country Music Capital News.
Instead, I shall detail some of my experiences with Chad during his illustrious life and career.
They include his hell raising with fellow Queensland born country music outlaw A.P. Johnson during his Victorian sojourns.
SHOTGUN WEDDING WITH A P JOHNSON
"Now I've been chasing sheilas for more than half my life/ but seldom have I had one that's fought to be my wife/ but I met a little sheila out on the Queensland plains/ she said don't try and leave me like your other burnt out flames/ she said don't try and leave me, don't you try to run/ cause pappy's right behind you and he's got a loaded gun." - Shotgun Wedding - Chad Morgan.
A. P. Johnson plunged from alleged armed robbery with a water pistol to death at 49 late in the spring of 1995 from a dead liver and pneumonia.
Chad and A. P. appeared with country and pop peers at venues diverse as strip clubs, Reefer Cabaret , Prahran, Espie Hotel, St Kilda and festivals at Wandong, Bacchus Marsh and beyond.
Johnson, former member of The Whittle Famil, was head hunted by singing Texan crime novelist Kinky Friedman to open a show for him on his debut 1990 tour.
He shocked patrons at his come to church shows at the now defunct Stockade Hotel in Carlton by having sex on the stage with a stripper, now in her eighties.
Morgan-Johnson stories of hell raising, carousing and songwriting - often made headlines in the national media.
Sydney director Janine Hosking of iKandy Films revisited the amazing life of Chad and A. P. in her acclaimed documentary, I'm Not Dead Yet.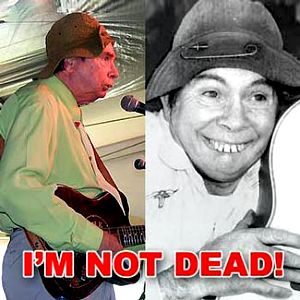 The 95-minute documentary, screened at Sydney Film Festival in June, 2011, and 60th Melbourne Film Festival at the Greater Union Theatre in Russell St.
Tex Perkins narrated the epic prompted by radio reports of the premature passing of the singer and his ostracism in country music HQ Tamworth.
The eldest of 14 children born in the Great Depression survived brushes with death on motorbikes and cars.
''It gave me sister an awful fright,'' Chad revealed of radio news of his premature passing.
''She went off her brain. I rang up the station and corrected them. But, hey, I have been dying for 50 years. In the old days, when I was drinking real heavy, everybody was always saying, 'He'll be dead in a year.' So I'm kind of used to it.''
Morgan, who hasn't drunk alcohol in almost 50 years after wedding second wife Joanie, continues to tour and make music.
I declare my interest in the I'm Not Dead documentary.
I was approached by director Janine after she salvaged unedited extracts of interviews I did for another documentary on Chad for long defunct Paul Barry hosted Witness show on the Seven Network.
That segment was filmed at my home office deep in the heart of Glen Iris - geographical centre of Melbourne.
This time Janine and documentary crew filmed extensive interviews with this diarist and Dead Livers bassist Michael Schack at the same locale in the summer of 2010.
We both revealed travails and travels of both Chad and A. P. on this stretch of the Lost Highway.
Schack's band - one of 10 he performs with - shared stages with both outlaws.
The Dead Livers played with Chad, A.P. and more at a seventies Bacchus Marsh country festival staged by One Armed Bandit singer and Bona Fide Travellers front man Snowy Townsend.
They also worked many other gigs with Johnson who duetted with P.C. Caulton on I'd Love To Have A Smoke With Malcolm (Fraser).
The parody of Dead Livers hit I'd Love To Have A Joint With Willie was a spoof of Pat Alexander penned Slim Dusty chart topper I'd Love To Have A Drink With Duncan.
The Duncan parodies - the former penned by this diarist and latter by Caulton and Johnson - were recorded at Southbound studio run by latter day expat Australasian Barry Coburn.
They were part of an EP cassette released on Coburn's indie South Of The Border records for Shotgun Willie Nelson's debut 1980 Australian tour.
But I digress.
Let's return to the Chad Morgan story.
NEVER TIE A CHOOK'S LEGS TOGETHER
"Now never, never, never tie a chook's legs together/ if you are going to chop off his head/ because it's terrific fun, to see his headless body run." - Never Tie A Chook's Legs Together - A. P Johnson.
I first saw Chad perform in my hometown of Warrnambool in the sixties.
He played a similar circuit to former Warrnambool resident Smoky Dawson, Slim Dusty, Buddy Williams and Tex Morton.
I interviewed three of the latter quartet in the seventies but never Tex.
My only encounter with singing actor Tex was when he phoned the desk I shared with Papal biographer Jim Oram on the long defunct Sydney Daily Mirror in the eighties and asked why Oram was late for a liquid lunch.
But Chad was a frequent interviewee in his tenure in Melbourne when he painted the town red with Johnson who arrived down south in 1977 as singing roadie for RCA Brisbane band Moose Malone.
Former Broken Hill journalist and 3UZ country music DJ and singer Dave Pincombe managed shows for Chad while writing for the Sunday Press - predecessor of Sunday Herald Sun.
This meant streams of stories on Chad who belatedly won his Tamworth Golden Guitar Lifetime Achievement Award aged 76 in 2010 after being inducted into the Australian Roll Of Renown in 1987.
Here are some of them.
PAIN KILLERS ALMOST KILLED CHAD
"Now Riley was a racehorse but he only had one leg/ he would hop around like a kangaroo rat/ but he was born as a horse instead/ his father was a 3 legged stallion/ his mother had no legs at all/ when the marvellous moment of his birth came around/ he was a lovely one legged foal/ he had teeth just like Chad Morgan/ and had what me worry ears." - Riley The One-Legged Racehorse - A P Johnson.
Chad had his first brush with death at 20 on Christmas Eve in 1953.
He broke his leg in five places and spent 14 months in hospital after a motorcycle crash when he was over-laden with Christmas presents and spirit.
Chad wrote Sheik Of Scrubby Creek at 16 - long before his protracted convalescence in hospital.
But on recovery he ascended from talent quests to performing his unique brand of country and humour in a constant stream of hits and misses.
In 1977 his car hit a fence at 2 am on Raglan Parade, aka Highway One, in Warrnambool on his return from Mt Gambier.
A Good Samaritan - Australasian Post photographer Gary Francis - helped soak up the royal blue blood of the Sheik until an ambulance arrived and took him to hospital.
Chad, with 28 stitches in a head wound, cancelled many gigs because he was speechless from the seat belt wrapping around his neck.
Morgan was not blood tested like late Premier - Sir Henry Bolte - who crashed further north.
But luckily for the late Knight his late night ended happily when a dingo devoured his blood sample after it was transported from the police station to the local hospital.
Chad, unlike Henry, had a day or two in court and hospital.
At the age of 47 the Sheik suffered a stroke.
And two years later a DUI charge in Finley - hometown of Brownlow medallist Shane Crawford, recently deceased multiple VFL premiership coach Alan Jeans and current Geelong star Tom Hawkins.
Chad trumped that when he blew .225% in the high country at Mansfield en route to the Wandong country music festival.
Local lawyer Marie Tehan - latter day Victorian Minister For Health and mother of Dan (current Federal member for Wannon) - rode to the rescue of the Sheik for a princely $400 fee demanded and received in advance.
These were mere pit stops in the progress of the pilgrim who appeared in movies Newsfront, Dimboola and Slim and I and provided Barry Humphries with the toothy template for his stage character Les Patterson.
THE SHEIK SHAKES IT UP
"Now Riley's up in heaven/ having a helluva time up there/ because on every cloud there's a filly/ and on every wing there's a mare/ and all them heavenly horsey bodies, oh God, they're so much in love/ not with Riley the one legged racehorse/ but Riley the one legged stud." - Riley The One Legged Racehorse. - A P Johnson.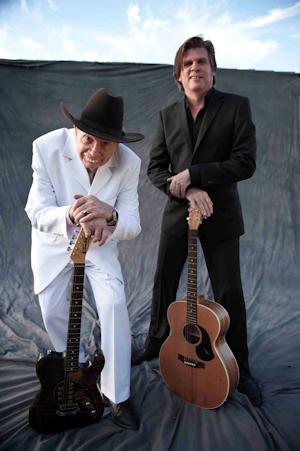 It was during Chad's sojourn in Melbourne - much of it in Ascot Vale - that he and Bundaberg born A.P. built a strong camaraderie with their picking, grinning, singing and songwriting.
Chad was already renowned for songs such as The Bachelor's Warning, Shotgun Wedding, Double Decker Blowflies, The Dinkum Dill, The Fatal Wedding and The Psychiatrist's Joy From Kingaroy.
Morgan added another string to his bow when he recorded A.P. song Never Tie A Chook's Legs Together.
The Sheik also had a crack at Johnson song Riley - The One-Legged Racehorse.
But Chad reportedly had trouble delivering the Melbourne Cup race call in lyrics for the saga of the horse that became a stud in horse heaven after winning the big event.
Both songs were on Johnson's CD Greatest Hits And Ex-Misses released by Nu Country Records and still in stock via this web page.
It was recorded at Coburn's Southbound Studio.
Chris Wilson, Marc C Halstead and Johnson's former partner Brenda Joy also recorded his songs.
Chad performs at the Caravan Club in Archies Creek Hotel on Saturday February 25 and Morwell Club at 1 pm on February 26.
Chad Morgan - Seventy Years In The Making - published by Anna Rose Media Publications, is available at Chad's gigs, bookstores and by mail order.
Those addresses below
https://chadmorgan70years.com.au/