DAVE'S DIARY - 18 JANUARY 2014 - TOBY KEITH
TOBY FINDS LAST LIVING COWBOY
"He's the last living cowboy in this town/ he ain't rode off into the sunset yet / he's still kicking around/ you'll find him halfway liquored up on cattle county shine/ or all the way drunk half the time." - Last Living Cowboy - Toby Keith-Scotty Emerick.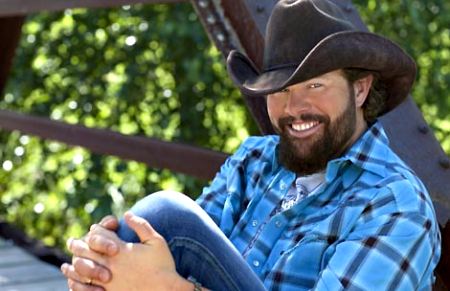 Oklahoma superstar Toby Keith doesn't have to look far to find credible characters for his narratives.

There was a grandmother who inspired the title track of his 15th album Clancy's Tavern and now he has an old rancher for the focal point of his 19th album Drinks After Work.

"There's a song on here called Last Living Cowboy In This Town, which is more along the stuff that I normally do," Keith, 53, and father of three including singer daughter Krystal, confessed on the eve of his first Australian tour.

"Talking about this old man that's in the modern day and he's still hanging on to the last century values and fashion, and it's comical."

Comical maybe - but a joyous western swing fable that is sadly missing from radio in this trend driven genre.
Drinks After Work is dedicated to Keith's late bass player and bandleader Chuck Goff, who died in a Cleveland County car accident back in February, and features the emotional anthem Chuckie's Gone.

It was déjà vu - on March 24, 2001 (Keith's 17th wedding anniversary), his father was killed in a car accident on Interstate 35.
That event and the September 11 attacks in 2001 prompted Keith to write Courtesy of the Red, White, & Blue - a song about his father's patriotism and faith in the United States.
Chuckie's Gone leads off with lyrics about his fellow Oklahoman Chuck not being around for the spring tornadoes that defined so much of 2013 for multi-millionaire Keith and his home state.

"Every single night I'll be playing along, and when you got somebody standing there for over 20 years to your immediate left running the show, you do look up in the middle of a song and look over and go 'he's not there no more.' So it's like Batman not having Robin. And there's no way to replace that," Keith said.
JIMMY BUFFETT DUET
"Last night at the bar it was karaoke night/ yeah, everybody down there was feeling alright/ they got big margarita pitchers, two for one/ Yum, yum, they were feeling footloose and ready for some fun." - Too Drunk To Karaoke - Jimmy Buffett-Toby Keith.
Conspicuously missing is Too Drunk To Karaoke that was claimed by duet partner and singing sailor Jimmy Buffett for his latest album.

"I write all year long, and somewhere around March or April I go into the studio and start cutting," Keith explained.

"I never really know what I've got until I get there. I don't know if it's going to make this album, but I just did a duet with Jimmy Buffett on Too Drunk To Karaoke. That's a crazy party song for him. It's on his 2013 album Songs From St. Somewhere. I wrote a song with Bobby Pinson called Sailboat For Sale and he reciprocated and sang on that one, so I'll probably let him run his this year and then we'll probably put mine on the next album. I've got a lot of stuff recorded, and then I have a bunch of stuff I have to go and record, and then I'll pick 10 or 12 out. Jimmy's the kind of dude that people forget about. When you're talking who your heroes are, they'll say Hag and Willie and Bob Seger. And you forget that everybody who's ever had an acoustic guitar and sat around and sang it for anybody has done some Jimmy Buffett songs.
He's kind of the epitome of kind of sitting around with an acoustic and singing fun beer songs.

That's definitely one duet that I'm honoured to do."

Keith, who headlines the seventh CMC Rocks The Hunter festival and plays Rod Laver Arena with Kellie Pickler and the Texan Eli Young Band on March 19, is expansive about his new album.

"Every once in a while I'll step out and do something crazy if it's a great song," Keith revealed of the album and title track.
"In the last 20 years I've done that three or four times. I've found something that's way out of the norm, and I would jump out and do it. This just landed in my lap, and I didn't even know if we would get a good cut on it because it was so different. It just bloomed in the studio, and when we got done they said, 'You have to pick a single.' I had a deadline to meet, and I had a few things in front of me that I really liked, and I said, 'This one sounds like summertime to me, let's go with this."
BEFORE WE KNEW WE WERE GOOD
"Five young guns, four old Fords between us/ never more than a couple of then run at a time/ bold and bored, standing and gasoline/ making sparks with anything we could find/ we love that town but we were seventeeners/ riding around giving it the finger." - Before We Knew We Were Good - Toby Keith-Bobby Pinson-Rivers Rutherford.
Keith, born Toby Keith Kovel, also credits his grandmother for another song on his new album.

"There's a song called Before We Knew They Were Good," Keith explained.
"It's about kids growing up becoming special people in life. I always thought my grandmother raised thoroughbred racehorses. Every one of her babies can run. It was like my grandmother and her five grandchildren are just phenomenal.

They're all very successful. My brother is a big Baptist preacher in Florida. My sister is a great business person, she handles my horse farms and merchandise. Both of my cousins are very highly educated; one's a DNA scientist and the other is in the medical field. My grandmother was really close to me and a real mentor to me.

Watching us five kids run around her house when we were little, the whole idea of this song is like that. "They were great before we knew they were good." You just never know who's going to grow up to be what."
Keith says his albums reflect his timeline.

"If I sit down and just go album to album through the years, I can tell where I was in my life, what I was doing, and what I was thinking, because I put one every year," he revealed.

"I can almost hear these little life marks like landmarks in these songs. From being a new artist to trying to step up to the next level, to going through the heartbreak of 9-11, to 12 years later. Doing stuff like Red Solo Cup, Drinks After Work, you can see good times, bad times, happy times, struggling times, successful times. There's never been a theme for an album. As a songwriter I go out and write all year long.

"There are songs I couldn't have written 10 or 20 years ago that I can write now. The bad part about that is most of your buying audience and the people that call in and request music are the younger kids. So, when you get more mature and you've lived a life and you start to write songs about living, you have to sing them to people who haven't lived yet, it makes it a little more difficult to reach them. When you're young and you're writing stuff that they grab onto, then they pick the phones up and call the stations and download the song. People my age aren't going to call the radio station for the most part. They're not going to pull over on the side of the road and download the song."
HARD WAY TO MAKE AN EASY LIVING
"Some say he's a wealthy man/ but he built his house with his own two hands/ on a piece of land that's as far as you can see/ they call him lucky but they don't know/ he's up and running when the rooster crows/ and he's still in the field when his supper's cold." - Hard Way To Make An Easy Living - Toby Keith-Bobby Pinson.
Keith included a second rural requiem on his new disc - the farmer tribute Hard Way to Make an Easy Living.

The song is a fitting finale for the studio album - more about the bonus deluxe disc later.

Shut Up and Hold On - the second single and Keith's favourite on the album - is an anthemic weekend celebration.

It's a stark contrast to ruptured romance requiem Little Miss Tear Stain and heartbreak ballad The Other Side of Him.

Keith exercises his libido in Show Me What You Are Working With and alcohol as solace for a broken heart in Whole Lot More Than That.

I'll Probably Be Out Fishing is a lachrymose lament about overcoming heartbreak after losing a hometown belle during his Navy stint and a sawmill job after being promoted when the mill is sold.

Keith's character finds relief in the timeless escape of baiting a hook - "I'll probably be out fishing when my ship comes in."

But his recording of Drinks After Work during a turbulent time is reflected in the music.

Toby was in Nashville finishing his annual album on May 20 when EF5 tornadoes devastated Moore, where the water tower is emblazoned with the slogan Home of Toby Keith.

He flew back to Oklahoma to check on his hometown, friends and family, including his sister, whose house was destroyed.

"I came back home here for a week and helped out and got my sister and everybody in my bunch squared away," Keith said.

"I actually went back and finished the album in that time that we were putting together the benefit concert. We really raised a lot of money and the artists all made that possible giving their time."

On July 6, the Norman resident, his daughter Krystal Keith, Owasso residents Garth Brooks and Trisha Yearwood, former Tulsan Ronnie Dunn, Moore native Kellie Coffey, Bethel Acres native Wade Hayes, Sammy Hagar, Willie Nelson, Mel Tillis and John Anderson played the sold-out Oklahoma Twister Relief Concert at the University of Oklahoma's Gaylord Family - Oklahoma Memorial Stadium.

Keith performed Drinks After Work at the concert, which attracted more than 60,000 fans and raised $2 million for the United Way of Central Oklahoma's May Tornadoes Relief Fund.

"I'll look back in five years and know what that snapshot looked like," Keith explained.

"I'll always remember this album being the one I didn't just finish just due to the tornados that hit. I was in Nashville the day the tornado hit. I was in Ocean Way Studio, and my assistant pulled an iPad out and I came out behind the console, he held up the iPad that had the local weather app rolling live stream. It was crossing I-35. It was literally a mile and a half from my sisters' house going right down her road. I'm sitting in the studio seeing this, I said 'I got to cut and leave right now.' So I left the next morning and called my pilot and flew out. I didn't have the album done. I didn't get it done until later, but they needed a single. So that's how Drinks after Work became the first song because we didn't have a single but only had two things done. So I'll always know when I see Drinks after Work that is was one of the two single songs that we had done that they had to pick from to go for the first single off this album and then they obviously needed a title so the album has just been put in pieces. The scary part about this is I'm hearing I'm getting good reviews, that's freaky. I don't usually. I run into haters and agenda lovers, but some of my fiercest haters are giving a good review, so I bet we don't sell any of them. That's freaky, if I'm not making them mad I'm afraid we're not going to sell many."
DRINKS AFTER WORK
"Been a long day, no break/ we made it to the middle of the week/ and I'm thinking that I'm probably gonna need/ to get to know you casually/ just having fun, two for one/ watch a good time get a little better/ ain't no ball and chain for the suits and skirts/ just drinks after work." - Drinks After Work - Natalie Hemby-Barry Dean-Luke Laird.
The catchy synthesizer isn't the only thing that makes Drinks After Work a departure for Keith.

Penned by Natalie Hemby, Barry Dean and Luke Laird, it is the uncommon single the award-winning singer-songwriter didn't write or co-write himself.

"You know, it's fun to try other things, you get to take a few shots," Keith says.

"They don't all have to be five-week No. 1s.

Every two or three years somebody brings me something that intrigues me. The second I heard Red Solo Cup, it was like this is so what I do live in my show, that I have to feed that too. Songs like Weed with Willie, every night, anywhere from Germany to Oslo, to LA to New York, to Bagram to Baghdad; wherever I am in the world playing I can go let's smoke a little weed with Willie and everybody cheers. I ask, "Do you know this song?" They always say "Yeah." Well it's never been on the radio, so how do they know it? How can this many people know that song. Part of that cult that I create, that grassroots thing just because I didn't write it I'm not going to run an ego jukebox on my life.
When I hear a great song I don't have in my arsenal, I jump on it. Drinks after Work might not have been a single had the tornadoes not hit. But it was one of those things I heard that was different; I said I want try this. Mark Wright sent it to me, and said you got to hear this. Mark's produced a hundred number one songs, he's my partner. He said you need to try this. I told him I don't know if I can sing this. So we went in and I knew I was going to put extra time on this so I worked and got it done. When the tornadoes hit it was one of the only couple things I had left so we had to pick something. It sounds summertime so let's roll with it. But if we had gone all the way to the end of the album and said now we're going out we need to pick a single now, it might not have been first and you know how things change through the process of singles; by the time radio gets a hold of it, the fans get a hold of it, something else rises. Some good things get left out, but that process of picking a song that you didn't write, it sounds like something you might have written or it doesn't fit, other than that there is no criteria."

The Clinton native is a rare artist who releases an album every year, showcasing songs he and frequent collaborators Bobby Pinson, Scotty Emerick and Rivers Rutherford penned over the past 12 months.

Since Keith is based in Oklahoma and not Nashville, he isn't tuned into the latest trends, including "bro-country," country-rock party anthems about trucks, riverbeds and moonlight make-out sessions.

"I'm not tapped into them. I did a countdown show for Lon Helton the other day, and he had the Top 40 on a list in front of me," Keith recalled.

"He said, 'Pick somebody out here on the Top 40 we can talk about.' You know, I've been doing that show for 15 years once a year with him, and so I've talked about Tim McGraw and Ronnie Dunn and Kenny Chesney and Trace Adkins and all them guys. Keith Urban. So you go down through there and you look and if they haven't been on tour with me, I don't know 'em," he said.

"I talked about recent tour opener Kip Moore and that's all I could do. I knew nobody in the Top 40. So I'm not connected to that world, and I don't write with that world and I'm not around that world. If I write a truck and party song, it's my own truck and party song. It doesn't derive from them. I could have nine truck and party songs on there, but it just doesn't turn out that way because I cut the best 10 songs that I wrote last year. And they're gonna be whatever they are."
CHUCKIE'S GONE DEDICATION TO BASSIST
"Twister came through our home town/ and tore a lot of people's houses down/ always happens in the spring/ but this time missed everything/ put the band back on the road/ still got a lot of wild seeds to sow/ LB prayed and Michael cried/ it was the first time without you by my side." - Chuckie's Gone - Toby Keith.
Keith included his tribute to recently deceased, long time bassist Chuck Goff on the deluxe version of the album.

"I'll start with the buzz kill part of it," Keith revealed.
"This album is dedicated to my long time compadre and bass player, Chuck Goff who passed away tragically in the spring of this year.

He was the last standing, last of the Mohicans.

He was in the club the night I got my record deal. When Harold Shedd came in and signed me, Chuck was playing bass for me that night.

Through the years, one by one the guys have moved on to different projects and Chuck has been my sideman and band leader since 1988 in a beer joint. Harold came in one night, gave me a deal and we put Cowboy out in '93 and Chucks has been there the whole way.
This album is dedicated to him. I wrote a song called Chuckie's Gone that kind of tells you what happened. Chuck could never outrun his demons. So I just confronted that and let everybody know that as a group, collectively we were going to move on, as killer as we are without him we still miss him and always will."
AMERICAN SOLDIER DELUXE
"Never got to say goodbye/ and thank you for the times I cried and laughed/ you were quicker than the rest/ fastest gun slinger in the West/ I hope you find peace from your pain/ must of been like a hurricane/ so fly away with all our love/ sure wish you didn't need that stuff." - Chuckie's Gone - Toby Keith.
Keith frequently saved memorable songs for bonus deluxe versions of his albums.

"As far as the other two songs go, in my USO tours I always have these little ditties that I play that puts a smile on the warrior's faces when I'm over there in the trenches with them," Keith added.

"I've never had anything in there for the Marines. Make no mistake about it, American Soldier is a great song, it's a great tribute, but there's a difference between a Marine and a soldier and all you have to do is ask a Marine and he'll tell you. I've never had a song for the Marines, and after ten years of doing it I thought it was time I had a funny song for the Marines. This one will remind you of the talking blues songs like Charlie Daniels did with Uneasy Rider and Hotrod Lincoln. It would be those kind of talking blues songs. It's one of those old throw backs. It's kind of that hip-hoppy, old country, Hotrod Lincoln, Charlie Daniels song. It's really funny and really well written. We'll give the Marines their own place in the USO shows now. The third song stemmed from Sammy Hagar doing a duet album. He said, "You're one of my best friends and I don't have you on this album." I told him let's do something," and he explained he didn't have time because the albums been turned in! He said, "But I want you on it and I have a version of a laid back Sammy Hagar Calypso Beach version of Margaritaville and I want you to sing on it.

It sounds like we're stoned, it's that slow." So I ended up singing on it, and he put it on his album. Then I said, "I got to have this other material for this deluxe album, can I use it for mine?" Sammy said that I could. So that's the three songs that are on the deluxe kit and its stuff that we probably wouldn't put on the album. The album was done. Chucks' song could have been on the album, but the album was done by the time I wrote Chucks' song so it fell in to that. Other than that, it makes it a deluxe edition. It kind of gives Chuck his own place on the album."
HOPE ON THE ROCKS
"Yeah, I'm dressed up for success from my head down to my boots/ I don't do it for the money, there's bills that I can't pay/ I don't do it for the glory, I just do it anyway/ providing for our future's my responsibility/ Yeah I'm real good under pressure, being all that I can be/ I can't call in sick on Mondays when the weekend's been too strong/ I just work straight through the holidays/ Sometimes all night long/ You can bet that I stand ready when the wolf growls at the door/ Hey, I'm solid, hey, I'm steady, hey, I'm true down to the core." - American Soldier - Toby Keith-Chuck Cannon.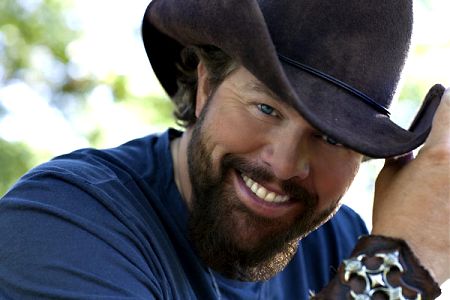 Keith was bemused by the success of 18th album Hope On The Rocks.

"When you write a song like Hope On the Rocks on my last album - which is one of my favourite songs I ever wrote in my life - we really struggled to get it to the Top 5. It will always be one of my favourite songs I wrote. I just thought it was a monster. Once in a while you'll find hits that you don't think are hits. The label will come and say radio is all over that song. And I'll say, 'Really? I wouldn't plan on that being a single.' And it will stay No. 1 for three or four weeks, and it will blow you away. So, it works both ways. When you've been around 20 years, it gets more difficult to reach the youth, so I step out of the box every once in a while to reach them."

Red Solo Cup was a surprise success.

"You know what's funny is after it was a hit, everybody in town was talking about it," Keith recalled.

"Artists were going, 'You know, I could have done this song, it just didn't sound like me.' When the Warren brothers brought it to me, they were like, 'What do you think about this?' And I said, 'It's goofy, crazy, but it's absolutely an earworm, and I absolutely love it, and I'm going to cut it.'

Unique things can happen in music sometimes that are silly like that, that just capture everybody's fancy. My partner Mark Wright, who's the president of my label Show Dog-Universal Music, he came into my studio, and he knew I was cutting it, and he's like, 'You're really cutting it?' The next day we were working on something else, and he looked rough, and I said, 'What's the matter?' And he said, 'I didn't sleep last night.' And I said, 'Are you sick?' And he said, 'No. I couldn't get that stupid song out of my head!' I said, 'I told you. It gives you an infection.' Sure enough, when it was released I left for Europe for a month and when I got back it was a smash on pop and country and it became bigger than life. That's the upside to doing those kind of things."

Keith headlines the seventh CMC Rocks The Hunter festival from March 14-16 and plays Rod Laver Arena with Kellie Pickler and the Texan Eli Young Band on March 19.

CLICK HERE to win Drinks After Work on our Membership Page.