DAVE'S DIARY - 9 /1/ 2013 - BRUCE ROBISON 2000 INTERVIEW
2000 INTERVIEW
BRUCE - LUCKY DOG FROM TEXAS
"So long Rayne, Louisiana/ never see me no more/ hundred dollars, thirty days in the slammer/ I'd rather hit the road/ I found I'm going crazy/ every day here the same/ I'm bound to go to the city/ where nobody knows my name." - Rayne, Louisiana - Bruce Robison-Marty Muse.
Photo by Carol Taylor

Bandera bred singer-songwriter Bruce Robison shares plenty with singing spouse Kelly Willis and in-laws The Dixie Chicks.

Tony Brown - pioneer pianist for Elvis and Emmylou Harris - gave him his first break.

And Dixie Chicks Dallas label, Crystal Clear, distributed his embryonic disc.

Now, with release of his second and third albums Wrapped and Long Way Home From Anywhere, the singer has joined the superstar Chicks on Sony.

The trio are on Monument - a re-incarnated Sony label - and Bruce joined elder brother Charlie, seven times wed former convict-veteran outlaw David Allan Coe and Texan Jack Ingram on Sony imprint, Lucky Dog.

And, unlike Dale Watson and Robbie Fulks, the tenacious tenor has ridden the rejection of Nashville and bounced back.

Bruce, 33, is touring here with Kelly to promote his colourful music that dates back to his days with garage bands and Austin act Jeff Hughes and Chaparral.
The Robison brothers grew up in Bandera, a town of fewer than 1,000 people northwest of San Antonio, and played in a bunch of garage bands.

They played the rodeo, dance halls and parties circuit until Bruce landed a basketball scholarship at West Texas State and played three seasons before hitting Austin with Charlie.

"Charlie joined Two Hoots & A Holler and I joined Chaparral," Bruce told Nu Country, "after two years with them I had enough original material to go solo. Songwriting is the only thing I've ever really felt good at in my life. Basketball was exactly the opposite. I felt like everyone around me was more proficient. And yet, as soon as I started writing songs, things started opening up. I'd put a song in the set, have a guy tell me I should send it to his publisher who sent me a plane ticket for my first trip to Nashville."
PURPLE COW COWBOY BAR
"Here we are, what is left of a husband and a wife/ four good kids, who have a way of getting on with their lives/ twenty years have come and went since I walked out of your life." - Angry All The Time - Bruce Robison.
In 1992 Bruce met MCA Nashville boss Tony Brown who produced Lyle Lovett, Nanci Griffith, Steve Earle, Rodney Crowell and Kelly Willis.

Robison thought Brown's work would result in the next outlaw movement and was happy just to meet him, ostensibly to pitch three songs for Mark Collie's next album.

"He listened to the songs and said, `Do you want to be an artist?' says Bruce, "it was very Hollywood. I called my mom from Shoney's and said, 'You won't believe what just happened. My guitar and I just walked down Music Row and the coolest guy in Nashville is going to give me a record deal.'"

Sadly Bruce's mum, who once ran the Purple Cow cowboy bar in Bandera, died before he ascended from Vireo/Crystal Clear to Lucky Dog.

Brown gave Bruce one salient piece of advice - the fateful story of the stubborn writer who hung on to an original song instead of giving it to Elvis to record.

So, like many peers, Bruce's writing career was his recording catalyst - especially on his self-titled debut disc.

Red Letter Day, cut by Charlie, Angry All The Time and Travellin' Soldier were reprised on his later albums while he also scored covers with Kelly and Wagoneers refugee Monte Warden.

Bruce originally released his Lloyd Maines produced second album Wrapped on his Boars Nest label before he got the big bite from Lucky Dog and three tunes were re-cut.
GRANDPA CHARLIE
"Grandpa Charlie smoked and drank whiskey/ but he die in 43, nobody like him in all my kin/ until my brother and me, he died in a small town so far back/ they didn't know what him, maybe a heart attack/ that was a drag on my grandma, you know/ she never really forgave him for that." - My Brother And Me - Bruce Robison.
Robison is a fair dinkum roots country singer - not some faddish failure burying his flag in quixotic quicksand of alternacountry.

Bruce prefers the real deal - artists like Emmylou Harris and honky tonk heroes Waylon & Willie, Gary Stewart and Gene Watson.

"That's my whole idea, it's why I keep coming back to Nashville," says Bruce, "my stuff is Nashville - an Emmylou Harris-type of country music. It's not rockin', edgy, or weird. It's pop country. Really, it is. What I do is current in the way that it's just a by-product of my influences, folks like Gene Watson, Gary Stewart and Waylon Jennings. That's very commercial country music and those aren't bad words to me. It's simply what I do, and I don't want to be limited by folks trying to come up with names for what I do. This kind of music has been very successful before and I think it can be again."

And, like Nelson who spent 20 years eking out a living as a writer before making it as a singer, Bruce is polishing his craft.

"I'm always trying to simplify and my songs are mostly in narrative form," Bruce says, "I see writers coming from two schools - those who fell in love with Bob Dylan and those who chose Willie Nelson. With Dylan everything's between the lines. Willie writes between the lines a little bit, but the stuff I love from him is really straightforward. With Haggard or Hank there's not much between the lines. If I'm writing a song about sadness, I don't try to say the clouds are covering the sky. I just start looking for something that rhymes with sad.'"
KELLY WILLIS
"Came home a little early last night/ shed not a tear when I turned out the light/ no, I don't hurt lie I used to/ didn't wait for the knock on the door." - Not Forgotten You - Bruce Robison.
The narrative surfaced on his debut disc with Torn And Tangled, Angry All The Time, Travellin' Soldier and Not Forgotten You (also cut by Kelly.)
They continued on Wrapped - the duet with Charlie on Rayne, Louisiana - My Brother And Me, Bar Blues, End Like That and Desperately.

And, of course, on the new disc which kicks off with Driving All Night Along that was covered by Jack Ingram on the Black Dog soundtrack, Just Married, Any More Good Loving and the title track finale.

Bruce covers Austin singer Joe Dickens hedonistic The Good Life - his previous single - and Damon Bramlett tune Emotionally Gone.

Robison also wrote Just Married with Bramlett whose tune Heaven Bound is on Kelly's fourth album What I Deserve.

Bruce's Aussie tour with Kelly - now mother of their four children - was a rarity - the entire Robison clan (Charlie and singing spouse Emily of The Dixie Chicks, her sister Martie and singer Natalie Maines) did some Texas Christmas gigs.

So did Bruce's sister - singer Robyn Ludwick.
"I'm really forward to doing some more touring with Charlie and hopefully get the girls to sing on a record, " says Bruce, "I wrote a song with Martie that I think is really cool. It's still floating around out there. I'd love to get a cut on one of their albums."

The Dixie Chicks album sales of 10 million plus may dwarf that of Bruce and Kelly but it's that duo - not the Chicks - who debut at the Continental Café tomorrow night.
2003 WAR FURORE

TRAVELLING SOLDIERS BOMB CHARTS
"A man said 'folks, would you bow your heads/ for a list of the Vietnam dead'/ crying all alone under the stands/ was a piccolo player in the marching band/ and one name read, and nobody really cared/ but a pretty little girl with a bow in her hair." - Travellin' Soldier - Bruce Robison.
Acclaimed Austin songwriter Bruce Robison became a big winner and loser when Dixie Chicks singer Natalie Maines vented her anger on George Dubya Bush on the eve of the latest Baghdad bunfight.

Bruce's tune Travelling Soldier was earning him healthy royalties at No 1 on airplay charts when Maines exercised her freedom of speech with an apt attack on Bush at a London concert.

With hypocritical herd mentality, jingoistic owners of U.S. corporate country music chains dumped the Chicks from airplay and incited listeners to burn their CDS.

This did wonders for the trio whose sales for sixth album Home surged beyond six million and took total sales close to 30 million.
It gave Robison, 36 and a strapping 6 foot 7 in, the highest profile of his career and boosted publishing royalties from album sales.

But the cluster bombing rendered collateral damage to the former basketball star and slashed his airplay income.

After lavish TV and radio exposure Robison, singing spouse of Kelly Willis, was set to clean up in slipstream of another of his tunes, Angry All The Time - a huge hit for Tim McGraw.

This hit was expected to win stacks more airplay on the Dixie Chicks world tour that returned them to Sydney on March 29.

Alas, Maines apologised in a belated attempt to return the Chicks to the airwaves.

But at the end of every carpet-bombing there's a pot of gold, or maybe a land mine or two.

Some Texas stations used lateral thinking and played Robison's original version from his third album, Long Way Home From Anywhere.

It first appeared on Bruce's 1995 debut solo disc; his second album, Wrapped, was produced by Natalie's dad, Lloyd.

But the sweetest irony is that Travelling Soldier is an anti-war narrative with a sting in the tale.

An 18 year-old soldier with no family or friends, en route to Vietnam, asks a waitress to be his pen pal and promises to return after combat.

He does - in a body bag.

The saga elevated Bruce above elder brother Charlie - singing spouse of Dixie Chicks banjo-dobro player Emily - and co-writer of Evil Angels movie inspired tune, One In A Million.

That song - researched by Bruce on his Australian tour - was on Charlie's third album Step Right Up.

ALL SHADES OF WAR
Radio bans of free speech stifles country artists like Maines and Steve Earle from shooting from the hip.

Sadly, the victims have been writers with alternate views to governments of the day.

Wars, of course, are fought to ensure citizens - especially artists - enjoy freedom of speech.

But the fascists of the right, like the lemmings of the left, only want freedom to apply to them.

The alternate view prevailed on sixties rock radio when Dylan, Phil Ochs, Joan Baez, Tom Paxton and others won airplay at the peak of the senseless Vietnam War.

But not on country radio.

Travelling Soldier, like Georgian Alan Jackson's Where Were You When The World Stopped Turning, Buddy Miller's 100 Million Little Bombs & Jamie O'Hara's 50 Million Names, is a poignant anti-war tune but the ban means it's exposure pales in comparison.

U.S. radio didn't ban Hank Williams Jr, Charlie Daniels, Toby Keith, Merle Haggard and Darryl Worley when they raised their flag.

They have the right to express their opinion - so do artists with contrasting views.

Country artists don't have that problem here - they're banned from birth because of the radio corporate chains contempt for the genre.

There are two small exceptions - two Adelaide artists.

Folkie Eric Bogle's evocative anti-war tune And The Band Played Waltzing Matilda sneaks under the radar on Anzac Day.

And former Redgum singer John Schumann wins worthy exposure with his evocative Vietnam vignette - I Was Only 19.

They're superior songs to the trash being recycled by local politicians' puppets.
WORLD WAR 1 - 1914-18
Although my memories of early wars are lost in the haze of time in the bush I can still hum a few historic country tunes.

Mississippi legend Jimmie Rodgers snuck onto radio with his World War 1 tune The Soldier's Sweetheart.

I'm not quite word perfect but I do recall Filipino Baby and The Battleship Maine from the Spanish American war and The Kaiser and Uncle Sam and The Rainbow Division from the Great War.
WORLD WAR 11 - 1939-45
But my memories of World War 11 are more vivid.

How could I forget Denver Darling Cowards Over Pearl Harbour, Carson Robison Here We Go To Tokyo, Said Barnacle Bill the Sailor, We're Gonna Have To Slap The Dirty Little Jap and double-sided Hitler's Letter To Hirohito and Hirohito's Letter To Hitler.

The evil axis got a jog in Edgar Britt's There's A Star Spangled Banner Waving Somewhere - a crippled mountain boy wants to "help to bring the Axis down a peg."

Tex Ritter did There's a Gold Star in Her Window, Eddy Arnold - Mother's Prayer and Did You See My Daddy Over There?, Gene Autry - At Mail Call Today and Bob Wills' White Cross on Okinawa and Stars and Stripes on Iwo Jima.
KOREA - 1950-3
Lulu Belle and Scotty landed I'm No Communist in 1952, Little Jimmy Dickens - They Locked God Outside the Iron Curtain - and Ferlin Husky - Let's Keep the Communists Out.

Red River Dave McEnery revamped T.Texas Tyler's 1948 hit Deck of Cards to The Red Deck of Cards, Ernest Tubb - A Heartsick Soldier On Heartbreak Ridge and Arthur Q. Smith - Missing in Action.

Britt and Bill Monroe recorded Rotation Blues and Louvin Brothers cut From Mother's Arms To Korea.
VIETNAM - 1965-73
Johnny Wright topped charts in 1965 with Tom T. Hall's Hello Vietnam, Kris Kristofferson wrote Vietnam Blues for Dave Dudley and Stonewall Jackson - The Minute Men Are Turning in Their Graves.

In 1966 Charlie Moore and Bill Napier asked Is This a Useless War? and Dudley cut What We're Fighting For.

McEnery crooned It's for God, Country and You, Mom (That's Why I'm Fighting in Vietnam) and Barry Sadler came unstuck with Ballad of the Green Berets, Loretta Lynn asked hard questions in her poignant Dear Uncle Sam (1966) when she sang 'you don't need him like I do.'

The Wilburn Brothers hit with Little Johnny From Down the Street (who "died in a foreign land all alone") and The War Keeps Dragging On.

Merle Haggard landed punches with Okie From Muskogee and The Fightin' Side of Me in 1969-1970.
GULF WARS 1979-2003
The Iranian hostage crisis (1979-1981) inspired Take Your Oil and Shove It - revamp of the David Allan Coe hit.

Charlie Daniels later fanned flames with In America, Hank Williams Jr head-kicked Hussein with Don't Give Us a Reason and Aaron Tippin fuelled fires with You've Got to Stand for Something and Where the Stars And Stripes And The Eagle Fly.

They were all accepted on radio but not Steve Earle who lanced bucolic boils with his alternate anthem, John Walker's Blues that deserved to be heard for balance.

An American tank commander painted the name Bocephus on his M-1 A1 Abrams tank - tribute to Hank Jr who sent this message to him.

"Turn out Saddam's lights in Baghdad, son, and get back home quick. You're a man whose hand I want to personally shake."

Hopefully Bocephus will finish off Hussein and end this futile war.

Hussein may be gone but not the war.
2001 FEATURE
BRUCE ROBISON AND MENTOR WILLIE
"What would Willie do, he'd take a little time/ and talk to old Rooster as they drive on down the line/ there's millions down that road/ and with a word he's gonna lighten their load/ he loves all the people no matter what their races/ hell he eve n had a country song with Julio Iglesias/ and that ain't easy to do." - What Would Willie Do - Bruce Robison
Bruce Robison produced his fourth album County Sunshine at Cowboy Jack Clement's Cowboy Arms Hotel and Recording Spa in Nashville.
"I loved recording at Cowboy Jack's," Robison recalled at the time.

"When we got in with those players at that place, I felt a lot more at ease. They've got a lot of recording studios now that are these state-of-the-art big, fancy places that feel - I don't know what they feel like. They're just huge and kind of like a doctor's office or something. And this was just a real little funky, vibey place a bunch of fantastic music had been made at, so you knew it was a quality place, and it just put you at ease, like you were sitting around at somebody's home. It was something that fit me".

There was another major advantage.
"And, heck, Cowboy Jack, he lives down there in the basement; he's around, and he's just a piece of Americana".

Bruce wrote seven of the 11 songs solo and other four with wife Kelly, Allison Moorer, Marty Siedel and Sean Michaels.

A thematic key to Country Sunshine is the album cover - a painting of a man and woman on an outing - maybe in the Texas Hill Country.

With a guitar slung over his shoulder, he looks like Bruce Robison; his arm rests on the shoulders of a woman who carries a basket and very much resembles Kelly Willis.

Together, the couple gazes into the sky, their love underscored by the picture's warm colours.

"I didn't want to be on the front of Country Sunshine", Robison says. "The cover worked in with my concept and how I wanted it to feel - kind of an homage to this era of country music when I fell in love with country music. It was a little bit on the kitschy side, but at the same time, the songs were incredibly well crafted all through the '70s. And a lot of times, that's what I feel like is missing today".

Reinforcing this is the title, Country Sunshine, written in a retro-font across the album's top and echoing Dottie West's 1973 hit; it also provides an ironic context for the record's songs that are anything but sunny.
ALLISON MOORER
"You don't pick your occupation / I didn't ask for this frustration/ I need a life and ice cold beer/ and you can't get there from here." - Can't Get There From Here - Bruce Robison-Allison Moorer.
Robison wrote entrée song Can't Get There From Here with Allison Moorer long before she became sixth wife of one time Texan troubadour Steve Earle in 2005 in his seventh sprint to the altar.

Singing actor and author Earle, now 57, wed second wife Lou Anne Gill twice - in 1989 and 1993.

The song seems to be a wry comment on the career of the two writers and many of their peers.

Robison uses the first-person narrator, telling their stories with details that make them very real and sympathetic but never sentimental.

Blame It on Me, Valentine and Anyone But Me tell stories of people struggling to do the right thing.

The singer wrote lost love lament Anyone But Me with Dixie Chicks fiddler Martie Erwin when she was Martie Siedel and before she became Martie Maguire.
In First Thing About Mary the singer asserts he's the only one who understands Mary.

But the fact that's she's left him underscores how little he, too, really knows about her. His words are an attempt to persuade himself as much as the listener.
KELLY WILLIS
"Our house never seemed to be so cold like this before/ but now the wind blows free between the sills and 'neath the door/ in a four for a dollar photograph that she and I once made/ the way she looked at me back then ain't the way she does today." - Friendless Marriage - Bruce Robison-Kelly Willis.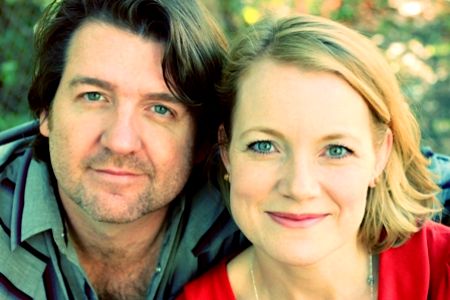 Two album highlights are Robison-Willis duets on Bed of Ashes and Friendless Marriage - songs that reach back to the George Jones-Tammy Wynette era but sound, vocally, like Gram Parsons and Emmylou Harris.

In Bed of Ashes the ashes represent remnants from an old fiery flame that left him in the dust.

It has been so long since they had a happy moment he can only feel pain instead of good time they shared.

Friendless Marriage is reminiscent of the old Loretta Lynn/Conway Twitty type of duet in that it focuses on more of the bottom side of a marriage.

The woman sings about the man not trying to save their home, while the man reflects on how their love used to be wild and free.

He says she is always sad and never smiles, and she is complaining about how when she cries her husband never comforts her and tries to make her feel better. The only reason they are staying together is because they share a child.

Blame it on Me is a slow song that is also about a breakup, only this time he knows what she is about to do before she does it.

Before she says anything, he lets her know that he was never any good enough for her in the first place and it's his fault she wants to go.

"I am too rough, I work too hard, I got no cool friends, I drive an old car. I'm not the picture of anyone's dreams," he says in one verse.
CHARLIE ROBISON
"They say when you are young/ it's a shame you don't know / but I remember laughin' wherever I'd go/ a flirt or a flame or a friend or a fight/ I can't come home now Ma/
Cause anything might happen tonight." - Tonight - Bruce Robison.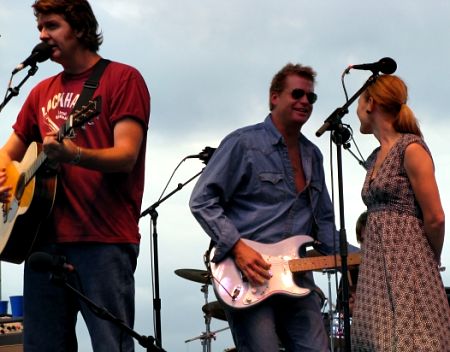 Robison also resurrects Tonight - a song that debuted on Charlie Robison's Step Right Up album - as his disc finale.

Bruce's version has some lyric changes but the entire feeling is there, only in a different way than his brother's recording.

In his song Sixteen the young boy has a fling with a much older divorcee who guides him thought his rites of passage.

It seems much safer than a trip across the border into Mexico or to La Grange to The Best Little Whorehouse In Texas.

Robison's raunchy rancher - more like Simon & Garfunkel's Mrs Robinson than Mrs Robison - hires the teen to do menial rural tasks when she returns from her ruptured romance.

Although the locales and themes are drenched in Texan honky tonk authenticity the seduction soundtrack is a song by an unlikely source - Sir Elton John.

The singer fittingly leaves the listener guessing about who was the master or mistress manipulator.

"Who was using whom?" Was it the older divorced woman that wanted folks to see her with a younger man or was it the young man that wanted his friends to see him with an older woman so they would think he was more experience that he actually was? "It was nearly right, but not near enough to bring to light but where you wonder who was using who."

Devil May Care is a clever tune with a Tin Pan Alley tempo and perky clarinet; the result echoes an old swing tune with a cabaret twist (albeit a Texas cabaret) with a touch of Sgt. Pepper's-era Beatles thrown in, all working nicely with the song's lyrical theme of disregard.
WHAT WOULD WILLIE DO
I was lost, in trouble and strife/ I heard a voice, and it changed my life/ And now it's a brand new day/ And I ain't ashamed to say/ You're not alone, when you're down and out
I think you know who I'm talkin' about/ When I don't know how I'll get through/ I ask myself, what would Willie do?' - What Would Willie Do - Bruce Robison.
Bruce joined a large posse of peers who wrote songs about fellow Texan icon Shotgun Willie Nelson.

Robison's requiem is laced with whimsy as he puts his character in Willie's well-worn boots.

His advice was so nice that it was recorded twice.

Californian born honky tonker Gary Allan - also a frequent Australian visitor - recorded it on one of his albums.

The tune, featuring Willie's long time harmonica player Mickey Raphael, is priceless.

Inspired by the Red Headed Stranger, Robison takes to the pulpit, preaching, revival-like, to the congregation about Willie as role model.

Willie is a smart pastiche: gospel music with an occasional Willie-esque riff from a nylon-string guitar, humour, a shot of country blues, and, indeed, echoes of both Hank Williams and Luke the Drifter.

When asked if Nelson had heard the song, Robison said "Well, I know he has, but I was lucky enough that he didn't hear it from me. I know that he heard Gary Allan do it".

The disc also featured former Greencards fiddler Eamon McLaughlin, Small Faces organist Ian McLagan, drummer Kenny Malone, multi-instrumentalist Dan Dugmore, pianist Pete Wasner and bassist Dennis Crouch
2006 MINI-REVIEW
BRUCE ROBISON
ELEVEN STORIES (SUSTAIN-UNIVERSAL)
ROBISON - EXPLORES THE HOMELESS
"Took a wife back in 1974 / Ooh, I never felt so sure / on that day for her love I would die / Ooh, but the days go by." - Days Go By - Bruce Robison.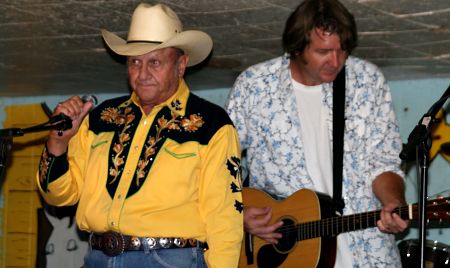 Bruce Robison & James White - photo by Carol Taylor
During my search and destroy mission on Texas in 2006 for the Willie Nelson July 3 and 4 Picnics and singing Texan crime novelist Kinky Friedman's Gubernatorial campaign I had a pit-stop at the famed Broken Spoke cowboy bar in Austin.

I caught Bruce Robison and his hot band doing a four set stint at one of the oldest honky tonks in the Lone Star state capital.

Bruce autographed and gave me his fifth of nine CDs with the message he would return - to Australia.

He dedicated this copy of the CD to my photographer partner Carol and her son Jordan, then 12, in the dim lights of James White's cowboy corral.

Bruce is renowned for writing hits for artists diverse as Dixie Chicks, George Strait, Gary Allan, George Strait, Lee Anne Womack, Tim McGraw and Faith Hill.

But the laconic, lanky singer, 6 ft 7 in the old currency, is adept at tall tales on his seventh disc.

Robison explores the plight of a homeless man on Days Go By - he goes deep inside his protagonist's mind and life experiences.

He examines the character's history, tragedy, and mental illness, and it's all done with such matter-of-fact subtlety that we learn things just by how Robison phrases this quick history.

Robison also delves into wry word play on All Over But The Cryin' and passion in Every Once In A While.

But the highlight is joyous Virginia - true story of singing spouse Kelly Willis - featuring the mother of their four children on vocals.

The couple also revive the old Webb Pierce song More and More.

Robison creates pathos in Don't Call It Love and childhood dreams on I Never Fly and also resurrects the Grateful Dead tune Tennessee Jed.

The tasteful tenor also romps on the two stepping twirl of You Really Let Yourself Go and departs with the delicious Bandera Waltz.

Bruce and Kelly release new duets disc Cheater's Game on Valentine's Day eve, 2013, as prelude to a planned second Australian tour.
DISCOGRAPHY
1995 - Bruce Robison (Boars Nest-Vireo)
1997 - Wrapped (Boar's Nest-Vireo)
1998 - Wrapped re-release (Lucky Dog)
1999 - Long Way Home From Anywhere (Lucky Dog)
1999 - Unleashed Live with Charlie Robison and Jack Ingram (Lucky Dog)
2001 - Country Sunshine (Boars Nest.)
2006 - Eleven Stories (Sustain)
2007 - It Came from San Antonio (Premium)
2008 - The New World (Premium)
2009 - His Greatest
2010 - From The Top
2013 - Cheater's Game with Kelly Willis (30 Tigers).