DAVE'S DIARY - 21 JANUARY 2009 - LUCINDA WILLIAMS CD REVIEW
LUCINDA WILLIAMS HITS HIGHWAY IN BUICK 6
CD REVIEW 2008
LUCINDA WILLIAMS
LITTLE HONEY (Lost Highway-Universal)
"The thing about you so far/ you squeeze my peaches/ then you send me postcards of girls on beaches." - Real Love - Lucinda Williams
Lucinda Williams skated on the jagged edges of her oft-broken heart for far too long on recent discs but has recovered to shoot straight from the loin.

Love with new fiancé - indie record store manager and co-producer Tom Overby - is a lustful lubricant for Louisiana born Lucinda.

Williams vocal Viagara, driven by her road band Buick 6, kicks in on riveting entrée Real Love, and climaxes, so to speak, on lust fuelled Honey Bee, on her ninth album.

It would seem the latter explodes with equal doses of aural and oral pleasure when she sings "you've become my weakness/ now I've got your sweetness, all up in my hair."

It's not gel but Williams gels with Elvis Costello when they duet on Jailhouse Tears - the tale of a penitent penitentiary junkie who burns the lover from whom he is seeking forgiveness - by stealing her truck.
Hey, this veers dangerously close to a two stepper, preferred by denizens of Williams' former long time hometown Austin.

Lucinda has the last word - "now I'm behind the eight ball and you're behind bars."

It's not George and Tammy but it's close.

"I wrote all the lyrics," Williams, now 56, revealed in a recent interview.

"He just sang them the way I'd already written them. It was great; he's a sweetheart.

We've known each other few years now. I sang on one of his songs on a record he'd done few years ago, Delivery Man. He's always been a big fan and really supportive, and he's a great artist. He just continues to grow as he gets older, he's still out there doing it, he's still making great records. I really admire artists like that-Elvis Costello, Neil Young, Bruce Springsteen, who's a great inspiration too, and a friend also. It's a real honour to have these guys kind of in my camp now you know. Because they were whom I was listening to when I was learning how to write."
TODD TEAR DUCTS IN A ROW
"Uprooted and restless I paid the cost/ I've been a mess, misguided and lost." - Tears of Joy - Lucinda Williams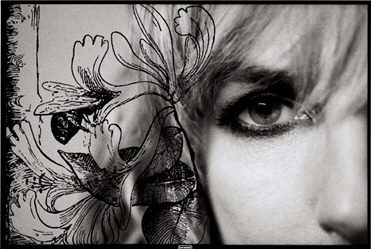 Williams gets all her ducts in a row when she exudes positive passion in bluesy Tears Of Joy, beatific ballad Knowing and world weary adulation for artists who don't sell out in Rarity.

It wasn't a Canadian pre tour promo in the former song when she sang "Your voice's a cello, your words speak volumes/ in and out, around flow, like Leonard Cohen's."

Williams identifies with may unsung heroines and others neglected by the mainstream - especially the fellow traveller who inspired Rarity.

"I was actually really inspired by this artist named Mia Doi Todd," she explained.

"She's just a really, really brilliant songwriter kind of more in the underground folk pop thing I guess. She goes out and tours and stuff. I guess there was a situation that inspired the song, but of course all my songs are bigger than one person. But there might be a person or an event that plants the seed for the song, but then the song becomes bigger than that. But what had happened was, a friend of turned me on to her, a record she put out on a little indie label, and this was when I was still living in Nashville, before I moved back to Los Angeles about six years ago. And I really was just struck by her lyrics. Her voice was soft and moody sounding, and her melodies were great, but her lyrics really impressed me.

I'd never heard of her before. Then I was in a record store in L.A. and saw that she had a record out on a subsidiary of universal, I think it was on Hippo, maybe. But obviously she had some major label distribution, and I went, yay, finally. She's got a chance to sell some records and get better known and things. Next record is out on an unknown little indie label, so that's what spurred the idea for the song. Because I had seen that so often, and I'd been through that myself, to some degree, and seen it happen with a lot of really good artists: where if they don't sell enough records, they don't really get a chance. It's the same old story that you've heard a million times. So that's basically what planted the idea for the song."
JONI MITCHELL
Williams draw the link between Todd and two Canadian predecessors who enjoyed the luxury of perfect timing.

'We finally got to meet, she lives in L.A., and she had came in, and I recorded a song that was going to go on West, but we had so many songs that we couldn't put them all on the record. We sort of ran out of time, budget, money, time to record all the songs. But I had a demo of it, she came in and heard the demo, and she was really touched.

I don't get as chance to see her play very often, but she's just one of those unusually brilliant songwriters who probably if she had a chance to do something back in the, if she'd been around back in the day when people like Leonard Cohen and Joni Mitchell writers like that were coming out, she would have probably stood a better chance in getting recognition. She definitely has a cult following, that's for sure. That's kind of the only way you can do it now anymore, if you're just starting out. You have to build your own thing like that. I mean, I'm lucky, 'cause I just barely got in by the skin of my teeth. But if I was just starting out now, I'd have a hard time. I'm lucky I got as far as I did! Just before the door slammed on me, before the industry kind of went to hell and a hand basket."
LUCINDA TAKES OUT THE TRASH
"Will you ever know happiness, little rock star/ or is your death wish stronger than you are/ will you go up in flames like the torches that are carried for you." - Little Rock Star - Lucinda Williams.
But there's still vitriol vast for a stark contrast - a fly by night faker in Little Rock Star and loser in 1991 tune Well, Well, Well dismissed in one line - "if you hang around trash you can't come out clean."

Williams charted the latter song's history.

"And then Well Well Well was actually on a demo I had done when I was getting ready to do Sweet Old World," she recalled.

"It goes back to '91. I don't throw anything away; I keep everything. So when I'm writing, I can go back and look at stuff that I did a long time ago.

The singer exploits regret in If Wishes Were Horses - not the Gretchen Peters song - and reflects on that country staple, cheating, in Circles And X's, both written in 1985.
"It's funny, a couple of the songs I wrote a long time ago, like If Wishes Were Horses and Like Circles for X's" Williams revealed in a recent interview.

"Well, I had 'em mostly written - Circles and X's I never quite finished, but I started it, believe it or not, 20 years ago. If Wishes Were Horses I wrote about 20 years ago also, but never really did anything with it
PLAN TO MARRY - NOT AC-DC
"When leaders can't be trusted/ heroes have let us down/ and innocence lies rusted/ and frozen beneath the ground." - Plan To Marry - Lucinda Williams
And as a bonus there's social comment in Plan To Marry as love triumphs over big business fuelled war.

There has to be a down side - well maybe, adding royalties to AC-DC coffers in the finale a refry of It's A Long Way To The Top.

That should have been left to the MCG mixers as a finals sound grab.

Williams credits Overby with sourcing the heavy metal anthem that has also been given recent gallops as a bluegrass romper.

"It's not that I wasn't a fan, I didn't have any of their records," Williams explained. "They weren't really on my turntable on a regular basis. I was more into Bob Dylan, The Byrds, and Neil Young, and all the '60s rock bands, like Cream and The Doors. It's funny, now that I've gotten older, I'm actually able to go back and appreciate more hard rock. Now I've gone back and listened to some of those bands. There's so much music, you can't take in every single thing.

I mean, I heard them on the radio, of course, and I always admired the guitar player and stuff, but it wasn't the kind of music that I listened to on a regular basis, cause I was just into different styles of stuff."

Williams has long stuck to her guns by cutting mainly original material.

"I very rarely do any covers," Williams added.

"And if I do one, it's usually one nobody's ever heard before, like a Little Son Jackson song, something like that. I did a Nick Drake song with Tom a long time ago. And then on Car Wheels I did a Randy Weeks song that nobody had heard because it'd never been recorded anywhere, Can't Let Go. He was in this band the Lonesome Strangers."

Williams proves on this album that honey sticks far better than lachrymose love lava that sank previous discs without a trace - of humour.

Fellow L A singers Matthew Sweet and Susanna Hoffs help refine the sugar on Little Honey.
LUCINDA DEATH NOTE
Sadly one of her former drummers died in November.

Michael Bannister, who backed Lucinda and Doug Sahm, among others, died on November 22 of an apparent suicide in Arizona.

He was 58.

A memorial show was held at the Cactus Café, Austin, with Peter Case and Lucinda's former producer and guitarist Gurf Morlix.

Ironically, Lucinda's last Australian tour was cancelled when her mother Lucille died @ 73 on March on Sunday March 7, 2003.

But after spending time with her family in Fayetteville, Arkansas, she reluctantly quit the Australian leg of a world tour.

Ticket sales had kick-started demand for Williams' seventh album World Without Tears that has been re-released in Australian with three bonus tracks.

Those tunes were an alternate version of Buick Blues, Hang Down Your Head and Cold Cold Heart.