DAVE'S DIARY - 16 JANUARY 2005 - JASON MCCOY
JASON MCCOY - SINS TURNED TO GOLD
"She watches the couples that dance on the floor/ she remembers the time she had what they have and more/ the man in her life who made her feel good night and day/ till one night the music just stopped and he danced away." - She'd Rather Be Lonely Than Sorry - Jason McCoy-Adam Mitchell.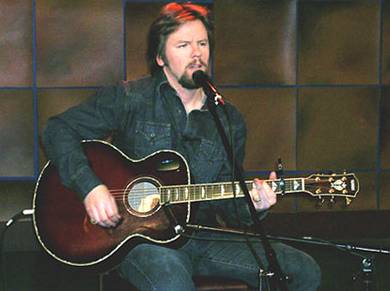 Jason McCoy
It's a tough gig being an international artist touring the unlucky radio country if you don't score commercial or national ABC airplay.

Dale Watson, Wylie & The Wild West, Pam Tillis, Gary Allan, Kevin Welch & Kieran Kane, Billy Joe Shaver and many other songwriters chanced returns during their winter wasteland at home.

LeAnn Rimes, Garth Brooks, Dwight Yoakam, Billy Ray Cyrus, Emmylou Harris, Mary Chapin Carpenter, Lucinda Williams, Tammy Wynette, Willie Nelson and pals toured when profiles were elevated by TV exposure and movies.

Buddy Miller headlined after making his name on tours with Emmylou and Steve Earle.

What about Canadian troubadours Fred Eaglesmith, Shannon Lyon and Jason McCoy and Illinois born hit writer David Lee Murphy?

Well, they got smart.

Eaglesmith and McCoy were in a singer-songwriter package show with Kim Richey, Jim Lauderdale and Van Diemens Land refugee Audrey Auld in 2002.

Eaglesmith built on his grass roots following by returning with Kasey Chambers and gigs with Audrey and Bill Chambers.

And Lyon has become a regular visitor in 2003 and this year with gigs on the flip side of roles at Harvest Festival in Red Hill this weekend - Saturday and Sunday January 22 and 23.

Murphy, between record deals, played capacity city crowds with Lee Kernaghan.

McCoy - award winning artist in his homeland - proved more than just a pretty face and voice on debut here.

And he got smart.
SINS, LIES AND ANGELS
He toured nationally in the summer of 2004 with Geelong born former truckie and latter-day star Adam Harvey to promote fourth album Sins, Lies And Angels (Open Road-Universal).

McCoy earned his stripes here with Lauderdale who wrote his radio friendly roots tribute Doin' Time In Bakersfield - a duet with Allan.

Harvey didn't bring McCoy to his home state - he launched his CD in Sydney and played Canberra and regional NSW centres and a Perth festival.
Tough luck for Victorians but Albury is but four hours away - I spent a year there in 1969 with little collateral damage.

So was the music worth a trip to twin city Commercial Club on Thursday February 12?

Well, it was only two sleeps before Valentine's Day and McCoy beefs up credible covers of Kentucky colt Chris Knight's memorable It Ain't Easy Being Me and Shaver's epic, Old Chunk Of Coal.

There's also revamped Thrown Out Of Love - penned by Lauderdale and producer Colin Linden who also graced the soundtrack of new Coen Bros movie, Intolerable Cruelty.

But the real test is originals by McCoy - a healthy hybrid of mentors Yoakam, Lauderdale and George Ducas with whom he wrote Still - a melancholic mate of entrée song Please Please.
FROM ONTARIO TO ALBERTA
McCoy, born in tiny Ontario town Minesing, and transplanted to Camrose, Alberta, at 5 enjoyed childhood listening to his dad's country music.

Whether the heartbreak mined with delicious dexterity on tunes such as Guardian Angel, I Lie and She'd Rather Be Lonely Than Sorry is genuine or manufactured I can't tell you.

But it's a perfect foil for optimism of You Still Do It For Me and Wildflower, wry word play of She Ain't Missin' Missin' Me and hedonistic I Feel A Sin Comin On.

The singing pilot doesn't blame Terrine - teenage sweetheart of 12 years whom he wed recently - for I Lie.


Jason McCoy >
"Oh, it was just about being an idiot," McCoy, now 33, told a man called Fish in a local newspaper, "I drew from relationships in the past for that one. And I broke the rules with the lyrics. You're not really supposed to have the hero of a song be a liar when you write a country song. If you go into a Nashville co-writing session and sit down with a career songwriter and bring up an idea that's negative, he'll pull back or say something like, 'I don't think we'll ever get that published.' But 90% of the guys have lied so what's the big deal?"

Full marks to McCoy for biting the hand that bled him - if you like genuine roots country try this.