DAVE'S DIARY - 21 FEBRUARY 2022 - MATT WARD INTERVIEW
TEXAS TRIP DELAY A BLESSING IN THE SKIES FOR MATT WARD
" Nashville neon dreams/ sometimes out of nowhere/ something brings you to your knees/ crosswinds blew me to you/ Sydney got it right/ I wouldn't have even known you/ if I was in Dallas tonight / they put me up in Mascot/ with twenty-four hours to kill." - If I Was In Dallas Tonight - Matt Ward.
An impromptu 24 hour delay at Sydney airport en route to Dallas, Texas, could have been a pain for Adelaide singer-songwriter Matt Ward as he prepared to revisit the rich Lone Star State music scene.
But not for Ward who works in environmental science and land management when not in the air or on the road.
Matt turned his unplanned stopover into second album title track If I Was In Dallas Tonight that soon became a health charity fund raiser.
Ward wrote the song about his nephew Sam Roberts who died, aged just four, from a rare genetic condition - Niemann-Pick Disease.
Sam would have been 21 this year.
Matt donated 50% of proceeds from of his album to Challenge 21 that was established by the Women's and Children's Hospital Foundation.
The foundation raises funds to counter health issues including the Niemann-Pick Disease.
"The song came about in September, 2019, when I was flying to Dallas and then onto Nashville to play the Bluebird Café for South Australia during the Americana festival," Ward, now 45, told Nu Country TV and Tamworth Country Music Capital News.
"But I got held up for 24 hours when all the fires started. I always knew there was a song in that. During lockdown in South Australia in early 2020 provided a great opportunity. I wrote it on the piano. Sam was living in Adelaide in the children's hospital. He went in just after he turned two and spent the last 22 months of his life in there. The Women And Children's Hospital covers a whole range of things. My family has raised money for the hospital and foundation. They raised money for an ongoing art therapist. Matt's father Marty is a school-teacher and my sister Michelle was a paediatric occupational therapist and became a grief counsellor. Now she's a school counsellor. That experience changed her career."
The song was not the first by Ward to aid health charities.
He donated proceeds of Better Man from his debut 2019 album Heartland to the Black Dog Institute and bushfire and drought victims.
Matt wrote it after hearing an interview on radio with a suicidal farmer who lost his farm and family in the millennium drought.
"I was out on the Nullarbor chasing Mallee Fowl of all things in 2012 during the millennium drought," Ward revealed.
"He rang up and said he dug his heels in and it got too much for him. His family and kids left him for Melbourne . He was crying on the radio and saying that he had to sell the farm and was now driving trucks. It's very emotional. I still play that song live. It broadens the music and makes it more meaningful for me."
Black Dog Institute endorsed the song and Matt helps destigmatize mental health issues by relating the story of Better Man .
"Talking about it may just encourage people to think about checking in on each other," Matt explained.
WARD LEFT TURN IN TEXAS
"I turned left on an American Road / I turned left, against the flow/ you reached down for a gun to load/ I knew then we're not going home." - American Road - Matt Ward.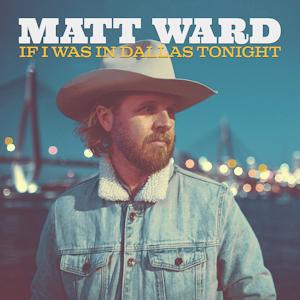 The singer dug deep into his Texan travels on four tours to fuel his new album that he began recording with producer David Perceful at the Yellow Dog Studio at Wimberly in the Texas hill country near Austin.
"We cut four of the tracks in one day," Ward explained of the swing fuelled roots country disc he is touring to promote at Tamworth Country Music festival and other major events.
"I was due to go back in March, 2020, didn't happen because of Covid. We ended up doing it remotely. I was in Adelaide - the producer Mike was in Texas . I also did tracks with Matt Fell in Australia."
Ward's Texas trips fuelled many memorable songs on his album and vocal collaborations with Arkansas born Austin singer Bonnie Montgomery.
They include entrée song Lost And Found, Old Ground and finale American Road.
"I wrote Old Ground the first day I arrived in Austin in 2017. I had spent a couple of months in British Columbia . I was going to Austin and meet with people I made friends with before - when I arrived in Austin it was 110 degrees. The song was about inspirations of heartland and road."
"I wrote Lost And Found about the same time when I went to West Texas," Ward recalled.
"I caught up with someone in Austin and they said let's go to West Texas. .I always wanted to record in Texas . I reached out to Bonnie who lives just down the road from the Yellow Dog studio in Wimberley."
Bonnie also helped source album finale American Road.
"American Road is a true bookend for the song Lost And Found ," Ward revealed.
"It was inspired by the same trip to Texas out to Terlingua and the lights. I was travelling with Bonnie one night and day. It was late at night when traffic was light, that's when we make the mistakes on foreign roads. I had the image of a Bonnie and Clyde sort of song. I've been to Marfa four times - first in 2013 then 2015, with another friend in 2016 and then with Bonnie in 2017. I ended up staying in a ranch in the Fort Davis mountains. I played the Lost Horse Saloon and Saint George Hall . It reminded me a lot of South Australia with its dry desert country and wide open spaces."
BONDI - NO PLACE FOR A COWBOY
"Bondi's no place for a cowboy/ I'll always take red over blue/ I'll give it its sky and its good looking guys/ cause one day I'll be taking you/ I drive my way back to my hometown/ the sand changes colour over time/ I guess we will see the kind of land beneath our feet/ and the size of all the mountains we will climb." - Bondi's No Place For A Cowboy - Matt Ward.
Ward comes from a family of boot makers who plied their trade for more than a century in Adelaide where he wrote songs in lockdown.
"I wrote Bondi's No Place for a Cowboy in quarantine in Adelaide after spending a couple of weeks in Bondi with a close friend in July 2020," Ward explained.
"That's where the inspiration for that song came from. The person I would have met if I was in Dallas tonight. We're still talking."
She was not the source of Didn't Write A Song About You.
"It came from the same sessions but a different person," Ward confessed.
"Writing music is where I get to have a cathartic experience. That was written in the latter half of last year on the back of a relationship I had two of three years previously. I had nothing but contempt for her. That was my tongue in cheek way of saying you didn't really leave much of a memory hence I didn't write a song about you."
Ward revealed Tattoos Trucks And Country Music is "a little bit of a tongue in cheek song - about the image of country music and what it takes to be successful more than the music itself."
Ward wrote another road song Broken Baggage, Sleeping Pills and Booze in London but a night out in Adelaide sourced Too Drunk To Two Step.
"I came home after having too many drinks," Ward explained.
"It paid respect to a lot of the elders of country music and honky-tonkers who came well before us. I had an image of an old timer in a bar watching all these kids come through. I was trying to channel the old timer sitting at the bar having a quiet drink."
Ward's lockdown was a fertile font for his memorable music.
"I also wrote Come Up For Air in quarantine," recalled Ward who lives with his faithful canine - a border collie x Kelpie.
"It came in the dark, my eyes were closed. I didn't have a lot to do apart from write some songs."
And, of course, feed his best mate.
The results ignite If I Was In Dallas Tonight on Heartland-Social Family Records.