DAVE'S DIARY - 15 FEBRUARY 2014 - ROSANNE CASH FEATURE
ROSANNE CASH AND BILL CLINTON SOLVE ODE TO BILLY JOE MYSTERY
"And mama said to me 'child, what's happened to your appetite?/ I've been cookin' all morning and you haven't touched a single bite/ that nice young preacher, Brother Taylor, dropped by today/ said he'd be pleased to have dinner on Sunday, oh, by the way / he said he saw a girl that looked a lot like you up on Choctaw Ridge"/ and she and Billie Joe was throwing somethin' off the Tallahatchie Bridge" - Ode To Billy Joe - Bobby Gentry.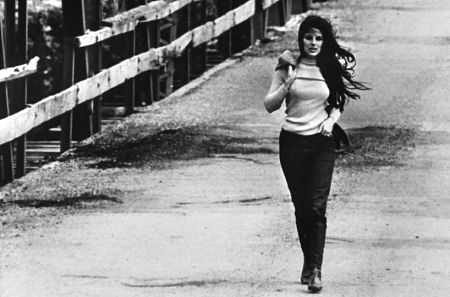 Bobbie Gentry on Tallahatchie Bridge
Rosanne Cash had just performed classic mystery song Ode To Billy Joe at Carnegie Hall in New York City when she was summoned to meet U.S. president Bill Clinton at intermission.

The former leader of the free world wanted to share his theory about what was thrown off Tallahatchie Bridge at Choctaw Ridge in Mississippi - apart from one of the hapless teenage lovers, Billy Joe McAllister.

Cash, 58, performed Bobby Gentry 1967 hit at a Rainforest Benefit and Gentry, now living in seclusion, never revealed her secret.

Was it a baby, a ring, a bouquet of flowers or some other object that made the big splash that has resonated through music folklore for almost 50 years?

"I performed Ode To Billy Joe and Bill Clinton summoned me at intermission in the concert and wanted to talk about that song," Cash told Nu Country TV.

"He thought it was a baby that was thrown off the Tallahatchie Bridge. Billy Joe McAlister jumped off. A lot of people think it was a baby - not a ring. It's a real dark mysterious song. But the former leader of the free world explained the song to me. He had a very interesting theory it was about the shame of the south and he talked about it at length. I was quite impressed he had given it so much thought. I said 'aren't you meant to be saving the world or something?'"

The song became a Hollywood movie in 1976 but the premiere had to be changed from June 3 to June 4 at the 11th hour - despite the song entree lyric "it was the third of June."
Cash name-checked Tallahatchie Bridge in Money Road - one of 12 songs she wrote on her 15th album The River & The Thread.

Rosanne and second husband John Leventhal made several extended visits into the Deep South while researching her evocative songs on her acclaimed concept album that she plans to tour Australia to promote.

The album traces the journey of her ancestors from before the Civil War to her own travels after being born in Memphis to the late Johnny Cash and first wife Vivian Liberto.

Rosanne has been married to fellow songwriter, musician and producer Leventhal for 18 years - they have a son Jakob, 14.
She previously wed Texan born singer-songwriter Rodney Crowell at 23 - they produced three daughters in their marriage from 1979-91 and she helped raise Crowell's daughter Hannah from a previous marriage.

Carrie, also a singer, is youngest of the children she had with Crowell.

Since 1991 the 1985 Grammy winner has released six albums, written two books and edited collections of short stories.

Her fiction and essays have been published in New York Times, Rolling Stone, Oxford American, New York Magazine, and various other periodicals.

Within two years, Rosanne lost mother Vivian, father Johnny and stepmother June Carter Cash.

Rosanne wrestled with the deaths and began exploring her family history through music on 2006 release Black Cadillac.

She followed with 2009's The List - an album of covers of her father's favourite songs.

That effort garnered her two Grammy Award nominations and won Album of the Year at the Americana Music Awards.
MONEY ROAD
"I was dreaming of the Tallahatchie Bridge/ a thousand miles from where we live/ but the long line at the pearly gate/ the keepers of our fate/ none of them will congregate out on Money Road." - Money Road - Rosanne Cash-John Leventhal.
Cash wove the Mississippi River and its delta into a thread on her album that ends with Virginia born latter day Texan and New York singer-songwriter Steve Earle's sixth wife Allison Moorer singing harmony.
Album entrée A Feather's Not A Bird details her journey from Memphis to Florence - locale of the famed Muscle Shoals studio.

Cash sings how the money may be in Nashville but she's heading south to find the thread.

She says her musical influences derive from 1960s roots music.

She had a wary relationship with the Nashville music establishment since 1990 release of Interiors - a highly personal album born of the pain of divorce from Crowell that her label did little to promote.

"That was my first big shock," she said.
"I had just had four No. 1 singles. I have some leverage. Then it's like the record label said, 'We don't want that.' It was very painful."

So The River & The Thread was sweet solace.

"I had never written an album with so many songs in the third person, character or narrative driven, but there is still so much of me in this, even with poetic license," Cash says.

"A Feather Is Not A Bird - that's my story of the South. As well as the river of your ancestors and your past, as Thornton Wilder says, you step into the river of time and you step out.

The thread is a literal thread. My friend Natalie Chanin taught me how to sew, and going down to Florence, Alabama, started the whole album. She said this incredible thing to me when she was teaching me how to sew, which is "You have to learn to love the thread."

She wasn't speaking metaphorically, but it became metaphorical. So they are both literal and symbolic."

But it was deep in the delta Cash mined gold with help of Leventhal.

"John in particular was really into the country-pop thing from the sixties," Cash revealed.

"You know, like Bobbie Gentry, Dusty Springfield and Tony Joe White. And the Muscle Shoals connection, all of that. And also we took a lot of drives through the Delta, so that kind of swampy, Delta stuff was really stuck in our heads."

That led to Cash weaving the Bobby Gentry hit into live concerts.

"I've been singing Gentry's Ode to Billie Joe in concert for a few years now, so Tallahatchie Bridge was looming large for us," Cash added.

"When we visited Mississippi I thought it would be this grand structure, you know? It's this little bridge. Empty. We sat on the bridge for half an hour, with our guitars out half the time, which was very pretentious of us. We were on Money Road, we drove that and the proximity between Robert Johnson's grave and where Emmett Till was murdered and the Tallahatchie Bridge it is just shocking how close these places are to each other. It's like a vortex!

That spot looms large in the imagination because of the Bobbie Gentry song and when we got there we didn't realise that it's literally right around the corner from the candy store where Emmett Till supposedly "flirted" with a white woman and was killed and the Civil Rights era began.

And Robert Johnson's grave is just a few miles up the road! There was so much musical history in that one corner of America and it was hard to take it all in. It just left such a powerful imprint and seemed like a good place to end the album - driving on Money Road."

That journey started a little further north west.

"One day about a year ago John and I started in Memphis and drove to Oxford, Mississippi and went to William Faulkner's house," Cash recalled.

"Then we went to Robert Johnson's grave in Greenwood, Mississippi - what they think is his actual grave now, there's some dispute - and then on to Money, Mississippi, where Emmett Till was killed. Around the corner, literally, is the Tallahatchie Bridge. I was standing on the bridge, looking at the Tallahatchie River. John took that snapshot from behind, and said, 'that's the album cover." It's this vortex of profound musical inspiration and revolution. The civil rights era began because of Emmett's murder, right there, right around the corner from the Tallahatchie Bridge. It's mind-boggling."
WHEN THE MASTER CALLS THE ROLL
"My tender bride, the tides demand/ that I leave you with your mother/ with my father's rifle in one hand, your locket in the other/ but can this union be preserved?/ the soldier boy was crying/ I will never travel back to her/ but not for lack of trying/ it's a love of one true heart at last/ that made the boy a hero/ but a rifle ball and a cannon blast/ cut him down to zero" - When The Master Calls The Roll - Rosanne Cash-John Leventhal-Rodney Crowell.

Cash drew on her ancestral roots of Civil War soldier William Cash in her research for When The Master Calls The Roll.

"When The Master Calls The Roll is in the tradition of those Appalachian and Celtic ballads," Cash revealed.

"It's a story song - it's a story song about a couple in the Civil War. He goes off to war and he dies. The deepest part of it to me is the song is based on my own ancestors in the Civil War - I wrote it with my husband John and my ex-husband Rodney. That in itself is another way of being a grown-up. My ancestors fought on both sides in the Civil War - some were Union soldiers and some were Confederate soldiers. I didn't want to say in the song which he was. I wanted to leave that ambiguous because it represented union to me. I didn't want to take sides. His picture was on the Civil War data base which shocked me. It was a chilling moment to find his picture on the Internet, standing there in his uniform. My son was doing a project - he was in the 8th grade. I said to him you have ancestors on both sides. I went on the Internet to show him and the picture came up. It was quite a moment."

The song had a vastly different embryo.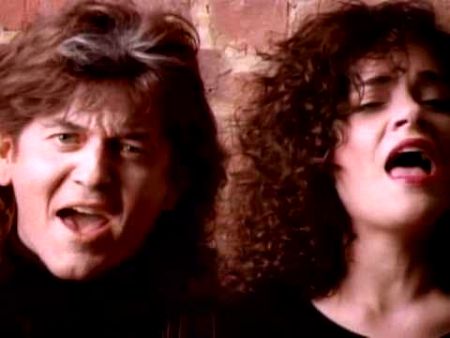 "John and Rodney had written this song with that melody for Emmylou Harris and I asked if I can have it instead and they said, "No, we wrote it for her," Cash explained.

"But she didn't record it and I kept thinking about that melody, and then my son was doing a project on the Civil War and I told him that he had family on both sides of the Civil War, with Cashes on the Union and Confederate sides. I showed him the Civil War database had a picture of William Cash and I got really into it and started researching more, and I asked John if he thought Rodney would rewrite the song and he said "No, don't ask him, that's not appropriate." But I asked him anyway and he said yes. I was obsessed with the characters for a long time. I still think about them all the time. They are real characters. Someone asked me if I was going to write a sequel to let us know what happened to Mary Ann and I thought what a great idea."

Cash had a stellar cast on her recorded version.

"It was The Voice Of God Choir, that's what we called it," Cash confessed.

"The song is very sad and it has a lot of gravitas and we wanted a background choir that had an equal amount of gravitas. We wanted Kris Kristofferson, Rodney Crowell, Tony Joe White, John Prine and Amy Helm to sing on it. It's quite beautiful. That itself was worth the price of admission - to see these guys singing together."
ETTA'S SONG
"A mile or two from Memphis/ and I must go away/ I tore up all the highways/ now there's nothing left to say/ a mile or two from Memphis/ and I finally made it home/ there were days you paced the kitchen, there were nights that felt like jail/ when the phone rang in the dead of night you'd always throw my veil/ no, you never touched the whiskey and you never took the pills/ I travelled for a million miles while you were standing still." - Etta's Song - Rosanne Cash-John Leventhal.
Cash's project was inspired when Arkansas State University contacted her about purchasing the childhood home of her father Johnny in Dyess, Arkansas.

She hosted benefit concerts to help fund it - they featured George Jones, Kris Kristofferson, Willie Nelson and Civil Wars.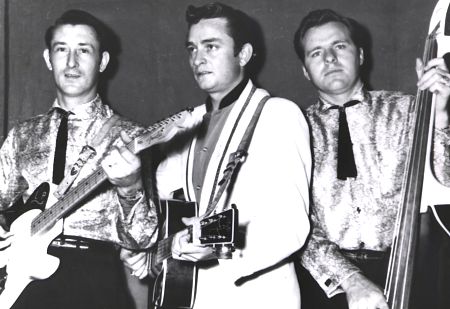 Marshall Grant & Tennessee Two
Marshall Grant, her father's bassist in the Tennessee Two, attended rehearsals for the first show but had a brain aneurysm that night and died three days later.

Grant had been surrogate father figure to Cash after her father died, and the time she spent with his widow, Etta, led her to write the first full composition for the album, Etta's Song.

"The first concert was with Kris Kristofferson and George Jones and it was amazing, but while I was down there Marshall Grant died," Cash explained.

"He was my dad's original bass player and he played bass the day he had an aneurysm. I saw him one last time with that big stand-up bass guitar and it was a really powerful moment. So we wrote Etta's Tune which is about him.

Marshall and Etta were married for 65 years and he was a touring musician, so I think that was some kind of record. She said to me - they were both in their mid-80s - that every day of their life they would wake up and say, 'what's the temperature, darlin'? and when I repeated that to John he said, "Oh that's the first line of a song." And it was. That song is sung in the voice of Marshall - she died in 2011 when I was taking one of these trips down south that inspired all these songs."

John Paul White of Civil Wars duo sings harmony on the song.
THE LONG WAY HOME
"The southern rain was heavy, almost as heavy as your heart/ a cavalcade of strangers came to tear your world apart/ the bells of old St Mary's are now the clang of Charcoal Hill/ and you took the old religion from the woman on the hill." - The Long Way Home - Rosanne Cash-John Leventhal.
I asked Cash about the identity of the woman on the hill and the locale of Charcoal Hill in The Long Way Home.

"I've never really talked about that, you're the first person to ask what that's about," Cash confided.

"The woman on the hill is my mother - she and my daughters took religion. My mother was Catholic. That line you took about that old religion from the woman on the hill. I treated a lot of my songs that way. My daughters, my mother and me - that's three generations that are connected and taking the long way home to find each other. Charcoal Hill is in England."

Cash also sewed the maternal genetic thread in Sunken Lands.

"Sunken Lands is really about my grandmother - how hard her life was - picking cotton, raising seven children," Cash explained.

"It was a hard, hard life and we learned that about her."

But it was her travelling with Leventhal that fuelled Modern Blue.

"That was written from travelling the world with John," Cash added.

"That was our story - we were world travellers from Memphis that really stands for home. We get through this world by keeping our eyes on each other to steady the course. Barcelona to Paris to Memphis. That's me and John travelling the world and finding our way back home, which is really each other. Memphis becoming a sign post for finding each other as well as for the real Memphis. John kept pushing me out of myself telling me not to write about myself, not to write about my feelings. He was pushing me to write even more in the third person, but I think we're both happy with the way the album turned out."
50,000 WATTS OF COMMON PRAYER
"It's a hard road but it fits your shoes/ son of rhythm, brother of the blues/ the sound of darkness, the pull of the oak/ everything is broken and painted in smoke/ but there's a light on Sunday, a new design/ the sound of the whistle, those radio wires/ love in your future/ I'll wait for you there/ with 50,000 watts of a common prayer." - 50,000 Watts - Rosanne Cash-John Leventhal.

Cash also exploited biblical imagery throughout her album.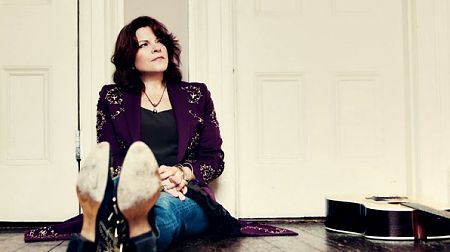 "In World Of Strange Design the Jesus metaphor came when I just started thinking about the strange beauty of the south," Cash revealed of a song featuring guitarist Derek Trucks.

"How it can be very insular - an-us-and-them mentality. People look out from the south to the rest of the world - it's very strange. The south is very strange - beautiful and wonderful and the strangeness is part of its beauty. So I started working in my mind what would the strangeness look like. Jesus would come from Mississippi - tears would start to rhyme and the incredible music that came from the delta. The incredible music came from the delta and Appalachia. It was the birth of the civil rights movement and literature. The great William Faulkner and the blues. It's amazing what came from the south - it's hard to understand."

So there was little need to be puzzled about 50,000 Watts.

"It's a metaphor for prayer and radio," Cash conceded.

"We were in Memphis and I saw this sign for a radio station - WDIA - '50,000 watts of goodwill'

I thought music is a common prayer so we wrote this song. John wrote this great shuffling almost religious feel to it. Radio was salvation for so many people - you could hear it from so far away."

Equally faith inspired was Tell Heaven.

"Tell Heaven is a song about faith but not knowing in what," Cash said.

"We wanted to write a gospel song that would appeal even to agnostics. It's really about the learning but not knowing what's out there."
NIGHT SCHOOL IN MOBILE
"Mobile like a mystery town/ water, heat and moon/ steam on the magnolia trees/ never ending rooms/ the hungry ghosts still tap the walls/ where once there was a door/ I've given everything to them but still they wanted more." - Night School - Rosanne Cash-John Leventhal.
But it was a different religion that inspired Night School.

"It's interesting you're pulling out these individual lines you are attracted to," Rosanne joked.

"This couple on Night School wander around this empty house and have destroyed their relationship but love each other and don't know how to get back together. That line the hungry ghosts tap the wall - hungry ghosts is a concept in Buddhism. It's the lowest level you can be reincarnated in. I'm not a Buddhist but I love Buddhism though and have read a lot about it because it's a state of being in constant craving. The hungry ghosts. I just put them in the song - the hungry ghosts tapping the wall."

Rosanne was portrayed, as a child, by Hailey Anne Nelson in Walk the Line - the 2005 Academy-award winning film of her father's life.
And, like her parents, she is a true survivor.

In 2007 she was diagnosed with a brain disorder Chiari malformation Type 1; essentially, cerebellum was disrupting the flow of spinal fluid.

She mentioned her recovery somewhat light-heartedly in a Times essay titled "Well, Actually, It Is Brain Surgery," as well as in her 2010 memoir, Composed.

In Composed she also wrote about losing her voice in 1998 when polyps covered the left side of her vocal cords.

So she is keen to hang in there for her fourth Australian tour in 2014.

"I've been to Australia three times," said Cash who played Dallas Brooks Hall with Lucinda Williams and Mary Chapin Carpenter in a tour dubbed The Highwaywomen.

"I plan to come back soon," said Cash - eldest of four children.

"I have a meeting with my agent on Friday and hope to be down there this year. I wish I had come with my dad. I was there for Sydney Festival in 2006. My sister Cindy came on an earlier tour with Marty Stuart and dad."

She will tour to promote The River & The Thread (Blue Note-Universal) that debuted at #11 - her highest-charting album on Billboard 200.

"The veils were taken off some things that I thought I knew," Cash says.

"It was powerfully inspiring. If I never make another album I will be content, because I made this one."

CLICK HERE for our Membership Page to see how to win The River & The Thread.