DAVE'S DIARY - 4 /02/14 - GRETCHEN WILSON INTERVIEW
REDNECK WOMAN - INDEPENDENCE DAY
"You're waking up my neighbours crying, screaming out my name/ I guess somebody must've let the dog off of his chain/ You're telling me you love me through a wild turkey slur/ no sir, no sir/ get outta my yard, get outta my life/ go back to the bar, go back to your wife." - Get Outta My Yard - Kacey Musgraves-Shane McAnally-Brandy Clark.
Redneck Woman Gretchen Wilson hit gold when Texan Grammy winner Kacey Musgraves passed on recording the jilted belle anthem Get Outta My Yard.

"I can't believe she didn't want that song," Wilson, 40 and a single mother, told Nu Country TV in an exclusive interview from her 17 acre farm in aptly named Wilson County near Nashville on the eve of her third Australian tour in March.

"She had it on hold for her album and I had it on second hold. I was just sitting here with my fingers crossed. I thought there was no way she's not gonna put this song on her record - it's too good a song. When they called up and said it's not gonna make the cut I jumped for joy. I haven't decided whether to make a video and release it as single. I haven't talked to my promo guy. I'm not sure if it's the right move to make.
Sometimes you gotta feel the water, what is going on country radio. If there's too many songs like that you're better to go with something that's different and there's nothing like that out there.
It's a great idea so I'll consider it."

Wilson can make all her creative and business decisions since splitting with Sony in 2009 after releasing four albums that sold more than eight million copies.

The singer set up her own Redneck Records and has released four albums on the label including three last year.

They were a Christmas album, rock covers disc Under The Covers and seventh album Right On Time she promotes at the seventh CMC Rocks The Hunter festival from March 14-16 and the St Kilda Palais on March 12.

The trio came fast in the slipstream of her indie debut I've Got Your Country Right Here in 2010.

STILL ROLLING

"Roadside signs, eighteen wheels rolling through the night/ sometimes I wonder about this crazy, lonely life/ people come and go, some you love and some you don't/ some you lose, and some you learn to let go/ and I don't know what I'm trying to find/ stealing love on borrowed time/ always missing what I've left behind/ and I'm still rolling, I keep on rolling." - Still Rolling - Gretchen Wilson-Vicky McGehee.
Wilson wrote recent single Still Rolling with Vicky McGehee with whom she worked on some of her early hits.

"We were on the bus rolling and just talking about my relationship with the fans and how comfortable they make me feel," Wilson explained.

"When I look out there at the audience it's almost like looking in a mirror. Everybody looks familiar even if I've never met them. The fans in general, they're always rooting for me.

They want you to feel good. It's a great feeling - it warms your heart.

The things you have to go through in this business - sometimes you lose people that you love playing music with. I've had steel guitar players that have had problems at home, like 'I'm going through divorce - I hate to leave but I have to.' We just talked about what it's like to be a touring artist and those things found their way into the song."

The singer uses her touring band on her albums and in her video clips.

"We made the Still Rolling video in the studio right here in my house in Wilson county," Wilson revealed.

"I had a much bigger land holding, 400 acres for a few years. But starting a record company and doing everything else I was trying to accomplish at the time I couldn't see I could maintain 400 acres and 30 horses anymore. It was too much. I sold all of that land and moved to much smaller piece of property. I have 17 acres now and it afforded me to build a new state of the art studio. That's where we made the video and all the records last year."

The locale was a far cry from where Wilson filmed Redneck Woman at Fontanel in Whites Creek - Barbara Mandrell's old home.
MY BIG TRUCK AND LITTLE BROTHER
"My pickup runs on Tiger Blood and nitro/ don't try me son I'm faster than an Eddie Van Halen solo/ these girls all dream about my heated leather camo seats/ don't it make you wonder why they all wanna ride with me/ my truck's bigger than your truck/ you're soft I'm built so tough/ mine makes yours look like a tin cup/ my truck's bigger than your truck/ my truck's fully lifted, riding round town on 66 inches/ you can hang truck nuts on your hitch but/ my truck's bigger than your truck." - My Truck - Jayce Hein-Jason Matthews-Steve Pasch.
Wilson scored wide exposure on her social comment duet with septuagenarian Merle Haggard on Politically Uncorrect on her 2008 album All Jacked Up.
This time she has kept her duet partner in the family.

"Josh Malter is my brother," Wilson says of her younger duet partner.

"He's been selling merchandise for me for about 10 years - he's my tee shirt guy. For the last year he put the closed sign on the tee short stall and runs up on stage and sings with me and then goes back to the merch table. He's always been a great guy and a great talent. Since we were children we would sing harmony together. It was just a moment for me when I could let him shine a little, let everyone know I'm not the only singer in the family. He's three and a half years younger."
Wilson also persuaded her 13-year-old daughter Grace to add her vocals to the album.

"Grace is singing background on I've Been In Love Too Long, the proud mother confessed.

"I told her it was too high for me and I needed a younger and more modern voice on it. She rolled her eyes at me and she was pretty fabulous at it. She is much more talented than I am - she doesn't want to follow my footsteps per see. She wants to be in musical theatre.

She's very much into wrapping everything up into one deal - to be able to sing and dance and act, all of that. By the time she comes into her own she's going to be chasing the Broadway stage, New York of Paris or something like that. She has bigger, wider dreams than I have. I guess coming from where I came from I couldn't see anything bigger than becoming a country star. She's clearly talented - she plays the piano, drums, guitar, the ukulele. She sings, she acts, she's very dramatic. I'll support her in whatever she does. I'm her mother - she's very talented. I'm just trying to keep a rein on it. I don't see any reason for a child to go to work. I could I put her in the studio and release a top #1 hit on her, probably, but I think it's really important for he to be a child while she's a child. There's plenty of time to go to work, have a career when she's grown up."

So does Grace like her mother's music?

"Dust And Bones reminds me of my past life playing in rock bands," Wilson added.

"It reminds me of Grace who is into the pop music because I wanted to have at least one song on the album that she likes."

Wilson is trying to ensure Grace doesn't hit the hurdles she endured in her own childhood.

Wilson was born on June 26, 1973, in Granite City, Illinois - it was the closest hospital when her 16-year-old mother Christine went into labour while driving.

Her father left before she turned two as she grew up in Pocahontas, 36 miles east of St Louis, with a population of 727.

Her first job at 14 was tending bar alongside her mother at Big O's - a kicker bar five miles outside of Pocahontas.

At 15 she was running the beer joint with shotgun under the bar for protection and graduated to singing in honky tonks with bands before a solo career.

After a failed marriage to former Baywolfe band-mate Larry Rolens, she moved to Nashville and dated Mike Penner.

Their daughter Grace is Wilson's only child.

Wilson and Penner are no longer together.
RIGHT ON TIME
"It's not my nature to be patient/ I jump every river I cross/ not much for following the sensible size/ I can't count the times I've been lost/ cause you can't see where you're going in the pouring rain/ when you're running into walls, feeling no pain/ we all owe dues to the devil, I've paid mine/ took a while to get here, but I'm right on time." - Right On Time - Al Anderson-Sharon Vaughan.
Running a record company leaves less time for writing so the singer is selective about what she records - especially the title track of her new album.

"Right On Time was written probably 15 years ago," Wilson recalled.

"It was probably one of the first demos I did when I first came to Nashville in 1996. I think they had written it several years before that. I don't know how that song never got cut - maybe because it takes an older woman to sing that song. I don't think a girl in her 20s could pull that song off. When I sang the demos for it I don't think I knew what I was singing about. You have to experience a lot of life before you can say it took a while to get here - right on time. That song is so beautifully written, so much heart and soul. I wish I had been in the room the day when they wrote that song. I wish I had been part of writing that song. I turned 40 last year and coming into that place in your life when you can do what suits you and you can accept your flaws and almost embrace them. That's a song for every woman - a lot of them don't know it's their song until they get there."

So did that prompt Wilson to shoot a seductive cover for Las Vegas magazine that suggested she was naked beneath her well place guitar?

"It looked like that but I did have clothes on," Gretchen joked.

"They were just hidden by the guitar - it looked very sultry though. I didn't mind that photograph. There are not many pictures of myself when I can say that looked pretty good. That was one that made me smile, yes, good exposure."

Wilson's femininity also helped her land a role on Shotgun Willie Nelson's Farm Aid concerts.

"I never know when it's going to happen," Wilson said of her bookings.

"Last time Willie called me up and said 'we're light on for chick singers - we got a whole bunch of hairy dudes on the show but I don't have any girls, will you come out and do it'?

I'd do anything for Willie and those guys. It's fun to work with them.

Anytime you can do anything for a charity that helps the people it's good. I think it's like your duty. As an artist or celebrity if you can find any way to give back with your performance that's what you are supposed to do."
BEKKA BRAMLETT
"You're disappearing, that's all there is to it/ yeah, that's the long and the short of it all/ drifting on that ol' wind like leaves in the fall/ it comes down to a whole lot of nothing/ no matter how hard I try/ you were meant to go down the winding road/ and leave me behind." - The Gypsy In Me - Bekka Bramlett, John Scott Sherrill
Wilson also recorded three songs by Bekka Bramlett who once recorded with another child of a legend - Billy Burnette as Bekka & Billy.

"Bekka is one of my favourite people in the world," Wilson explained.
"She's crazy - she's a great bunch of gals. She's one of the most talented people I've ever met.

When I'm around her when I listen to her sing and the lyrics she writes it makes me want to be a better singer. I think she's one of Nashville's biggest misses - why she didn't make it huge you know. She's a star in my eyes. Some of the best songs I've ever heard she's written, she's so soulful. My favourite is The Gypsy And Me, also Birds Of A Feather. The Gypsy And Me reaches deep down into my heart and twists it.
That's what great songs are all about. One Good Friend - she's the inspiration behind the lyrics. I write with her a lot myself. We wrote a song two months ago on a new artist I'm recording and working with. She has a lot of heart and soul.
And, of course, the genetics are a bonus.

"You know her history, her mum and dad are Bonnie and Delaney Bramlett," Wilson reminisced.

"Because of her mum and dad's relationship with Eric Clapton back in the day Derek & The Dominoes were actually her parents' backing band before they became Derek & The Dominoes.

On the Under The Covers album I recorded their song Bell Bottom Blues and asked her to come and out and sing the background on that one so it was a kind of nostalgic moment for us and especially for her."
KELLIE PICKLER AND GRANDMA
"Grandma's turning 92/ that's a lot of years ahead of you/ so, listen close to what I say/ cause Grandma's feeling old today/ she said I can't believe I'm sitting here/ as old as I am, never been stoned/ so, I rolled it up and passed it around/ grandma smoked the whole thing down/ she was making up for wasted ground/ too many times she turned it down/ she said you live your life until it's gone/ and the things you never try just slip away/ until they're gone, too." - Grandma - Jon Nicholson.
Wilson also recorded a song by prolific writer Leslie Satcher who hails from Paris, Texas, and wrote a brace of songs for fellow March tourist Kellie Pickler.

"I recorded The Well Run Dry by Leslie Satcher," Wilson confided.

"A lot of these songs were pitched to me by publishing companies. When you are in Nashville you put out the word looking for songs and it doesn't take long for your in box to fill up. There's so many great songs lying around in Nashville. It's one of the most amazing places in the world because there's hundreds and hundreds of songs - good songs being written every day.

"Many are wasted - they go into a draw and no-one very hears about them again. When I'm looking for songs I'm looking for songs that are written a couple of years ago. I'll call up a songwriter and say don't send me what you wrote yesterday - send me the song that's sitting there and you can't believe that nobody cut. That's the song I want to hear. People move on, especially publishing companies - if it's not the most current thing it will just get lost. I've had a lot success recording songs that were written a long time ago."

Wilson's songs - especially Redneck Woman - have been used in many movies and TV shows and she's keen to have new tunes enjoy multi-media exposure.

"I don't have control over my old songs that go to movies and TV," Wilson admitted.

"My previous record company own all that stuff for life. I don't care as I don't make any money on it. My three most recent albums are getting a lot of bites. I just sent an email off today with the Right On Time album for a movie that's in the works right now. You know what's funny they keep calling me and asking me to do Dancing with the Stars. I'm not a good dancer - I wish I could get some other offers. I tried to be funny last time - I told them last time whatever you offer to pay me it's not gonna be enough to cover the varicose veins. Kellie Pickler is a helluva lot younger and has the assets to do that - I'm not cut out for that."

Wilson was offered a role in The Dukes of Hazard movie remake, starring Jessica Simpson as Daisy Duke.

She was asked to play a sheriff deputy who arrests Jessica Simpson but Gretchen's schedule didn't allow.

The independence of running her own record label is a luxury.

"When I started recording this record I worked with Blake Chancey (Sony producer) on One Good Friend," Wilson recalled.

"There was a long lull in the record making process. When I got started on the rest of the tracks it was pretty much just me. It was the first time I had been alone as a producer in the studio - everything except for that one song. On the rock covers album and the Christmas album really enjoyed producing by myself. I'll tell you why. I feel that established producers bring their own ideas into the studio. The session musicians don't offer up any creative opinions because there's a man being paid for that in the room. I tracked all of these albums last year with my touring band. I see them as being part of my family - my closest friends. Me not being a big name producer we did it in an old school way like back in the days when The Eagles were recording. It's more let's do this together as a unit feeling rather than one person telling everyone how to do it. I felt it sounded different to anything else that had come out of Nashville in a very long time. It wasn't just one person's ideas - it was a creative process of a lot of people's ideas."
REDNECK RECORDS
"You cuss like a sailor, smoke a pack a night/ you're hell bend on livin' like ya ain't afraid to die/ you're a little too fast, you won't slow down/ I'm your shotgun girl till my time runs out/ you're crazy runs deep and I can see that walk away sure they say ya gonna be/ and maybe, one day you'll leave/ but until my heart breaks in two/ I'm gonna love you like I'm crazy." - Crazy - Brian Davis-Rachel Farley-Vicky McGehee.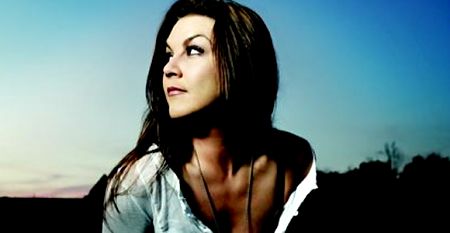 Wilson blames her hectic touring schedule for not releasing any other artist on her Redneck Records label.

"There have been no signings," Wilson explained.

"This year is the only year I have not been touring like crazy. I did more shows than I should have. I'm cutting back this year. I'm coming to Australia and doing two other shows - that's all I'm working in March. The only shows for a couple of months. I'm using that between time to produce new artists. I haven't signed any because I want to keep them. Being an artist and running a record label is different to most of the guys running record labels because I remember what it was like to be a new artist in Nashville. Everything is so hard to understand - so many things happen it's hard to understand what's going on. You trust everyone around you to do the right things but it doesn't always happen that way. I want to do what's best for these young artists. I want to help them find the right sound - to help them get their songs done in the studio they love. We decide if that's the right home for them or do they need to be somewhere else in a joint label where they work with Redneck Records and someone else. I may just have to let them go - the bottom line is I've got to do what's right for the artist. I'm working with new talent but I'm not going to be so quick to sign them up for the rest of their life as it may not be best thing for them."
NEW ALBUM AND WRITING PARTNERS
"Funny how skies can be so blue/ then turn around, and put that grey cloud on you/ when we're apart, my wings feel the weather/ when we're together, we're birds of a feather." - Birds Of A Feather - Bekka Bramlett-Shawn Carnes-Tommy Sims.
So what another Wilson album for 2014?

"It's been a long time since I wanted to write," Wilson confessed.

"Being a single mum running a record company and being a touring artist - but your first job is being a good parent. It eats up a lot of your time. I'm just now opening up some time in this year's calendar. I'm just not getting a real fire inside me yet to sit down and write. The main thing is I want to make a really different album. I want to make sure it's perfect but I don't know how long it's gonna take me. A lot of times albums get rushed and you wish there's some things you could have changed. I really had a great time recording three albums last year, recording with my live touring band. It was great fun. I'd actually like to really like to write my full record next time - sometimes you come up with your best stuff when you spend a little time away. You want to have to really want to write - you're not gonna get what you want unless you are really excited about it. I really need the time to open up a little bit for me. Who knows maybe coming to Australia will bring me some new ideas - new energy. My last Australian tour was all early on in career, many years ago. A lot has changed. I hope I'll be seeing it through wiser eyes - a little more relaxed."
That tour including playing the Myer Music Bowl for the Tsunami benefit concert - the Daddy Cool reunion gig.

And writing partners - well, Bekka Bramlett and Kacey Musgraves are high on Wilson's wish list.

"I see Kacey Musgraves at a lot of radio things we do, guitar pulls." Wilson says.

"She's breathing a lot of fresh air into country. I love how she sticks to her guns and write about what she wants to write about. When people say you can't put that word in you have to change it she says no. If you don't like it believe me I'm not going to change the word. I love her attitude - the fact she's gorgeous doesn't hurt either. She's very spunky and it gives someone like me spirit - there are others out there who are going to stick to their guns and be true to themselves. It's really what this genre needs. She would be a perfect writing partner. She's a busy girl right now. I bet she's not writing as much as she would like to - if she can come up for air for a few minutes I would love to do it."

Gretchen plays the St Kilda Palais on Wednesday March 12 with Novocastrian Morgan Evans and is one of the headliners at the seventh CMC Rocks The Hunter Festival from March 14-16.

CLICK HERE for an earlier Gretchen Wilson interview in the Diary on January 3, 2005.
CLICK HERE for a Gretchen Wilson DVD review in the Diary on November 26, 2006.