DAVE'S DIARY - 8 FEBRUARY 2010 - WILSON PICKERS CD REVIEW
WILSON PICKERS CD REVIEW - 2009
WILSON PICKERS
LAND OF THE POWERFUL OWL-JOLENE (ABC)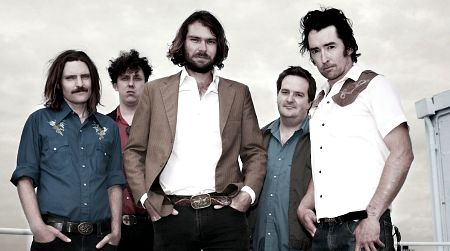 The Wilson Pickers had major hurdles when they cut their first disc in Brisbane.

Three members hailed from Queensland and two travelled from Victoria.

That may be a disadvantage in the geographically and economically challenged local roots music scene.

They met for the first time on the Sabbath, jammed Monday, made their live debut on Tuesday and reportedly cut an album in three days at Lunchbox Studios in Samford.

But for seasoned singer-songwriters this wasn't as hard a peak to ascend as the famed Smoky Mountains where the grass was blue for the Parton clan and peers.

The quintet is marketed as bluegrass - not high lonesome sounds of modern veterans Ricky Skaggs and Dan Tyminski or major stars Rhonda Vincent, Claire Lynch and Alecia Vincent.

It's more front porch picking of musical moths drawn to foreign flames.

And much of it is a tribute to the resurrection of co-founder Danny Widdicombe who has made two solo albums since a bone marrow transplant in 2004.

See story below.
LAND OF THE POWERFUL
The first of these two discs is a rich raft of organic originals by Andrew Morris, Ben Salter, Sime Nugent, John Bedggood and Danny Widdicombe.

They kick off with the assertive clout of hook heavy Can't Steal My Love, harmonica drenched Cold River and joyous triumph of good over evil of Graves Or Gold.

But they descend into nursery rhyme badlands on Little Old Man.

More accessible are anthemic How Long?, lilt of Country Fair and Apple Grove and morose but powerful paean I Won't Tell - possibly the finest moment here.
Sequencing is important - soft gospeller World Is Going Wrong segues into joyous optimism of Dryer Ground and booze-fuelled finale Barman Blues.
JOLENE
Artistically, this is superior to their accompanying disc Jolene - nine covers revamped by the lads.

But sonically the latter is eons ahead - not just because of the recording budget.

Nailing classics - Parton title track, late Townes Van Zandt classic Tecumseh Valley, Steve Earle's The Mountain and Dylan pair I'll Be Your Baby Tonight and You Ain't Goin' Nowhere - is aural bliss.

Paul Kelly's Dumb Things and If You Leave Me Can I Come Too - a Mental As Anything gem - are inspired local choices.

The only ballast is Old Salty Dog Blues - chain choked many moons ago but a live staple.

That's where you will hear it when the Wilson Pickers play Victoria in March and April.

They perform Apollo Bay festival March 26-28 with Kasey Chambers, The Flatlanders, Eddi Reader Trio, Chris Smither, James Blundell, Wagons, Kerri Simpson, Clip Clop Club, Josh White Jr, Rory Ellis, Dan Warner and many more.
WIDDICOMBE TRIUMPH
Danny Widdicombe was just 19 when he was diagnosed with chronic myoloid leukemia.

The Brisbane-raised musician moved to Melbourne with his parents and was working in famed but long defunct Gaslight Records store at the Paris end of Bourke St when he received the shock news.

"I guess I wasn't looking after myself very well at the time, but I just couldn't get over things," Widdicombe told Brisbane journalist Noel Mengel after his surgery.

"At one point I thought I must have AIDS, so I was quite relieved that there was an opportunity to be cured, that it was something there was medication for. It was something you could live with, they told me."
The odds were not great and Widdicombe was lucky to survive long enough to benefit from improved treatments that have been developed in the past few years.

"The day I was diagnosed they said, 'We can put you on drugs for a long time but one day this will transform into the blast phase'. That's when it really takes hold and you have no choice in the matter, you have to have a bone marrow transplant or that's it."

Widdicombe arose above his health hurdles and found solace in his music and family.

Danny moved to Sydney, started a career with a record company, married and began a family.

"I was so young when I was diagnosed and a transplant seemed so scary," he says. "Even the doctors in Sydney told me the success rate wasn't great at that time."

That's when he heard about groundbreaking work in Brisbane by Dr Simon Durrant and his team in the bone marrow transplant department at the Royal Brisbane and Women's Hospital.

One of the people Widdicombe asked for advice was David Fordham - the Brisbane TV personality who had also had a transplant under Durrant.

"My parents had moved back to Brisbane, and David had no hesitation. He said: 'Move back, you will need your family for support. And the doctor is fantastic'."
THE TRANSPLANT TAPES
That was 2002 and it was a long frustrating wait during the search for a suitable bone marrow donor.

Meanwhile, Danny and wife Carolyn had India, sister to son Oliver, months before a match was found.

The transplant went ahead in February 2004.

It was just another step on the way to recovery as the body struggles to accept its new immune system.

"There's chemo and radiation and other health issues. I've had pneumonia and a heart attack, but I'm not complaining," Widdicombe told Mengel.

"The cancer is gone and now it's up to me to find a way to live with these new health issues but with the prospect of living a long life, which I didn't have before."

Widdicombe made the most of long days in the isolation room after the transplant.

He wrote down his thoughts as lyrics as he had his guitar with him.

He had his own band, Dangerbird at the time and played guitar in bands of Andrew Morris and Bernard Fanning.

The Transplant Tapes came out of the songs he wrote in those weeks in isolation and in the years of recovery since.

The sound is mostly acoustic, alt country, with Widdicombe on guitar and friends such as violin player Luke Muller.
"Music was something that blossomed in me after the transplant, I knew I just had to do it," he revealed.

"Not all the songs are related to the cancer and the transplant. It's just me living this new life.

"I've got wide tastes and this album is just part of the music that flowed out of me, which wasn't all alt country by any means. There was jazz, reggae, rock sounding stuff that I recorded too, but they didn't suit this album."

Isolation tells Widdicombe's story from within the isolation room immediately after the transplant.

"I had the 10 songs for this album and then I buried it, didn't listen to it, wasn't going to release it. But I was thinking about the albums that I really loved, that the songs all come out of something real, with a genuine feeling behind it. That's when I realised: I have to put this out."

Widdicombe has released second solo album Dominoes on ABC Music Universal.

With the exception of Rollerball drummer Cam Roach and strings, Dominoes is a completely solo effort.

The multi-instrumentalist produced the singer-songwriter album and played all other instruments and sang his own harmonies.