DAVES' DIARY - 12 FEBRUARY 2008 - TERRI HENDRTIX CD REVIEW
TERRI HENDRIX - THE SPIRITUAL KIND
"I am the spiritual kind/ I keep a cross in my pocket for some peace of mind/ I hold onto it when I need a little faith/ when I'm lost I'm the spiritual kind." - The Spiritual Kind - Terri Hendrix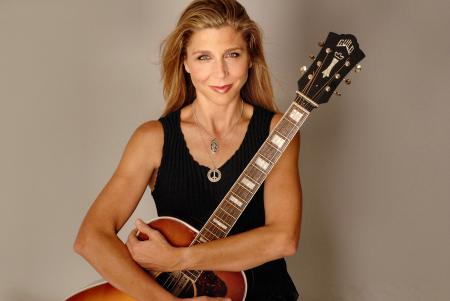 Terri Hendrix has long been a mistress of diverse causes in a colourful career that has long used the Texas Hill Country as her launch pad.

The San Antonio-bred singer lives in a four bedroom stone house on the outskirts of San Marcos with her two dogs Caroline and Jesse.

The journey may have been long and painful in its embryonic years but there has also been gold at the end of her rainbow.

Hendrix, who turned 40 this month, bought her historic home with royalties from Lil' Jack Slade - the song she co-wrote for the Dixie Chicks' multi-platinum Home album.

That was long after she scored wide airplay on Nu Country FM in its halcyon days at Beer Can Hill in inner suburban Northcote and the Paris, Texas, end of Collins St in the Melbourne CBD.

Terri's music was also a staple of membership officer Peter O'Keefe's Lubbock Or Leave It show and High In The Saddle in its PBS-FM era.

Hendrix musical journey dates back to her Texas teen years.

"I started when I was 19," Hendrix revealed on the eve of her 40th birthday.

"When we played Shady Grove in Austin and County Line in San Antonio, we had three generations of fans. I love that. I hope new fans come onboard and sit with old fans, become friends and come to shows together."

Now, on 10th album The Spiritual Kind - the latest release on her indie record label Wilory she wields her willow for American Indian, peace prophets, home gardeners and freedom of religion and social tolerance.

Hendrix explores various forms of spirituality - from pocket crosses to Jacuzzis to saints - in a singalong style on the title track.

The title track was written about an old cross that Lloyd Maines found and gave to Terri.

This little cross became a peace symbol of sorts, bringing her comfort as she faced one of the most difficult times in her life - being diagnosed with epilepsy.
LLOYD MAINES AND JIM THORPE
"The great Jim Thorpe was Indian pride/ the athlete of the century was cast aside/ they took his medals right out of his hand/ and buried nuclear waste on Indian land/ nuclear waste on Indian land" - Jim Thorpe's Blues - Terri Hendrix
Maines - father of Dixie Chicks singer Natalie - produced the disc and played guitar, mandolin, dobro, dulcimer, banjo, pedal steel, papoose and harmonium.

The multi-instrumentalist has produced most of her albums and frequently tours with her when she works with a band, duo or trio.

< Terri Hendrix & Lloyd Maines
Other musicians here are drummer Paul Pearcy, bassist Glenn Fukunaga, pianist Riley Osborne, Bukka Allen and Adam Odor on accordion, Richard Bowden (fiddle-cello) and harmony vocalists Michael O'Connor and Walt Wilkins.
"Lloyd is fun to work with, challenging to work with, but fun to work with," Hendrix says.

"Even if it's 110 degrees out there he wants that guitar in tune. You have to always remember you're playing with a producer. Sometimes out of time and out of tune is cool.

Not for Lloyd. But he's also the best musician going. He's at the top. Lloyd demands excellence. And when you're constantly put in a position where you have to be at a certain level for things to fly, I think it makes you better."

Hendrix rose to the challenge.

"The idea was to venture into new territory," Terri explained.

"There's not one song on here that has a pattern that we've done before."

Her foray into uncharted waters is most evident on Jim Thorpe's Blues - written about the late Native American athlete.

The song, laced with a Cajun feel, is a vitriolic social comment on the fate of Thorpe and the injustice of the fate of his peers land - a nuclear waste dump.

"The legendary athlete, Jim Thorpe, was an American Indian who was stripped of his Olympic gold medals in 1912, largely due to racism," Hendrix revealed.

"He was regarded by many as the Athlete of the Century, yet it took more than 70 years to get his face on a box of Wheaties. His daughter, Grace Thorpe, got his medals returned in 1982 and has led the fight to keep nuclear waste off Indian Reservations. For me, that's really what makes this record different. It's about awareness, and it's about a tribute to the things and people that too often go overlooked."
THE JOURNEY
"Now Antone and Jesse are up in heaven/ playing in the choir with them amps on 11/ Stubbs is feeding every angel he can find/ you know it's blues and BBQ for the spiritual kind." - The Spiritual Kind - Terri Hendrix
Hendrix is equally expansive about the album's journey theme.

"The concept is it's about the journey,' Hendrix says of The Spiritual Kind.
"I don't want to sound pretentious, but I'm proud of it. It's my favourite one we've done. I didn't have to work so hard in the studio and the songs are easy to sing live. A lot of the songs were road tested. It's representative of what we do live. I feel really happy with the concept."

And what about that journey?

"There's a great quote I heard, "We are all spiritual beings going through a human experience." The last election divided friends.
The song Things Change is about the chorus, not the verses. It's about staying friends and staying in each other's lives because we are all spiritually connected. I love Jesse Taylor's guitar playing. Clifford Antone was one of the first people to book me. They're in The Spiritual Kind."

Ironically Taylor, who played on previous discs, died shortly after touring Australia in 2002 with singing Texan crime novelist Kinky Friedman and spiritual guide Billy Joe Shaver.
THINGS CHANGE
"Things changed for her/ when you voted for Bush/ put on a bra put away your tie dyes/ found religion got born again/ then let a man come between you and your friends/ you swore it would never happen." - Things Change - Terri Hendrix.
Things Change details life-altering moments between best friends: when one voted for Bush, when another didn't call to offer sympathy for a deceased pooch.

Hendrix balances serious songs with flippant takes on other worldly matters.

"It's hard. It really is a balancing act. I'm always looking for the yin and the yang, that perfect balance. I think it's my responsibility as an artist to be honest. I had a fan ask me not to do any more sing-alongs because they hate it when people sing along. I'm a folk singer. For me not to have people sing along would not be honest.

"It's easy for a singer to fall back into old patterns. I want to move forward. I don't want to just do what's easy and what pleases the crowd. I've found if I follow my gut things work out. It's hard to put together a set that will please everybody, but my gut is screaming at me to step up to the plate and do these songs. For me, that's really what makes this record different. It's about awareness, and it's about a tribute to the things and people that too often go overlooked."

ACRE OF LAND
"To grow a garden/ you've gotta have patience/ you need to work in it every day/ mother nature will give you the most resistance/ but you can turn it in something anyway." - Acre Of Land - Terri Hendrix
Hendrix also pays tribute to her close friend - the late philanthropist and musician Marion Williamson, who passed away of cancer in 1997.

Acre of Land is a tribute to Williamson, who taught Terri to play guitar in exchange for a little help on her goat-milking farm.

Marion taught her young protégé more than appreciation for Mississippi John Hurt-style finger picking.

She instilled in Terri the strength of will and confidence to weather storm after storm on her way toward building one of the most successful DIY music careers.

Marion died less than a year after Terri self-released debut album, Two Dollar Shoes.

But 11 years and nine albums later, Terri insists that her late friend still finds ways to guide her.

Hendrix named her record label Wilory Farm, after Marion's several acres of land.
She follows the motto, "Own your own universe" - and does, being one of very few recording artists who can proudly claim to own all of their masters.

The song morphs into a meditation on planting crops that's also a metaphor for life's struggles.

Acre Of Land may have also given birth to the more strident Bottom Of A Hill.

Hendrix's social comment saga eulogised a hasty retreat to a bottom of a hill, prone to flooding, but geographically divorced from the greedy developers housing boom that has neighbours living on top of each other.

No Love in Texas mentions cactus and references Erica Jong (Fear of Flying).

"I can't get no love in Texas/ It's just hot air and cactus/ all work and taxes/ red lights and traffic/ you know I can't get no love."

Hendrix makes it all work as she laments her depressed state of romance.

The eclectic Mood Swing - penned with Maines - is a tribute to Hendrix heroes and heroines - Anita O'Day, Hoagy Carmichael, Keely Smith) that snaps and crackles.

"I took the stage like a match to a page/ I bought every songbook I could find/ I was Wildcat Kelley in Don't Fence Me In singin' Cole Porter and Ridin' High."
THE CROSS AND EPILEPSY
"My friend Cathy is the spiritual kind/ she jumps in her Jacuzzi to clear her mind/ she keeps a statue of Buddha by her hot tub/ when her soul gets cold she gives his belly a rub." - The Spiritual Kind - Terri Hendrix
Terri now shares her cross with her fans who are struggling, hoping that it will serve as a source of strength and peace for them as it did for her.

The only catch: the power of that cross must be ever shared and passed on.

"Spiritual people have always inspired me," says Hendrix. "I try to be one myself - it's a work in progress."

Currently, Terri's cross is with a woman battling cancer.

Hendrix, who speaks openly about her battles with epilepsy, also conducts Life's A Song workshops.

"I feel I have had epilepsy my whole life but was diagnosed with it in 1993," Terri revealed.
"I kept it hidden till 2003. It was then I faced the music and began a life-long plan to keep myself healthy and face the illness. I have a duty to tell people about it because it can be controlled. It's also my duty to say, "I am epileptic and I'm still cool." I always ran from it. I always hid it. I would lie to myself. On October 18, 2005, I had such a bad seizure I could have checked out. I treat my epilepsy 100 percent holistically because my body can't take the medication. I watch what I eat, use herbs, acupuncture and medication, and I feel better than I ever have."
IF I HAD A DAUGHTER
"If I had a daughter, she'd know that gay or straight, pinstriped or polka-dotted, tie-dyed or solid, straight-laced or bent, she'd have my acceptance and blessing in regards to whomever she gave her heart to." - If I Had A Daughter - Terri Hendrix
If I Had a Daughter is a sibling of sorts of Kansas born star Martina McBride's In My Daughter's Eyes.

But Hendrix daubs her maternal palate with credible humour and pride and preaches tolerance.

She hopes her daughter will "watch the stars instead of her weight," "dance with her curves" and "howl at the moon instead of her hair."

Hendrix also cut favourite cover versions to enrich her disc - John Hadley's Life's a Song, Woody Guthrie's Pastures of Plenty and Jimmy Driftwood's What Is the Color of the Soul.

"Immigration is such a huge debate right now," Hendrix revealed.

"I love what Pastures of Plenty says about immigration. Life's a Song nails in the simplest terms how I feel about music. What Is the Color of the Soul I heard one night on XM Radio - WFMT Midnight Special, and simply had to learn it. I was in the middle of nowhere and the song floored me. I begged the program director for an MP3. It's an obscure Jimmy Driftwood song about the pettiness of racism. I loved this song so much I added my own verse about "chicken-fried" people who use racial slurs and the hurt they cause because of them. Racism is so dumb. It's taught. I think it's passed on. And I'm not on a soapbox. You can be socially conscious without being on a soapbox."

And you can also connect across the ocean down under with original songs that stand the test of time - and travel.