DAVE'S DIARY - 8 FEBRUARY 2005 - MERLE KILGORE RIP
MERLE KILGORE RIP AT 70
HIT WRITER AND MOVIE STAR FAREWELL
BORN WYATT MERLE KILGORE
AUGUST 9, 1934 - CHICKASHA - OKLAHOMA
DIED MEXICO - FEBRUARY 6, 2005.
Oklahoma born actor and singer Merle Kilgore, whose career began at 14 as a guitar roadie for the late Hank Williams, has died at 70 after a spirited battle with cancer.

The prolific hit writer for artists diverse as Johnny Cash, Claude King, Webb Pierce and Tommy Roe died from congestive heart failure in Mexico.

Merle died while having experimental treatment for his cancer.

Kilgore joked in a letter to fans about his battle after being embroiled in a furore over plans to use his hit Ring Of Fire in a marketing campaign for Preparation H - a lotion for hemorrhoid-relief.
''I'm scratching and fighting my way back to the top,'' Kilgore said in 2004 after heart surgery, two back surgeries and a lung cancer diagnosis.

''Man, I had to get a room at Saint Thomas just for the flowers. It makes a difference when people care enough about you to come and see you. If you're a real (jerk), nobody comes by. That must be real depressing.''

The iconic raconteur was a key link between three generations of the famed Williams dynasty.

Merle was long time manager and opening act for hell raiser Hank Williams Jr whose daughter Holly was on tour here in Bunbury with Kasey Chambers when he died.

Kilgore had 273 original songs listed on the BMI publishing site and was an honorary Tennessee Senator.

Merle was voted the Country Music Association's first-ever Manager of the Year in 1990 and inducted into Nashville Songwriter's Hall of Fame in 1998.

He was also a member of the CMA Board of Directors, served as vice president of the CMA and member of the Screen Actors Guild.
ROADIE FOR HANK
Kilgore was a 14 year-old newsboy in Shreveport in 1948 when he learned that Hank and other country stars arrived at the local radio station before dawn to perform on the famed Louisiana Hayride.

"I'd ride my bicycle down every weekend and help them carry those instruments up those steps," Kilgore revealed in a 2004 interview.

"So I talked to the Bailes Bros bass player Leon. I said 'Leon, how do you get into show business?' He took a big drag off his cigarette and blew smoke in my face and said ' hang around someone famous, kid."

So when young Hank drove up to KWKH-AM in an old beat up Town And Country Chrysler with rotted wood panelling and a motor pouring smoke for his Hayride gig, the stage was set.

"I thought 'that can't be Hank Williams, he's a star,'" Kilgore recalled.

Kilgore told Williams, riding high with Move It On Over but afflicted by a chronic back condition, that he would carry his axe.

"I said listen, Hank, the elevator doesn't work until 7 o'clock. You're gonna have to walk up two flights of stairs.' 'He said OK, hoss, grab it."

By 1950 Kilgore was a regular performer on the Hayride - the entrée to the Grand Ole Opry - and working as a DJ on local station KRUS to pay his college fees.
TALL TEXAN ON TV
The singer was then offered $100 a week to appear as the Tall Texan host of Ouachita Valley Jamboree show on KFAZ-TV in Monroe, Louisiana.

Merle wrote his first hit at 18 en route to the TV show when girlfriend Ginger gave him an ultimatum - her or TV.

More And More (I'm Forgetting About You) enjoyed a 10-week reign at #1 for Pierce who shared his hometown of Monroe with latter day country acts Andy Griggs and Kevin Gordon.

Pierce helped Kilgore obtain a contract with Imperial Records in 1953 and More and More was also cut by Guy Lombardo, Mickey Gilley, Johnny Duncan and others.

It was even recorded as a duet by Van Morrison and Bob Dylan.


Kilgore wrote more tunes while working as a DJ on other Louisiana stations before heading for Nashville in 1962.
His own recordings failed to impact during five years on Imperial or D Records, but in 1959 Johnny Horton got a Top Ten hit with Johnny Reb - another Kilgore song.

Kilgore's recordings for Imperial included pop sessions in New Orleans with producer Dave Bartholomew, best known for his work with Fats Domino and Smiley Lewis. Teenager's Holiday - a collection of his early recordings - was released in November 2004 by German-based Bear Family Records.

It was only when he signed with Starday Records that Kilgore began generating hit recordings of his own, beginning with #10 hit Dear Mama early in 1960.

Love Has Made You Beautiful and Gettin' Old Before Your Time was a double-sided hit, the A-side making the Top Ten.
JOHNNIES - REB, HORTON AND CASH
Merle with Johnny Cash & June

Johnny Reb was a million selling single for Johnny Horton who wed Hank's second wife Billy Jean after she became a widow in 1953.

Horton and Williams both died in cars after doing their final gigs at Austin's Skyline Club that was booked by Jack Ruby - a nightclub boss who shot Lee Harvey Oswald after he allegedly shot JFK.

Kilgore joined the Grand Ole Opry in the early '60s, as other artists - such as Frankie Miller - hit with us songs such as Baby Rocked Her Dolly.
He also appeared regularly on the Big 10 Jamboree and the Riley Springs Jamboree, out of Arkansas and Texas.

Kilgore then wrote Wolverton Mountain with Claude King - who took it to #1 as it sold 10 million copies for him and others including Bing Crosby, Louis Armstrong, Nat King Cole and Tasmanian Kevin Shegog.

Merle then joined Cash as his opening act in a rebel uniform to sing Johnny Reb.

The Clifton Clowers in the song was Merle's uncle and appeared in the movie with Merle at the age of 90.

Merle and Claude also wrote answer song I'm The Girl From Wolverton Mountain and Montana De Wolverton.

When the tour ended June Carter Cash asked Merle to do some writing - the result was Ring Of Fire.
RING OF FIRE

"Johnny Cash came down and said 'I had a strange dream last night - I dreamt I heard Ring Of Fire and I was singing it. And I said 'do it.' And he said 'I am. I knew it was an instant hit. We'd heard Columbia Records were going to drop Johnny 'cause his sales were so bad for the last couple of albums. But they weren't bad after that. Man, did he hit a home run with that. Saved his career.''

The song was recorded by Cash and sold 16 million records for Johnny, June, Merle,
Frank Zappa, Social Distortion and Mark Collie who later played Cash in an award winning short film.

Ray Charles, Olivia Newton-John, Jerry Lee Lewis, Blondie, Tom Jones, Kitty Wells, Lynn Anderson, Earl Scruggs, Mac Wiseman, Burl Ives and others also cut it.

The rest was history until the piles potion popped out four decades later.

Kilgore even followed Cash's path into the august surroundings of Carnegie Hall in New York for a concert.

Another lesser-known song he wrote with June was Overalls Or Dungarees.

He then became a major draw in Las Vegas, while his albums, including There's Gold in Them Thar Hills and Merle Kilgore, kept selling for Starday.

By the mid-'60s, he moved to Mercury Records and appeared regularly on the Grand Ole Opry and recorded for a while time as ''The Boogie King" in outlandish stage outfits.
HANK JR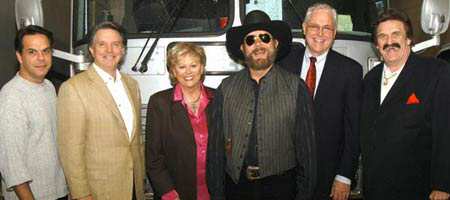 Hank Williams Jr & Merle Kilgore
In 1964 Kilgore left Cash and joined Hank Williams Jr as opening act and MC for 21 years and manager for another 15.

When Buddy Lee and Hank's Jr's mother, the late Audrey Williams, put Merle on the bill and on the road with him in the '60's there was a method to their plan.

The teenage Hank Jr. was growing up in a tough industry without the benefit of his legendary father.

Kilgore believed he was at a crossroads - trying to decide whether to continue as a recording artist or to manage Williams Jr.

According to Kilgore, the turning point came when Hank Jr. wrote down a figure on a piece of paper, slid it across a table to Kilgore and said, ''This is what you'll be making each year managing me.''

Kilgore immediately renounced his own recording career and began a long, loyal stint as Williams Jr.'s adviser, confidante and deal-maker.

"Merle was more to me than a manager," Williams said in a written statement.

"He was a father figure, he was a mentor, he was my business adviser, but most of all, Merle Kilgore was my best friend. He's shared the good times with me and carried me through the bad - without judgment and without hesitation. He had heart, soul, compassion, business savvy and a sense of humour. He's the definition of gentleman and scholar. I shall never know a greater man. The industry has lost an icon. I have lost a forever friend."
KID ROCK
Kilgore blended his humour and business acumen as manager to Hank Jr.

When rap-rocker Kid Rock's manager called to express Rock's interest in meeting and possibly working with Williams Jr., Mr. Kilgore stalled the manager while thumbing quickly through a Billboard magazine until he found a page that listed Rock's Cowboy at the top of the pop charts.

''Oh, Hank loves Kid Rock,'' exclaimed Kilgore, who had never heard of Kid Rock at the time of the conversation. ''He loves the song Cowboy. Hank would love to work with Kid Rock.''


Hank Jr with Kid Rock
Rock and Hank Jr. began working together, and Rock's hit-making friend Matt ''Uncle Kracker'' Shafer wrote a song called Thunderhead Hawkins that referenced Kilgore's affinity for wearing gaudy gold rings.
After The Tennessean wrote about Kracker's song, Mr. Kilgore said, ''My wife called me when I was fishing and said, 'The newspaper says Kracker is attracted to your bling bling.'

She said, 'Merle, what is bling bling?' I had to ask around. Turns out it's hip-hop for jewellery.''

Kilgore negotiated the deal for Hank's performance at the opening of each edition of Monday Night Football.

MR GARFIELD
His 1982 recording of Mister Garfield featured vocals by Johnny Cash and Hank Williams Jr - his last chart single was Guilty in 1985.

Hank Jr and Merle also wrote Country Music - Those Tear Jerking Songs.

And on July 4, 1983, Merle introduced Hank Jr when I caught him perform at Willie Nelson's star-studded picnic in Atlanta, Georgia.

His best-known songs included High And Pressurised for Hank Jr, Tokyo, Yokohama, and When You Get On The Whiskey Let Someone Else Drive for John Anderson.

The co-writer of the latter was the recently deceased Mack Vickery who also wrote Action Speaks Louder Than Words with Merle.

Merle's other hits included Old Enough to Love for Ricky Nelson, Folk Singer for Eddy Arnold and Tommy Roe, She Went A Little Bit Farther (Faron Young & Lou DeWitt of Statler Brothers) and Tiger Woman for Claude King.
THE MOVIES
Kilgore also became a prolific actor and singer in movies.

In 1963 he appeared in first feature film, Country Music on Broadway.

And in 1965 he starred in Second Fiddle to a Steel Guitar before his key role in 1966 gospel movie Sing a Song for Heaven's Sake.

He performed the title song and acted in 1966 Steve McQueen revenge movie Nevada Smith.

Merle joined Columbia Records in 1967 and also appeared in Henry Hathaway's Five Card Stud (1967), starring Dean Martin and Robert Mitchum, and Educated Heart in 1970.

He jumped labels in 1969 and then in 1973, ended back on Starday and appeared as a bar owner in the 1970 movie Five Easy Pieces.

Then in 1974 he signed with Warner Bros. Records and appeared in the feature film W.W. & the Dixie Dance Kings starring Burt Reynolds, Jerry Reed and Mel Tillis. And in 1975 he appeared in the controversial Robert Altman movie Nashville before being singing Host of George Jones' Possum Holler Club in Nashville.

In 1979 he donated the original lyrics of Wolverton Mountain to the Country Music Hall of Fame and appeared in the movie Roadie with Hank Jr, Roy Orbison, Meatloaf and Asleep At The Wheel.

Merle also appeared in the 1980 Loretta Lynn movie Coal Miner's Daughter with Sissy Spacek, Levon Helm and many more.

He also appeared as himself in the 1981 Living Proof - the story of Hank Williams
Jr. for NBC.

MESSAGE FROM MERLE
Merle never lost his sense of humour according to this message on his web site last year.

"Thanks to all of you who have sent e-mails and have prayed for me. I appreciate it more than you could know. My heart is doing great and I know it is due to prayer.

I would appreciate your continued prayers as I will have back surgery on August 30th to fuse part of my spine. I will be in Baptist Memorial Hospital East in Memphis.

I hope to be back out on the go and seeing you all within a few months. My doctor told me I should be playing golf in 6 months. That's great, because, I don't play golf!

I have a wonderful surgeon, supportive family and friends and prayers from a lot of special people - all of you.

Thanks for your continued prayers and support.
Sincerely,
Merle Kilgore

FUNERAL
Kilgore leaves behind wife, Judy, sons Steve and Duane, daughters, Pam Compton, Kim Pomeroy, and Shane McBee, eight grandchildren and one great grand daughter.
Hendersonville Memory Gardens is handling funeral arrangements.