DAVE'S DIARY - 27 DECEMBER 2012 - MATRACA BERG
MATRACA BERG - BELATED RESURRECTION
"I walked the streets of this little town/ late last night when it all shut down/ feeling stuck between lost and found and nowhere/ waiting for the resurrection/ fire from the ashes and the tears/ the resurrection, you know dreams die hard/ dreams die hard around here."- The Resurrection - Matraca Berg-Alice Randall.
Tennessean Matraca Berg no longer needs a resurrection - she has been riding high in the saddle since her first #1 hit at 18 on February 19, 1983.

She wrote Faking Love with veteran hit writer-producer Bobby Braddock - it topped charts for T.G Sheppard and Karen Brooks.

''It was easy getting that first hit,'' Berg revealed.

"But I didn't have another cut for a year."

There was a good reason.

The singer, now 48, raised her younger siblings when her mother Icie Berg - a session singer from Harlan County in Kentucky - died in 1985.

"I didn't have a choice," she said.

Berg brews her songs from the harsh reality of life that began when her dad disappeared before she was born.
It inspired the song Appalachian Rain from 1990 debut RCA album Lying To The Moon.

Two singles Baby Walk On and The Things You Left Undone cracked Top 40 but others did not.
The label didn't release follow-up CD, Bittersweet Surrender - it included Wrong Side Of Memphis that Trisha Yearwood turned into a 1992 smash.

Yearwood recorded XXXs and OOOs 1994, Everybody Knows 1997 and half dozen more Berg songs.

Suzy Bogguss also had a 1994 hit of Berg's Hey Cinderella and recorded Eat at Joe's, Give Me Some Wheels and Diamonds and Tears.
TEARS IN APPALACHIAN RAIN
"He came to town in the early spring time/to work with my daddy down in the mines/it was hot in the summer when he said goodbye/ and he left me a secret I can no longer hide/now the only thing that is welcoming me/ is a cold rainy morning and a Greyhound bus seat/he has just had to come back and try to explain/cry for your daughter Appalachian rain" - Appalachian Rain - Matraca Berg-Ronnie Samoset
Berg learned to write from her mother - whose name Icie was taken from an Indian great-grandmother - long before she married latter day nuclear physicist Ron Berg.

Matraca was in second grade and Berg was a Vanderbilt University graduate student.

He adopted Matraca and after earning his degree took a job in Indianapolis and moved the family.

Ron taught Matraca how to play piano but Icie missed the music world and returned to Nashville.

"We became very rootless, and we were really poor," Matraca revealed.

"We moved a lot, running from bill collectors and stuff. Mom never got off the ground in the music business. She was too busy trying to survive."

Although Icie sang on sessions, was briefly a member of Harden Trio and had 17 songs published by Four Star, Twila and Chappell, her priority was nurturing the writing of Matraca.

Several years later Icie became a nurse and married prolific Texan born songwriter Dave Kirby who died at 65 on April 20, 2004.

Kirby was also once wed to singer Leona Williams - third ex-wife of Merle Haggard.

Berg, 48, cut second RCA album The Speed Of Grace in 1993 and Sunday Morning to Saturday Night for short-lived Rising Tide in 1997.

That Train Don't Run and Back in the Saddle made the charts from her third CD, and Good Ol' Girl became title tune to the theatrical production of the same name.

She and fellow singer-songwriter Marshall Chapman also wrote other songs for the show.

Matraca released Masters in 1998 and compilation Lying To The Moon And Other Stories in 1999.

She wed Nitty Gritty Dirt Band co-founder Jeff Hanna on December 4, 1993.

Although Berg remained a prolific writer she took a recording hiatus before her style of resurrection in 2011 with The Dreaming Fields (Dualtone) and Love's Truckstop in 2012.
WRITING AS A TEEN
"She fixes her hair every morning/ long before seven o'clock/ she'll tell you with her hair piled up, she feels closer to God/ and she fires up that old Chevy/ gets to the truckers in time/ serves up the biscuits and gravy/ and the wise cracks by nine." - Good Ol Girl - Matraca Berg- Randy Scruggs
Berg has written hits for the cream of country music since her teens.

Clients included Reba McEntire, Deana Carter, Pam Tillis, Martina McBride, Linda Ronstadt, Patty Loveless, Randy Travis, Faith Hill, Tanya Tucker, Keith Urban, Dusty Springfield, Clint Black, Loretta Lynn and dozens of others.

Nitty Gritty Dirt Band and 2013 Australian tourists Rascal Flatts were also among the recipients.

Matraca was nominated for a Grammy for The Last One To Know - a #1 hit for Reba.

She appeared in 1987 motion picture Made In Heaven and soundtrack of 1993's The Thing Called Love.
Her song Along for the Ride is featured as the end movie credit song for A Cool Dry Place.

It all started many moons ago.

''I had been writing seriously since I was 15," Berg recalled.

"I was raised on Music Row. My aunt and uncle were in the music business and they did well. I watched it for many years from the inside. I watched people come and go. I watched what they had gone through during each transition. I don't think I have any disillusions at all.''

Although her mother changed careers she was Berg's main supporter.

''My mom was definitely there to coach me when I finally made up my mind that songwriting was what I wanted to do," Berg added.

"She put me into contact with some good people. I knew I wasn't going to college so I just decided I was going to get going on this as soon as I could. I just knew I had to get out there and do it. And I knew that this was the only thing I wanted to do - there was never any question in my mind. The fact that only a miniscule number of songwriters actually get to practice their craft successfully didn't faze her: "I think it was just youthful exuberance and fearlessness."
TRAIN STAYED ON TRACK
"He ran hard, he ran fast/ a fallen angel on a weekend pass/ never looked forward, never looked back/ a blaze of glory down a one way track." - That Train Don't Run - Matraca Berg-Garry Harrison.
Berg now has 400 published songs and a dozen BMI songwriter awards.

Patty Loveless followed up 1991's I'm That Kind of Girl by scoring a major hit with Berg tune You Can Feel Bad in 1996.

Patty also recorded You're So Cool, My Heart Will Never Break This Way Again and On Your Way Home.

Martina McBride succeeded 1996's #1 hit Wild Angels by recording Berg's Still Holding On as a 1997 duet with Clint Black.

She also cut he Anything's Better Than Feelin' the Blues and Cry on the Shoulder of the Road.

Other Berg hits included Sara Evans Fool I'm a Woman 1999, Mindy McCready All I Want Is Everything 1999, Dixie Chicks If I Fall You're Going Down with Me 2001, Faith Hill You're Still Here 2003, Terri Clark Working Girl 2003 and Keith Urban Nobody Drinks Alone - 2004.
STRAWBERRY WINE
"He was working through college on my grandpa's farm/ I was thirsting for college and he had a car/ I was caught somewhere between a woman and a child/ when one restless summer we found love growing wild/ on the banks of a river on a well worn path/ funny how those memories they last/ like strawberry wine and seventeen." - Strawberry Wine - Matraca Berg-Gary Harrison.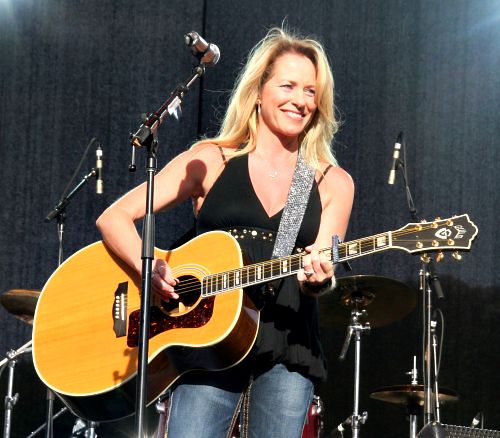 Deana Carter - photo by Carol Taylor
Deana Carter's first #1 hit Strawberry Wine - was prompted by memories of a summer Berg spent on her grandparents' Wisconsin dairy farm during her teens.

The 1997 CMA song of the year - penned with Gary Harrison - details summer romance.

"My dad is a farm boy from Wisconsin," Berg recalled.

"And I used to go up there and stay with my grandparents Inga and Elmer Berg and I met a boy up there. There's something about being away from home, the rolling cornfields and starry nights and the bored and wild farm kids. Farm kids know how to have a good time.'

"I just wrote the title down, Strawberry Wine, because Boone's Farm Strawberry Hill - that's what all the teenagers used to sneak off and drink and get sick on. I wasn't sure what it meant. I'm the kind of writer. I kind of need music to figure stuff out. I usually don't come up with the words first. I'll have a title and the music will tell me what it's about. But I figured out what it was about: My Grandma Berg just kept having babies, so my aunts were my age. So we used to run around and get in a lot of trouble together, chase boys and whatnot. I told Gary this story, and he latched right onto it. We wrote it quickly, in about three or four hours. We really liked it but we thought nobody else probably would."

Grandmother Inga found the tune scandalous and "wondered what my husband thought,'' says the singing spouse of Hanna.

And the song's subject - farmhand-college guy - Berg hasn't heard from him.

"He has a wife and some kids," Berg added.

"I don't even know if he's heard the song. I considered recording it anyway, but I thought Deana did such a lovely job that I would let it alone.''

After Strawberry Wine was one of the biggest country hits of 1996, Berg also co-wrote Deana Carter's #1 hit follow-up We Danced Anyway 1997.

She and the singer have since collaborated as songwriters on Dickson County, Goodbye Train and You and Tequila.
TEEN ANGELS
"They say I latched onto you/ like you was the last train leaving town/ but you kept on moving, boy/ left me here to live you down/ momma said she's send a wire/ and cried on the phone/ said you'd always be my angel girl/ won't you come back home." - If I Were An Angel - Matraca Berg-Gary Harrison-Kim Carnes.
If I Were An Angel also dates back to her teen years.

"I left town," she says.

"Went to Louisiana with a boy - If I Were An Angel was inspired by this experience. I was so overwhelmed. When that song hit, I wasn't that good a writer, and I just wasn't ready for success. I had people coming up to me wanting songs, and I had like two songs in my catalogue It was overwhelming for a teenager; I should have been worrying about what to wear to the prom. So I left town for about a year and a half, played keyboards in a band. Then I missed my mommy and came back, and I started trying to work naturally, from the bottom up."

Not long after she returned her mother died of cancer.

It was an especially bitter blow because she never knew her father who abandoned her mother when he learned she was pregnant with Matraca.

That was the basis of Appalachian Rain from her first RCA album.
YOU AND TEQUILA
"Baby, here I am again kicking dust in the canyon wind/ waiting for that sun to go down/ made it up Mulholland Drive/ hell bent on getting high/ high above the lights of town 'cause you and Tequila make me crazy/ run like poison in my blood/ one more night could kill me, baby/ one is one too many, one more is never enough. - You And Tequila - Matraca Berg-Dean Carter.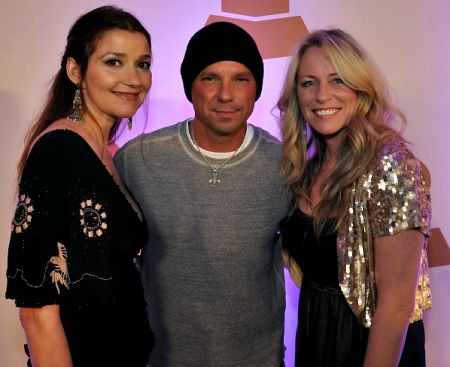 Matraca Berg, Kenny Chesney & Deana Carter
Berg's most recent smash was Tennessee superstar Kenny's #1 hit with Grace Potter of You And Tequila on his huge selling 12th album Hemingway's Whiskey and reprised as a live track on 13th disc Welcome To The Fishbowl.

Chesney, 44, has never toured here but Potter and her band The Nocturnals are playing the 2013 Byron Bay Blues festival.

Berg vividly recalls writing You And Tequila with Carter who cut it before Chesney.

"Oh, gosh, we wrote that two days after Harlan Howard's memorial service," Berg revealed."

"Being the godfather of all us songwriters, he was like an uncle to me. Harlan bought me my first shot of tequila when I was 18. That was the drinking age back then. I just dated myself.

After the memorial, his kids bought me shots of tequila all night. It took two days to get over that. I was writing with Deana two days later, and I told her, "I'm feeling kind of sick still because I don't do shots of tequila." And I'm saying, "Me and tequila." I was having so much fun, and I was like, "Tequila makes me crazy." She was like, "Well, that sounds like a song." I can't remember how You and Tequila got into it, but it was very natural feeling and we wrote it quickly.

THE DREAMING FIELDS
"Now the houses they grow like weeds in a flower bed/ this morning the silo fell/ seems the only way a man can live off the land these days/ is to buy and sell/ so I'm goin' down to the dreaming fields/ but what will be my harvest now/ where every tear that falls on a memory/ feels like rain on the rusted plough/ rain on the rusted plough." - The Dreaming Fields - Matraca Berg- Gary Harrison.
Berg's 2011 album The Dreaming Fields was her first since 1997 when her label Rising Tide went under.

And historic encouragement by Harlan Howard was again a catalyst.

"When Rising Tide Records was no more - when they were closing their doors - they had a little going-away party, and Harlan Howard came over there and kind of held court," Berg recalled.

"I was literally sitting at his feet drinking a beer, and he patted me on the head and said, 'darlin', you're not a country star.'" He said, 'you've always been more like Nanci Griffith or Lyle Lovett. Go make a cool record like that and forget about this country stuff. Write good songs and don't worry about being a country star.' I never really was worried about being a country star. But that was the easiest place for me to be. I didn't know where else to go. I was fortunate enough to have major-label deals. But probably not a good fit."
Although she kept writing she had a latent desire to return to recording.

"I always wanted to make another record," Berg revealed.

"I guess the time had to feel right or the collection of songs had to feel right. After my last label, Rising Tide, went under in the middle of my second single, I had to step back and think about what I was doing - if it was what I wanted to do, if I was meant to do it. I took some time off, and after you're not a kid anymore, you have family to take care of. You have other things that come into your life. I just chose to spend that time doing that until everything calmed down and I had some songs. And here we are."

Berg's songwriting peers also encouraged her.

"When I went into the studio to record, they started out as demos because that's what I do," Berg added.

"I'm a songwriter, so I demo songs - certain things that were more personal to me. The musicians approached them totally differently. After we recorded several of them, they were asking for copies. Of course I've been doing shows with various girlfriends - friends, songwriters, co-writers, Gretchen Peters, Marshall Chapman, Kim Carnes - and they really were on a mission. Gretchen Peters said, "I'm gonna get your skinny butt on the road if it's the last thing I do." I felt like it was time. Maybe I needed a nudge."

DOMESTIC VIOLENCE AND REVENGE

"If I had wings I would fly/ over the river and into the night/ and if I had wheels I would roll/ ten years of dreams tethered to my soul/ well, it's 59 miles to Memphis, ain't really that far to go/ with a little money in your pocket/ it'll get you right down that road." - If I Had Wings - Matraca Berg-Jessi Alexander.
So what about the songs?

"Well, I've never made a record with all my hits like Matraca Does the Hits," Berg says.

"There are songs that I write that will probably never be recorded by another artist. Because this is what I do, I felt like I needed to give these songs a chance - to let whoever wants to hear these songs hear them. And I happen to sing them, so I made a record. It is a little strange to be back out here. But these songs and the women in them they deserved to be heard and seen and to be realised. So many people are never put in the light, and The Dreaming Fields is about recognising their courage, strength and dignity in a world that is often decaying around them."

As a singer she was following the Trisha Yearwood version of her The Dreaming Fields, Carter and Kenny Chesney's versions of You and Tequila and Oh Cumberland - also cut by the Nitty Gritty Dirt Band.

For her versions she created stripped-down arrangements.

"I knew when I was writing these songs, the ones that I was drawn to that they deserved to be heard," Berg revealed.

"They were a bit deeper and darker than a lot of what's happening, so I knew it was up to me.

I'd done some shows with various girlfriends - and when you look at the women and the men in the audience - I realised these stories I'm writing are their stories too. So, making sure they get to them became important to me."

The Dreaming Fields songs touch on delicate subjects, from a battered woman If I Had Wings, to selling of the family farm title track, inspired by the plight of her grandfather's Wisconsin dairy farm - to a mother seeing her son sent off to war - South of Heaven.

The title track shares a theme with John Gorka social comment tune Houses In The Fields.

There's at least one song that Berg intended for somebody else.

If I Had Wings is a story of domestic violence.

"I wrote it with Jessi Alexander when she was just getting started, still a kid," says Berg. "She had a deal on MCA, I think, at that time and was writing for her record. So we wrote this, and, of course, it wasn't exactly what they were looking for over there."

The fact that the battered wife in the story kills her husband in self-defence made it a little harder sell.

"Not a lot of people are recording murder songs - or as Gillian Welch calls them, 'killin' songs," said Berg who decided she'd do it herself.
CHEATING AND REVENGE
"He said, honey, you don't know me/ but I know you, do you mind if I come in/ It'll only take a minute or two/and by the way I really like what you've done to this place /it doesn't really surprise me/ 'cause we kind of have the same taste/ but that's enough small talk/ there's something that we need to discuss/ your husband's cheating on us." - Your Husband's Cheating On Us - Matraca Berg-Marshall Chapman-Jill McCorkle.
Matraca acknowledges the raw, rare beauty of albums she grew up listening to and role music played in inspiring her writing.

She also revels in the dark humour of Your Husband's Cheating on Us - based on a Jill McCorkle short story and co-written with Chapman.

Berg is proud of her songwriting success.

"Trust me, I don't take that for granted for one minute," she says.

"I've tried to write more punchy hit songs, but I just kinda I don't want to do that anymore. I'm just at a place where I just want to write what I feel and hope somebody gives a shit."

And she's indebted to her writing partners.

"It seems to be a female-driven record," Berg revealed.
"I co-wrote a bunch of these songs with a lot of women. There's Deana, there's Sharon Vaughn, Gretchen Peters, so I suppose it's probably more geared to the female audience. I don't want to have this select group of people or say and 'no hillbillies!' I come from hillbilly central. We want everybody to hear our records. As many people as possible so we can keep making records."

Equally important is performing her hits.

"Yes, I love having hits," Berg confessed.

"I would totally be lying if I said I didn't love having hits. I love every artist's interpretation of songs that I've been blessed that they've recorded. That's really fun. Of course, making a living doing it is incredible. Nobody in their right mind would be a songwriter for a living, so the validation is amazing. I can have a car that runs, and it's freakin' awesome. Then the other part is performing songs that nobody's going to hear unless I sing these songs. It is a whole another satisfaction. Songwriting can be very lonely. I do co-write, and I think that's part of the reason. It's very lonely writing songs. You have nothing in that room but you. We all feel alone. We all wonder if we're nuts or if we're neurotic or does anybody else feel this way.

Expressing yourself in a song and having someone recognize that, or saying "Yes, that's how I feel" or "I felt that way" or "I lost my grandmother and I felt this way" - that's incredible, really."