DAVE'S DIARY - 18 DECEMBER 2012 - KEVIN DEAL
2001 NU COUNTRY FM LIVE INTERVIEW
THE REAL DEAL - KEVIN
"I was raised on Merle Haggard and Johnny Cash/ and I watched my father kick more than one hippie's arse/ there was just something that made his blood boil/ Lord every time he saw em he's like a snake ready and coiled/ when I turned 18, man I grew out my hair out." - My Father's Redneck - Kevin Deal.
When Texan troubadour Kevin Deal grew up in Iowa in the seventies he suffered paternal wrath of a generation shocked by the free living, loving and libidos of their offspring.

The passionate poet of the people didn't burn flags or barricade buildings when predecessors and peers were sent to war in some foreign hellhole.

Instead the latter day stone contractor chiselled his observations into timeless tableaux in a highly liquid memory bank that has stored and spawned some of the best songs of the late nineties and new millenium.

And now, with bassist son Steven playing in his road and recording band, he has ploughed the fertile phosphate of family history into a rich creative crop covering three widely acclaimed albums.

Kevin, 39 and holding, nailed the generational groove to the wailing wall of history on My Father's Redneck on his third disc Kiss On The Breeze (Blind Nello.)
"My dad loved country music and still does," Deal revealed ina live to air and Internet interview on maverick Melbourne broadcaster Nu Country - 94.9 FM - in 2001 on the eve of the 165th anniversary of Texas independence.

"And I love my dad but he's probably not the best singer in the whole world, doesn't have a musical bone in his body but he loved to sing as we were driving, much to the dismay of everyone else in the car."

Deal phoned Nu Country at the Paris, Texas, end of Collins Street where the Lone Star independence celebrations started six weeks earlier with the studio and reception area adorned with Texas flags.

"Right now its still yesterday," Deal quipped as he prepared for a celebratory gig.

"independence day will be here in an hour. We're packing for a gig in Stephenville which is two hours south of Dallas."

Now, with five children, Deal is living proof of the wheel turning full circle as he used the solid foundations of his stone contracting business to fuel his performing, singing and recording career.

Although he was born in Iowa and reared part of this family in Seattle he moved to Texas in 1975 and now calls the North Texas town of Weston his home after escaping the suburban sprawl of Plano as Dallas exploded.
FATHER'S REDNECK
"Well my hippie hair I saved it in my closet/ but my tie dyed shirt I seem to have lost it/ they say the apple don't fall too far from the tree/ now I find my father's redneck belongs to me." - My Father's Redneck - Kevin Deal.
Son Steven has become the real Deal on Kevin's band but many of his generation have hooked their wagons to the post punk, shock rock wagon.

"Alice Cooper, The Rolling Stones, Crosby Stills Nash & Young, well now them boys look pretty tame next to that Marilyn Manson scum."

Ironically, when we spoke Deal and wife Kim had been too busy with careers of music, stone and child rearing to read their album of the week review on the prestige Country Standard Time magazine web site.

"No, I haven't seen that yet," the humble hombre confessed as he sang praises of elder son Steven.

"He has his own band now but I don't think it will be the same kind of music."

Well, it's not exactly Marilyn Manson or Einem either.

"Every generation takes it upon itself to shock the generation before, " Kevin confessed, "I just picked Marilyn Manson out because he seemed to be one of the most shocking out there now. My parents flipped out over the stuff I listened to and their parents flipped out over the Beatles and Elvis and all that."

Deal, reared on an eclectic diet of blues, rock and the country of his dad's collection, has ridden hard and fast on the cutting edge of the distinctly progressive and fiercely proud Texas country scene.

The singer hired prolific producer Lloyd Maines - one time member of famed Lubbock based Maines Brothers Band - to give him a pure, sparse and tough sound on three albums dating back to Lovin', Shootin, Cryin' and Dyin' cut in Austin in January and February of 1998.

Maines hired the Austin A-team - drummer Paul Pearcy, Rich Brotherton on mandolin, Joel Guzman and Bukka Allen (son of Terry) on accordion and harmony vocalists Terri Hendrix, Ed Burleson, Stacy Pounds and Chris Schlotzhauer.

Also on the disc was bassist Michael Tarabay - former spouse of Dixie Chicks singer Natalie whose dad Lloyd played slide, dobro, pedal steel and mandolin.

Steven Deal replaced Tarabay on the third album and young four-album veteran Terri Hendrix, 33, was the duet vocalist for A Thousand Words.

Also guesting is former Austin Lounge Lizards legend Richard Bowden on violin and Freddie Lee Spears on mandolin and guitar.
PHONE THAT DON'T RING
"I don't know where you are or what you are doing/ when you left me here there was nothing left to say/ no if, no maybes, and no shades of gray/ now there's nothing quite as lonesome as a phone that don't ring." - Phone That Don't Ring - Kevin Deal.

The new disc received lavish airplay on the roots country Americana stations in U.S. and Nu Country that returned to air in May for its 30TH broadcast.

Deal kicks of his new disc with This Time - a song that shares title but not theme with a Dwight Yoakam disc of many moons ago.

"I thought it kind of fit the tone for the record," Deal revealed, "it just felt good."

Deal has also won airplay for Phone That Don't Ring - a different theme on the famed Jimmy Buffett bumper sticker inspired song If The Phone Don't Ring It's Me.

"My song is basically waiting for the phone to ring," says Deal.

"His twist is probably more clever but he had already done that. It's a just a lonesome thing, waiting around for the phone to ring. It doesn't have to a relationship - it could be work whatever."

Deal is an huge fan of south Texas songbird Terri Hendrix, born in the Sam Houston hospital in San Antonio and now living in San Marcos where she has released four solo albums on her Wilory Farm label.

"She has been on all three of my records," Deal proudly confided.

"She's a lot of fun to work with. She's an excellent singer-songwriter and she's got some great stuff. She's a quick study - that's why Lloyd uses her so much in the studio - she picks something up really quick and does it right."
RAY WYLIE HUBBARD
"The stage from Austin stopped at our place/ to get fresh horses and the folks would stretch their legs/ I saw one old man with a face/ I'd seen b before an old wanted poster/ at Mr Johnson's store/ I was fascinated by outlaws and gunslingers too." - Sleep At Night - Kevin Deal.
Deal also duetted with one of his heroes - Redneck Mother creator Ray Wylie Hubbard on marathon gun fighter tale Sleep At Night on his debut disc but it's Maines who has been his spiritual and studio mentor and key to his success.

But hiring Maines for production duties is no easy task - especially with queue of clients stretching from solo acts Hubbard, Joe Ely, Terry Allen, Pat Green, Butch Hancock, Robert Earl Keen, Jerry Jeff Walker, Charlie Robison, Chris Wall and bands diverse as The Groobees, Great Divide and Lost Gonzo Band.
"Lloyd is a busy man," Deal confided, "I just begged him relentlessly until he gave in and gave me a slide. Lloyd is the man. Lloyd really loves what he does. He doesn't need to work as hard as he does but he takes great pride in what he does. It's not a money thing with him - he could make much more money in Nashville but he's just a good man and loves what he does."

Deal is one of many Texan troubadours aiming at sharing their music and talent with Australian peers on local tours but paucity of country music on radio is the angry anchor singing his ship and many others sailing into unchartered, or is that uncharted, waters.
Like Captain Alex Whitmore - Delta Airlines pilot and singer-songwriter who jumped into the jump seat of Jumbo to perform and showcase his music here after Nu Country FM Beer Can Hill studio fire - Deal will try to stand tall on the strength of his music alone.

Standing tall is something Deal has done since birth - at 6ft 4in in the old measurements he towers over many peers.

"Ray Benson is a pretty tall guy but Bruce Robison (singing spouse of new mother and fellow major talent and new mother Kelly Willis) maybe the tallest" Deal revealed, "Bruce is 6 ft 7 and I'm only 6 ft 4 in."

Bruce and Kelly toured here in 2000 and performed live on Nu Country FM Beer Can Hill studio before it burned.

DAY THE BLUES DIED
"It was a hot day in Dallas and the sun was beating down/ the end of August and those dog days had come around/ I was driving into work and had stopped by a light/ I was listening to the country station when I heard about the ill-fated flight." - Day The Blues Died - Kevin Deal
Deal also eulogised fellow Texan Stevie Ray Vaughn in his song Day The Blues Died.

Check out Deal's three albums Lovin, Shootin, Cryin' And Dyin', Honky Tonks 'N Churches and Kiss On The Breeze at his web site maintained at the time by Melbourne IT wizard Mathew Western who now hangs his hat in Heywood.

There are now five more Deal albums - The Lawless (2004), Raw Deal (2005), Roll (2007), Seven (2009) and There Goes The Neighbourhood (2011) you can buy at the same site.

The address is www.kevindeal.com

You can also find Kevin's peers Mark David Manders and Max Stalling on the Blind Nello label in Texas.
2012 REVIEW
KEVIN DEAL
There Goes The Neighborhood (Blindfellow Records).
DEAL TAKES OVER GOSPEL NEIGHBORHOOD
"When the devil gave Eve an apple/ he said it sure tastes good/ there goes the neighborhood/ there is a path of evil/ there is a path that's good/ hey which one will you be on/ when it's there goes the neighborhood?" - There Goes The Neighborhood - Kevin Deal.
Texan troubadour Kevin Deal wears a fresh gospel cloak on his eighth album in his 50th year on the earth.
The father of five has explored his faith from the title track to the fitting finale This Old Cross Around My Neck.

It's not such a great leap from bluegrass-laced tunes on earlier albums that explored outlaws, in-laws and other deified denizens of the human race.

Texan reviewer Dave Pilot accurately suggested Deal "was a working family man with a vision founded on faith - his faith, his way, with, as Billy Joe Shaver or Kinky Friedman might say, the God of his choosing."

That's a salient signpost to this eclectic, joyous epistle.
Deal reaches deep into his psyche to create credible paeans to the spiritual challenges on his journey.

He revives Gideon from 2003 CD The Lawless that was banned by a Texan tsar of radio for one febrile reason.

Producer Lloyd Maines was the father of Dixie Chicks singer Natalie who had temerity to spoof then President George Dubya Bush at a London concert.

It did more damage to the mainstream country career of the superstar trio soaring charts with Bruce Robison song Travellin' Soldier at the time - than Deal whose Americana success was untarnished.

See the 2004 story way below.

Gideon is the story of a West Virginia coalminer's daughter whose sire rebukes her when she tells him she has read her new copy of the Bible.

He says the Bible is a fairytale so she slips her copy into the coat of her sleeping father before he descends into the mining the next morning.

I shouldn't spoil the punchline but there was a rock-fall in the mine that day and the miner died clutching the Bible - with three extra names in it.

Deal precedes Gideon with a soulful rendition of Amazing Grace.
COSMIC ACCIDENT
"I do not have the faith required of me/ oh to leave this all to chance/ I cannot believe that we, my friends/ are all just cosmic accidents." - Cosmic Accidents - Kevin Deal.
It's no cosmic accident that Deal has also maintained his faith in producer Maines on his recording journey.

They returned to Cedar Creek studio in Austin with Maines adding banjo, dobro, mandolin, acoustic, slide, papoose and baritone guitar and lap steel to the disc.

Deal again plays acoustic guitar and harmonica with Stone Deal adorning the family touch on violin and Samantha Deal on mandolin.

Terri Hendrix - frequent client of Maines and Deal - joins their studio band gospel choir on the riveting rhythms of Big Prayer.

Maines and the studio band also guest on the video clip for the single I Need Revival that is featured on Nu Country TV.

"I need revival every morning/ I need revival every day/ I need revival every evening, Lord/ least I should go astray."
The singer sails into the mystic in optimism of Finish Well and the fatalistic When Your Name Is Called and A Long Time Ago.
Deal name checks Neil Young as a childhood mentor in Just Another Poet where he goes into bat for the Red Indian peers of his homeland.

The singer delivers the song with the harsh realism - "I'm just another poet in a sea of poetry/ trying to find the rhyme in all I see."

Deal also explores an inspirational resurrection in King Jesus before he ends with the personal protection of the harmonica driven seven-minute climax This Old Cross Around My Neck.

"You wear this old cross around your neck/ more a reminder than some charm to protect/ some times it burns, well it burns upon your neck/ you wear this old cross around your neck/ I have no use for religion/ for I pray to a God that is real/ I have found peace in the stone/ I have found peace instead."
2004 STORY
RAW DEAL FOR KEVIN IN BAGHDAD BEANE FIGHT
"I might have a couple that could make it to No 1/ you know just one break could make the difference between a millionaire and bum." - You Ain't Nobody - Kevin Deal.

Texan troubadour Kevin Deal was paid the ultimate compliment - he was banned from airplay because Lloyd Maines produced his fourth album The Lawless.

Nothing wrong with production by Maines whose clients include the Robison brothers Bruce and Charlie, Adam Carroll, Pat Green, Great Divide, Terry Allen, Joe Ely and the Dixie Chicks.

Hang on, there's the problem.

Veteran Lubbock born multi-instrumentalist Lloyd sired Dixie Chicks singer Natalie Maines who exercised her freedom of speech in the recent Baghdad bunfight.

The right for which western countries fought wars since bows, arrows and spears were replaced by nukes.

It's a long stretch of the bow but Deal copped it in the neck because of bloodlines of his producer.

Texas radio tsar Paul Beane who operates KRBL, Lubbock, KLVT, Levelland & KZZN, Littlefield - birthplace of Waylon Jennings - banned Deal.

On April 25 the promo copy of The Lawless was returned to Deal, unopened, with a letter from Beane thanking him for his efforts.

Beane says his stations won't support Maines' music - bizarre as Lloyd produced more than 50 Texan artists, many of whom have been played on Beane's bunkhouses.

He cited Natalie Maines "bitter attack" on radio stations that refused to play the Dixie Chicks because she was ashamed George Dubya was from her home state of Texas.
GEORGE DUBYA AND REAGAN
"I been trying to write a hit song, heard it only takes one/ ain't making any money but I having lots of fun/ sent demos off to Warner Brothers, Sony and MCA/ they all come right back to me, they're stamped the same old way." - You Ain't Nobody - Kevin Deal.
You Ain't Nobody had prophetic lyrics.

"I have no problem with someone who doesn't like my music," says Deal - father of five.

"Of course, I wish they'd like it, but if they don't that's fine. Paul could have thrown my album in the trash if he didn't like it, but instead he sends it back, unopened, with this letter. He's the owner of the station and can play what he wants, but I don¹t think it¹s very fair of him. If every musician had to fill out a survey on their political beliefs and personal habits, I don't think many people would get played on the radio."
With irony that normally permeates songs, not just stories, Deal and Maines confessed to voting for George Dubya who also hosted Kinky Friedman at the White House.

"I voted for Reagan in the 1980's, too," added Deal - a long tall Texan at 6 foot 4 in - "and I'm a member of the NRA. It's people like Beane who give the right wing a bad name. I have plenty of friends who have views totally different from mine and we can have a conversation about it. That's the beauty of America - we can all live together with opposing viewpoints."

The plot thickened when Beane, the badlands variety, revealed Lloyd's family band The Maines Brothers played at his daughter's engagement party.

"Hell, I feel betrayed," Beane sprouted before wishing Deal luck.

"I hope he sells 10 million records and gets on the cover of Rolling Stone but I'd be greener than a spring chicken if I did anything to help someone who made it clear that they are my enemy. I didn't start I didn't start this war, Lloyd did. As far as I'm concerned, he can kiss my ass."
THE LAWLESS
"Oh you ain't nobody, no you ain't no-one/ you just another in a long list son/ you come back now, when you make it big/ we'll all say we knew when you were just a kid." - You Ain't Nobody - Kevin Deal.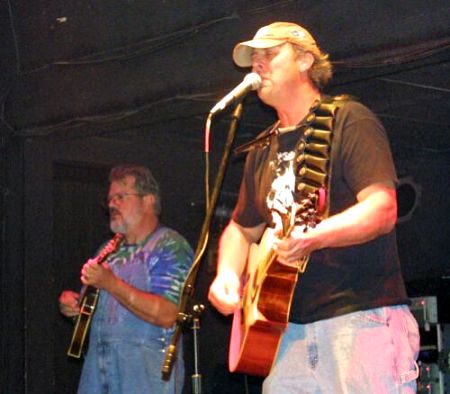 The Lawless is #20 on the Americana chart and Top 10 on other roots charts.

From here it appears George Dubya, Tony Blair & Boy Howardy started and won the war against the Butcher Of Baghdad.

So what about the musical merits of The Lawless?

Well, it's the most eclectic of Deal's four discs with raw narratives and morality tales about outlaws, in-laws, truckers, temptresses, backsliders and crusaders.

And, with more irony, it's made radio friendly by superb production and playing by a credible cast including multi-instrumentalist Maines and harmonies by Terri Hendrix.

There's a deep bluegrass feel, especially in Gideon, and hot harmonica and writing by Deal.

Deal, like many peers, is too country for radio.

The solace - his biggest hero was also crucified without trial, just a few years older than Hank at 29.

Judge Beane - with no jury - presided over the trial of the satiric stonemason, then 40 and in absentia.

Collateral damage ensures healthy exposure here for Deal, Maines and Dixie Chicks.

"He thought this might prevent people using Lloyd as a producer but what it is really doing is getting people to ask were they can purchase the Maines Bros reissue CD," Deal's wife Kim added, "which by the way is at Ralph's in Lubbock."
2004 CD REVIEW
KEVIN DEAL
THE LAWLESS (Blind Nello.)
KEVIN DEALS FOR BACKSLIDERS AND OUTLAWS
"Now someone called the law but it's too late, see the Sheriff's out at the edge of town/ he's counting his share of the take, and the stranger was never to be found." - Quicker Than The Eye - Kevin Deal.
Texan troubadour Kevin Deal has long been a master of the outlaw metaphor on his cutting edge country.

Album titles Lovin, Shootin, Cryin And Dyin' and Honky Tonks n' Churches are a salient signpost to the singer's rebel roots.

Now, on the flip side of 40, the Dallas reared father of five sings of life in the fast lane but sews a redemption message deep into the fabric.

The guitarslinger reaches back to the Wild West to daub vibrant vignettes on a timeless tableau on dynamic fourth album The Lawless on Dallas indie label, Blind Nello.

The satiric stonemason chisels merciful messages in roots country, peculiar to peers who have chosen a rockier path than mainstream Music Row country pop puppets.

It's not exactly a concept disc like Shotgun Willie Nelson's Red Headed Stranger or Tougher Than Leather but the bandit-brewed putty is the glue that grafts a bluegrass laced leap of faith.

The rootsy feel is enhanced by producer Lloyd Maines on lap and pedal steel, banjo, dobro and baritone guitar, Freddie Spears on mandolin, drummers Paul Pearcy and James Perkins, bassist Johnny Jackson and other guests.

Deal kicks off with Quicker Than The Eye - a wry tale of an historic, fast drawing card sharp gunfighter in cahoots with the corrupt local sheriff.

"Don't matter if it's cards or dice, there's all kind of ways for a man to win/ he'll take the edge and not think twice, this ain't no game of chance for him."
TOP 40 RADIO PARODY
"Keep 'em short and sweet, that's what I always heard/ don't weigh down a good song with too many words/ yeah, I might have a couple that could make it to No 1/ you know just one break could make the difference between a millionaire and a bum." - You Ain't Nobody - Kevin Deal.
So it's no surprise that segues into You Ain't Nobody - a Top 40 radio spoof.

But the title track, where the anti-hero lives and dies by the gun, enables Deal to inject his sagas with a little homespun morality.

The character, smothered by a mother's love and father's work ethic, is kin of sorts to the Robin Hood in Max Stalling tune Freedom For Mary whose death is purged by a booty gift to his lover.

But neither tragedy surpasses the Biblical mining disaster in infectious Gideon, sweetened by harmonies of Spears and Terri Hendrix also on Mary and Diesel.
Spears sings lead on bluesy 1973 Lynyrd Skynyrd tune Mississippi Kid while Deal harmonises and plays harmonica.

Kevin works Robert E Lee into a metaphor for a love victim in Pick Em To Lose - tale of an abused woman whose penchant for outlaws catalyses her downfall.

Lonesome Whistle Blow, penned by Hank Williams & recently deceased centenarian Louisiana Governor Jimmie C Davis, features former Austin Lounge Lizard Richard Bowden and Bob Penhall on upright bass.
BACKSLIDIN' MAN
"I been waiting in my cell for an angel to appear/ but there ain't been a one to get me out of here/ now I'm dusting off the Bible with my prayin' hands/ Lord have mercy on a backslidin' man." - Backslidin' Man - Kevin Deal
Deal may have been saved but not a reprised Robin Hood in Backslidin' Man whose liquor store robbery in a stolen car ends in jail.

He reflects on enduring love in Pieces Of My Life and death on the lost highway in the eyes of a world-weary highway patrolman and padre trying to retain the faith in Asleep At The Wheel.

This is a sober segue into a truckie's survival struggle on an unforgiving black top in Diesel and macabre metaphor in the chilling finale Road To Ruin.

Deal hurls losers in love and crime - clumsy Clyde and bucolic Bonnie - onto a pathos primed patina.

ROAD TO RUIN
"Yeah, he thinks he's too good for a little hard work/ gets himself a gun, robs the quickie mart clerk/ for thirty eight dollars some cigs and beer/ he'd throw away five to fifteen years." - Road To Ruin - Kevin Deal.
The teen temptress doesn't fare any better in this pungent parable.

"Well, she's all of 15, had enough of mum and dad/ says life on the street couldn't be this bad/ now she's cold, tired and so hungry/ surrounded by sharks in a concrete sea."

It's easy to advise that Kevin is the real Deal - he earned his stripes in the kicker bars and skull orchards of the Texas badlands while raising five children.

Now living in rural Weston, he may have only wed wife Kim once, but is credible as mentors Billy Joe Shaver, Ray Wylie Hubbard, Guy Clark and Joe Ely.

For further info visit www.kevindeal.com
1998 CD REVIEW
KEVIN DEAL
LOVIN' SHOOTIN' CRYIN' AND DYIN' (Blind Nello

KEVIN DEALS DEATH WITH A HARP
"I walked up behind him and he spun around/ like a lightning bolt with the blur/ of a hand and a .45 colt/ I say 'son, you don't know how close you came to dying'/ don't ever sneak up on a man with a past / cause there's always some young gun/ with something to prove. " Sleep At Night - Kevin Deal
Cool hand Kevin Deal hails from Plano in the badlands near Dallas and his characters are handy with a gun, knife and other true tools of summary justice.

Deal is also mighty adept with a guitar, harmonica and a nice line in narratives carved from the same tree that shed Robert Earl Keen, Steve Earle, Charlie & Bruce Robison, Terry Allen and Jack Ingram.

The singer, now 36, spent his youth making mortar by day while playing country, rock and blues after dark with a cool cast including Johnny Peebles and Curly "Barefoot" Miller - a 92 year old blues man.

Peebles had worked with teen combo The Chessmen who boasted Jimmy Vaughn and Doyle Bramhall but it was Deal's recording with Mark David Manders that landed him a solo deal.

Deal had run a stone contracting company from 1983 but it was a meeting with Manders legendary producer Lloyd Maines that ensured the singer's messages would be chiselled in country rock.
Multi instrumentalist Maines chose core players - son-in-law Michael Tarabay (former husband of Dixie Chick Natalie) and drummer Paul Pearcy - and produced Deal's debut disc Lovin' Shootin' Cryin' and Dyin' on Blind Nello Records.

Maines ensured Kevin was the real deal by allowing the songs to flow without the constraints of chart candy and grunge guitar overkill.

The highlight is Sleep At Night - a 7 minute 18 second saga rooted in the wild west frontiers of Texas in tougher times - featuring Ray Wylie Hubbard as the guest vocalist.

There is, of course, a moral to this sagebrush saga where the veteran gun fighter, played by Hubbard, is always on the run from the law and trigger-happy tearaways and bounty hunters anxious to multiply the notches on their smoking guns.

"The first one is the hardest but it gets a little easier/ every time to squeeze that trigger/ and cross that killing line/ but I still see the face of every man/ I sent to hell or the promised land/ their cries and their ghosts they give me."
WALK AWAY
"Let me tell you about my new home/ little slice of hell inside the Texas state Pen/ ain't no cable here/ I don't work out in the gym/ I know I'll never be a free man again/ weren't no need for appeal cause I'm guilty as hell/ Jesus will forgive me, but the state they never will." - Walk Away - Kevin Deal

The singer suggests the love of a good woman will obviate the need for murder and mayhem - even in the doomsday, tombstone terraces littering the panhandle.

Deal may sing tough against a bucolic backdrop embroidered with his harmonica and lashings of tasty dobro, pedal steel and slide guitar and mandolin from Lloyd but he also steeps his tales with a liberal dose of redemption.

Walk Away with a completely contrasting message to the song of the same name by Seconds Flat is a good example and lit up phones at Nu Country and PBS with equal ferocity.

Deal's devil, doomed to death row, knows he should have walked away but was sucker punched by a family tradition - foolish pride.

Equally explicit is Vengeance - an 1865 Gunsmoke-choked parable where the character's mum and dad are murdered in Northern Arkansas and he takes revenge in his teens when he exterminates one of the villains in an Abilene card game.

Well, there's also happiness and humour midst melancholia of this hired gun's exploits out where the buses don't run.

Grandpa, not to be mistaken with our Dead Livers cricket anthem, is an evocative tale of a wounded WW11 victim who takes to whiskey and harmonica in equal doses to kill the pain; but it's a 50 year marriage that is also the victim when grandpa bites the dust of a frosty, cold December morning.

There's a reprise of Amazing Grace to ensure Grandpa rests in peace.

Now, this might sound like heavy-duty drama but Deal is no one trick pony - he might sound too close to Steve Earle vocally on some songs but that's not always a sin.

There's a heaving heart beating with acrimonious amore in the tunes Don't Tell Me, Goodbye My Love and Only In My Dreams but Wild Woman and Back Door No More are probably superfluous in the context of this disc.

But 10 memorable songs is by no means a bad strike rate when you compare the real deal to the Nash trash treacle.
1999 CD REVIEW
KEVIN DEAL - HONYY TONKS-N-CHURCHES (Blind Nello.)
HONKY TONKS FILL CHURCHES FOR REAL DEAL
"I met men of the cloth I wouldn't give you a penny for/ I've met bartenders with hearts of gold/ either can give you wisdom and solace for your soul." - Honky Tonks-N-Churches - Kevin Deal.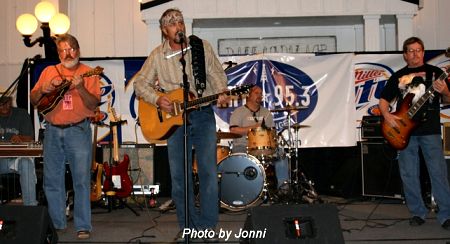 Texan singer-songwriter Kevin Deal is one of those uncut gems found in the desert or on record store floors.

Vocally he has a resonance somewhere between Kristofferson and Billy Joe Shaver but not Jones; lyrically he's on his own in a sub genre as rich as it's undiscovered.

Deal, 37, mines the motherlode of redemption with rigorous revelations on exhilarating second album Honky Tonks-N-Churches.

He explores a tortuous terrain, drawing a nexus between honky tonk hedonism and salvation in a vein similar to that dug by Ray Wylie Hubbard on his 9th disc Crusades Of The Restless Knights.

The reformed rebel writes and sings like a man re-possessed of his sins on a disc that fills in the depth dots on repeated plays.

Deal fled the city life of Dallas satellite Plano for the backwoods but is not a preacher despite having seen, if not lived, on the cutting edge of the badlands bravado that has claimed so many peers.

From entree track Boomtown that could be any of those once majestic cities and towns whose soul has been sold to "progress" to the revelatory finale The Man I Used To Be, this is the real Deal.

Deal inhabits a song like he has lived there.

He turns Death Of A Dream into a self-deprecatory ode to wasted peers who visit his title track for a salvation parodied in Hubbard's Conversation With The Devil.

There's sympathy for the fallen flamethrowers in I Look In Dancehalls, Jump Off The Wagon and You Deserve Better Than Me.

And there's overt optimism in the poetic Waiting On A Fantasy that follows simplistic charm of the Guy Clark style Hard On You.

GETTING DUST BLOWN IN SAN ANTONE
'The other day I got pulled over by one of San Antone's best/ he said 'haven't I had the pleasure of your arrest/ out of your head on cocaine and speed/ and it took for of us to bring you to your knees?" I said 'officer, it could not have been me/ but it might have been the man I used to be." - The Man I Used To Be - Kevin Deal.
It's no surprise artistic accessibility is catalysed by the production of Lloyd Maines - also on pedal and lap steel, mandolin, guitar and dobro - and fiddler Richard Bowden, bassist Glenn Fukinga and former Hubbard drummer Paul Pearcy.

Terri Hendrix and Karen Craft harmonise on a delicious disc that enables Terry Allen's son Bukka to guest or organ and Deal's teenage son Steven a cameo on bass.

The characters on Deal's debut Lovin', Shootin', Cryin' & Dyin' were woven from realms of realism but, of course, he denies he's the character in The Man I Used To Be on his sequel.

So can you criticise Deal's disc - then on high rotation on Nu Country - 94.9 FM - in its 27th broadcast?

Well, it's a brave man who tackles the 105-year old Abney-Charlie Tillman tune Life's Railway To Heaven - a highlight of the Nitty Gritty Dirt Band's second Will The Circle Be Unbroken disc from the mouths of Johnny Cash and the Carter Family.