DAVE'S DIARY - 7/12/08 - KASEY CHAMBERS & SHANE NICHOLSON DVD REVIEW
KASEY CHAMBERS-SHANE NICHOLSON
RATTLIN BONES - THE MAX SESSIONS - (LIBERATION-ESSENCE).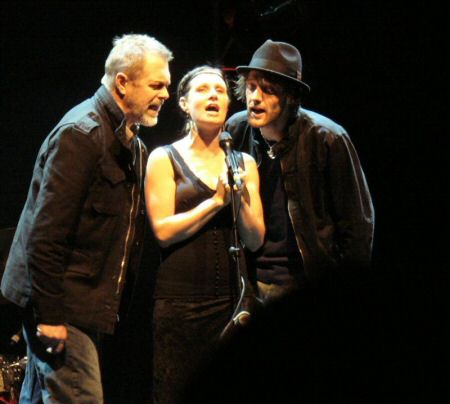 Kasey Chambers and singing spouse Shane Nicholson have a major confession.

They're vandals and thieves.

No, it's not the soulful country music that adorns this inspiring 10-track live DVD cut at Sydney Opera House on July 9, 2008 as part of Pay-TV channel Max Sessions.

It was an incident during recording of their acclaimed joint CD at the home studio of Jimmy Barnes.

"I was belting the hell of this flower pot as a drum and it was massacred so we took it home so Jimmy wouldn't see it," Nicholson confided to interviewer Brian Nankervis in the bonus docco on this DVD.

"We not only broke the flower pot but we stole it," confided Nicholson's partner in rhyme Chambers.

There are other confessions to the Rockwiz bon vivant about writing and recording of the album, also re-released in audio form with bonus - The Max Sessions.

Sydney Opera House may not be the Grand Ole Opry but the duo draw from the rich roots of the most popular but under-represented genre of the new millennia.

Chambers and Nicholson reveal, that with creative input of dad Bill and brother Nash, recording of the album was almost as live as this concert.

The video clips for title track and Monkey On A Wire join the Nankervis interview as a bonus.

But let's regress to those confessions.

Well, Nicholson became a Grinch gaucho and locked himself away from his family in a room on Christmas Eve and wrote the song Wildflower about the couple's son Arlo.

Not only that the couple stalked Arlo Guthrie in the Blue Mountains on a recent tour to have their son photographed with the icon whose name was stolen at birth.

"It was a message song to Arlo (their son not Woody's) when he was six months old," Nicholson revealed.

"We got our photo of big Arlo and little Arlo."
And there's more.

"Shane's song One More Year is my favourite," Kasey confided.
"He wanted it for his solo album. But we made an agreement if we ended in divorce I would get the song and he would get the kids."

The couple explores influences - the late Gram Parsons-Emmylou Harris and Gillian Welch-David Rawlings - and song sources.

And we also are treated to the studio band on stage - multi-instrumentalist Bill, bassist James Gillard, drummer John Watson and Mark Collins (banjo.)

And the verdict - well, let's just use the quote from Beat borrowed for this docco.

"Destined to stand the test of time."