DAVE'S DIARY - 21 DECEMBER 2003 - GARY STEWART DUCKS OUT
GARY STEWART DUCKS OUT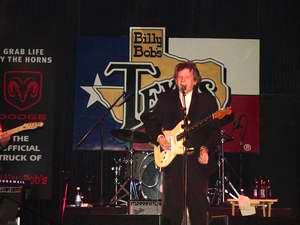 Gary Stewart Live
The first time I saw legendary honky tonk hero Gary Stewart perform live in 1983 he shared a Texas cowboy star stage with a Dallas duck.

Not by choice and definitely not a low flying mallard.

The duck descended on Stewart from a trap door in the stage ceiling midway through his big hit - She's Acting Single, I'm Drinking Doubles.

Sadly, this world-weary traveller was to blame.

I had travelled from Austin to Dallas to interview Stewart for Brisbane and Sydney radio stations 4KQ and 2KY and Australian music magazines while on leave from the Sydney Daily Mirror.

And, forewarned by Stewart's droll publicist, I mentioned my mission to the owner of the Belle Starr club.
So, with hopes of gaining international exposure for his favourite artist guest, the owner opted for a little dry Texas humour.

Kentucky born Floridian Stewart was near the top of my wish list when I left Australia and was about as hard to land as David Allan Coe on my 1978 U.S. debut.

Stewart, revered for his neon laced drinking songs, rarely did interviews.

But tonight would be different, mine host declared.

So he set a not so elaborate trap for Stewart, then 45 and struggling with booze, dope and airplay problems, but still in fine voice.

It was a hot Texas summer night and the crowd - most of them young women - flocked to stage front to catch their idol strut his stuff.

Stewart had already performed classics Drinkin' Thing, Back Sliders Wine, Out Of Hand, Single Again, Whiskey Trip, Your Place Or Mine and Quits.
BELLE STARR

But it was career song She's Actin' Single, I'm Drinkin' Doubles - one of his many hits penned by Wayne Carson - these sweet young thangs were awaiting.

So when Stewart reached the bridge in his biggest hit mine host pulled a switch and the ceiling opened up with a flurry of feathers.

And down through the trap door came a life-sized creature in full colour-coded duck regalia.

The human duck landed beside the bemused singer who continued playing his electric guitar and singing.

Stewart, obviously used to such duck distractions, didn't miss a note or riff and finished the song, replete with new stage partner.

It's not known if George Jones, Coe, Waylon & Willie, Johnny Paycheck, Merle Haggard or Hank Williams Jr had this trick played on them.

But the show went on in the bar named after a famed Missouri outlaw who reigned in the same era as John Wesley Hardin.

There was a surreal feel about this hard wood floor honky tonk where listeners could hear trains whistle as they passed within metres of the back door.

Buoyed by the recent adoption by Willie Nelson of the Dead Livers recording of I'd Love To Have A Joint With Willie as his Aussie tour theme, I offered the tape to mine host for his sound system.

So at one stage between Stewart sets the Lone Star lasses and lads were two stepping to a tune that earned me a princely $15.98 as its first royalty cheque.

But how did the prolific songwriter react to such a novelty song about one of his peers.
"Oh, they have pedal steel in Australia," Stewart deadpanned as he berated mine host for his ducking and weaving.

It was one of those nights - I finally interviewed the singer at 5 am in a friend's house in the quaintly named suburb of Mesquite.

When I awoke many hours later in a North Dallas motel I discovered among Belle Starr memorabilia a batch of singles of 1980 honky tonk theme song Legend Of Belle Starr.
And, in a rare twist of fate, I was duly paid for the Stewart interview.
CLICK HERE for an edited version of the interview.