DAVE'S DIARY - 6 AUGUST 2013 - SARA EVANS INTERVIEW

BROTHERLY LOVE AND ROYALTES LOYALTY
"He drove off in his pick-up truck/ to meet his buddies for a few more beers/ I said baby, I'll come pick you up/ he never called so I waited here/ till all my worst fears came true/ when I heard the knock at the door/ telling me he ain't coming back no more/ blue lights and I fell to the floor." - What That Drink Cost Me - Sara Evans-Nathan Chapman-Matt Evans.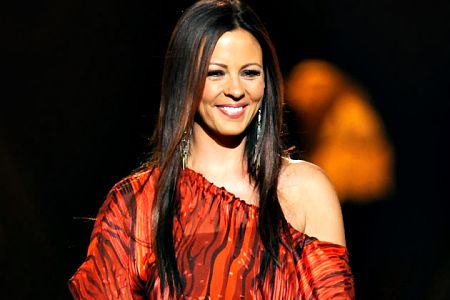 Sara Evans has good reasons for bringing bassist brother Matt to Australia in September for her first tour of the unlucky radio country.

Matt, an elder brother, has been co-writer on most her albums since she broke in 1997 with Pete Anderson produced debut disc Three Chords And The Truth.

The seven Evans siblings - of Welsh, English, Irish and Native American descent - were raised on farm near New Franklin in Missouri.

They were born in Boonville because rural Boonesboro wasn't big enough to merit a hospital.

All siblings played in their family bluegrass bands since they were toddlers and Sara's sisters Ashley and Lesley and sister in law Melody have sung on her albums and road tours.

Sara and Matt wrote the redemptive What That Drink Cost Me on her sixth album Stronger that was followed by one of her four Greatest Hits discs.

"We often write together," Evans told Nu Country TV in a call from the home she shares in Mountain Brook - a suburb of Birmingham, Alabama - with her second husband Jay Barker and their seven children.

"We didn't start writing together until I had my record deal and recorded Real Fine Place To Start. We've written quite a few more since."

They include autobiographical classics New Hometown and Rockin' Horse, These Four Walls, Wildfire and Anywhere.

But the singer doesn't just spread her songwriting royalties to the family.

Matt's wife Kaelin will also tour Australia when Sara supports Georgian superstar Alan Jackson at CMC Rocks North Queensland and the Deni Ute Muster before playing Rod Laver Arena in Melbourne on Friday October 4.

"Matt is touring with me with his wife Kaelin and baby girl," said Evans, now 42, who rose to lofty heights of famed Ozark Opry before making her Nashville debut at 10 and cutting a single.

"She was born in March. Kaelin would love to sing but she does my makeup and wardrobe.

She does everything. I couldn't survive without her."
LESLIE SATCHER AND MARV GREEN
"A morning flight out of Birmingham he started talking/ she'd never even met him, but Lord, she thought that/ he'd never shut up if she didn't look up and pay attention/ so she took off her headphones closed her book and started listening." - Ticket to Ride - Sara Evans-Leslie Satcher.
Evans will soon release new single Slow Me Down from her seventh album that features four songs she penned with long time collaborators Marcus Hummon, Leslie Satcher, Hilary Lindsey and new collaborator Shane Stevens.

She began working on it in November last year and is due for release late this year.
"I also wrote a lot this time with a guy named Shane Stevens," Evans said.
"Slow Me Down is really phenomenal. I didn't write it. Marv Green did. I've probably listened to it a hundred times - every single time it gives me chills. We have been performing it in concert. I'm almost finished with the new album out late fall or early winter in the U.S. I'm very excited about this album. I was super lucky to find some great songs. I've also written some of the songs.

Slow Me Down is one of the songs that no-one denies. There's not one person who hasn't flipped out over it. It's a song about a girl trying to get her man's attention. She's sort of threatening to leave. I don't want to give the hook away. The first time you hear it the hook line really gets you. It's not a ballad, more a tempo song."

Evans also wrote again with Leslie Satcher who hails from Paris, Texas, and released an acclaimed but oft forgotten 2000 album Love Letters From Old Mexico.
Sara and Satcher, now 53, wrote Ticket To Ride for Stronger.

"I can't tell you how we got into writing the song, it was the weirdest thing," Evans says of a song that details a singer's trip to L A to compete on American Idol.

"I think she had the idea love don't mean a ticket to ride - she wasn't quite sure about how to make it into a song - it became a couple falling in love on a flight to LA."

Sara, who cut the Satcher song Unopened on her debut disc, has long been singing the praises of the woman whose songwriting was also exposed by Pam Tillis on her Australian tours.

"My sisters sing on the Leslie Satcher gospel tune There's Only One," Evans said of the singer who recently released her third album Gypsy Boots.
COUNTRY STRONG
"I'd been on the mountain way too long/ the winds blow fiercer when that sun is gone/ it got so cold and lonely every night/ I just prayed for something warm to melt that ice/ yeah, I was out here freezing Til you covered me in feelings/ this spark you lit inside me just won't die." - Wildfire - Sara Evans-Kara Dioguardi- Matt Evans-Marti Fredericksen.
Ironically Evans wrote Wildfire with Kara Dioguardi - a judge in eighth and ninth seasons of reality TV show American Idol.

"We have written several songs together, she is awesome," says Evans whose Stronger album title track was used in Tim McGraw-Gwyneth Paltrow movie Country Strong.

"There are not really any parallels with her character. I understand that lifestyle and understand the pressure that can go along with that lifestyle. That character is really nothing like me. The story is really Hillary Scott's - specifics of driving down a road, turning on the radio, that's all hers. I love it because the song is great, the lyrics are great and the melody is awesome. It's just a great country song. I think that, as human beings, we can relate to that song because it's about facing challenges in life and striving to become the best version of ourselves."
Stronger debuted at 56 on Billboard on October 2, 2010 and hit #1 in May 2011, after Evans sang it on the season 12 finale of TV show Dancing with the Stars.

I suggested Paltrow's character had a younger beau in the movie.

"I have a younger man too, he's 18 months younger than me," Evans said of Barker who won't be joining her on tour because of gridiron coaching duties and radio commitments.

Neither will first husband Craig Schelske - a Republican politician from whom she had a messy divorce.

"Jay won the national championship in 1992 as a sophomore then he played in the NFL," Evans said of Jay whom she wed on June 14, 2008 after being introduced by her minister Joe Beam.

"He's like Elvis here in Alabama. None of the boys can come with us, they're all in football and Jay coaches.

He's always coached his kids, he's a phenomenal father and always dedicated to his family.

We're bringing up seven children together."

But the Evans clan will have a presence here.

"I'm bringing my two daughters with me to Australia," Evans added.

"All three of my children are athletes. My oldest child Avery will end up doing music. He's also an athlete but he's obsessed with music - has his headphones on all the time. He's 13 now and will be 14 in August.

Yes, he's into rap - his new obsession is LL Cool J. Avery's a great musician and plays drums."

And Mr Cool, you may recall, is Brad Paisley's duet partner on controversial song Accidental Racist from Brad's ninth album Wheelhouse.
BORN TO FLY
"My daddy, he is grounded like the oak tree/ my momma, she is as steady as the sun/ oh you know I love my folks, but I keep starin' down the road/ just lookin' for my one chance to run." - Born To Fly - Sara Evans-Marcus Hummon-Darrell Scott.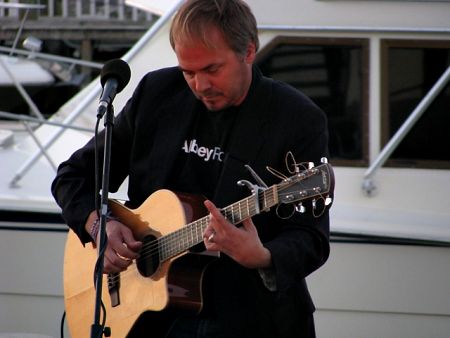 Evans was also elated to write again with Hummon.

"Marcus and I wrote Born To Fly (title track of her 2000 album and revamped bluegrass style on Stronger) and since then I have recorded a Marcus Hummon song or two on every album," Sara revealed.

"I just love him and love his songwriting - his take on music is almost wacky at times. He's brilliant and wrote Dixie Chicks hits Cowboy Take Me Away and Ready To Run."

Evans landed several songs in movies including Almost New in Clay Pigeons, starring Joaquin Phoenix, Janeane Garofalo and Vince Vaughan.

"I haven't seen the movie but it's a real thrill to have a song in it," Sara revealed of "that song is so pretty we put it on the international version of the album."

Evans also elevated her profile by performing on diverse TV shows including Dancing With The Stars.

She left the show on October 12, 2006, citing personal reasons.

The following day it was revealed that Evans filed for divorce from her husband of 13 years - Schelske.

Although her previous album was named Stronger she says the songs were not a reflection of her divorce.

"I honestly have to say that very little of the album is autobiographical," Evans says.

"Because I really separate my personal life from my artistic life and my professional life. I could be going through a horrible, horrible day, but I could still go and write a happy song. I don't have to write about what I'm going through. I like to write about something I saw in a movie or something that I heard a friend say or something that I saw on the news. I can put myself into a song. It doesn't have to be about me in order for me to be passionate about it."
THREE CHORDS AND THE TRUTH
"On a highway bound for nowhere I ran my fingers through my tangled hair/ I pulled in for another tank of freedom/ with a hundred miles behind me and a million more to go/ I was trying to put some distance between us." - Three Chords And The Truth - Sara Evans-Amie Mayo-Ron Harbin.
Evans is lucky to be alive to pursue her dreams.

When she was eight her solitary steed was a wide-tyred wheelchair after a freak accident threatened permanent disability.

But the mandolin playing, pubescent Missouri minstrel championed her chops and healed to become a key member of the Evans family bluegrass group.

She has sold millions of albums and had many hits in a long career that brings her to Australia for the first time in September.

"That was a weird time in my life, I got hit by a car and broke both my legs," Sara recalled.

"I was in a wheel chair for about a year. We had already been performing together as a family band since I was 4 or 5. I really wanted to continue to sing and perform in a wheel chair at a handful of shows - it was great. It really got the crowd sympathy - even if I didn't sing they still clapped. But I pray I never have to sing in a wheel chair again."

At 16 Sara, third of seven children whose family lost its farm, worked in nightclub near Columbia, Missouri for two years.

She also joined the band North Santiam in Oregon for two years after working as a waitress in Nashville in 1991.

In 1995 Sara returned to Nashville and sang demos, including Harlan Howard-Buck Owens classic Tiger By The Tail.

BMG Records signed her on the word of six times wed honky tonk legend Howard and she reprised his song for her debut disc Three Chords And The Truth.

"I'm just like an old white trash family kid," Sara told me in a previous interview, "we strived to be a white trash family and we're pretty good at it. Our farm foreclosed."

Evans is thrilled to be touring with Jackson, discovered by expat Australasian Barry Coburn in 1988.

"I have toured with Alan before, just him and me and toured with him on the George Strait tour," Evans recalled.

"He's great. I'm excited to be touring with him - he's such a cool songwriter. I've just got to make it through the flight, then I'm good to go."
Discography -

Studio albums
1997: Three Chords and the Truth
1998: No Place That Far
2000: Born to Fly
2003: Restless
2005: Real Fine Place
2011: Stronger
Compilation albums
2005: Feels Like Home
2005: Always There
2007: Greatest Hits
2013: Playlist: The Very Best of Sara Evans
CLICK HERE for a previous interview with Evans in the Diary on July 18, 2007.