DAVE'S DIARY - 14 AUGUST 2007 - ANDRE CAMILLERI CD REVIEW
ANDRE CAMILLERI & THE BROKEN HEARTS
ONE FINE DAY & OTHER SONGS (RAMBLIN' MAN RECORDS).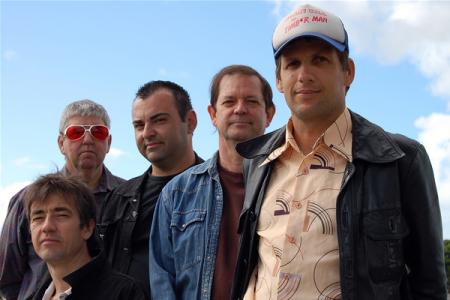 Andre Camilleri & The Broken Hearts
Andre Camilleri dipped deep into the stone country template for his first album with The Broken Hearts.

He laced ruptured romance requiem Emily with morphine, cocaine, heroin, grass and bourbon and followed it down with a chaser in I Got A Little Drunk.

"I got wasted on morphine and cocaine/ I smoked cannabis and tried heroin/ ecstasy and LSD/ nothing made me forget Emily."
Camilleri is unlikely to have heard Melbourne band Hit & Run singer Dan Robinson's live seventies anthem Smack, Smoke & Whiskey.


The singer-songwriter was born much later in Germany where he sang and picked in Berlin beer and wine mines and Streight Street on the fringes of the red light district of Valletta - capitol of his ancestral home Malta.

But Robinson and his music, dating back to sixties rockers Wild Cherries and Virgil Brothers, are well known to Camilleri's pedal steel guitarist Brendan Mitchell.
Mitchell's life imitated art with a liver transplant 25 years after writing Ballad Of A Dead Liver - theme song for the Dead Livers.

Pedal steel players rarely dominate peers' discs but a liberal lacing enables Camilleri to ignite entrée songs Leaving On My Mind and Broken Heart as a salient signpost to Sad Old Clown, All About Gone and Cold Heart Woman Blues that add melancholic meat to the bone.

It's hard to listen to Sad Old Clown without thinking of Smoky Robinson's 1970 hit but he didn't have The Best Little Whorehouse In Texas stage show pedal steel player Mitchell on his tune.

Cut All The Weed is not an anti-dope song but savage social comment on Middle East wars with battles over oil on troubled waters not too far from Malta.

Morrisville is a macabre, humorous homily, about a teenager stealing a head from a tomb to make a bong - sardonic segue to the optimistic finale, the title track.

< Brendan Mitchell
Chris Franklin on harmonica joins partners in rhyme - bassist Chris Birnie, guitarist James Stewart and drummer Maurie del Citto - on Cold Heart Woman Blues.

Vocal students may debate if Andrew strayed far from the gene pool of his dad Joe, but unlike Skyhooks, he doesn't have Dan Robinson singing the high notes on tour.