DAVE'S DIARY - 23 AUGUST 2006 - HOTEL KEW SHOWCASE
NU COUNTRY SHOWCASE - UNSUNG HEROES SHINE
All roads lead to Hotel Kew from dusk on Saturday October 7 when Nu Country TV hosts a showcase to give exposure to unsung heroes of the Victorian country scene.

Ruckus, Phil Younger & Country Brew, Queensland singer-songwriter Jason Kemp and Silver String Outlaws are among the artists already booked to appear.

Other bands and solo artists will be announced soon for the show that also features the draw of the Lee Kernaghan Akubra for Nu Country members.

All financial members of Nu Country will be in the draw that will be conducted by a mystery VIP.

The concert will be filmed for Series #7 of Nu Country TV that will screen on C 31 in Victoria, South Australia and New Zealand over summer.

We have picked quality artists, rarely seen in the city and inner suburbs, as a treat for viewers.

The concert starts at 6 p m at Hotel Kew - 99 High Street, Kew Junction - and is free for members.

Admission is also free for members who renew on the night or become members for the first time.

They will also be rewarded with country CDS and cassettes from our library and free admission to our Christmas party at the same venue.

All artists will also have their CDS and other merchandise on sale during the show.
RUCKUS RETURN TO HOTEL KEW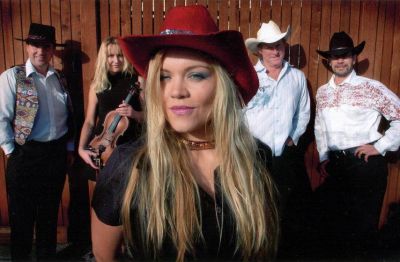 "Well, it was just an ordinary Friday night/ I was singing songs and watching cowboys fight/ when in walked a stranger." - Dance Cowboy Dance - S Himbury-V Moses.

Popular Melbourne band Ruckus, renowned for high energy concerts in Tamworth, Gympie and beyond the city limits, rarely performs in the inner Melbourne suburbs.

But the quintet, who shared billing with Arizona country star Billy Wyatt at our 2005 Christmas party, is back by popular demand.

Ruckus is promoting its seven track self titled indie CD featuring three original tunes penned by singer Sandie Himbury and guitarist Michael Abrey.

Sandie, heavily pregnant during her Christmas party show, has given birth to a child and a bunch of new songs.

Other members are acclaimed violinist Marcela Koldova, who also played in Wyatt's band, drummer Andy Costello and bassist Barry Tiplady.

Ruckus took its name from an outer Melbourne suburban beer barn fracas and plays an eclectic repertoire of originals and covers.

It has won a wide following during a three-year sojourn and scored extensive airplay on community radio - major outlet for country music in the unlucky radio country.

The bands energetic live performances are drawn from over 80 songs.

Further info - http://www.ruckus.net.au/ruckusaboutus.htm
YOUNGER BREWS UP CASH BATTLE
Phil Younger & Country Brew began 2006 with a memorable performance at the long standing popular Red Hill Country Music Festival.

Younger wowed inner suburban fans when his band performed at the premiere of the Academy award winning Johnny Cash movie Walk The Line on February 2 at Nova Cinema in Carlton.

Younger beat an enthusiastic posse of country artists and refried rockers in the bid to entertain movie fans - many of whom were reared here on hits and memories radio.

Cash won airplay on commercial radio from the fifties and sixties on rock and pop stations and 3UZ in the seventies and eighties on its eclectic country format.

Since then his major exposure has been on the ABC and community radio specialist country shows.

Nu Country TV has twice screened the band's video for Concrete Jungle Cowboys in response to viewer reaction.

Bandleader Phil Younger, ninth of 12 children, is a British born baritone and takes no prisoners in his battles with the Australian country music establishment.
Phil, whose voice has a three-octave range, stands 6 ft 6 in the old currency and made a video for the title track of his album Concrete Jungle Cowboys featuring 12 of his original songs.

"Concrete Jungle Cowboys took a year to record, financed completely by us," says Younger.

"We are very proud of it."

Phil followed sister Kay to Australia after she strutted her stuff with the Yarra Yarra Jazz Band.

His song Seven Years was played at the funeral of his mother who raised her kids in England.

Younger eulogised unsung heroines - jillaroos - on his debut single Sweet Jillyroo and highway honky tonkers in Long Distance Truckie.

His music embraces rural and urban themes with the bluesy belter Rear View Mirror, Be Proud Of Who You Are and Stuck In Prison.

Among guests on his album are violinist Jen Anderson, Git singer Sarah Carroll, Ian Collard on harmonica and Ed Bates on pedal steel.

The singer resigned from the CMAA and claimed on his web page he was snubbed in the annual Golden Guitar awards and ignored by Gympie Muster and Mildura country festival organisers.

"Country music to me is a passion and a love," says Younger.

"Wherever we perform, we get great responses, if we didn't we would have packed up years ago. Our album is now fully licensed by an American Company, we are signed to a UK record label with distribution throughout Europe."

Further info - http://www.philyounger.com/

SILVER STRING OUTLAWS
Westernport band Silver String Outlaws, famed for their lavish touring bus and rigs, are making a rare appearance in the inner suburbs.

The band, formed by Steve Latham in 2001, released an EP in 2005 that featured the single Looking For The Good Life.

Since then the band has recorded an album with a brace of originals.

They include oft recorded Holy Mary - penned by Dead Livers singer and latter day Portland resident Marty Atchison who wrote the popular Nu Country TV theme song Up And Down The Line.

The Silver String Outlaws have also made two new video clips to promote their new album.

A highlight is Hit The Highway, penned by bassist Noel Goard.

Other band members include singer Barry Donohue, Dead Livers guitarists Rodger Delfos and Don Farrell and drummer Ron Mahony.

Further info - http://silverstringoutlaws.com/

JASON KEMP
Roma singer-songwriter Jason Kemp won warm acclaim when he performed with Billy Wyatt at the Nu Country Christmas party.

The prolific songwriter has had songs recorded by peers diverse as Tanya Self, Josh Arnold, Janelle Donovan, Robert Keith and Gemma Doyle.

Fellow Queensland country singer Nellie Donovan, raised on a Conondale dairy farm released Kemp's song Cruisin' as the second single from debut album Steppin' Out.

The video clip for Cruisin' was shot by award winning director Ross Wood at Berry in NSW - it followed the video for her debut single Sing Me An Angel.

Kemp released two singles from his debut album This Dance and is making a new album in Melbourne in spring.

He made video clips for five of his original songs - Country Train, Roadtrip, No-one Loves This Truck Like Me, Conformity and Ballad Of Adrian Peddemore.

Most were filmed in Queensland and scored exposure on Pay TV channel CMC and Nu Country TV.

The video for Kemp's trucking tribute was filmed at the famed Nindigully pub near St George in Queensland.