DAVE'S DIARY - 21 AUGUST 2005 - VASSAR CLEMENTS OBITUARY
VASSAR CLEMENTS RIP AT 77
BORN APRIL 25, 1928 - KINARD, SOUTH CAROLINA
DIED AUGUST 16, 2005 - NASHVILLE, TENNESSEE
FIDDLER TO THE STARS BURNS OUT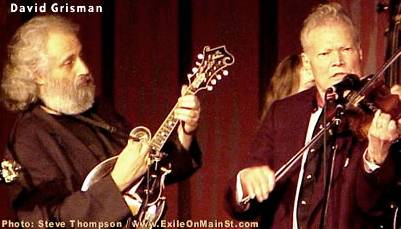 Vassar Clements & David Grisman
Acclaimed veteran fiddler and some time actor Vassar Clements has died at 77 after a spirited battle with lung cancer.

Clements was hospitalised for 18 days earlier this year, receiving chemotherapy and other treatment.

He was admitted to Summit Hospital on August 4, and tests revealed that small-cell lung cancer had spread to his brain and liver.

He was discharged on August 10 after he refused further treatment.

Since March 10, he had endured five rounds of chemotherapy.

"He had no quality of life since he'd been diagnosed," said daughter Midge Cranor.

Dying at home was Vassar's last wish when he refused additional treatment last week.

"I was holding Papa's hand and talking to him when his heart stopped," said Midge, who has handled her dad's business and personal affairs since her mother, Millie, died July 12, 1998 - also the victim of cancer.

Vassar moved in with Midge and her husband, George Cranor, in Goodlettsville 2½ years ago.

"I was alone with him in the room," Midge said. "I had been washing his hands and his face.

He'd been doing a little laboured breathing. And I said 'Papa, you know you've fought a battle. God knows best. He has a plan. He's going to take you from us. It's OK. Mom's been waiting for you for seven years to come and lay beside her. You go on and go.'

"It was just a matter of seconds. I felt of the jugular vein, I felt of his pulse and laid my head on his chest. His heart had already stopped. I looked at the clock. And it was 7:20."

The gentleman fiddler, who worked with everyone from Jimmy Martin to the Grateful Dead, had a typically humble response when asked how he wanted to be remembered.

He told his daughter: "I just want to be remembered."

Rhodes Scholar and singing actor Kris Kristofferson, touring Australia and one of many artists to enjoy Vassar's fiddling on record and stage, said "He was the nicest person I ever met in the music business."
FINALE CONCERT
Clements' last performance was February 4 in Jamestown, New York, Cranor said.
His work bridged a variety of styles, including country, jazz, bluegrass, rock 'n' roll and classical.

Clements made more than 30 albums in a colourful career he described as Cowboy Jazz.

He recorded on more than 2,000 albums, joining artists diverse as McCartney, Johnny Cash, Bonnie Raitt, the Grateful Dead, Bruce Hornsby, Hank Williams Jr, The Byrds, Woody Herman, The Band, John Prine and the Nitty Gritty Dirt Band
Vassar appeared in Robert Altman's controversial 1975 movie Nashville and won a Grammy earlier this year.
It was for best country instrumental performance on Earl's Breakdown, by the Nitty Gritty Dirt Band featuring Clements, Earl Scruggs, Randy Scruggs and Jerry Douglas.

Clements once recorded with the Monkees - by happenstance.

He was working on a recording session when someone asked him if he wanted to stay and play on another one.

"I didn't know until later it was the Monkees," he said.

Clements' work ethic mixed well on the Nitty Gritty Dirt Band Will The Circle Be Unbroken sessions with legends such as Roy Acuff and Mother Maybelle Carter.

And his penchant for experimentation melded well with the Dirt Band, a group he later joined for a tour of Japan.

"He loved it over there, and they loved him," said Nitty Gritty Dirt Band member Jeff Hanna.

"When we went onstage in Japan, there were people holding up 'Vassar Clements' placards."
FROM SOUTH CAROLINA TO MUSIC CITY
Vassar grew up in Kissimmee, Florida, and taught himself to play at the age of 7 and had no formal training.

The first song he learned was There's an Old Spinning Wheel in the Parlour.
Clements was employed at the Kennedy Space Centre in Florida for a year in the mid-1960s, working on plumbing.

He also worked in a Georgia paper mill, was a switchman for Atlantic Coast Railroad, sold insurance and had a potato chip franchise.
But music was always part of his life.

"It was God's gift, something born in me," Clements modestly explained of his talent. "I was too dumb to learn it any other way. I listened to the Grand Ole Opry some. I'd pick it up one note at a time. I was young, with plenty of time and I didn't give up. You'd come home from school, do your lessons and that's it. No other distractions.

"I don't read music. I play what I hear."

"When the rhythm is good, I can play it," he told The Associated Press in a 1988 interview.

He was just 14 when began an association with Bill Monroe.

He officially joined Monroe's band, the Blue Grass Boys, in 1949, remaining there for seven years.

In 1957, he began working with legendary bluegrass act, Jim & Jesse McReynolds.

But in 1962 he took a long hiatus from the music industry but returned in 1967 as a Nashville session musician.

"I'd always play. Square dances, anything," he said
FARON YOUNG
After touring with Faron Young and performing solo dates, he joined John Hartford's ensemble, the Dobrolic Plectral Society, in 1971.

He worked with guitarist Norman Blake and Dobro player Tut Taylor.

They recorded Aereo Plain, an influential album considered to be the first Newgrass album.

The band existed for less than a year, but Clements soon found work with bluegrass icon Earl Scruggs, who was pushing musical boundaries with his sons in the Earl Scruggs Revue.

Clements gained an even wider audience after participating in the recording sessions for the Nitty Gritty Dirt Band's 1972 album, Will the Circle Be Unbroken.

The exposure led to work on Grateful Dead's Wake of the Flood and Jimmy Buffett's A White Sport Coat and a Pink Crustacean.

Clements teamed with Grateful Dead leader Jerry Garcia on banjo for Old & in the Way - a bluegrass album that also featured guitarist Peter Rowan, mandolinist David Grisman and bassist John Kahn.

The 1975 album, Hillbilly Jazz, featured Clements playing Western swing and jazz standards with a group featuring guitarist David Bromberg, steel guitarist Doug Jernigan, former Elvis Presley drummer D.J. Fontana and others.
SOLO CAREER
As a solo recording artist, Clements recorded albums released on several labels, including Mercury, MCA and Rounder.

His most recent project, 2004's Livin' With the Blues, included guest appearances by Elvin Bishop, Norton Buffalo, Maria Muldaur and others.

The first time Marty Stuart heard Clements playing on a recording he was stunned.

"It was the most lonesome, scary sound coming out of a fiddle I'd ever heard,' Marty said.
"I played the mandolin, and once I heard this music, I ditched everything I ever knew and went back and tried to play mandolin like Vassar played fiddle. Years later, I played the Opry, and I saw this man playing fiddle. He stood straight, with his eyes closed and he was playing the prettiest music you could ever imagine. It froze me on the spot. This man is probably my favourite fiddle player on earth."

The eulogies came from far and wide.

"He was one of the greatest, most creative fiddlers in country and bluegrass music history," said Mark O'Connor, a virtuoso fiddler who counted Mr. Clements among his musical heroes.
Clements was recognised for his remarkable improvisational and interpretive skills, his early work as a bluegrass fiddle player was quite influential.

"There was such a feeling of authority in his bluegrass playing," said Nashville radio station WSM-AM 650 air personality and country music historian Eddie Stubbs.

"His tone was so rich and powerful."

In 1980, Playboy playmate Martha Elizabeth Thomsen named Mr. Clements as one of her favourite performers, along with Mick Jagger, Blondie and Bonnie Raitt.
SURVIVORS

Vassar is survived by his daughters, Midge Cranor of Goodlettsville, Terry Mason of Tallahassee, Florida, Renee Clements of Thomasville, Georgia, and Terri Swain of Fairview, Tennessee, a son, George Wilkerson of Florida; a sister, Janice Hendershot of Claremont, North Carolina; and a cousin he considered as a brother, Carroll Clements of Jacksonville, Florida.

Funeral details were incomplete for this obituary.

Bond Funeral Home in Mt. Juliet is handling arrangements.