DAVE'S DIARY - 19 /4/ 2021 - TROY CASSAR-DALEY CD FEATURE
TROY CASSAR-DALEY – 2021 CD FEATURE
THE WORLD TODAY (TARAMPA-SONY)
TROY BACK ON COUNTRY
"You might be black you could be white/ but come and join the choir/ this feeling in your belly means/ you're welcome at this fire/ so many generations between us we can trace/ flow away like a river down to our dreaming place." - Back On Country - Troy Cassar-Daley-Kevin Bennett.
Prolific Sydney born Grafton raised singer-songwriter Troy Cassar-Daley turned a spate of personal tragedies during the pandemic into tuneful therapy on his 14-track 15 th album The World Today that soared charts on debut.
His dad Tony, who suffered two strokes, and good mate Glen Hannah both suicided.
And his talented TV and radio presenter wife Laurel Edwards father also died between albums.
But support of Laurel, despite romantic ruptures, and their son Clay and daughter Gem, became sweet solace.
Troy, 52 on May 18, survived with a Valentine's Day paean to Laurel in My Heart Still Burns For You - one of two songs penned with Paul Kelly - and Kevin Bennett collaboration Broken Hearts Can Fly.
He entrées with another Bennett co-write on their evocative homage to this land with debut single Back On Country.
The proud Gumbaynggirr/Bundjalung man did not have to look far for inspiration.
"I had a really lovely conversation with a mate of mine while fishing off Moreton Island," Troy revealed.
"He told me the story of a young non-Indigenous bloke who loved this surf spot so much that he got the satellite navigation coordinates tattooed on his chest. I thought 'Wow, he's got the same connection to country as me, and he's not Indigenous'. He's just someone that loves the place and wants to look after it, and that's exactly what we all should be doing. This single really was written after that conversation. The single's really special. It stood out to me when we recorded it. I do have hope for this country and Back On Country is that guiding light after wading through all the darkness and despair. It's been a hell of a rollercoaster ride to get here but it was worth it. Back On Country is a term largely used by Indigenous Australians and it gives us the feeling of belonging. My dream is that everyone can feel connection and have the responsibility to look after our land together as one people."
The singer expanded on self-explanatory indigenous liberation anthems Parole and sibling song Doin' Time - stark reminders of incarceration and of challenges facing many men and women today.
"We haven't come too far since I recorded Beyond The Dancing more than 25 years ago," Troy explained.
"We're still fighting for equality, we're still over-represented in jails, that's why I wanted to tell these stories because they are important for all of Australia to hear. If you're three per cent of the population and you're over-represented in incarceration rates, there's a bit of a drama going on there, you know."
THE WORLD TODAY AND PATERNAL PAIN
"I watched a man die on the news tonight/ took 8 long minutes to lose his life/ now all around the world we kneel and pray/ that's what we go to do for the world today." - The World Today - Troy Cassar-Daley.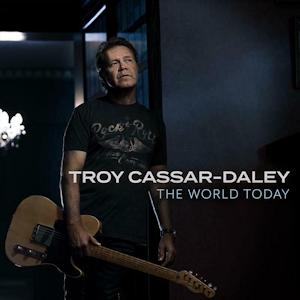 Equally evocative is the album title track where the singer expands on international suffering of international indigenous peers including George Floyd.
"I had the bare bones of the song and kept re-writing it over and over until I was happy with what I wanted to say," Troy revealed.
"When the George Floyd incident happened, that was it for me. I thought I need to put this in there. I need to raise awareness to everyone who can listen to this song that this is not right. This is not the world we want.
"I got to the last verse. I'd lost a friend through suicide and had also lost my Dad the same way.
Like it says in the song, 'your children need you here to play, that's what we've got to do for the world today'".
It convinced Troy that it had to be the title track.
"The last few years made me realise that no one and nothing in life is perfect and at any time it can become derailed if you don't nurture what matters. I know that's what we all strive for but we have to be realistic and face the pain and the shit that comes with life but the most important thing making it through. This record is really about that."
Troy has been rewarded for his depth of portraying life's traumas.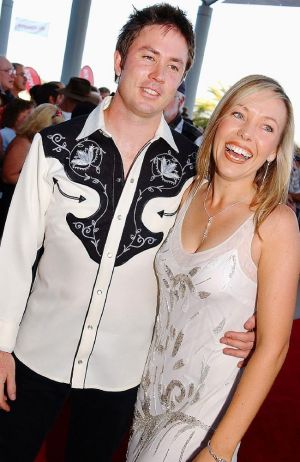 The 50th Australasian Roll Of Renown inductee has 37 Golden Guitars , four ARIAs, three APRA Song of Year Awards, nine Deadlys (Australian Indigenous Artist Awards), four CMAA Entertainer of Year Awards and two National Indigenous Music Awards.
But personal tragedies drove his passion here - especially the death of his dad.
"I felt angry at myself at first for not understanding what my dad had been going through," Troy confessed.
"I thought I could have read that better but you can't. He'd had a couple of strokes. He just wasn't the same person and I get that and I saw it when I was sitting with him in Liverpool hospital. I thought he was sick but he could get better."
The death of multi-instrumentalist Glen Hannah - husband of fellow prolific Golden Guitarist Felicity Urquhart - also impacted heavily on Troy.
"And Glen, that knocked me and a lot of people for six Drive In The Dark (Be A Man ) came from the depths of trying to understand why people do what they do and what I could have done to help," the singer explained.
Troy wrote it for his friend and collaborator Jimmy Barnes after reading his 2016 memoir Working Class Boy.
Barnes has recorded Troy's songs including their duet on Shutting Down Our Town on his 2019 album My Criminal Record.
ESCAPING FROM HOME ON THE RANGE
"There was a spark when we first met/ two fates about to turn/ we took our time and tended to it/ sure was a slow burn/ little by little our fire grew/ till it was a raging flame/ yeah we both knew this thing is true/ this is the main game." - My Heart Still Burns For You - Troy Cassar-Daley-Paul Kelly.
The pandemic was true character building for Troy and his extended family.
"When Covid came that's when I really hit rock bottom," Troy revealed.
"Everything I'd known and loved was being taken away, I'd lost my Dad, I was losing my marriage and now I'd lost my ability to provide for my family. Recording the album had been put on hold and I had no gigs. I felt hopeless and my purpose was lost. Once again music was my salvation.
"The first part of my day was to just feel sorry for myself. That would last about ten minutes. Then I'd have breakfast, have a great coffee, and get on with it and stop being such a sad sack. I'd sit in my studio and try and use all that angst and the feeling of loss and channel it into playing music.
"I found myself hiding in the studio for hours on end, trying to write my way out of the dark cloud that had descended on me, and I slowly found the answers in simply creating songs.
"Losing my dad was hard enough but then going into COVID was a darkness I didn't need. Every day was another email from my manager saying this is cancelled, that's cancelled, all my purpose was going down the drain. As a musician, you either go into depression because you've got no gigs and you're losing all your creativity in one hit, or you decide that if you can't play, you'll go and make some noise yourself."
But wife Laurel encouraged him to channel his heartbreak and despair into writing. Instead of starting on guitar he played drums and bass in his home studio - instruments usually only played by son Clay, daughter Gem or bandmates during rehearsals.
"That was my mental health saviour when I didn't know how I was going to write my way out of the shitty time I was in. It was very, very dark," Troy explained.
"Laurel would come home from work, and even though we were having our hassles, she knew to leave me alone for a bit while I was sorting myself out. I didn't know then how music was going to be my therapy again, just as it has been since childhood. I had to purge it all out of me."
Songs like My Heart Still Burns For You , on which Edwards sings backing vocals - and Broken Hearts Can Fly exposed his vulnerability.
After a three-decade long marriage they were the toughest to sing.
"The glimmers of light on this record are songs like My Heart Still Burns For You which I wrote because I couldn't be home with Laurel on Valentines' Day - it's her Valentines' Day card," Troy explained.
"We were having dramas and I sent her Paul Kelly's handwritten lyrics of the song and it was me telling her I'm not done, I'm trying, I'm still fighting for us.
"Dynamics in a relationship change when your kids grow up, they don't need us anymore and you're back to finding who you are as a couple; we've raised them to be independent people, that's our job, and you have to be OK with that.
"An old uncle of mine used to say 'it's not all beer and skittles' and that saying is so true. Over the last couple of years the family life and work life balance that I'd always had, shifted. It became a monumental struggle. The thing that suffered most out of all this was my marriage to Laurel and our kids having to witness their parent's relationship slowly falling apart and I didn't know how to fix it.
RIVER BOYS - NORTH AND SOUTH OF MURRAY DIXON LINE
"I saw Cook's ship go sailing past/ changes came the change was fast/ no longer would we all roam free/ still my river's calling me." - I Hear My River - Troy Cassar-Daley-Shane Howard.
Troy's album, produced by Matt Fell, features three songs with backing vocalist Katie Brianna.
Troy reaches back to Grafton with his blue-collar belter Too Big For This Town, the metaphoric magic of Heart Like A Small Town and a duet with Cold Chisel icon Ian Moss on South.
Rain Maker was inspired by one of Troy's great aunts who used to have the power to split storms with an axe.
"I really wanted to capture the power and energy of that idea and I loved the story," Troy told Tamworth Country Music Capital News writer Susan Jarvis.
There's mid-stream relief with fellow river raised Dennington co-writer Shane Howard on fitting finale I Hear My River.
Troy began writing it while filming the TV show Who Do You Think You Are?
The first draft was debuted on the show and Troy finished it with Goanna co-founder Howard who was raised in a cottage on the banks of the Merri River beside the old Nestles factory at Dennington, west of Warrnambool.
"I played it to a distant relative - an old man who lived on the NSW south coast and he started crying," Troy recalled.
It's a really powerful song and it feels like it just came to me."
Troy developed a disguise of sorts, not a mask, during his hiatus.
"I grew a beard during lockdown and there was a lot of grey in there," Troy told Jarvis.
"But when I looked in the mirror I felt that at the age of 51 I'd earnt that grey.
These days the kids call me "Uncle and one of my great joys is sitting down with them and giving them advice. I've realised I'm becoming an Elder and I'm pretty happy with that."
You can catch Uncle Troy on the road again at festivals including Gympie Muster, Deni Ute Muster and Cape York.
"I'm pretty excited about getting out there and doing big shows again - it's been a long drought," Troy explained.
Check our gig guide for details.