DAVE'S DIARY - 6 APRIL 2015 - OLD CROW MEDICINE SHOW - CD REVIEW
2015 CD REVIEW
OLD CROW MEDICINE SHOW
REMEDY (ATO-MUSHROOM).
OLD CROWS FLY THE BRUSHY MOUNTAIN COOP
"Early next morning there's a knock upon the trailer/ its old mister hangman looking for a favour/ hey buddy with the lady if you do some introducing/ I'll call up the Governor for a stay of execution." - Brushy Mountain Conjugal Trailer - Ketch Secor.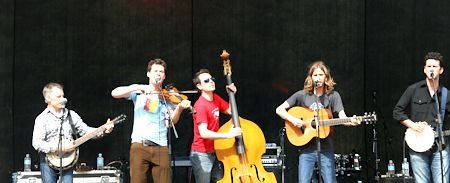 Photo by Carol Taylor
When acclaimed string band Old Crow Medicine Show first toured in 2009 they shared the CMC Rocks The Snowys festival at Thredbo as launch pad with latter day superstar Taylor Swift.
Their sales pale compared with Swift but they won best folk album award at the 57th Grammy Awards this year with eighth disc Remedy .
They also didn't have to share the stage with Kanye West or other TV twerps of dubious talent - instead they made a hilarious video for latest single Brushy Mountain Conjugal Trailer.
"I wrote that song in a trailer," band co-founder Ketch Secor revealed.
"There's something that's actually kind of sexy to me about a trailer. Maybe it's the aerodynamics. I always wanted to have one of those ham can trailers. That's the kind I'm picturing, not the Bonnaroo trailer.
"I've lived in Tennessee for a while and I'm familiar with Brushy Mountain penitentiary but I don't think it's even open anymore. It just seemed to me that it'd be a novel idea, having grown up in the shadow of Johnny Cash's Folsom Prison and San Quentin albums, for there to be a new prison rock 'n' roll song, a new hillbilly style of Jailhouse Rock , something that was sexy. We can afford to be a bit more overt than Jailhouse Rock . Back in the '50s, you weren't really able to have a conjugal trailer."
So the band devised a clever escape ruse for prisoners in the video for Brushy Mountain Conjugal Trailer, featured on Nu Country TV in April.
Unlike the late Carl Williams they didn't have to leave prison to exercise their conjugal rights in a video rewarding time off for good behaviour at the old Tennessee State Prison , now decommissioned.
They use hacksaw blades and disguises for a fast escape in a video also featuring Marty Stuart, Dom Flemons and J P Harris.
Secor says he was careful not to make light of prison life or the song's infamous namesake.
" Brushy Mountain is one of those epic prisons," Secor revealed.
"It's one of the most famous prisons in the South, and it just sounds like an imposing place. It's up there with Sing Sing , Alcatraz, Attica . There's a respect that has to be paid when you're going to make your video actually inside a prison's walls, actually in prison jumpsuits."
The video, shot near Nashville, was humour heavy and humbling.
"A lot of our activities were right around the death row area, and it's just really intense," said Secor.
"It's really heavy."
Country music and prison time have a long history - Johnny Cash's prison concerts and David Allan Coe and Merle Haggard convict songs.
"There's a whole life going on behind bars in the United States, and it's so important that country music jump that fence," he said.
The song and video are about a wacky escape plan that seems right out of O Brother, Where Art Thou?
"It's funny, you send out your song to a couple of producers in Nashville, and the video treatments come back basically like Bikini Prison Break ," he said.
"You know, it was all about the girls that are washing your cell block down or whatever. But we really pride ourselves on the fact that there's not a single woman in this video, except the man who plays one."
Ah yes, the old cross-dressing accomplice ruse.
"We wrote this treatment that just felt like it was fun," he said.
"And if you were on the inside and you got to see this, hopefully you'd be rooting for Cory Younts and his escape, and you'd be rooting for Chance McCoy and his lipstick and hacksaw."
BOB DYLAN IN SWEET AMARILLO
"So I drifted down from the Iron Ore range/ across the wide Missouri where the cool waters flow/ when I got to Topeka I looked up your name/ but they said you rode off with the last rodeo." - Sweet Amarillo - Bob Dylan-Ketch Secor-Critter Fuqua.
The band also teamed with Bob Dylan to resurrect another classic from the archives of the legendary singer-songwriter who played Festival Hall in a polka dot shirt on his 1966 Australian tour.
In 2004 it was Wagon Wheel also revamped as a #1 country hit by former Hootie & The Blowfish singer Darius Rucker.

"One of the nice things about Wagon Wheel is we could delight in contemporary pop-country music yet not have to be claimed by it," Secor revealed.

"Darius is already there. And the pressure to have a radio hit, for those guys, is immeasurable. So we're glad that the guy that got the hit was somebody that we have a deep respect for that we feel kinship with. It just feels natural, even though it's sort of bizarre, that it was the guy who my sister had his posters on the wall back in '92. It was great to get to be in the Grammys show but to sort of have a bit part."
Old Crow Medicine Show also ascended to the Grand Ole Opry.
With Stuart's help the band long ago went from picking in the Opry plaza to making regular appearances on stage and being inducted as official members - a rare occurrence for an act without singles on country charts or for any old-time string band in generations.
Rucker ascended the previous year.
"I think that the reason Darius was inducted and we were inducted shortly thereafter," says Secor, "was because the Opry recognized that a song existed that captured the spirit of the Grand Ole Opry . The song now belongs to the Grand Ole Opry . "And to my taste, that's the place I'd most like it to be heard. God, the only radio station that I really have any trust in being part of is Saturday night on WSM and Friday and the occasional Tuesday."
So how did the band source Sweet Amarillo ?
"We got an email from Bob Dylan's manager saying congratulations right around the time Darius Rucker had a No. 1 single with Wagon Wheel . It's not every day that country music recognizes this great pioneer and huge influence, Bob Dylan. Bob doesn't have many No. 1 songs in any genres. So it was a big deal to get one.
"Bob realized that and sent us a note, and a couple of weeks later, he sent a demo and said, "Here's a song that I never really finished. It was recorded a few days after Rock Me Mama . Give it a try. We'd like the boys, the Old Crows to give it whirl."
It must feel good to be the guys Bob Dylan pitches songs toward.
"It's quite amazing to me. Bob very much cleaned out his dresser drawer and found a scrap and said 'Here, try this." Just to hear that is the stuff that dreams are made of. I couldn't even write a script. The audience wouldn't believe it. "Oh, yeah, then Bob Dylan called and said, 'OK, finish this song now.'"
"So I finished the song with Old Crow , and we sent it back to Bob and he said, "Hey, that sounds great, but I think Ketch should play the fiddle, not the harmonica, and I think the chorus needs to come in at the eighth bar, not the 16th." We did exactly what Bob said, and it's like the song sprouted wings and flew."
TENNESSEE BOUND
"You may call me a rover, I have rambled around/ but I'll quit my rambling when I get to Nashville town/ you may call me a liar or a hard-headed fool/ but I'm burning into Memphis on a flop-eared mule." - Tennessee Bound - Ketch Secor.
This year's Grammys were a far cry from 2002 when the band drove to Los Angeles to perform at a Grammy party as Kentucky bluegrass star Ricky Skaggs' opening act.
"Man, we were pretty greasy," Secor admits of the surreal experience.
"We were stinking up the joint."
That same year, the O Brother, Where Art Thou soundtrack won a handful of Grammy Awards including Album of Year.
Old-timey roots music officially made a comeback, and Old Crow Medicine Show - whose songs mixed the dirty stomp of rock & roll with tradition and twang of Appalachian music stood to benefit from the renewed interest.
It took more than a decade to ascend from Grammy party participants to Grammy Award winners.
"When we won the first time, it was for a long-play video," says Secor, referring to music documentary Big Easy Express that earned the band a Grammy in 2013.
"Now we're starting our 18th year as a band, and it took all that time to get good and make a record that could become the folk album of the year. It took all those years to become the band we were meant to be. It feels pretty powerful to get that recognition now, because we've put out a lot of albums - but it was this one that took home the golden gramophone."
Country folk bluegrass has become a healthy hybrid with wider recognition.
"The thing about folk music is that everyone onstage is playing it," he says.
"Everyone from Pharrell to Stevie Wonder to Brandy Clark. There's only one genre that fits them all - one genre that includes every style of popular music. It's all folk music. We're happy to be in that bin."
Secor is a big fan of singer-songwriter and dual Grammy nominee Brandy who performed a stripped down version of Hold M y Hand with Kentuckian singing actor Dwight Yoakam in the Conway Twitty-Loretta Lynn style.
"Dwight Yoakam wasn't following the script," Secor said.
"And it was wonderful to be in the presence of a guitar player who wasn't gonna sit still, and was doting on his partner in that way. They sang real sweet together. I thought that kinship was missing onstage from a lot of the heavy hitters."
Ketch was moved by tributes to recently deceased icons.
"For the first time in my life, it was so many people that I knew," Secor explained.
"It was Pete Seeger, who we got to know, and Little Jimmy Dickens, whose funeral we got to sing at, and Jimmy C. Newman, who we got to talk horses and cattle with. That's the market changing, right there."
The times are indeed changing for Old Crow Medicine Show .
"There's a weird thing that happens when your heroes become your opening acts," Secor revealed.
"That's something that's just begun for the Old Crow , to a limited extent. Even when your heroes are your opening acts, though, you still feel like they're the headliner. That's part of the power of these artists. They draw you into their family. Peter Seeger, in his way, invited us to bear the torch. There's just a whole lot of us holding it up, though. It's not just us."
BARBARA MANDRELL UP SHIT CREEK
"She said take your troubles to the river/ let the muddy river wash it away/ if the truth don't float back to the top/ you can bid our love good day/ so I Took to the edge, dove on in/ the current went an stole me away/ rock and gravel and I ain't got a paddle / to dig my dying grave." - Shit Creek - Secor-Fuqua-Kevin Hayes-Chance McCoy-Morgan Jahnig.
The band also has a big fan in former TV host and country legend Barbara Mandrell.
"I tell ya, the best review we got came from Barbara Mandrell," Secor recalled.
"She wrote back this three-page letter saying how much she loved the record, the range of songs, and we had a little bit of every genre, the diversity of the music. And how proud she was to have us playing out at Fontanel . She said, 'The only thing I take issue with is your song Shit Creek . I thought it was so wonderful that her problem with the song wasn't that we said Shit Creek but that we say 'goddamn.' She didn't like us taking the Lord's name in vain. But then she said, 'But that's up to you. Other than that, I think it's a stellar album.' And just to realise in hearing from her, 'Wow, Barbara Mandrell is kind of a target audience for us. We really want Barbara Mandrell to like this album.' "
Secor expresses droll disappointment the new album wasn't branded with a parental warning.
"They pulled the presses when they realized we didn't have a sure-fire best seller," he says.
"After albums that were full of cocaine and methamphetamine references, we were finally getting ourselves a proper parental advisory sticker. But the way it is, it's just on iTunes, on the track itself."
"The thing that changed the most with this record," says Secor, "was that we did all this pre-production work on our own. We'd never done that before. We always took whatever scraps we had to the producer and said, 'Here. What do we do?' But see, we didn't really all get along back then. We were such a disparate-end kinda bunch of musicians. Well, we've suddenly become this crack team. We're like the 1987 Blue Jays here. Nah, we're the '85 Royals . We're killin' 'em."
But the band had growing pains early this decade when it wasn't clear if the band would carry on, or who would be in it.
Multi-instrumentalists Gill Landry and Cory Younts and singer-guitarist Chance McCoy came on board, and Willie Watson - who'd sung so many of the high, cutting parts - permanently disappeared.
The band is proud of bringing Dylan's music to a new audience.
Secor jokes about "turning 15-year-old dudes from Pulaski and girls from Paris, Tennessee, on to Dylan."
DEARLY DEPARTED FRIEND
"Standing by the grave of a dearly departed friend/ with nothing much to say except sorry it turned like it did/ 21 guns for 21 years and American flags in the wind/ standing by the grave of a dearly departed friend." - Dearly Departed Friend - Ketch Secor.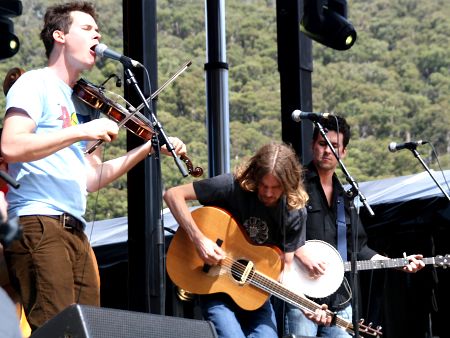 Photo by Carol Taylor
Fuqua relishes their expanding power base.
"I think because our music industry has become so compartmentalized and categorized, there's so many people out there that don't realize that they like country music, or should like country music, or see us for the first time and realize, 'Hey, this is country music," Fuqua says.
"This is also my music. I can listen to it.' I think we break down some walls when it comes to compartmentalized music. Just looking at our audience, you know, we've got little kids, we've got 80-year-olds, we've got rednecks and hippies and people going to prison and just out of prison."
Secor added "and going to Afghanistan and just home from Afghanistan".
Secor explains number of originals like Dear Departed Friend focus on the working-class experience of fighting a war.
"Country music's supposed to be about championing the voice, the cause, the hearts of the hardest-working people in America," says Secor.
"It's become sort of obvious to me that that is the U.S. servicemen and women - the hardest-working 35-year-old counterpart to myself. So that's why I think it's ever so important to tell that story."
"I wanted to leave out the hero stuff and put a face and a story to a soldier. Being a U.S. serviceman is the toughest job in America. It's tougher than coal mining, tougher than a divorce, tougher than cancer. It's not only the horrors of war, it's the lonesomeness. That's why the suicide rate for soldiers is higher than the rate of getting killed by roadside bombs."
Secor says Doc's Day is a gag about street-corner pickers who are lacking in gusto.
"I really like poking a little bit of fun at everybody," he says.
"It's all in good jest. When you see Americana musicians busking, it doesn't make you reach for your back pocket. It makes you hurry up and get where you're goin'. In the song, that's what the band figures out how to do - they figure out how to do it like Doc Watson, and everything's kosher."
There's a drinking song called Firewater about alcoholism: "It's a mean old world when you're kicked to the gutter and the firewater is the one thing to put out the flame."