DAVE'S DIARY - 6 APRIL 2014 - JERROD NIEMANN FEATURE

JERROD NIEMANN, POSSUM & DONKEY AT HIGH NOON
"Gonna ride that donkey down to the honky tonky/ down to the honky tonky/ it's gonna get funky, funky/ George Jones took a John Deere tractor/ hope my donkey gets there faster." - Donkey - Kyle Jacobs-David Tolliver-Fred Wilhelm.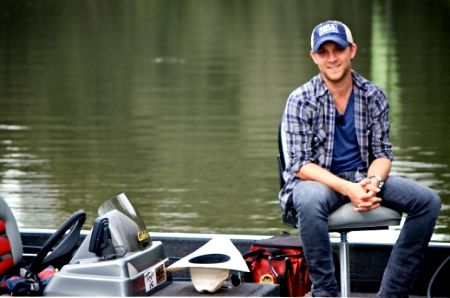 Kansas born singer-songwriter Jerrod Niemann ploughs the past for heroes diverse as late George Jones, Roger Miller and Johnny Cash on his fifth album High Noon.

Niemann expands on The Possum's penchant for riding his rider mower or tractor to honky-tonks when singing spouse Tammy Wynette hid the keys to their Caddies.

But in Donkey it's the humble mule who becomes the character's mode of transport as he tries to beat the law and a good woman.

The singer's steed, at last call, becomes a honky tonk queen dream mount, replete with "bottle in the saddle, a six pack in the stall."

It would appear to lend itself to an ass kicking video for a disc that entrees with Space - a tune of wanderlust and one of eight co-written by Niemann.

It's a far cry from Liberal High School, Kansas, and South Plains College Levelland, Texas, for his Associate of Arts degree.

In 1999 while at college he recorded debut album Long Hard Road in Clovis, New Mexico.

Niemann began singing and playing acoustic guitar in Texas bars - Stockyard Saloon and historic White Elephant Saloon in Fort Worth Stockyards.

He signed a development deal with Mercury in August 2001 but didn't release anything.

Instead he released second indie album Jukebox Of Hard Knocks in 2004.

In 2006 he signed to Category 5 Records and charted with I Love Women My Momma Can't Stand.

Niemann's career stalled after his label closed, shelving his album Behind The Microphone.

He broke up with his girlfriend, gained 60 pounds and had serious bouts of depression.

"I had gone through a couple of different record deals," Niemann, now 34, recalled.

"There were so many things we had to line up, so many opinions involved, so many people that haven't been in the music industry very long that aren't trusting the opinions of people who have been in it for 30 years. It gets so frustrating that you do start to lose the reason, the passion for why you came to town."

The singer boomeranged in 2010 with a #1 country hit on debut album Judge Jerrod & The Hung Jury with Lover, Lover - a souped-up version of Sonia Dada's You Don't Treat Me No Good, a 1992 Australian #1 hit.

Judge Jerrod & the Hung Jury also included They Should Have Named You Cocaine, Come Back to Me and How Can I Be So Thirsty.
ROGER MILLER
"Woke up this morning, hearing Roger Miller singing chug a lug/ caught myself a little drinking bug." - Day Drinkin' - Jerrod Niemann-Lance Miller.
High Noon follows in a similar vein to 2012 album Free the Music.

So it's no surprise there's rap, funk and hip-hop - described as "bro country" with power ballads and yacht rock leanings.

Niemann co-wrote the Good Ride Cowboy tribute to the late Chris LeDoux that went to #1 in 2005 with Garth Brooks.

Garth also recorded his songs That Girl Is a Cowboy and Midnight Sun.

Jamey Johnson, John Anderson Neal McCoy, Julie Roberts, Flynnville Train and Zona Jones also cut Niemann's songs.
He shares marketing supremacy with Oklahoma superstar Garth.

"I go in the studio and I probably should try to think of hit songs and selling records, but I really do go in the studio and just try to make music that means a lot to me," Niemann says.

"And hopefully it means something to somebody else. I think just the fun vibe. Because you get in the studio and you can have the same musicians play this day, and then they play the next day, and the song can be completely different. So it's all about being comfortable and everybody coming together and having a good time. I think you can actually capture that, so we tried to capture a good time on this album."

Day Drinkin' begins with a quirky guitar lick that frames a song about drinking during the day - a play on day dreaming.

The character is driven to drink beer by listening to Roger Miller sing Chug-a-Lug and then "cheatin' on those neon lights."

There's $40 in change in a jug so the good old beer boys are fully charged and howling "by the crack of noon."

Niemann continues his alcohol liquidity with Buzz Back Girl and Drink To That All Night where the lads "ride the cow at the Dallas bull."

But it's not all bovines and booze - boomerang love song I Can't Give In Anymore segues into fishing frolics in We Know How To Rock.

Then it's back to the bottle in the hedonistic weekend anthem Come On, Come On.
KRISTOFFERSON SHAKESPEARE METAPHOR
"I know there's things that you need you to hear/ and sometimes the right words won't come/ I'm no Shakespeare or Kristofferson/ when you shine like a diamond." - Lucky #7 - Jerrod Niemann-Lance Miller.
The character in Lucky #7 uses a Shakespeare and Kristofferson metaphor to overcome paucity as a NASCAR or gridiron star to be lucky in love.

Equally as lucky and humble is the beau who wins the belle in The Real Thing without a cash flow river.

And then there's more simple pleasures of life in the hedonistic Beach Baby.

Niemann also name checks Jackson Browne in Refill, penned with regular co-writer Lance Miller and The Warren Brothers.

"I think there's a lot of things that could refill your soul and for me, anytime I can go visit my parents in Fort Worth, Texas," Niemann explained.

"That's kind of what the song is about - just going home. And I've learned no matter how good things are, how bad things are, you always have home to go to, and that's just such an important thing to have. When you feel that way about something, there's always a song in there somewhere."

A fitting finale is worship of a country girl in She's Fine featuring Colt Ford.

Niemann believes every child deserves the opportunity to explore and enjoy music and recently established his nonprofit charity, Free the Music USA.

The organisation is dedicated to collecting used instruments and giving them to children in need and donations to music-based charities throughout the year.

Free the Music USA partnered with Songs for Sound - a Nashville charity that assists the deaf by providing resources for cochlear implants and rehabilitation.
FREE THE MUSIC
"Why'd you call me today with nothing new to say?/ you pretend it's just hello but you know what it does to me to see your number on the phone/ now tell me, what do you want?" - What Do You Want - Jerrod Niemann-Richie Brown-Rachel Bradshaw.
Free the Music like 2010 disc, Judge Jerrod & the Hung Jury was eclectic - it featured Real Women Drink Beer and Shinin' on Me.

Niemann proves adept at writing about heartbreak in What Do You Want and One More Drinkin' Song.

He wrote What You Want about hearing from an ex-girlfriend after a breakup.

"There's three reasons they're calling you," Niemann says.

"One, because you haven't filled your quota of begging for them back. Two, they're trying to make you jealous. Or three, they want to make sweet nothings with you in the middle of the night."
That story is more than hypothetical.

"I wrote this song 'cause I had ran that girl clear off to India," Niemann confessed.

"So for me, I had really lost everything with her in Nashville. I started partying all the time, gained a bunch of weight, hadn't written a song in like a year. It was rock bottom and I needed to do something differently. That's the first song to help me climb out of the funk.

So, yeah, there was definitely somebody I had in mind."

It featured harmonies from Rachel Bradshaw - daughter of former NFL quarterback Terry Bradshaw and rises from acoustic guitar track, organ melody and Latin-flavored percussion.
Randy Houser and Jamey Johnson appear at the end of the video as the friends who save the day.

Jerrod paid sonic tribute, adding a horn section and blending country's past, present and future.

"Maybe this is the trauma of having gone through two record deals or the blessing of now being on my third one but I've had the time to let so much soak in," Niemann said.

"My easiest example would be my icons, Willie and Waylon Jennings and their Write Your Own Songs. It's a brilliant piece. There's a line, 'Hey, Mr. Traditional Country Guy, if you don't like our songs then write your own damn songs.' Those guys led the way by being themselves. We may get flack for being progressive but this Outlaw movement changed music. I have always wanted to be like those guys but you can't try to be just like them - you need your own voice to stand out. So we looked at 70 or 80 years of not just music but the recording process as well to try to be different.
TEX WILLIAMS SMOKES
"You can't coop me up like a Coupe De Ville/ sitting up on blocks, spinning my wheels/ I'm a wild Mustang, I'll jump the fence/ you'll unlock the gate and wonder where I went." - Space - Jerrod Niemann-Brian Davis-Joe Leathers.
Niemann's country influences span decades but his music also has soul, rock and R&B.

"People will say this is country, this isn't country," Niemann said.

"I'm asking, because I don't know, what is country? Is it being born and raised three hours from the nearest airport like I was? Or is it someone born in New York but then moves to Mississippi to live on a farm - are they not country just because they were born in New York? What's country? It's a feeling, a state of mind. There's also instrumentation, but look at the fiddle and steel guitar - they're definitely the epitome of what is country music. But the pedal steel guitar wasn't invented until 1948. The year before that, Tex Williams had a song out called Smoke, Smoke, Smoke That Cigarette with horns all over it. Twenty years before that, Bob Wills had horns in country music. So I know that's going to be the thing that sticks out - the horns that I put on this country record, but I can go back 80 years to defend it. Music has always been derived from so many different things. It's not my job to educate everybody on that, but it's just an interesting point to make when making a record: I don't think I need to stay inside the rules of what our current, Nashville state of mind says country music is. There's no true definition - it's just how it makes you feel."

So is Niemann a country music historian?

"One thing that triggered my passion to dig deeper on the instrumentation and finding out where it came from was learning about artists like Jimmie Rodgers in the '20s and the Carter Family," Niemann said.

"When you think about George Strait and Keith Whitley, well the Hag was their hero and Lefty Frizzell was his hero, and Ernest Tubb was his hero and so on. But never had I thought until the opportunity came for me to be a producer that I had to have the respect and passion to find out where my own heroes' inspiration came from. I went to college for music and have always loved learning the history, hearing the stories. But coming to Nashville, if I'm going to dedicate my life to something, the least I can do is know where it came from."
JAMEY JOHNSON AND THE CLASS OF 2000
"It's been too long and running on empty is playing on the radio/ don't know what it is but something down in me/ is telling me you better go back home." - Refill - Jerrod Niemann-Lance Miller- Brett Warren-Brad Warren.
Niemann arrived in Nashville in the same posse as Randy Houser, Jamey Johnson, Lee Brice and Luke Bryan.

"More than anything else I've learned, 100%, is to lean on people that are put in your life," Niemann says.

"Try to treat everybody good because when you have success, it's with your friends. Music is what brings you together, but real life is what makes you brothers and sisters.

"Also, always go with your gut instinct.

Because more and more I realise that your intuition is priceless. If you know something doesn't feel right and you just go with somebody else's decision, you usually regret it."

Niemann said he enjoyed peers' success although he was still on the verge.

"I've always been happy for those guys because I know how hard they work and how talented they are," Niemann added.
"Also they never once made me feel like I was left out. They were always like, 'Come on. You can come, too.' For example, when I met Jamey and we first became buddies, we used to play these acoustic shows before either of us had written anything for anybody or had record deals. Literally the only people in the place would be me and him and a bartender.

We hung out a lot, and we built up this weekly gig we had. Last year I got a text at 1:20 in the morning that said, 'Hey, man. I just booked us a show at the Ryman if you're in.' So I fell asleep, woke up and thought I'd dreamed it. I looked and it was there, and I thought, Man, well-played!" From an acoustic gig on Demonbreun street near Music Row to the Ryman! They've always let me be a part of everything, and I appreciate that."

Niemann went from blue to in the black when he met Johnson after success of his debut album The Lonesome Song.

"I ran into Jamey Johnson at the Blue Bar and he could tell I wasn't myself," Niemann said.

"And he said 'Man! I don't know why you just don't go cut an album.' We did and it changed my whole life and career. And even if nothing did change, it was the most therapeutic process I ever had."

Johnson advised Niemann to forge ahead - he had also lost a record deal.

He responded by gathering friends and making an album on his terms.

Jamey said it changed his life and could do the same for Niemann.

"Being friends with Jamey as long as I have, we both know not only the good times we've seen, but the hard times," Niemann recalled.

"I think after Jamey made his album with his band and Mercury Records picked it up, Jamey knew that I had things to say as an artist. I know I'm not the only person who he's approached and advised to go make records. I don't think the other ones have surfaced yet, but they will. Jamey is not only a guy that holds the torch for traditional country music, but he has his own voice and no one is going to tell him what to do. He is sort of a fearless leader in his own way of doing his own thing. I'm certainly not trying to be Jamey, and I know nobody else is. But what Jamey is going to do is put his hand down and pick you up and say, 'Man, go make some music that you want to be heard,' and that's what we did.

"I spent a year in the studio and I was having so much fun that I lost the weight," Niemann said.

"I didn't do anything crazy, just by being happy, you know. It's just amazing once you're reminded how passionate you are for something, especially music, it can be a life-changing experience. In this case, all my friends coming together and supporting my lunatic ideas in the studio in turn somehow amazingly enough turned my life around.

Niemann hooked up his band and producer buddy Dave Brainard.

"He's so talented that I thought I could utilise his talent to my advantage and take credit for it," Niemann recalled.

"We spent a year on the album and had the most absolute fun I could ever imagine laughing. It's not like I starved myself or anything crazy, but as I became happy, I started to deflate."