DAVE'S DIARY - 2 APRIL 2012 - PORT FAIRY #36 - 2012 REVIEW
PORT FAIRY FOLK FESTIVAL #36 - 2012
FULL BLUE MOON OVER SHIPWRECK COAST

LOST IN SUBURBIA FOUND IN SHEBEEN
It was fitting the 36th Port Fairy folk festival kicked off with homegrown artists in the Shebeen tent, replete with Guinness by the gallon.

As the designated driver in a car for one, nothing alcoholic passed my trembling lips for the long weekend.

But there was little need for leprechaun libations as Warrnambool quartet Blues On The Boyle - not Wally Edney's long defunct 3WAY-FM show Blues On The Boil - kicked the dew off the glass.

Fast Eddy Boyle led his R & B combo - drummer Raf Marino, guitarist Phil Jones and bassist Slapping Dan Rondeau - through their paces.

Lost In Suburbia - photo by Meg Bird
Human boomerang Eddy returned for all three Lost In Suburbia weekend sets, including their Friday CD launch.

The Shipwreck Coast sextet, mushrooming to an octet for most gigs, had the luxury of former singer Wendy Goyen's return from Queensland and join latter day vocalist Melissa Bowman for one soiree.

Fast Eddy and mandolinist John Hudson were dietary supplements in a band, celebrating more than 15 years in the saddle and whose day jobs are worthy of more than passing comment.

Pedal steel guitarist Murray McDowell, member of Nevada - the band's predecessor in the seventies and eighties with guitarist Trevor McKenzie and bassist Peter Bird - is a truckie who graduated from the Fonterra, nee Nestles fleet, to a wind farm rocks and supplies driver.

Then there's former T-Bones drummer Rohan Keert - Warrnambool Secondary College principal - and librarians Bird and Dead Livers co-founder Michael Schack on dobro and guitar.

Lead guitarist and singer McKenzie - one time hospital administrator - now has a different line of plumbing at a supplies company and fellow singer Bowman also works in finance.

So it's not surprising the band delve into the rich past and present of the country genre, displaying a nice line in self-deprecation by naming their 14 song disc Set List.

And we can thank headmaster Keert for the CD slick cover - a photo he took from his New York City hotel room on West 51st St with the biblical message Sin Will Find You Out.

But there were no sermons on or from the mount as the band whipped through recent tourist Lyle Lovett's More Pretty Girls, Eilen Jewell's Rich Man's World, Nanci Griffith's I Wish It Would Rain and Caitlin Cary's Two Different Things.

McDowell's steel soared in John Prine classic Speed of The Sound Of Loneliness, also cut by Griffith, Jay Farrar's Tear Stained Eye and the "Lucy Kaplansky" version of Steve Earle's You're Still Standing There.

The return to stage of Fast Eddy, brandishing a bag, prompted an alert from drummer Keert that it may be the illicit medicine bag man for Hank Williams whose Mind Your Own Business featured vocals of the ghostly apparition by Schack.

The ever-growing band also revived Poor, Poor Pitiful Me by the more recently deceased Warren Zevon, Shane Nicholson's House With No Love and The Waifs When I Die.

Mandolinist Hudson helped drive Talk Of The Town - penned by his absent boss Shane Howard and Earle's Galway Girl.

The generation baton change was effected by Justin Townes Earle album title tracks Harlan River Blues and The Good Life.

The band may have concentrated on covers - rather than its originals but it worked.
BLUE HEAT SIZZLES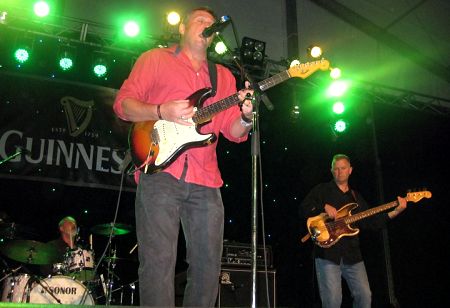 Blue Heat - photo by Michael Schack
Blue Heat - arguably the best R & B band in the unlucky radio country - executed a perfect baton change from fellow coastal reared combo Lost In Suburbia.

Port Fairy born guitarist-singer Marco Goldsmith led his charges through a healthy hybrid of originals.

The three-piece brass section, featuring Brad Harrison on saxophone, trombonist Paul Lemke and trumpeter Matthew Trenery, was a luxury few bands can afford.

The appearance of Harrison's son - one of his four children - playing toy trombone in the mosh pit was cream on the gateau.

Pianist Richard Tankard and Galbraith brothers - Barry on drums and Graeme on bass - ensured this was a joyous journey.

It was fitting the septet veered from I'm Coming Home, Ain't What Ya Got to I Cried All Day and Laughin' and Cryin'.

After 21 years there was still plenty of energy with tunes reaching back to 1995 disc Marooned, the second album Irresistible Behaviour from 1996 (reissued 2011) and 2009 release, Live At The Continental.

There was even a country flavour to the band's staple Someone Else Is Kissin' Ya.

Goldsmith rotated his set list over several gigs but Eatin' Me Up, Right Track, I Do Believe, Why Oh Why and Love Struck all got an airing.

The beauty of this festival, like some others, is the budget ensures a full band can drive its music through a sound system equal to the task.

It also enabled patrons to move from stage to stage with ease to sample portions of artists worth a return for their full sets.

Midnight was closing in but English Americana band Ahab and Latrobe Valley raised bluegrass band The Davidson Brothers proved to have the boomerang effect for this weary traveller.


SATURDAY SOLDIERS
Saturday began for this diarist with a dawn inspection of a dairy, cattle, boundary and riverbank fencing on the Hopkins east of Warrnambool as farmers awaited the drought to break south of the Goulburn Valley.

Then it was a 30-minute drive west on Highway 1 through the spud and onion mazes to Port Fairy RSL where memories hung on the walls of the victims of an even dozen foreign conflicts.

But we were there, under the gaze of historic heroes, to celebrate the live - not dead at a Music Victoria Professional Development Seminar hosted by Patrick Donovan.

Donovan, former Age journalist and music critic for more than 12 years, is CEO of Music Victoria - an organisation promoting live local music.

So Donovan lured Mama Kin singer Danielle Caruana, local bandleader Russ Goodear and National Party Upper House MP David O'Brien for the wisdom of their years.

I was, I soon learned, comic relief with tales from 47 years of journalism, radio, TV and football.

Caruana gave detailed accounts of challenges facing young musicians and how to utilise government and industry support schemes - especially for indie artists.

She had a personal insight into dealing with copyright breaches after her husband - Port Fairy artist of year John Butler - was shocked to learn his 2003 song Zebra was pillaged in a Greek yoghurt ad during the recent American Super Bowl telecast.

It was a perfect example of power of exposure of wrongdoings by social media - and another good reason why we need a free press unshackled by political ponces.

Despite Danielle's knowledge sharing she was not a psychic - she did not predict kilometre long queues for the Stage 3 gig by Butler and forced cancellation of CD signings.

In hindsight Butler might have challenged retired Oklahoma superstar Garth Brooks world record marathon autograph signing in Nashville.

Veteran journalist and advertising guru Goodear, who hired Honorable Upper House member O'Brien as bassist in his Gordon Lightfoot tribute band, detailed his offer to mentor local musicians.

Goodear revealed latter day hometown Warrnambool had 16 live music venues and no discos with canned music.

O'Brien, who shares Upper House chambers with country singing former Geelong star and Fremantle coach Damian Drum, also expanded on work as a barrister representing live music venues in noise pollution cases and other matters.

O'Brien, 41, father of four and dual degree holder, is also an ex-Penshurst Hotel licensee, farmer on a property in the family since 1853 and music festival organiser.

But what was a bigger shock for your diarist was O'Brien's musical CV - an international career in arts bands as well as bassist in local groups that traverse ska, reggae, hard rock, folk, bush, blues and country music.

This is very hard to condense for this festival report so I won't - certainly not the contents of my short speech that roared through 64 years of life on the edge.

Suffice to say the appearance of Dead Livers pedal steel guitarist Brendan Mitchell - recipient of a liver transplant more than 20 years after writing the Ballad Of The Dead Liver - was manna from heaven for me.

And, as Danielle noted, it was a perfect example of life imitating art.
BYRDS, BURRITOS AND BALLADS
A quick stroll from the RSL Hall to nearby Railway stage was a potent reminder of the follies of previous Governments.

Here was the end of the line for the long defunct Melbourne to Port Fairy railway line - yes the railway line to the fishing port and booming ocean town was closed to save money.

Now, with oil shortages, it would have been a perfect rail transport hub and alternative to the car, bus and truck clogged highways.

But that's another story and I had my long-suffering partner, arriving on one of those highways, to find.

So a reprise of Lost In Suburbia was the perfect entrée to a return to the main arena where a duets concert preceded the legendary Chris Hillman and Herb Pedersen.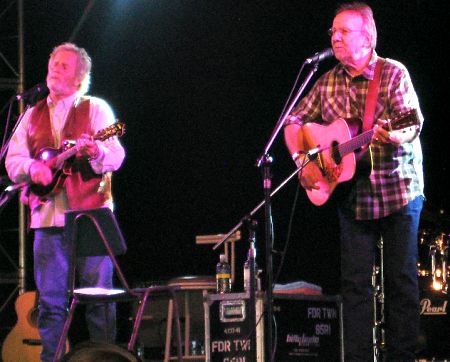 Chris Hillman & Herb Pedersen - photo by Michael Schack
Former Goanna singers Marcia Howard and Rose Bygrave, Sweet Jean, The Stiff Gins, Madison Violet and The Davidson Brothers showcased a refined sense of humour equal to their story telling.

Latter day Bendigo chiropractor Hamish Davidson revealed merging of his dual careers meant patients often endured odors from the night before in his surgery.

But the Davidson Brothers journey has not reached the longevity of Chris Hillman and Herb Pedersen who worked together 45 years ago in L.A.

The duo, both 67 and pioneers of the southern Californian bluegrass and country rock genre, toured and recorded together as a duo for 17 years.

But Hillman, who toured here in 1972 with Stephen Stills in Manassas at the Mulwala rock festival, and later with Roger McGuinn and Gene Clark at Dallas Brooks Hall, was keen to shine the spotlight on Pedersen.

"Herb came here with John Denver in the seventies," Hillman said as he introduced Carter Family classic Bury Me Beneath The Willow and John Hiatt song She Don't Love Nobody the duo recorded in their Desert Rose Band.

The acoustic duo showcased their dexterity on mandolin, dobro, banjo and guitar as they reached back to their Byrds era for Turn, Turn, Turn, Pete Seeger Welsh coal mining lament Bells Of Rhymney and psychedelic 8 Miles High.

They revived Louvin Brothers If I Could Only Win Your Love - first Top 10 hit for Emmylou Harris - and Eric Andersen's Close The Door Lightly cut by The Dillards when Pedersen was a member.

Then there were gems from Gram Parsons era Flying Burrito Brothers.

"In 1969 Gram and I wrote this in 25 minutes," Hillman said of Sin City, "it mirrored the culture of LA at the time."

And what about their Devil In Disguise?

"Gram and I wrote it about this gal who was giving us a lot of trouble at the time," Hillman confided, "it was a misogynist country rock song."

They borrowed fellow siblings the Mills Brothers for their 1950 version of the 1931 Harry Ruby-Bert Kalmar song I'm Still In Love With You.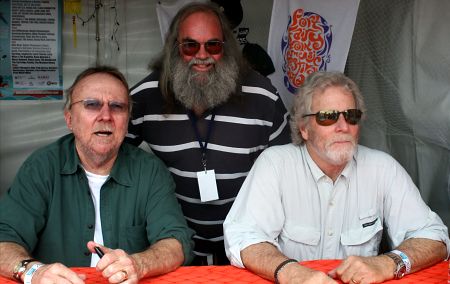 Chris Hillman & Herb Pedersen with David Dawson - photo by Carol Taylor
The duo also reached back to the Stanley Brothers for The Rank Stranger. "I learned this in high school in 1962," Hillman revealed.

Then there was Dylan song Mr Tambourine Man - a huge hit for The Byrds.

"Bob had not recorded it yet," Hillman added, "we met up in 1963 and he gave us permission to record it."

Pedersen added his vocals to his tune When I Needed You and Hey Boys that he wrote and recorded with The Dillards before cutting it on one of his solo albums.

Herb also led on his lost love lament Wait A Minute - also on his solo compilation Southwest.

"It's a beautiful song," Hillman said of the Pedersen tune, "he's an outstanding talent."

The duo resurrected Bill Monroe 1948 gospel staple The Old Crossroads - now on their recent Live At Edwards Tavern disc.

"One leads to heaven, the other goes below/ soon your life will be over."

And, the duo bookended their set with It Doesn't Matter - a song Hillman penned with Stills in their Manassas era that brought them to Mulwala.

And, unlike that 1972 Murray River mud bath, Hillman and his partner in rhyme were paid in full this time.
JUDY COLLINS - LIVE AT 72
Hillman wasn't the only veteran visitor to sing the praises of Stills as the spotlight swung to septuagenarian Judy Collins on the vast expanses of Stage 3.

Here she was - a living legend with a visual affinity to Emmylou Harris who had been name checked by Hillman and Pedersen.

Better still the Seattle born chanteuse had a sharp sense of humour as she quoted a younger woman - Dolly Parton 66 - for a quote from Larry King interview when asked why she was till working and touring.

"It costs a lot to look this cheap," said Collins as she borrowed from the bluegrass belle.

Collins, clad in black, with high boots and clutching her 12-string guitar also revealed how her version of The Moon's A Harsh Mistress was born.

"Jim Webb was a 16 year old and Harry Nilsson wanted a song for Frank Sinatra's new album," Collins revealed.

The singer, accompanied only by a pianist, proved her voice was not a harsh mistress.

And the twice-wed icon also had kind words for ex-lover Stephen Stills who wrote Suite Judy Blue Eyes about her and recorded it with Crosby, Stills and Nash in 1969.

The original version ran for more than seven minutes and became the title track of their 1991-boxed set.

"Back in 1968 Stephen and I had a hot affair," the singer recalled of the romance that has now been expanded upon in her latest autobiography Sweet Judy Blue Eyes.

Collins performed a vast array of her hits - Joni Mitchell's Both Sides Now, Gordon Lightfoot's Last Thing On My Mind and Pete Seeger's Where Have All The Flowers Gone?

She also reached back to paternal paean My Father - about her blind late DJ dad in Denver - and mother for She's a Lady, alternately titled In the Twilight.

Collins also ignited Open the Door, known as Song for Judith, and Send In The Clowns.

"This is a song written by the late Sandy Denny," Collins said in her intro of Who Knows Where The Time Goes, "she was only 21 when she wrote this."

She also honoured long-time friend Leonard Cohen with versions of his Sisters of Mercy and Suzanne.

Collins punctuated anecdotes about the late Johnny Cash's TV show and Leon Bibb's young son Eric - also on the bill - with The Gypsy Rover and a capella rendition of Danny Boy.

She also wondered aloud if the audience had seen her on The Muppets TV show as she launched into I Know An Old Lady Who Swallowed A Spider.

Collins chose the right locale but wrong season to perform Farewell To Tarwathie - (The Whale Song) - and Six White Horses.

Later she took over grand piano from accompanist Russell Walden and chose Blizzard and Ian Tyson's Some Day Soon before a fitting encore - the Lennon-McCartney song In My Life.
MADISON VIOLET
Adam Cohen - son of Leonard - followed Collins on stage but could not be accused of cloning his dad.

I left stage three while Cohen set up, to catch fellow Canadians Madison Violet who toured here in a previous life as the Mad Violet group.

Brenley MacEachern and Lisa MacIsaac impressed on showcases with tunes from all five albums including new release The Good In Goodbye.

Brenley told anecdotes about smuggling harmonicas and guitars across the U.S. border into Canada.

The duo also detailed the ravages of Hurricane Emily who blew roofs off houses and fruit from trees in new song Emily.

But the most poignant song was The Woodshop (Ashes 52) - a graphic account of the murder of Brenley's brother Stevie and the impact on their family.

"Twenty years ago my dad was given a piece of wood to make something beautiful for my mother," Brenley revealed of the song from fourth CD No Fool For Trying in 2010.
"But they received a phone call to say my brother Stevie had been killed - he was Toronto's 52nd homicide of the year. My brother lived a troubled life, all his possessions came home in plastic bags. My dad went back into his wood shop and made a casket for Stevie. He finished it on the day of his funeral."

Check it out here - "now your father's building you a box/ down in his wood shop/ your mother sets the table, one less cup/ it's tearing out her heart/ dust to dust and ashes 52."

Brenley also introduced Crying as another song inspired by her brother.

"Crying releases a lot of toxins," she added, "it's good for you."

But the duo moved from pathos to humour with a song Tuning they wrote in St Kilda on their days off when Lisa went kit surfing.

"There was an incident, Lisa went kite surfing in a wet suit and there was a fish stuck to her boob," Brenley explained, "it was a barramundi, no a tuna."

But listeners heard a new song featuring choruses from the Simon & Garfunkel hit Mrs Robinson.

There was also You Don't Know What You Miss Until It's Gone and Laura Lee - saga of a "feisty redhead in New Breton who was a popular hornbag because she had a lot of sleepovers."

In case you don't get the picture here it is.

"Don't go telling lies to me Laura Lee/ ain't no good to keep crying those tears to me/ you'll find another lover/ and hide 'em from your mother
sneak out the back/ and keep it under covers/ oh don't go telling lies to me Laura Lee."

The duo finished with 1881 bluegrass tune - Cindy, Cindy Where Do You Get Your Whiskey - off their new disc
ADAM COHEN BLESSES CARTRIDGE FAMILY
Now back to Adam Cohen who had a nice line in jokes never practiced by his dad.

"What's the last thing you don't want to hear after making love to Willie Nelson if you are male or female?" Cohen, 39 and holding, asked in faux rhetorical fashion.

"I'm not Willie Nelson."

Cohen performed patriarchal song So Long Marianne after gags in his intros for his female cellist and male guitarist.

The cellist Mia grinned and bared it as Cohen regaled his audience with tales about petroleum jelly, cocaine and marijuana.

Cohen joked that he met his guitarist Selwyn in a "public bathroom" where they made love.

But on their exit they met George Michael, on his way in, and they all made love together.

I'm sorry I missed the majority of Cohen's one-hour set featuring songs from his four albums.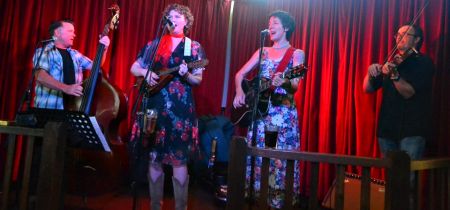 Cartridge Family - photo by Tim Chuma
Jokes were also the strong suit of Cartridge Family patriarch Rusty Rich, aka Bertha, of Scared Weird Little Guys fame.

Rusty was tuning up when he observed the lengthy John Butler Stage 3 queues outside the Lighthouse Café stage.

"I can't believe it's not butler," he quipped a time or two during his set with Sarah Carroll and Suzannah Espie of Git and Junes fame and fiddler Greg Thorn.

He explained his group name was a hybrid of the Carter and Partridge Families - founders of country and bubblegum pop.

This family played its entire new album in chronological order to make it easier for patrons to order it from the back of the tent.

There was a train song - Red Ball To Natchez, romance - When Your Lips Touch Mine and square dancing Delmore Brothers When They Let The Hammer Down.

Espie sang lead on Morning Dove delivered "before John Butler starts" and an eclectic set - I'm Going Up On Heartbreak Mountain, Listen To My Hammer Ring and 96-year old Carter Family song Hello Stranger.

Rusty entrée of "sunshine filled songs of death and deceit" - What Is A Home Without Love and Carroll taking lead on Single Girl as Jeff Lang joined on I Wish I Was A Single Girl Again and jaunty My Dixie Darling from the Carter Family catalogue.

There were two dancers Emma and Eileen in a clog off during the finale A Single Life Is A Happy Life.

The joyous vibe continued during sets by The Junes - featuring Espie, Carroll and Gleny Rae - and Marce Howard and Rose Bygrave.


BOB DYLAN GOSPEL CHOIR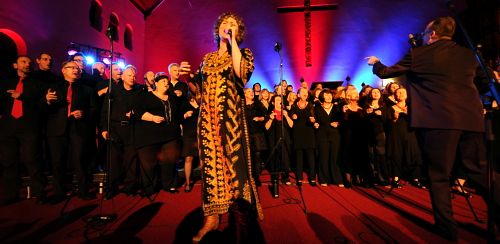 Melbourne Mass Gospel Choir
It was a strenuous Sabbath for Espie who kicked dew off the glass with Lang in the Melbourne Mass Gospel Choir on Stage 3 before returning for its evensong finale on Stage 1.

The 80 plus choir, clad in midnight black was directed by energised Phil Heuzenroeder, and also featured Daddy Cool guitarist Ross Hannaford, drummer Dave Folley, bassist Steve Hadley and organist Shannon Bourne.

I caught the climax of morning mass with director Phil's rhetorical plea for the audience to be saved.

"Are you saved," he repeatedly asked between Saved, Pressing On and Espie on the fiery finale Blowing In The Wind.

I wasn't sure so I returned for the evensong show that began with You Got To Save Somebody, Some Things We Can Change and Espie's powerful rendition of I Believe In You.

Tracey Miller also shouldered the vocal load with Are You Ready, Soul Drunk, Do Right To Me and What Can I Do For You?

There was also strong male presence with Timothy Slater firing Every Grain Of Sand, Meet Me In The Middle and Saving Grace.

Ben Street was lead vocalist on When We Gonna Wake Up and Hannah Acfield on Pressing On.

Jeff Lang did a cameo on Slow Train - "the song that kicked off Dylan's gospel era" - and it was the choir, in full voice, on riveting spirituals When He Returns and Saved.

But the climax was Espie fronting the choir finale Blowing In The Wind.
PETER ROWAN IN THE WIND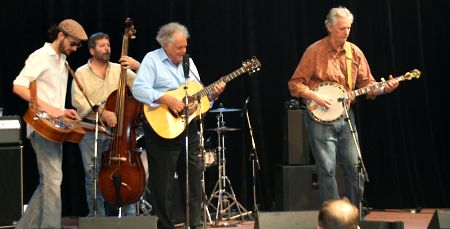 Peter Rowan - photo by Carol Taylor
When Peter Rowan ambled onstage with his quartet it was a trip through his bluegrass archives.

Not only did Rowan, now 69, reach back to his embryonic era with late Bill Monroe he also pioneered bluegrass psychedelia with Jerry Garcia of Grateful Dead fame.

It was during that trail blazing and genre-blending epoch that Rowan also created Old And In The Way in 1973 that morphed into Old And In The Grey.

But this time around, on his second sojourn here in two years, it was his bluegrass custodians - Michael Witcher on dobro, double bassist Paul Knight and Mike Munford on banjo.

They kicked off their first set with the riveting Dust Bowl Children - title track of his 1990 Sugar Hill album - that segued into harmonica fuelled Ruby Ridge.

"I bring out a CD every four or five years so every copy you buy is brand new," the Massachusetts born minstrel joked as he previewed The Family Demon from his 2010 CD Legacy on which he wrote all but three songs.

The quartet preceded "an old Ralph Stanley tune (an instrumental) with Father Mother - a new song he and brother Chris wrote after burying their father on a snowy Easter morning.

Equally evocative was another new song - Hey Jailer.

"My God is better than your God, my God does the job/ your God is just odd."

Rowan then recalled his era with Monroe's Bluegrass Boys and a trip on the icon's bus Bluegrass Breakdown where the vehicle emulated its title after they drove interstate to the Bean Blossom festival in Indiana after appearing on the Grand Ole Opry.

"I happened to be driving the bus when it broke down," Rowan recalled of writing The Walls Of Time.

"It was a beautiful spring morning and Bill and I wrote this song about it.

The quartet stretched out on The Land Of The Navajo and injected Bill Monroe's Brakeman's Blues, a train song, replete with yodels honouring The Singing Brakeman Jimmy Rogers
"Portland, Maine is the same as Sunny Tennessee/ any old place I hang my hat is sweet old home."

< photo by Carol Taylor
Rowan's combo covered geographical extremities in Sitting On Top of The World - a Garcia-Rowan gem with "bluesgrass refrain" - and Dallas and El Paso locales.

They also headed further south in the Lone Star state to San Antone for Moonlight Midnight and When The Train Left The Station.

The singer became satiric in Occupy The Tea Party with a Panama Red reference and extolled the virtues of the civil rights movement in Selma Montgomery in Freedom Ride.

It was a rich and warm performance with credit to Compass label-mates The Waifs and East Adelaide added to the lyrics of another song.

HOWARD FAMILY FINALE
It was also fitting that the Dennington born Damian Howard Band closed the festival with a spirited performance in the Shebeen tent.

I caught Howard, sister Marce, nee Marcia and performing partner Rose Bygrave in various tents and combos during the weekend.

The latter duo launched their new CD Pearl with originals diverse as Great Ocean Road, Two Sisters Dreaming, Guiding Star, The Distance and Willy Wagtail.

Damian's band also shared guitarist Lee Morgan with his sister's combo, pianist Richard Tankard, guitarist Jason King and bassist James Hirst.

It was the same tent where I saw Mick Thomas's Roving Commission featuring Squeezebox Wally launch their new album The Last Of The Tourists.
And where I caught East London Americana quintet Ahab showcase their harmonies on their original as well as Old Crow Medicine Show's Wagon Wheel.

Mosh pit dancing was another forte for both bands.

Thomas parodied faux City Of Darebin bottle bins and faux Irish bars back in the big smoke that charged $11 for beer and skittles.

Other artists worth a mention were humour fuelled The Pigs, Hat Fitz and Cara Robinson and The Stiff Gins.

But back to the Damian Howard Band who also performed tunes by local icon Andy Alberts - frequent performing partner of elder brother Shane.

Marce also showcased her song This Town Will Always Bring Me Back before first encore Out Of My Hands that preceded real finale Take Me To The River.

It was a hard act to follow and none could try as refrains of Lyle Lovett's Closing Time seeped deep into my psyche.
Review by David Dawson