DAVE'S DIARY - 2 /4/12 - MARCE HOWARD/ ROSE BYGRAVE CD REVIEW
2012 CD REVIEW
ROSE BYGRAVE & MARCE HOWARD
PEARL (POO1)
GREAT OCEAN IMAGERY

"Do you remember Lorne and Kennett River/ golden beaches on the way/ they're all along the coast/ we might make the lighthouse at Cape Otway/ if we drive all day and you can drive the most." - Great Ocean Road - Rose Bygrave.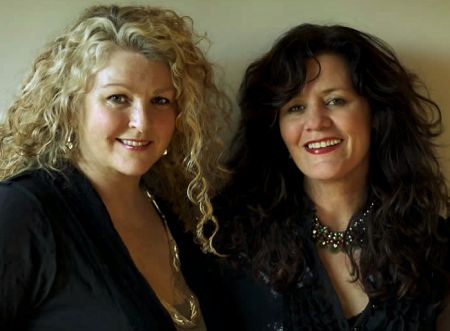 It may be a couple of long decades since Marce, nee Marcia Howard, and Rose Bygrave strutted their stuff with Goanna in their halcyon days in the eighties.

But the pair used the 36th Port Fairy Folk Festival as launch pad for their debut duet disc.

The duo began the project in late 2009 - 11 years after Goanna reformed to record Spirit Returns.

They wrote five songs each and helped flesh out mutual arrangements.

It was released eight years after Howard, now 51, launched her second solo CD Burning In The Rain at the Cornish Arms in Brunswick.

Former 774-AM evening host Derek Guille helped Marce launch that CD - and, as a latter day Warrnambool resident, he was at the festival for this momentous happening.

Goanna jokes ran rampant at diverse gigs during the festival - mostly by other artists - but the duo highlighted the Griffith Island lighthouse a time or two.

So it's fitting the disc entrée is the Bygrave song Great Ocean Road that name checks locales and coastal characters on the picturesque but equally treacherous byway for casual visitors and locals.

Like many inland Western District raised refugees the singer has soaked up the tales of those who live and love on the Shipwreck Coast and way beyond.

Howard, fifth of seven siblings born at Dennington west of Warrnambool on the Merri River and one time resident of Barwon Heads, has empathy with those time travel song sentiments.

The entrée segues into Howard's Looking For You - one of two tributes to late music buff father Leo who died two months shy of his 94th birthday on February 20, 2010.

It's an evocative reflection of joyous times - with her patriarch, mother, brothers and sisters - singing by the mighty Merri that ran past the family home at the Nestles, now Fonterra, factory at Dennington.

Such family soirees ensure the spirit in Howard's songs, delivered with immaculate vocals, are highly accessible.

The Bygrave song Universe, inspired by the 2006 Victorian drought that ravaged her hometown Willaura and environs, is also a tribute to country life with Marce and brother Damian harmonising.

Alan and Steven Pigram play dobro and ukulele and also provide backing vocals.

That family tradition continues on Howard's Willy Wagtail travelogue as her teenage son Liam Gubbins plays acoustic guitar with Lee Morgan on electric.

And, of course, Howard's indigenous dreaming place eulogy Two Sisters Dreaming where she also adds piano, strings and percussion to accentuate the duo's harmonic heavenliness.
GUIDING STAR
"This Christmas just doesn't seem right/ without you here to sing Silent Night/ but I will travel to your heart/ to the manger where the real things are/ your twinkling eyes are my guiding star." - Guiding Star - Marcia Howard.
Morgan plays guitar on haunting Bygrave gospel blues song The Distant Child - one of several featuring fellow coastal singer-songwriter Dave Steel on dobro and fiddler Matiss Schubert.

The vanquished victim in the song, aged three when she loses her mother, is a composite of schoolmates of the two singers drawn from their era at primary schools in Willaura and Dennington.

Howard and Bygrave delve into the childhood traumas suffered by rural raised families long before grief counselling was accessible and social intervention activated beyond the big smoke.

Steel also plays mandolin on Bygrave hard times homily All Written There (on your face) and fiddler Tony O'Neill guests on her title track Love Makes A Pearl.

Howard's road band drummer Jon Emry and guitarist John Hudson light up her heartbreak requiem Everything Reminds Me with Sandy Brady on double bass giving it a Latin lacing.
The duo finishes the disc with its only cover - the late English songwriter Lesley Duncan's Love Song - a tune she cut as a duet with Sir Elton John on his 1974 Tumbleweed Connection album.

Another 150 artists, including Olivia Newton-John and David Bowie, cut the song penned by Duncan, real name Cox, who died at 66 on the Isle of Mull in Scotland on March 12, 2010.

Duncan released eight solo albums before retiring in 1980 after writing three songs with Scott Walker for the Walker Brothers and sang back-up vocals on Pink Floyd's huge selling 1973 album Dark Side Of The Moon.

But the Bygrave-Howard artistic, arguably creative peak, is Marce tune Guiding Star - the second inspired by late family patriarch Leo.

Here the singer borrows lines from cartoonist Michael Leunig's poem Christmas in a powerful paean to the annual family celebration without their creator.

It's a sentiment felt by many but rarely expressed with such passion by a child left behind with a widowed mother.

Bygrave and Howard recorded the album at home studios in Queenscliff and Warrnambool with Emry's drums added by Lost In Suburbia bassist Peter Bird at his Yelp studio in Howard's hometown.

Bassist Isaac Barter and previous producer Steve Cooney plays guitar on the disc.

OK that's the plot - how does it sound?

It's an organic reflection of the journey of two sisters in song from their rural roots to national fame and back to where it all started - country folk music stripped down to bare essentials.

Pure vocals, perfect enunciation and impeccable harmonies ensure these homespun homilies and modern messages are massaged as they meet on high at the pass.