DAVE'S DIARY - 12 APRIL 2010 - BETH NIELSEN CHAPMAN
BETH NIELSEN CHAPMAN - SAVED AGAIN
"You could spend your whole life wanting what you don't have/ tangled in the pain and strife, dragging up the ghosts of your past." - Even As It All Goes By - Beth Nielsen Chapman-Annie Roboff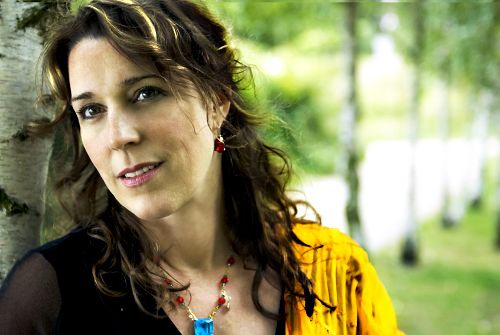 Acclaimed Texan born Beth Nielsen Chapman has God on her side and a posse of Good Samaritans to thank for her belated Australian tour.

The latter born Nashville singer-songwriter boomeranged from the death of her husband and two brushes with her maker to arrive here at the ripe young age of 51.

Chapman is indebted to writing partner Annie Roboff for alerting her to a brain tumour and her surgeons for saving her life twice.

Roboff suggested to cancer survivor Chapman it was not writers' block that impeded her writing.

So Chapman, then 50, visited a doctor who diagnosed a brain tumour was pressing into her left frontal lobe - language centre of the brain.

When she awoke from her Nashville operation she had more good news.

"I woke up in the recovery room after my surgery and even before the waves of anaesthesia subsided, I thought of one of the lines I'd been trying to write for weeks," Chapman revealed of a song on her ninth album Back To Love.

Chapman has released her album in Australia on her indie label BNC Records through MGM indent The Planet before its U.S. May 25 release.

She is punctuating her live concerts with a brace of writing workshops on the East Coast.

"It's no coincidence that many of these songs are about awakening the heart and letting love in, embracing every moment as it comes flying through the hourglass," she added.

"I was trying to finish some of the lyrics for the record but I was just stuck and I couldn't understand what was going on. There was something funny happening with my ears and they wanted to do a scan, then they saw the scan and said 'You have another problem that you may want to look at first.' "So we scheduled the surgery and it was really daunting but when I got through it was such a relief that it all went okay. And then all of a sudden my lyrics started coming back to me."

She says some of the songs were finished in no time once she underwent the operation.
HAPPINESS AGAIN
"Happiness showed up today and rang its bell above the din/ long enough to change the spin and turn my wheels around." - Happiness - Beth Nielsen Chapman
It was déjà vu for the singer who plays Spensers' Live, West Melbourne, on April 16 and Harmony Row Vineyard near Kyneton on April 17.

She lost husband Ernest to cancer in 1994 and began writing new album centrepiece Happiness in 2000 during chemotherapy treatments for breast cancer.

Chapman penned all 11 songs and believes writing is the best therapy.

She set celebratory tone with Hallelujah and I Can See Me Loving You - collaborations with Dixie Chicks hit writer Darrell Scott.
Other collaborators were Doobie Brothers singer Michael McDonald, Benmont Tench of Tom Petty & The Heartbreakers, Danny Flowers and Roboff.

They all play and/or sing on Back To Love - a disc featuring in demand bassist Dave Pomeroy and Victor Caldwell, guitarist Pat Buchanan and a pair of percussionists Brian Pruitt and Craig Kampf.

"Even As It All Goes By really developed over a long period of time," Chapman revealed.

"I wrote that with Annie Roboff. I actually started on it in 2004. So I'd work on it here and there and it still wasn't finished last spring, but as soon as I woke up from the surgery I was like 'Get me a pencil.'"

Chapman and Roboff also wrote Alabama born singing actress Faith Hill's huge hit This Kiss renowned for the lyric "centrifugal motion," unlikely to be reprised in rap or pap.

Hill, singing spouse of Louisiana born singing actor Tim McGraw who played the husband of Oscar winner Sandra Bullock in The Blind Side, also cut the Chapman song Free.

Roboff was collaborator on Free and Right Back Into The Feeling.

And although Beth credits Roboff with the "centrifugal motion" line she accepts credit for "I hold my PHD in crash test blues."
HITS, MOVIES AND TV MUSIC
"While the clouds hurl shadows/ I've looked at clouds from both sides/ while the clouds hurl shadows at the wind." - Clouds - Beth Nielsen Chapman.
Chapman embraces all shades of love on her new disc on which she plays guitar, bouzouki, piano and phone books.

She also pays homage to Canadian chanteuse Joni Mitchell in Clouds - one of several songs to feature a string section.

Chapman had her first hit in Australia in 1990 with All I Have.

Since then her songs have graced movies The Prince of Egypt, Message In A Bottle, The Rookie, Where The Heart Is and Practical Magic.

She also wrote I Find Your Love - a song commissioned for Calendar Girls by music director Patrick Doyle.

"He said he wanted me to write the lyrics because there was a spot in the movie it would be perfect for," Chapman revealed in a 1994 interview with me.

"I wrote it on Saturday, recorded my piano and vocal part on the Sunday, and emailed it to him on Sunday night. On Monday morning he put a 26-piece orchestra on it. It was the fastest record I ever made. Unfortunately it didn't end up in the movie. We thought it should have been but it's on the soundtrack. Now I get so many letters and emails about that song. I think it's touched a lot of people."

The singer wrote Say Goodnight, finale song in Dawson's Creek, and had other tunes in ER, Providence, Felicity and diverse TV shows.

She also penned hits for Willie Nelson, Waylon Jennings, Faith Hill, Emmylou Harris, Tanya Tucker, Lorrie Morgan and Trisha Yearwood.
OLIVIA NEWTON-JOHN - FELLOW SURVIVOR
"Life has taught me this, every day is new/ and if anything is true, all we're worried about when we're through is how we love." - How We Love - Beth Nielsen Chapman.
Chapman wrote Sand And Water after nursing her husband for two years until he died of cancer in 1994.


And six years later she was diagnosed with breast cancer and reached out to close friend Olivia Newton-John.

Chapman said the singing actor helped conquer stage-two breast cancer as she finished a previous album Deeper Still.

"The day I was diagnosed I made a phone call to Olivia, I was completely coming out of my head," Chapman said.

"I was very shocked, very worried and concerned. I didn't know where to start. She helped me directly, put me in touch with her oncologist. She gave me her doctor's home number. It was a Sunday afternoon. I was just a disaster. He gave me really great advice. I was thinking of flying to New York and California and interviewing doctors and getting the best doctor in the world. He said 'you're living in Nashville, there's fantastic doctors in Nashville at Vanderbilt University, you need to conserve your energy.' He gave me a doctor's name and set me on my path."

Chapman is proud of the work she and Olivia have done for fellow cancer sufferers and survivors.
KASEY JONES - SORDID LIVES

"Welcome to the chaos, to the stacks and scraps of paper/ puppets hanging in the kitchen/ in an avalanches of wood chimes." - I Need Your Love - Beth Nielsen Chapman
It's a vast contrast to comedienne, singer-songwriter and 2008 Australian tourist Kasey Jones whose songs featured in Olivia movie Sordid Lives in which she played a lesbian former convict country singer.

"I was going to come there and perform with Olivia her before I was diagnosed with cancer," Chapman revealed.

"We've become very good friends and we both work together on this organisation called CHECK which helps educate people about toxins for children. We stayed good friends but we haven't toured together but I'm hoping to do that. . Olivia was a very good friend to me. She gave me all her phone numbers so I could call her day or night - and I did - she was a great friend during that time. The good part about going through that is finding out how wonderful people can be. You really get to feel their love and support, that was a great thing, I'll never forget that."

Nielsen Chapman performs Spensers Live - West Melbourne on April 16 and Harmony Row Vineyard near Kyneton on April 17.

Bookings - Spensers Live - 03 9329 8821
Harmony Row - Phone: 03 54 235 286.

CLICK HERE for a previous interview with Beth in the Diary on August 7, 2004.

2010 CD REVIEW
BETH NIELSEN CHAPMAN
BACK TO LOVE (BNC-THE PLANET)
"Hallelujah, here we are now/ at the same fork in the road/ we don't know why, we can't say how/ we're still carrying this load." - Hallelujah - Beth Nielsen Chapman-Darrell Scott
Beth Nielsen Chapman has good reason for a belated Australian tour long after fellow Texans Willie Nelson and Waylon Jennings who also cut her songs.

Chapman, 51, survived a brain tumour and breast cancer after losing her husband in 1994 to a terminal disease.

Although the tumour was discovered during writing for her ninth album she turned pain into passion.

"l woke up in the recovery room after my surgery and even before the waves of anaesthesia subsided I thought of one of the lines I had been trying to write for weeks," Chapman confessed.

The results are apparent on 11 original songs on a Celtic flavoured indie disc - her first album in six years.

There's a joyous feeling from entrée Hallelujah and I Can See Me Loving You, both penned with bluegrass doyen Darrell Scott, and latter featuring the singer on bouzouki.
Chapman, whose vocals soar above subdued string section, exorcises the ghosts of past in Even As It All Goes By - collaboration with frequent co-writer Annie Roboff, and new beginning in How We Love.

This is chagrin unchained from deepest chasms of the soul in the chaos of choices in I Need You Love that segues into daily baptism of the heart in More Than Love.

The latter, penned with Tulsa Time writer Danny Flowers, is a salient signpost to healing power of song reflected in titles such as I'll Give My Heart, Happiness and Peace, right through to triumphant finale The Path Of Love.

The singer began writing Happiness in 2000 during chemotherapy for breast cancer.

Chapman rues health hurdles in the wasted years, replaced by optimism in Peace, penned with Michael McDonald, and nod to Joni Mitchell's Both Sides Now in Shadows.

We'll dance until we're dead, let the clouds hurl shadows at the wind."

Co-writers diverse as Heartbreakers pianist Benmont Tench, McDonald, Flowers, Scott and Roboff guest on their chosen instruments but few are likely to make the trip here.

It may well be just Chapman on vocals, guitar and piano when she plays Spensers Live on April 16 and Harmony Row Vineyard - April 17.

A welcome guest would have been Dixie Chicks hit writer and renowned solo artist Scott on mandolin, slide and acoustic guitar.

But, with the seasonal spate of roots tours flooding the autumnal market, we're lucky to belatedly welcome the artist.