DAVE'S DIARY - 24 APRIL 2008 - CHRIS GAFFNEY OBITUARY
CHRIS GAFFNEY RIP AT 57
BORN VIENNA - AUSTRIA - OTOBER 3, 1950
DIED NEWPORT BEACH - CALIFORNIA - APRIL 17, 2008

"When the sun goes down and the heat stays on/ young men fight and they carry on/ it's just a way of life down here in the gardens." - The Gardens - Chris Gaffney.
When Chris Gaffney toured Australia with The Hacienda Brothers in autumn, 2007, he showed no signs of the liver cancer that claimed him at 57 just a year later.

Gaffney passed away in the Hoag Memorial Hospital Presbyterian in Newport Beach on the morning of April 17 with his wife Julie and family at his side.

The singer and renowned accordionist was rushed to hospital after suffering a fall at their family home in Costa Mesa the previous night.

Gaffney had been undergoing treatment for the cancer, diagnosed in February.

It was the tragic end of a colourful life that began in Austria before his family moved to Italy and back to the U.S.
But for those who caught Gaffney perform here with The Hacienda Brothers there are precious memories.

Gaffney gave an energised performance with the Arizona formed but California based western soul band - one of his two major side projects when not performing as a solo artist.

The Hacienda Brothers played Northcote Social Club after performing at the Byron Bay Blues festival.

Gaffney played tunes from his six solo albums Road To Indio, Cold Hard Facts, Mi Vida Loco, Man Of Somebody's Dreams (live), Loser's Paradise and double CD Live & Then Some.

All scored airplay on Victorian community radio - Nu Country FM, David Heard's Acid Country on PBS-FM and Denise Hylands' Twang on RRR-FM.

Gaffney's instrumental Accordiana was once the theme song of Heard's popular long running PBS show in its Rockin' Country era.

Equally popular was his version of Tom Russell's tune The Eyes Of Roberto Duran.

The tribute to Panamanian boxer Duran was pertinent.

Gaffney, like the late Lefty Frizzell, was a Golden Gloves contender in his youth until he suffered a detached retina in his left eye.

And Gaffney shared pugilistic prowess with fellow soulful country singer-songwriter Paul Thorn who fought Duran before changing careers.

Gaffney was a long time member of Dave Alvin's band The Guilty Men and recorded four albums with The Hacienda Brothers.

The latest Arizona Motel, recorded at Cavern Recording Studios on Dodge Boulevard in Tucson, Arizona, in January, will be released on June 24 on Proper and distributed by Rykodisc.

The band formed in Tucson at the 40th birthday party of co-writer Jeb Schoonover.

It was also Gaffney's birthday.

"He didn't care about anything in the music business," Schoonover said.

"I loved that about Chris. It was like, 'To hell with it; life's too short.' And as it turned out, life was too short."
FROM AUSTRIA TO ARIZONA
"I'm so far from God and too close to you/ don't cry when I'm gone because that's what I must do." - So Far From God And Too Close To You - Chris Gaffney
Gaffney was born in Austria and spent much of his childhood in Arizona where he attended junior high school and became a skilled accordion player before learning guitar.

"I didn't come to the U.S. until I was three," Gaffney revealed on the Hacienda Brothers web page.

"I was born over there, in Vienna, Austria."

Gaffney's father - a former soldier and telephone company executive - frequently moved in his career.

"We lived in Italy, after World War II," Gaffney added.

"We lived in Austria for three months then moved to Livorno, Italy. We moved to the USA when I was three years old to New York City. That's where my dad, Frank was from. He was very much into music as long as it was Sinatra or Dean Martin. I spent time between Southern California and Arizona as a boy. Music never really occurred to me then because naturally sports took first priority."

But music preceded sport for Gaffney at one stage.

"I took accordion lessons when I was eight years old," Gaffney recalled.

"I think that lasted a year. I never picked up the guitar or anything until, well, maybe high school.

And it was while at Western High School in Anaheim that he developed a penchant for boxing.

"I wanted so badly to be the Welterweight Champion of the world," Gaffney added. "Sugar Ray Robinson was and still is my idol. I was not him. I'm a giant boxing fan. I had 83 fights myself and could never get away from the game."

That was until he suffered his career ending eye injury in his last bout in 1967.

"I really don't see too good out of my left eye," Gaffney told Douglas McPherson in Country Music People in 2005.

"So that's my weak spot if you need to know."
CALIFORNIA BAR WARS
"When the boys drive through random bullets fly/ the baby plays as she waits to die." - The Gardens - Chris Gaffney
Gaffney also played in a variety of covers groups during his teen years and early 20's.

"When my brother got out of the navy he asked me if I wanted to take trip to Canada - drive his car with him," Gaffney recalled.

"I liked it so I stayed for a couple of years."

He later paid his dues in house bands, including a stint as a bassist in Toronto where he backed legends like Ferlin Husky and Webb Pierce.

"Webb was a fierce drinker with all the problems that entails," Gaffney recalled in 2005.
"Ferlin Husky was a sweetheart. Watching them I learned how to put on a show. But they were just passing through so we didn't really get to know them much."
But when the Gaffney brothers returned home to California they developed an eclectic hybrid of country, soul, R&B and Norteno music.

"I was always a big R&B fan, and I also like steel guitar, so I couldn't see why the combination wouldn't work," Gaffney added.

By the early seventies he was a popular fixture on the California bar scene, playing multiple sets each night in small clubs such as the Upbeat in Garden Grove and the Swallows Inn in San Juan Capistrano.

Gaffney was toiling in Newport Beach shipyards as a construction worker during the day while singing for his supper.

"I was working guy before becoming an unheralded roots-music recording eminence and I continue to do that. If they don't want to put out an album, I'll go and do my day job," he told The Los Angeles Times in 1999.

What sustained him, he said, was "the music, and I love the people. You surround yourself with good friends, and you're good to go."

Gaffney frequently wrote and sang about life in California.

In the song Artesia he evoked memories of his teenage years cruising through the San Gabriel Valley.

And he also reaped what he sowed from the Hawaiian Gardens - the Hispanic area of Los Angeles where he lived at the time.

His song The Gardens, also late recorded by Freddy Fender and the Texas Tornados, explored the impact of gang violence on that community.
COLD HARD FACTS
"My baby's a got a dead man's number even though he's 10 years gone/ my baby's got a dead man's number and he's still hanging on." - My Baby's Got A Dead Man's Number - Chris Gaffney.
Gaffney later formed an active partnership with Wyman Reese in 1977.

The pair spent several years on the road refining their unique sound.

Reese produced Gaffney's first three albums - Road to Indio (1986), Chris Gaffney and the Cold Hard Facts (1990) and Mi Vida Loca (1992).

Road To Indio - originally an eight-track vinyl EP - was re-released as a double CD in 2000 as Live & Then Some with 15 extra live tracks recorded at The Swallows Inn in San Juan Capistrano on March 27-28, 1999.

"I called it Road To Indio because my friend RJ and I were driving to Indio," he told Country Music People.

"It sounded like a great name for a song. You know, we got cut off by some heavy metal guy in a 65 Mustang and I just started writing the song."

The critical acclaim for his second indie disc The Cold Hard Facts led to a deal with Hightone for Mi Vida Loca.

Although Gaffney recorded Pam Tillis's dad Mel's song Mental Revenge in 2005 with the Hacienda Brothers his title track was not Pam's 1994 hit of the same name.

"Mi Vida Loca is Dave Alvin's song," Gaffney explained.

"Contrary to popular belief it was not written by Pam Tillis. As for the album itself it was somewhat biographical."

Mi Vida Loca featured poignant Gaffney-Alvin Vietnam War vignette '68 - two other collaborations on Silent Partner and Six Nights A Week - and Gaffney gem Artesia.

Gaffney also recorded Somebody's Dream live at the Red Moon Festival in Zurich in Switzerland in 1994 for Scandinavia label Country Records.
DAVE ALVIN
"Let's make a toast to the times we've had/ the good, the crazy, the rough and the bad/
we've survived every one, a couple of losers who won/ and when it's all said and done, we're two lucky bums," - Two Lucky Bums - Chris Gaffney-Dave Alvin.
Gaffney hooked up with Alvin - The Blasters co-founder and long time solo recording artist - for his 1995 album Losers Paradise.

It featured Donald Lindley on drums, Sarah Brown on bass, Ted Roddy on harmonica, Bradley Jaye Williams on bajo sexto-accordion, Gene Elders on fiddle, Scott Walls on pedal steel and Big Boy Boudreaux on rub-board.

Besides contributing his six-string and song writing, Alvin also served as producer.
Guest artists included Lucinda Williams, Ponty Bone, Ian McLagan, Rosie Flores, Dale Watson, Tony Villanueva of The Derailers and Jim Lauderdale who contributed to all of Gaffney's albums.
Williams sang on the Gamble-Huff song Cowboys To Girls - originally a 1968 R & B hit for The Intruders.

Most requested tracks here included the title track, So Far From God And Too Close To You, My Baby's Got A Dead Man's Number, Ed Bruce tune See The Big Man Cry and the Alvin-Billy Swan song East Of Houston, West Of Baton Rouge.

Gaffney spent almost a decade working and recording with Alvin's band The Guilty Men - they graphically depicted their neon honky tonking in their collaboration Six Nights A Week.

"One of the things that may have hindered him commercially was that he couldn't turn it on; he was a hundred percent honest," recalled Alvin, who considered Gaffney his best friend.

"If Chris is in a good mood, you get an amazing show; if he was in a bad mood, he wouldn't hide it."

Gaffney and Alvin best captured their friendship in Two Lucky Bums - a song they recorded in December.

Gaffney was in big demand as a session player.

His credits include appearances on albums by Rick Shea, Christy McWilson, Amy Farris, James Cotton, Billy Bacon & The Forbidden Pigs, Bill Kirchen, and Tom Russell.
HACIENDA BROTHERS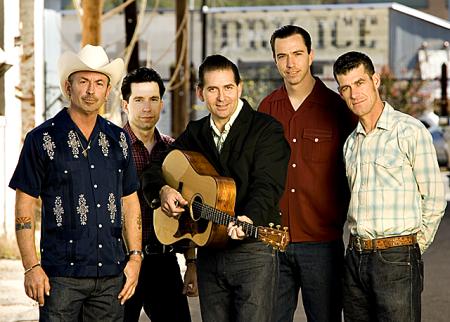 Gaffney and long time friend and San Diego musician Dave Gonzales first performed with The Hacienda Brothers in 2002.

Gonzales, a guitarist, singer, and songwriter with veteran blues-rockabilly combo The Paladins, needed an outlet for his country songs.

"There's not many people who can sing like him. It's like James Brown meets Waylon Jennings," Gonzales said of Gaffney.

Gonzales and Gaffney, who both attended high school in Arizona, decided to use Tucson as their recording base.

They fleshed out their sound by adding pedal steel guitarist David Berzansky, bassist Hank Maninger and drummer Dale Daniel.

And the band name?

"Our manager has a place in Tucson we always used to call Honky-Tonk Hacienda," explains Gaffney.

"We named ourselves after that."

Gonzales persuaded legendary soul producer and songwriter Dan Penn to produce its self-titled debut disc in 2005.

Penn contributed two songs and produced a sequel What's Wrong With Right in 2006.

Live CD, Music For Ranch & Town, was released unofficially in August of 2007 and the band won a nomination for Americana Music Association Duo/Group of the Year.

Gaffney's passion for boxing was resurrected when Hacienda Brothers cut his song Nobody Sang Danny Boy Tonight.

"It's a tale about the Barry McGuigan, the Belfast fighter, when he lost his title to Stevie Cruz in Las Vegas," Gaffney revealed in 2005.

"That was the first time his dad hadn't sung Danny Boy before his fight because he had passed on."

Gaffney's death was premature but the memories are etched deep in his rich musical legacy.

"He might have gone out early, but he did everything he wanted to do," said brother Greg - a survivor of their collective bar wars.

"He loved being on the road, happy in a van with a bunch of buffoons."

In addition to his brother Greg of Costa Mesa, survivors include his wife, Julie, of Costa Mesa; daughter Erika of Houston; sister Helen of Oakland; and brother Robert of Vancouver, Canada.