DAVE'S DIARY - 15 APRIL 2008 - GEELONG STAMPEDE REVIEW
GEELONG STAMPEDE
EASTERN PARK - GEELONG
CATS AND LIMEBURNERS

There were no lime burners at work on the point and cove that bore their name but a flotilla of yachts and other small sea craft dotted this picturesque Corio Bay vista out yonder from the crumbling cliffs.

The lime burners celebrated their hey-day nearby in four kilns a few moons back in 1866.
But there were still lime traces in the soil beneath the green grass that had turned to brown over the long hot summer in the fenced off Eastern Park compound perched high above the serene seascape.

Yes, this was the locale for the inaugural Geelong Stampede - advertised as a "new frontier."

It was a new frontier in 1838 when our ancestors settled on Corio shores.

And now, on an autumnal Saturday, it was again.

The Stampede, headlined by Corryong born Australian of the year and country king Lee Kernaghan, debuted at Dreamworld on the Gold Coast in 2007.

But this time it moved due south to the hometown of the reigning AFL premier, set to unfurl two flags on the Sabbath.

So it was fitting that more than half the Cats half back line - Casterton born Max, nee Jarard Rooke, and Geraldton reared Harry Taylor - fronted for the stampede with their Barnawartha bred team-mate and ruckman Dawson Simpson.

They drifted down the parched paddock, free of tackles, to the front at stage right for The McClymonts snappy set.

But it wasn't The McClymonts who kicked the dew off the grass in this historic fest - that honour was bestowed on Ruby 9, fronted by Kristy Oates, who was followed by Kirsty Lee Akers.
KIRSTY LEE AKERS
Akers, winner of best new talent Golden Guitar at the recent 36th Australian Country Music Awards in Tamworth, performed with a stripped down house band.

This early spot on the bill could have been a disadvantage for a lesser talent.

But the diminutive diva kicked off with new single The Territory - one of four from her debut disc penned by another Kentucky coalminer's daughter Angaleena Presley.

The minimal instrumentation was a bonus for Akers.

It drew attention to the plight of the song subject - a child taken from her biological mother at three and raised for 15 years by a succession of foster parents.

Akers drove home the message as she sang of her character's fear of the future - "one more week I'll turn 18/ and what'll I do when the territory's through with me."

This fragility resonated with the narrative driven members of the audience.
But Akers ensured a massive mood swing when she introduced her original song It Gets To Me.
"This is a man bashing song about a guy who broke my heart," explained the singer who won the Tamworth Starmaker quest last year at 19.

"This is how I got back at him."

So Akers unleashed both barrels - "I hate you have your one night stands/ the girls that hang around your band/ it gets to me."

The singer perfected gender reversal in Grand Ole Opry icon Little Jimmy Dickens' historic hit I'm Little But I'm Loud.

"It's all about me," she said as she looked up at her towering on-stage peers.

Akers also punctuated two more Presley songs Which One Of You Boys? and album title track Little Things with Angela Kaset-Liz Rose song Goin' To The Beach.

The latter song has spawned a video that we will feature in Series #10 of Nu Country TV.

So, apart from that, why are we highlighting the singer?

Akers is an amazing artist whose talent belies her stature.

Ironically, Kirsty shares more with her major song source Presley than I realised.

She hails from Kurri Kurri in the winery belt of the Hunter Valley that was once the hub of South Maitland - the richest coalfields in the Southern Hemisphere.

Those coalfields, discovered in 1886, peaked in the mid twenties but had expired by the sixties.

That was long before the birth of Akers now mining similar shafts to her benefactor Presley - descendant of a fourth generation coal mining family in quaintly named Kentucky coal mining town Beauty.

Trivia buffs, probably the only readers still here, might recall other famous Kentucky coalminers' daughters include Loretta Lynn, sister Crystal Gayle and Patty Loveless.

Allow me to digress once again.

Presley and Kaset, whose songs adorn Akers disc, write for long time Nashville based expatriate Australasian publishers Barry and Jewel Coburn - neither of whom share mining roots.

Akers proved in her short but sparkling set she has natural charisma.

And she is sparkling much earlier than the character in oft-recorded Billy Joe Shaver song I'm An Old Chunk Of Coal But I'm Gonna Be A Diamond Some Day.
TRAVIS COLLINS
Next artist Travis Collins had vastly different roots - he hails from Macquarie Fields in former sheep country near Campbelltown south of Sydney.

But Collins, 23, is also a former Starmaker winner and new talent Golden Guitarist with a distinct rocking country format aimed at the youth demographic, nurtured by PAY TV channel CMC.
The singer connected easily with the crowd, oft distracted by urban cowboys jostling to ride a mechanical bull grazing in a mattress-adorned corral.
He opened with Keith Urban-Hugh Murray tune Yeah She Does from his second ABC album No Boundaries and revealed he was wearing a cap because he shaved his hair for the Leukemia Foundation.

That was before explaining the source of divorce fuelled Empty House - written with James Blundell - and his remorse rooted ballad Don't Win Enough.

Collins pumped up the energy and creativity with his riveting road song Full Tank and maybe emulated former convict and outlaw legend David Allan Coe in unreleased job liberation celebration Fired Today.

The singer also incorporated Alanis Morisette-Glen Ballard hit Head Over Feet in his new tune You Drive Me Crazy.

It was a perfect segue into his new single Rip It Up - penned with road band bassist Scotty Greenaway.

Collins made the most of his early time slot to ensure fans visited the merchandise stall - a nice little earner.
THE MCCLYMONTS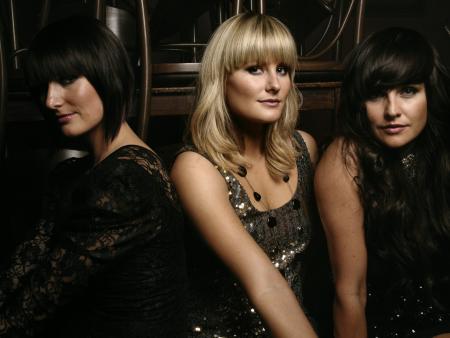 Grafton born sisters The McClymonts attracted the local fire brigade on their last visit to Geelong with Lee Kernaghan.

Costa Hall was cleared twice - because of faulty fire alarms.

So it was no surprise they welcomed their audience with the famous words "Hello Geelong - you guys are on fire."

This time it was a six-pack of uniformed cops in matching yellow reflective jackets, who had cameo roles, albeit passive, to the south side of the sea of seats in the mosh pit.

There was little active duty for cops, private security guards or rubbish pickers, also in yellow.

Bassist Samantha, Brooke on acoustic guitar and youngest sister Mollie on mandolin were almost pitch perfect as they shared lead vocals and harmonies.

The trio, in town to promote debut Universal Music CD Chaos & Bright Lights, was fleshed out by fiddler Luke Miller, guitarist Nick England and drummer Rusty.

They covered all facets of loving, lying and cheating in radio friendly My Life Again, Save Yourself and Good Cry.

But it was the escapist Ghost Town, the disc finale, and the hedonistic field playing of Favourite Boyfriend Of The Year that gave them depth.

So did the nocturnal shelter of Shotgun - one of the trio's many co-writes - on a disc that swelled their Golden Guitar tally to three.

They reached back to dual Guitar winning debut EP for Baby's Gone Home before lifting the tempo with bluegrass belter Don't Tell.

There was movement at the rear of the stage with belching of the smoke machines as the girls dusted off Alex Harvey classic Delta Dawn - originally a 1972 hit for Texan temptress Tanya Tucker at 14.

By the time they reached the finale You Were Right Until I Proved You Wrong there was already a rush for the merchandise queue.

Not much gets past the Geelong half back line, but with less than 24 hours to the sky dive and unfurling of two premiership flags, the muscular male trio stepped aside.
SARA STORER
The McClymonts record label Universal's massive media campaign to pitch the trio into the mainstream has been more overt than EMI's re-branding of Sunraysia raised former teacher Sara Storer.

Storer had new producers - Matt Fell and Waifs guitarist Josh Cunningham - for her fourth album Silver Skies.

But it's unclear if she was top of the pops on local hits and memories station Bay FM whose promo banners adorned the stage.

Storer earned major media features in the mass circulation Herald Sun and Beat on the eve of the Stampede.
But her delivery is still as down home and folksy as when she first quit Kalkaringi in the Northern Territory to expose her rural rooted tales with assistance of her original producer Garth Porter.
She opened with her accordion fuelled Get Outback and the flippant Dungarees.

Our outback was where Storer, now 34, earned her stripes after leaving Wemen near Robinvale for Kalkaringi in her first years out of teachers college.

It was no surprise she chose rural suicide anthem, Land Cries Out, source of the latest two of her 11 Golden guitars.

Storer is proud of her roots - she repeated anecdotes about her father's tractor prang inspiring second album title track Beautiful Circles before reviving Raining On The Plains Again and Silver Skies.

The laconic singer lightened up with Long Live The Girls, inspired by her nieces, the pursuit of outback men in the self deprecatory Man Traps and childhood landscape in Mallee Tree.

Storer also quipped she had stolen South Australian born but latter day fellow Central Coast chanteuse Beccy Cole's band, led by guitarist Duncan Tombs, before chancing her arm on Irish ditty Molly Green.

The frequent visitor, returning to her home state for the Apollo Bay Music Festival on the Anzac Day weekend and pub dates, finished with Back To The Territory - also on her new disc.

Storer passed the baton to Cole on a stage where changeover times were as short and sharp as a Willie Nelson picnic operating with the luxury of two stages.
BECCY COLE
Beccy Cole is far more extrovert than Storer - she's renowned for multi-instrumental talents and humour shared with Geelong born singer Adam Harvey on joint tours.

But today the South Australian born singer pulled off a marketing masterstroke - she paid homage to a rock peer who first drew breath in the Corio Bay city.

"This is a tribute to Geelong born rock chick Chrissie Amphlett," Cole told the crowd as she previewed Divinyls hit Pleasure & Pain - also the name of the recent Amphlett autobiography.

"We've countrified it."

That was not, of course, the first song of Cole's set.

It was performed midway through her energised visit that began with sardonic Better Man - Cole's cover of a tune penned by Nashville hit writers Connie Harrington, Tom Shapiro and Tony Martin.
"I don't need to be a better woman/ I just need a better man."

Cole reached back for geriatric parody Sorry I Asked before leaping on to Lifeboat off her recent Live At Lizotte's album.

She maximized a hefty female audience presence with her anthemic Girls Out Here.

"You don't mess with the girls out here/ it's a wild and crazy chick frontier."

It's also prudent not to mess with Cole in the marital field.

She repeated her story about her ill-fated marriage to fiddler Mick Albeck.

"This is my divorce song," Cole quipped about Feel This Free.

"We got married on March 20, 1997. We were married two years, Like Harvey Norman it was interest free. I have been free for nine years since then."

Cole finished her set with Lazy Bones - certainly not a comment on headliner Lee Kernaghan.

LEE KERNAGHAN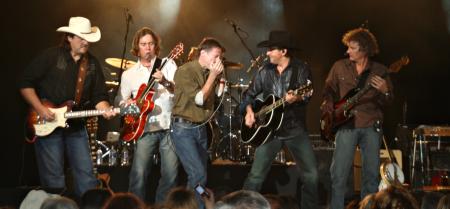 For the first time in the musical marathon that began at 2 p m there was a larger gap between artists as the stage underwent a major makeover for Aussie country king and Australian Of The Year - Lee Kernaghan.

The transition from dusk to night dovetailed with a huge increase in the energy level as Kernaghan and band arrived on stage and opened with Tracy Byrd tune I'm From The Country and eighth album title track The New Bush.

It was symbolic that the third song was Sassafras Gap - the Bernie O'Brien tune that was a radio staple for pioneer progressive country band Saltbush in 1976 and won the band a Golden Guitar for best new talent in 1977.

Kernaghan proved the song had stood the test of time by releasing it as a single and including it on his ninth CD Spirit Of The Bush.

Long time band member Lawrie Minson added harmonica and then swapped to banjo for Love Shack that followed the murder mystery Three Chain Road.

Kernaghan revealed he had written Just The Way It Is on one of many outback trips then added that Geelong was the centre of his country music universe.

"I have had some of my best times here in Geelong," he added before paying tribute to Ordinary Blokes and then waitresses in Something In The Water.

Tributes are among the singer's many strong suits - especially for his late grandfather Patrick whom he honoured with his embryonic hit Leave Him In The Longyard.

"He spent most of his life as a drover in the high country," said Lee of his childhood mentor whom he credited with the inspiration for other early hits Outback Club, Boys From The Bush and High Country.

"I wrote this when pop died."

The singer urged his audience to ignore warnings about the use of cameras, videos and tape recorders as he introduced Baptise The Ute.

"Turn them on," the singer urged, "there are no rules."

But he slowed down the tempo when he dismissed his band and swapped guitar for piano as he performed High Country.

"I didn't realise a song about growing up in the bush could be so special," the singer confessed as he stayed seated for Boys From The Bush.

The spotlight hovered above the piano as he introduced Missing Slim.

"He would love to be standing in front of you and singing these songs," Kernaghan added.

This solo cameo slowed the tempo until the band rejoined him for anthemic hits Hat Town, Outback Club and recent treble Golden Guitar winning title track Spirit Of The Bush.

By now it was time for an encore in a generous 17-song set and explanation of where Carlton supporter Kernaghan would be when Geelong unfurled its premiership flags on the Sabbath.

"I'm going to Woodsdale in the middle of Tasmania tomorrow," he said of a visit for farmers group Aussie Helpers.

"I'll be standing in a paddock where they have had seven years of drought."

But there was no music drought in encore When Country Comes To Town.

My apologies for not staying for the Stampede finale - Condoblin raised pop singer Shannon Noll.

But a dizzy spell, later diagnosed as a perforated eardrum, found me seeking solace in a hasty retreat from the scene of the rhyme and lime.