INTERVIEW WITH KINKY FRIEDMAN - 21 JANUARY 2002
KINKY FRIEDMAN & BILLY JOE SHAVER - TWO FOR TEXAS TOUR

Singing Texan crime novelist Kinky Friedman and legendary Lone Star State singer songwriter and actor Billy Joe Shaver are touring Australia in February.
For Kinky, 57 and a confirmed bachelor, it will be his fifth sojourn. Billy Joe, who wed the same wife Brenda three times, is making his third Australian sojourn.

Shaver, 62, is recovering from the recent deaths of his mother Victory, wife Brenda and son Eddy who died from a heroin overdose at 2.52 am on New Year's Eve, 2000.

The celebrated singer also suffered a heart attack on August 25, 2001, at Gruene Hall - the oldest dance hall in Texas - at New Braunfels near San Marcos in South Texas. Shaver has resisted medical advice to have quadruple heart by-pass surgery and taken karmic instructions from Shotgun Willie Nelson to tour Australia.

Willie filled in for Eddy at Billy Joe's New Year's Eve gig in 2000 and Shaver was lured out of mourning by The Kinkster in January 2001 on their Two For Texas tour which they're bringing down under.

The duo, supported by Little Jewford, guitarist Jesse Taylor and Washington Ratso, have just toured the Lone Star State on their sold out Texas Tune-Up Tour. Nu Country FM programmer David Dawson spoke to Kinky, whose 83 year old father Tom - a former Professor Of Psychology at the University Of Austin - has been in an Austin hospital battling cancer.

The duo tried to harvest hay from hell in this interview conducted from Kinky's Echo Hill Ranch at Rio Medina near Kerrville in the Texas Country. It was conducted in stressful circumstances because of a Telstra bank bungle which saw the Nu Country phone disconnected.

Here is an unedited version of the interview.

David Dawson: "How's life up in Texas?"

Kinky Friedman: "My dad's in the hospital. He's 83, close to 84. He should be out of the hospital tomorrow. It's just one of those things. If I go to Australia he'll die - if I stay at home he'll be fine."

Q: "Tom would want you to come. There's a bit of echo on the line."

A: "Hang on, it might be the cat. I might kill this cat.'" The Kinkster fired up a cigar from his own new brand, now marketed by a company in Houston, and called back."

Q; "You create history of sorts by being the first Texan singing satirist to visit the White House as the guest of two Presidents within four years. I understand you read to a Bush family gathering from your original works?"

A: "That went over very well. I read this column I wrote for Texas Monthly about my dad, The Navigator. He was flying B 24's in World War 11. He flew 35 missions over Germany - he brought the 10 man crew back home safely each time, The plane was called The I've Had It." The Kinkster and the Bushs refer to the Presidents as 41 and 43. "41 hugged me afterwards with a tear in his eye. He was a War hero too - his plane was shot down. He was in the south seas I believe. Tom was the oldest man in the crew. He was 23 years old, he was the navigator."

Q: "How did this come about - did Laura invite you after revealing to the Press in the campaign that George Dubya read your novels?"

A: "No, George wrote me a letter after he read one of my columns in Texas Monthly. He invited me to the White House." "All Politics Is Yokel about me running for JP in Texas in 1986. He said 'thanks for mentioning my name without using any curse words. He then asked me if I planned to run for Justice Of The Peace again. Then I wrote him back and told him I had four dogs and four women and four editors, would it be possible for me to sleep in the Lincoln bedroom with the four dogs and four women. And he wrote me back from Camp David. It's ridiculous the President is writing all this shit but everybody needs a pen pal. He wrote back and said he doesn't know about the four women but the four dogs maybe. So when I visited the White House he took me to the Oval Office with his two dogs - late at night. He took me there after the dinner. It was a family dinner, he took me there with Spot and Barney, his dogs. It was a very successful evening. I've become a vegetarian."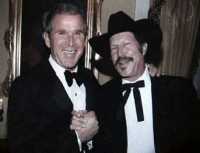 Q: "Does this mean you have become a Pretzel tester for the President?"

A: "No but I don't eat any meat, chicken or fish. I don't eat any animals. I want to be kind to animals, I want to be superior to other people."

Q: "Where did you finish up sleeping at the White House, was it the Lewinsky suite?'

A: "No, but it was a very nice place. It was in the family compound, right there next to the Bushs' home."

Q: "Were you accompanied by any animals?"

A: "No, I was real family. The only families I have felt this close to were the Willie Nelson family and the Charles Manson family."

Q: "What sort of costume or clobber did you wear to the White House?"

A: "High rodeo drag."

Q: "It wasn't the drag you wore on the front cover of Texas Monthly with Willie?"

A: "Not that type of drag."

Q: "What sort of reaction have you got from the parody of the famous American Gothic painting by Grant Wood?

A: "A lot of phone calls from men but I always did get a lot of phone calls from men.

Q: "But this time you were in the role of the farmer's wife, but have you returned them?'

A: "No."

Q: "I read in the San Antonio Express-News yesterday that Red River Dave McEnery died at the age of 87.?"

A: "Yeah, he went to Jesus."

Q: "You recorded one of his songs - Amelia Earheart's Last Flight. That was recorded in 1937, was that the oldest song you ever recorded?"

A: "Probably Keep On The Sunny Side is pretty old too."

Q: "That was the Carter Family?"

A: "Yeah, my recording career is pretty checkered."

Q: "Some longevity, though?"

A: "These shows here in Texas with Billy Joe have been some of the best shows in my life, something about the odd couple that really works."

Q: "It's amazing when Billy Joe has been through so much tragedy and you get him out of the house and onto the stage?"

A: "It really brings out the best in both of us - Jesse Guitar Taylor, Washington Ratso & Little Jewford. It's fun, it's kinda like Vaudeville. It's all part of one show, one set. We don't do separate sets, we just do a few songs and trade back and forth. It's not like a couple of songwriters, there's a lot more energy than that."

Q: "Does Little Jewford toss a coin to see who goes on first?

A: "He does, he flips the coin."

Q: "Do you have any new recording projects."

A: "No, I don't but Little Jewford has Live From Uranus with me as guest plus Brett little biker Miner from Star Trek. Commander Data - whoever that is. Of course Billy Joe has a new CD and Ratso has a new CD."

Q: "So everyone has a CD except for Kinky?"

A: "That's right, I who have nothing."

Q: "But you have got an act?"

A: "You know my dad told me some time ago that I was going to have to get some new songs, new jokes or a new audience. I went out and got a new audience. These shows in Texas, the Texas Tune Up tour, have been sold fucking out. In Dallas at the Sons Of Hermann Hall hundreds of people were turned away. Austin the same at Antones. As Billy Joe said 'they've got us in the palms of their hands.'

Q: "Are you taping any of these shows?"

A: "No."

Q: "What about Australia, Billy Joe did a live album in 1989, and I've heard a couple of yours on the radio?"

A: "Really."

Q: "You also have a new line of cigars on the market, what are they called?".

A: "Kinkster's finest."

Q: "Can we actually expect you to bring any of those in with you?".

A: "No, it's against your fucking Draconian laws."

Q: "Quarantine laws."

A: "Against all sort of laws, you can buy them off the internet - they're great cigars. Check the web site www.kinkyfriedman.com

KINKY: "Are you going to be with us on the tour?

Dawson: "It looks like it. I just have to get the OK from my doctor and then I'll be on the road too long."

Kinky: "It looks like there will be 11 of us."

Dawson: "It's going to be a big entourage, when we get to Bowral we can dig up Don Bradman and play a test. I might go back to asking the questions."

Q: "What about your new books, 'Kill Two Birds And Get Stoned' when's that going to be out?"

A: "It should be out in April, that's a globalisation novel about three people who are trying to destroy a Starbucks in New York. It's a straight novel, there's no Kinky character - it's a straight mystery."

Q: "Why are these people trying to destroy a Starbucks?"

A: "That's what you have to read the book to find out."

Q: "Thank you."

A: "The short answer is for the hell of it."

Q: "You've been to the White House for both Presidents - George Dubya Bush and Bill Clinton. Has Laura re-arranged the furniture and crockery since Hilary decamped?

A; "Well, she could have but on the first occasion I was just there for dinner. This one I spent the night there, smoked a cigar or two when I stepped out on the balcony. I looked up and there was these guys on the roof with black pyjamas and machine guns.

Q: "They weren't on guard for Willie to turn up for a fashion shoot for Texas Monthly?

A: "They were waiting for Willie, right, you know Willie told me he couldn't smoke a joint because he had pneumonia so he ate a hash cookie and forgot the words to 'Always On My Mind.'

Q: "Well, he was alleged to have sat up on the roof of the White House and smoked a joint during Jimmy Carter's era?

A: "Yes, he did that."

Q: "You didn't get a chance to emulate him?"

A: "No, but one of Bush's cousins was following me around at this thing and kept singing in my ear 'you just doodled a Christian girl and you killed God's only son,' He had a little to drink there. It was great - they were nice and funny. I sat next to Laura."

Q: "She is an ex-librarian and had exhibitions which featured your books?"

A: "Yeah."

Q: "Did either George Dubya or his father throw any light on the Geronimo Club they were associated with at Yale?

A: "No, I didn't explore that, it's interesting."

Q: "There was some publicity at some stage that the grandfather was a part of a club that dug up Geronimo's skull?"

A: "I know the story but I don't know any more than you do."

Q: "So that didn't come up in conversation at dinner?"

A: "No."

Q: "What about Billy Joe's health? He's had two discs taken out of his back, how's he coping on stage?"

A: "He's doing fine, he had a heart attack three or four months ago and he's pretty indestructible. I think he's going to be fine. I asked Willie about that whether we should take Billy Joe over there, that far, after angioplasty. The doctors wanted him to have a quadruple by-pass but he said no. Now he's mad at them for still being alive. Willie said he should definitely go."

Q: "Good, you've got Willie on your side. Now what happened when you went back to Gruene Hall - the venue where he had the heart attack?"

A: "You'd have to ask him which you can."

Q: "I will, but I thought there might have been some sort of fear about going back there?"

A: "He ate a very big steak before he went back on. He promised me he's not going to eat any more meat or chicken from the time we got on the plane. It's amazing to hear him do 'Old Five & Dimers Like Me,' 'Live Forever' and 'I'm Just An Old Chunk Of Coal (But I'm Gonna Be A Diamond Some Day)' right after 'They Ain't Making Jews Like Jesus Anymore' and 'Ride Me Down Easy' right after 'Ride Em Jewboy'. It works - it's almost like an Edith Piaf rapport with the audience. He reminds me a little of Judy Garland - there's a little bit of Judy Garland in Billy Joe."

Q: "Will Billy Joe frock up like Judy?"

A: "I doubt it. In one song he talks about going up on the mountain and looking back on his life where he has lost his son and his wife. It might be a new one - that's Try, Try Again.

Q: "There should be enough here to sate the appetite of newspapers and magazines. Good luck with your Dad."

A: "I'll give him your best. I'm sure he'll be fine. There's not much I can do about it, at this point."

Q: "Tom would much prefer you to come."
A: "Good, I really hope you can do the tour. We're going to have some fun."