WELCOME TO NU COUNTRY TV
MITCHELL TENPENNY HEADLINES NU COUNTRY TV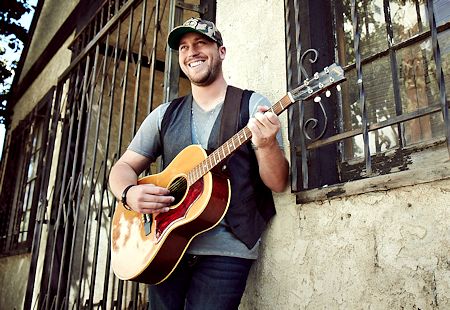 Tennessean singer-songwriter Michell Tenpenny headlines Nu Country TV on Saturday December 14 at 9.30 pm on Channel 31/ Digital 44 on the eve of his appearance at the 13th CMC Rocks Queensland festival in March at Ipswich.
Georgian Billy Currington, also an Ipswich festival artist, returns to the show, repeated Monday at 7.30 am.
Mississippi wild man Hardy and Arkansas traveller Erin Enderlin boomerang to Behind Bars on the program filmed and edited by Laith Graham.
Gippsland born twin sisters Lee and Paula Bowman and Jetty Road trio pal Julian Sammut and fellow Brisbane Golden Guitarist Brad Butcher also appear on the eve of their return to the annual Tamworth festival.
Nu Country TV is a highlight of C 31 streaming list on Digital 44.
Further info - https://www.c31.org.au/
BRENDAN MCMAHON – FROM FERNY CREEK TO HAVANA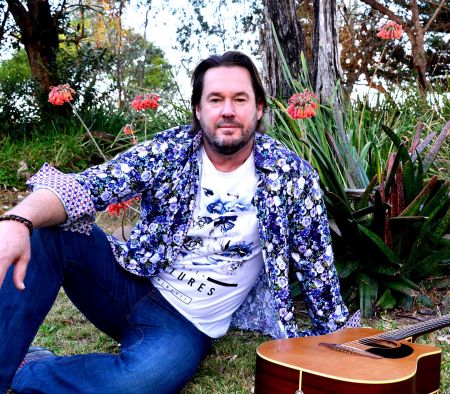 When Ferny Creek singer-songwriter Brendan McMahon visited Havana he was so impressed by the late Ernest Hemingway's shrine in historic Ambos Mundos he wrote Hotel Hemingway.
But a frightened echidna that he freed from a Rowville paddock in Melbourne 's eastern suburbs inspired his fourth album's entrée song Lost My Way.
The son of a former stock and station agent at Kapunda near the Barossa Valley also paid tribute to a steer named Morris in the same paddock on his previous disc that preceded fourth album In The Moment , released in November.
CLICK HERE for our McMahon interview in The Diary.
OLD DOMINION LEAN BACK TO JACK KEROUAC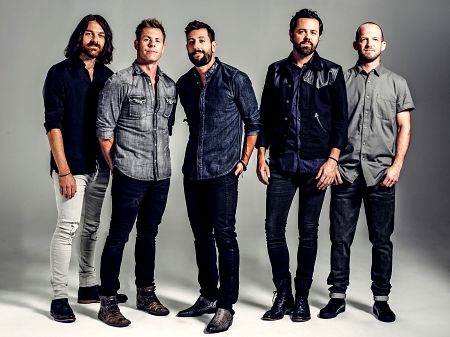 Award winning Virginian quintet Old Dominion is the latest act to name check late Beat author Jack Kerouac in idyllic imagery in its highly accessible music.
I'll Roll - penned by guitarist Trevor Rosen, pianist Trevor Rosen and James Slater - is not among the band's first three singles on its third album released on October 25.
But it's likely to follow Some People Do, Make It Sweet and latest hit One Man Band that airs on Nu Country TV on January 4.
My Heart Is A Bar (and I'm closing it down) is also accompanied by a video.
LUKE COMBS BRUSHES SALES RECORDS BOOKS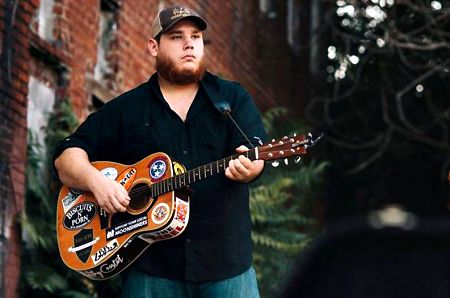 North Carolina nouveau outlaw country star Luke Combs broke sales records on his second album's debut on Billboard with help from home state mentor Eric Church.
Combs nailed his talent to the bayside cross when he sold out St Kilda Palais in March with femme fatale Arkansas traveller Ashley McBryde.
Now the prolific singer-songwriter, who co-wrote all 17 songs on What You See Is What You Get , topped Billboard Top 200 all-genre chart with 172,000 albums sold.
CLICK HERE for our Luke Combs CD feature in The Diary.
RAY WYLIE HUBBARD SUPS ON WHISKEY – MYERS LABEL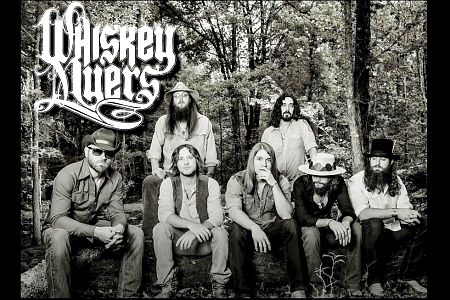 Texan sextet Whiskey Myers proves why it topped country charts on debut on September 27 with its fifth album in a 12-year career that began in Palestine.
The band mixes Biblical fervour with a fierce outlaw spirit akin to mentors Hank Williams Jr and the late Waylon Jennings.
So it's no surprise that Pentecostal primed entrée single Die Rockin' was penned by singer Cody Cannon and veteran Texan outlaw Ray Wylie Hubbard.
Hubbard, 73 and one of the pioneers of outlaw country in the Lone Star state, is still recording and performing with little mates Shotgun Willie Nelson, 86, and recent octogenarian Billy Joe Shaver.
CLICK HERE for our Whiskey Myers CD feature in The Diary.
STEVE MARTIN, MARTIN SHORT
AND STEEP CANYON RANGERS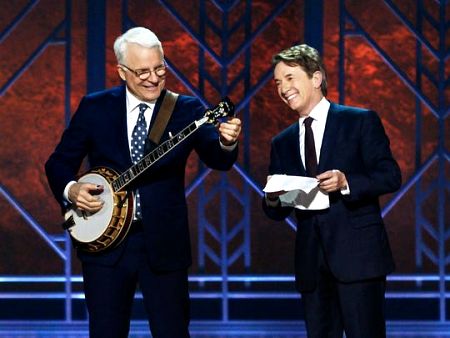 Grammy winning bluegrass band Steep Canyon Rangers and comedic cronies Steve Martin and Martin Short performed to a capacity crowd at Melbourne Arena.
Their Now You See Them, Soon You Want show attracted an enthusiastic audience headed by Oscar winning actor Geoffrey Rush.
They scored more laughs than the bloodthirsty boxing bout by two retired footballers at the adjacent Margaret Court Arena, named after the former tennis champion and latter-day Biblical bell ringer.
CLICK HERE for our review in our Concerts Section.
MIRANDA LAMBERT HEADLINES
CMC ROCKS QUEENSLAND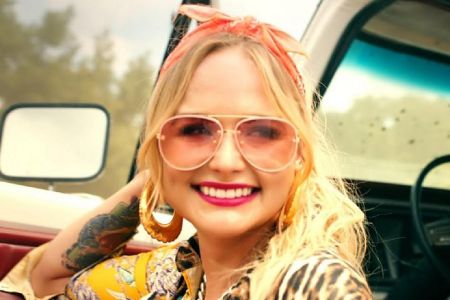 Texan superstar Miranda Lambert headlines the 13 th CMC Rocks Queensland festival at Ipswich in March on her debut tour here in March.
Miranda and Brothers Osborne also perform Sydney on Tuesday March 24 and Rod Laver Arena in Melbourne on Thursday March 26.
Lambert, 35, topped U.S. country charts with her seventh album Wildcard on its first week.
The sales, exceeding 44,000 albums, landed it at #4 on the all genre chart and was her seventh consecutive #1 country album and Top 10 on Billboard .
Miranda revealed in a Nu Country TV interview she will bring her second husband - New York City cop Brendan McLoughlin - with her to Australia .
CLICK HERE for our interview in The Diary on November 11.
GRAMMY WINNERS DAN & SHAY FULL HOUSE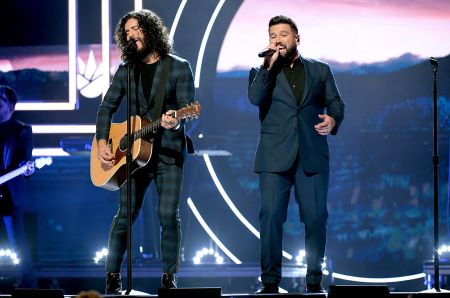 Grammy winning country duo Dan & Shay performed to capacity crowds on three nights at Rod Laver Arena with young Canadian superstar Shawn Mendes.
The chart toppers celebrated major streaming success with recent video clips for Tequila and 10,000 Hours.
Dan & Shay debuted on Nu Country TV on April 22, 2017, with When I Pray For You from the soundtrack of the Sam Worthington-Octavia Spencer-Tim McGraw movie The Shack.
CLICK HERE for our Dan & Shay and Shawn Mendes review in our Concert section.
JOE SUN RIP AT 76 IN FLORIDA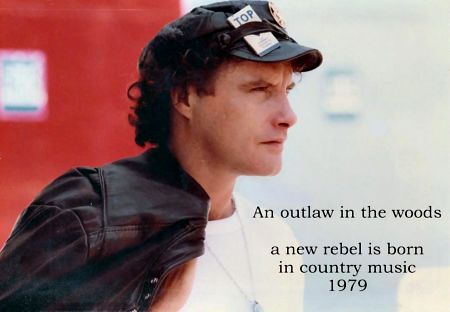 When former Vietnam veteran, disc jockey, actor and latter-day singer-songwriter Joe Sun toured here in 1990 he opted for regional venues and country music festivals to showcase his down-home country music.
Now, 29 years down the Lost Highway the Mid-West dairy farmer's son has followed heroes and mentors diverse as Hank Williams, Steve Young and Guy Clark into that great honky tonk heaven.
Sun, born James Paulsen, in Rochester , Wisconsin, died on October 25 at 76 of natural causes in Palm Bay, Florida.
He toured Australia to promote his 10th album Hank And Bogart Still Live after scoring smashes with Old Flames Don't Hold A Candle To You and Shotgun Rider that later became hits for singing-actor Dolly Parton and Texan Delbert McClinton.
MORGAN EVANS PULLS QUORUM AT THE FORUM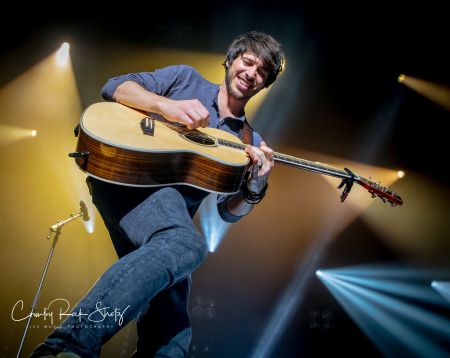 Expat Novocastrian singer-songwriter Morgan Evans performed to a capacity crowd at the historic Forum in Melbourne CBD.
Evans, 34, may have left his singing spouse Kelsea Ballerini at home in Nashville but had two high profile guests on stage.
Grammy winning New Jersey born producer and singer-songwriter Chris DeStefano, who produced and co-wrote all 11 songs with Evans on his second album Things That We Drink To , opened the show.
And fellow Novocastrian Mark Wells guested on Evans 2007 debut single Big Skies from his self-titled album.
CLICK HERE for our review in our Concerts section.
PHOTOS - ANDREW FRIEND - Countyrocksshotz68@gmail.com
JIM LAUDERDALE - KING OF BROKEN HEARTS
OUT ON THE WEEKEND
NICK RIEWOLDT FOOTBALL LESSONS FOR TIM MCGRAW
Former St Kilda captain Nick Riewoldt gave singing superstar actor Tim McGraw and his capacity concert crowd football kicking lessons at Rod Laver Arena on Sunday night.

Country music devotee St Nick, just 36, kicked four new Sherrin footballs high into the bleachers as Tim introduced one of his many hits - I Like It I Love It .

McGraw, 52, reciprocated by emulating his guest with a left foot torpedo and a gridiron throw of another football.

Tim, son of late baseball star Tug McGraw, offered to sing at the AFL grand final in a Nu Country TV interview in April after seeing Nick play against Collingwood in a preliminary final on a previous tour.

The pilot and singing spouse of fellow star Faith Hill wore a Collingwood jumper at that game.

Nick's kicking lessons were his salient sequel.

CLICK HERE for Carol Taylor's exclusive photos and music review in our Concerts section.
MICHAEL WAUGH RETURNS TO THE WEIR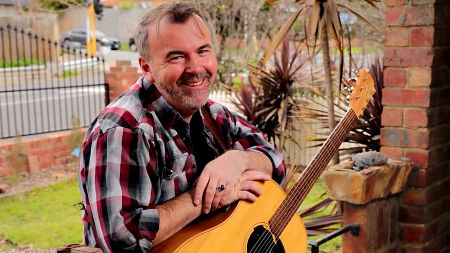 Gippsland dairy farmer's son Michael Waugh proves he is well qualified to write and sing about extremities of drought and flood that have haunted agrarians for centuries.
The latter-day Scotch College secondary teacher and house master grew up near Glenmaggie Dam and Maffra in the Latrobe Valley .
But the fitness fanatic grandfather also found song sources for his third album The Weir while heading west on his push bike and catching Countdown icon Molly Meldrum taking in his garbage bins at his Luxor mansion in Richmond.
Waugh, 48, wrote all 13 songs on his acclaimed album produced by Queensland refugee Shane Nicholson.
JIM LAUDERDALE HEADLINES OUT ON THE WEEKEND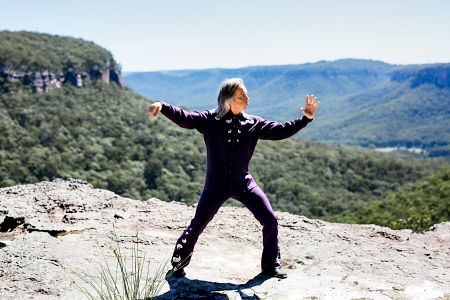 North Carolina born singer-songwriter-radio and TV host Jim Lauderdale has plenty of music to promote when he headlines the sixth Out On The Weekend Festival on Saturday October 12.
The Presbyterian minister's son, now 62, joins bluegrass belle Molly Tuttle, Felice Brothers, Pokey LaFarge, Johnny Fritz and Josh Hedley at Seaworks in Williamstown.
The vast cast includes Sierra Ferrell, country rock veteran Brian Cadd and New Zealand export Tami Neilson.
Dual Grammy winner Lauderdale is touring to showcase his 32nd album From Another World.
CLICK HERE for our Jim Lauderdale CD feature in The Diary.
TYLER CHILDERS IGNITES HOUSE FIRE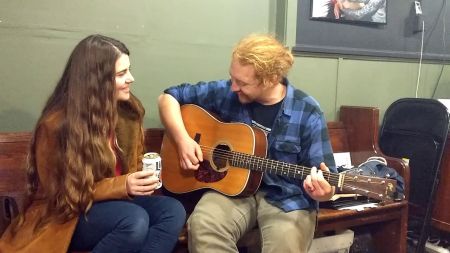 Appalachian roots singer-songwriter Tyler Childers returns to Nu Country TV to promote his acclaimed third album Country Squire.
Childers, 28, and singing spouse Senora May perform his new video for House Fire.
The Americana Award singer plans a second Australian tour after debuting here on March 7 with fellow winner John Prine, 72, who returns to St Kilda Palais in April after winning two more Americana Awards this month.
CLICK HERE for a Childers Country Squire CD feature in The Diary.
GEORGE DUCAS YELLOW ROSE MOTEL 2020 TOUR?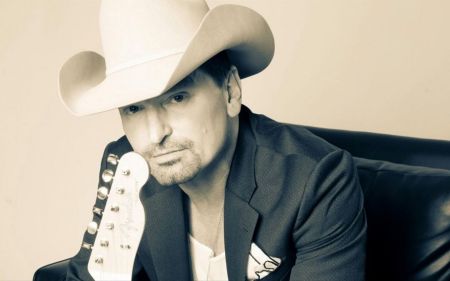 When Texas City born hit-writer George Ducas needed a source for his double murder crime of passion title track for fourth album Yellow Rose Motel he didn't have to look far.
He resurrected fellow Texan singing actor Willie Nelson's famed Red Headed Stranger album and movie as his inspiration.
At just 48 Ducas is almost four decades younger than Willie, now 86, but their traditional country music theme song sources are a common denominator.
Ducas is keen to promote his album on a tour in 2020 - hopefully launched at the 13th CMC Rocks Queensland Festival in March.
RUNAWAY JUNE BLUE ROSES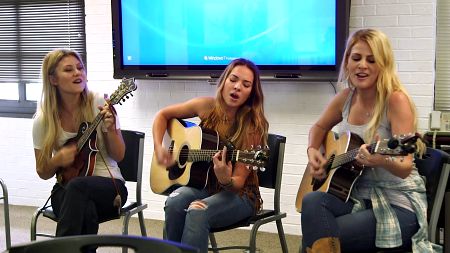 Californian trio Runaway June had good reason to bare their hearts on the pathos primed title track finale of their debut album Blue Roses.
The song was inspired by the tragic death of lead singer-guitarist Naomi Cooke's brother Billy Dukes.
Runaway June , featuring late western movie star actor John The Duke Wayne's grand-daughter Jennifer, is touring with Oklahoma oriole Carrie Underwood and Maddie & Tae.
SINGING SHEARER LUKE DICKENS CLICKS SONGS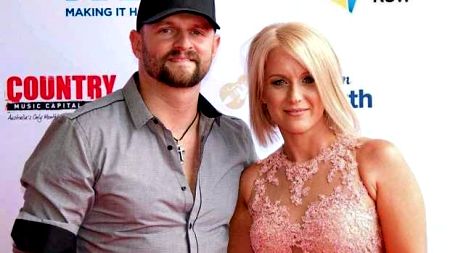 When singer-songwriter-shearer Luke Dickens wrote nine songs for self-funded second album After The Rain he discovered his music was creative therapy.
That was after exploring evil outback serial killers, cyber bullies, snakes and wolves.
But the 2011 Star Maker winner balanced his musical diet with love songs for his son Jordan , now 10, and fiancé Sammie whom he plans to marry in October.
"It was therapeutic," Dickens, 37, told Nu Country TV of the album produced by Sam Hawksley.
WILLIE HIGH IN THE SADDLE AT 86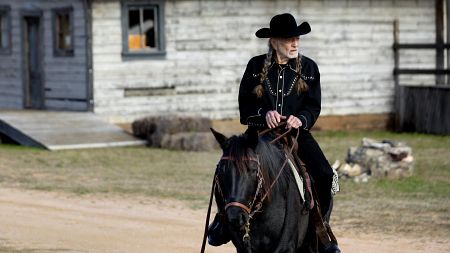 Shotgun Willie Nelson proved in his video for his 69 th album title track Ride Me Back Home he stills ride high in the saddle with no need to dismount.
Willie, a ripe young 86-year-old, chose that song - one of the few he didn't write on his album - as the title.
The song's equine freedom message - equally relevant here with threats to high country Brumbies - echoes human liberation Willie has extolled since leaving Texas hometown Abbott as a teenager.
Willie loves horses and humans - including pianist sister Bobbie, now 88, with equal passion.
Ride Me Back Home was co-written by Sonny Throckmorton after hearing of Willie adopting horses that he stables at his Texas Hill Country ranch.
CLICK HERE for our new Willie CD feature in the Diary.
LUKAS TURNS ON - AND OFF THE NEWS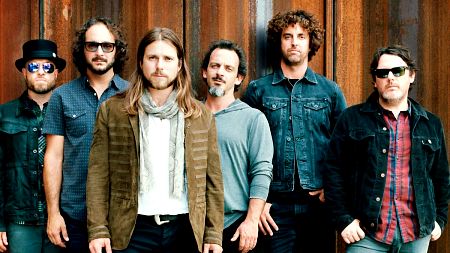 When Lukas Nelson and his long-time band Promise Of The Real returned here for their April tour they drove home the message of their fifth album title track with dynamic live delivery - especially at the historic Corner Hotel in Richmond .
It may have been a much smaller venue than those played by Lukas's singing sire Willie, now 86, on his tours.
But the aura of singing actor Willie swirled around the venue as Lukas proved why he followed his sire into movies with major roles writing songs on the soundtrack and performing in the Bradley Cooper-Lady Gaga remake of A Star Is Born.
Lukas's message was and clear - ignore the endless news cycle with its staple diet of war, famine, car jackings, drive-by shootings, murder and mayhem that maul the mean streets of Melbourne and, of course, the Middle East and way beyond.
CLICK HERE for our Lukas Nelson CD feature in The Diary.
BROTHERS OSBORNE PRAISE WILLIE NELSON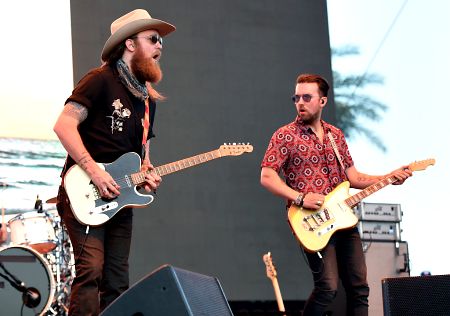 Brothers Osborne share more than their penchant for the herb superb with their Octogenarian mentor - singing actor Willie Nelson.
The duo joined Willie, now 86, by expanding their profile and releasing a brace of video clips to promote their eclectic music.
They showcased their Red Headed Stranger eulogy - Weed, Whiskey & Willie - live on Late Night With Seth Meyers on U.S. TV and the Grand Ole Opry .
The song, accompanied by a video to be screened on Nu Country TV in August, is on their second album Port Saint Joe.
AARON WATSON SALUTES HEROES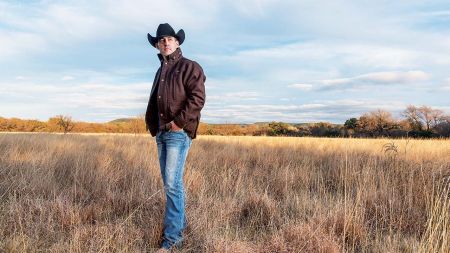 When Texan troubadour Aaron Watson wrote 20 new songs for his 14th album Red Bandana he didn't have to look far to pay homage to his heroes.
Watson, now 41, opened with The Ghost Of Guy Clark and included eulogies to the late Red Steagall on Riding With Red and a vast cast of mentors in Legends .
Clark, a revered singer-songwriter, attracted celebrity studded audiences on his Australian tours, before he died of lymphatic cancer at 74 on May 17, 2016.
WIN WATLING & BATES SMALL TOWN TALES CD
DOLLY DUMPLINGS FOR DINNER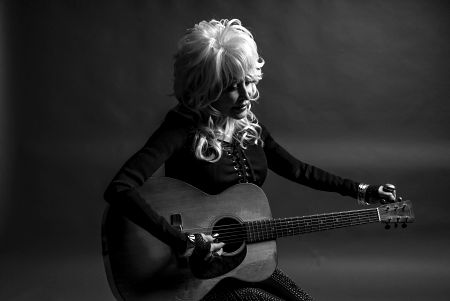 Septuagenarian singing actress Dolly Parton is joined by a vast cast of peers on the soundtrack of her latest movie Dumplings that was released in December.
They include Pistol Annie Miranda Lambert, Mavis Staples, bluegrass belles Alison Krauss and Rhonda Vincent and Adelaide born Sia.
Dolly, 73, wrote six new songs for the movie.
CLICK HERE for our Dolly CD feature in The Diary.
MARTY BROWN BACK IN TOWN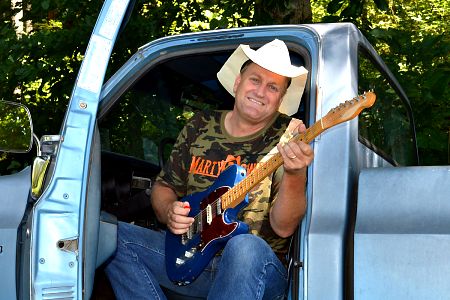 Kentucky roots country singer-songwriter Marty Brown has returned after a 23-year recording hiatus with his fifth album American Highway .
Brown, 53, wrote all 10 songs with his co-producer Jon Tiven after a career rebirth on America 's Got Talent.
The singer is joined by his entire family including teacher wife Shellie and co-writer son Marty Brown Jr on his video for Umbrella Lovers that premieres on Nu Country TV on Saturday July 13.
FELICITY MOURNS SHOCK DEATH OF HUSBAND GLENN HANNAH
LEE KERNAGHAN 15TH ALBUM BACKROAD NATION TOUR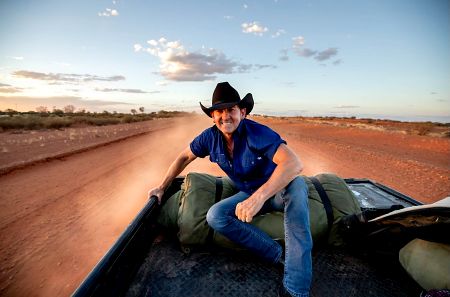 Australian country music king Lee Kernaghan has released his 15 th album Backroad Nation that he is promoting on a national tour.
Kernaghan, 37-time Golden Guitarist, visited the outback to film videos, featured on Nu Country TV , for Wheels and the album title track.
The album is a riveting reflection of his travels that earned him four ARIA and three APRA Awards while raising funds for long suffering farmers beset by drought, flood and famine.
Kernaghan, 55 and father of two sons, features singing spouse Robby on his album that features 12 new original songs.
CLICK HERE for our Backroad Nation CD feature in The Diary on May 20.
KACEY MUSGRAVES TOASTS PALAIS GIG
WITH SILVER SLIPPER SHOEY
Texan temptress Kacey Musgraves finished her St Kilda Palais concert with a shoey of gin sipped from her silver slippers.

The four-time Grammy winner finished her show bare foot with the 13 th new song from her seventh album Golden Hour.

Musgraves, 30, performed a marathon autumnal 20 song spectacular with her sizzling sextet of besuited multi-instrumentalists.

CLICK HERE for our review in our Concerts section.

Photos - Andrew Friend Country Roc Shotz. Facebook and IG.
FELICITY DINES OUT ON FROZEN RABBIT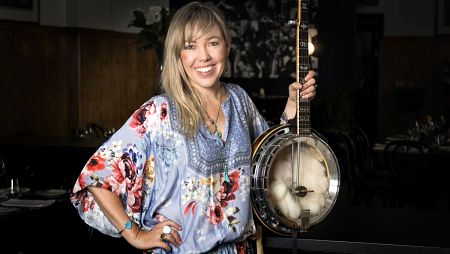 Prolific Golden Guitarist and multi-media minstrel Felicity made the most of her decade long hiatus as a solo artist by recording two acclaimed trio discs with Lyn Bowtell and Kevin Bennett.
But it was a pre-marital overseas sojourn with producer-guitarist-photographer-graphic artist Glen Hannah that fuelled New Harmony - entree of seventh solo album Frozen Rabbit, released on April 26.
Felicity and co-writer Luke Webb have detailed the joyous journey that also produced two daughters who have also joined her on-stage.
CLICK HERE for a Felicity Frozen Rabbit feature in The Diary on April 29.
TIM MCGRAW AFL GRAND FINAL OFFER
Singer-songwriter actor and pilot Tim McGraw has offered to sing at the AFL Grand Final during his third Australian tour in September.
McGraw, now 51, wore a Collingwood jumper when he as a guest at a previous final when the Magpies and St Kilda fought an epic battle in front of 80,000 plus fans.
Tim starred in Hollywood movies including gridiron box office smash The Blind Side with Sandra Bullock and Country Strong with Gwyneth Paltrow.
He also wrote his duet with singing spouse Faith Hill - Keep Your Eyes On Me - for 2017 movie The Shack starring British born Australian actor Sam Worthington and Octavia Spencer.
Tim headlines the 21 st Deni Ute Muster on October 5 and Country To Country festivals in Brisbane and Sydney.
LUKAS NELSON AND THE PROMISE OF THE REAL CORNER MARKET
Fellow Texas raised singer-songwriter Lukas Nelson and The Promise Of The Real performed one of the most dynamic live concerts of the young year at the famed Corner Hotel , Richmond.

Lukas, just 30, proved that he is a genuine keeper of his famed singing actor sire Willie's flame in a two-hour music marathon.

Riverina refugee William Crighton and Melbourne sisters - The Wolfgramms - added spice to the sensational show.

CLICK HERE for our review on our Concerts page.

< Photo by Carol Taylor
DEVIN DAWSON PRISON SONGS FUEL DEBUT ALBUM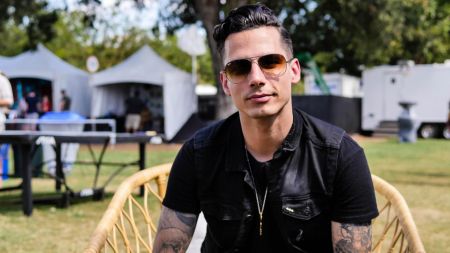 Californian singer-songwriter Devin Dawson had good reason to exploit prison imagery and metaphors in three of 12 songs he wrote on his debut album Dark Horse .
He grew up in Orangevale near the gates of the infamous Folsom Prison and could hear nocturnal sirens roar throughout his childhood.
Devin used gaol backdrops in two of his video clips.
Dawson , 30, also hosted the inaugural Country Music Association Showcase at the historic Athenaeum Theatre in Melbourne on Saturday March 23.
Devin led a quintet of singer-songwriters - fellow American Brandy Clark, Canadian chanteuses Lindsay Ell and Tenille Townes and Mornington Peninsula raised multi-media artist Lachlan Bryan - in the prestige concert.
CLICK HERE to read our exclusive interview with Dawson in The Diary.
CLICK HERE to read our CMA showcase review in our Concerts section.
FLORIDA GEORGIA LINE ROD LAVER RESURRECTION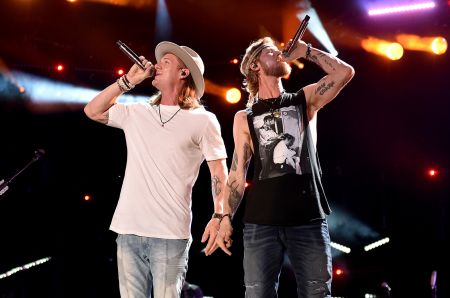 Florida Georgia Line performed to a capacity audience in their return to Rod Laver Arena on March 20.
Chart-topping Georgian singer-songwriter Thomas Rhett - son of fellow star Rhett Akins - and Tennessee preacher's son Morgan Wallen shared the bill.
The dry indoor stage was a vast contrast to storm drenched 12th CMC Rocks Queensland festival in Ipswich.
CLICK HERE for our review in our Concerts Section.
LUKE COMBS-ASHLEY MCBRYDE STORM PALAIS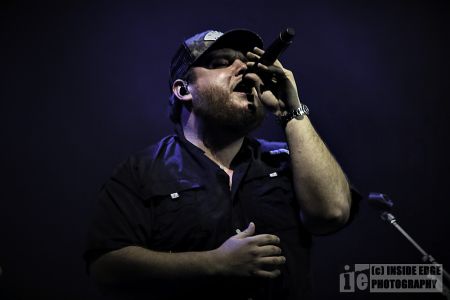 Photo credit - Peter Coates Inside Edge Photography
Nouveau North Carolina outlaw singer-songwriter Luke Combs built on his large Australian fan base on his return tour.
Combs, just 29, and Ashley McBryde headlined a joint St Kilda Palais concert after appearing at the sold-out CMC Rocks Queensland Festival in Ipswich .
CLICK HERE for our Palais review in our Concerts Section.
FLORIDA GEORGIA LINE RETURN
Chart-topping Florida Georgia Line headline their concert at Rod Laver Arena on Wednesday March 20 after supporting Georgian star Jason Aldean on their 2016 tour.
The band, fresh from CMC Rocks Queensland festival in Ipswich, perform with another Georgian Thomas Rhett and Tennessee preacher's son Morgan Wallen.
CLICK HERE for our new Florida Georgia Line feature interview in The Diary.
JOHN PRINE AND TYLER CHILDERS CONCERT REVIEW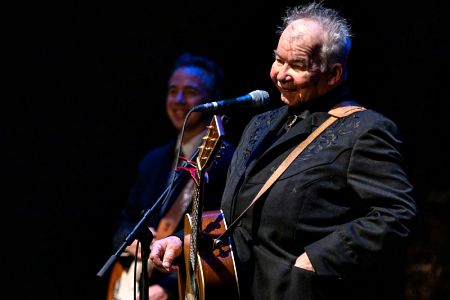 Former Chicago postman John Prine and Kentucky coalminer's son Tyler Childers performed a marathon St Kilda Palais concert on March 7.
Prine's stellar quartet were joined by Texan singer-songwriter Alejandro Escovedo and the headliner's wife Fiona for an all-star encore.
The capacity crowd enjoyed an eclectic concert by Prine's posse after his 25-year Australian hiatus.
Prine, 72, played the famed Hanging Rock race-course on his 1993 tour and Childers, 27, impressed on his dynamic down under debut.
BRETT YOUNG TICKET TO L.A. INTERVIEW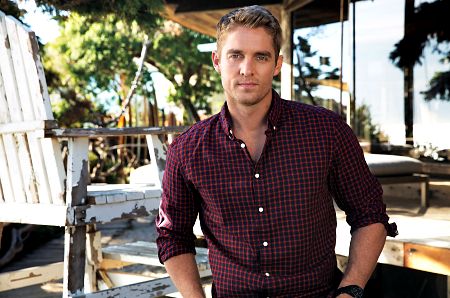 Californian singer-songwriter Brett Young celebrates his 38th birthday on his return to Nu Country TV on Saturday March 23.
Young's pastor father Brad was celebrant of his wedding to Taylor Mills in November.
Brett revealed Taylor was source of several songs as he launched his fifth solo CD Ticket To L.A.
NU COUNTRY TV NOMINATED FOR CMA MEDIA AWARD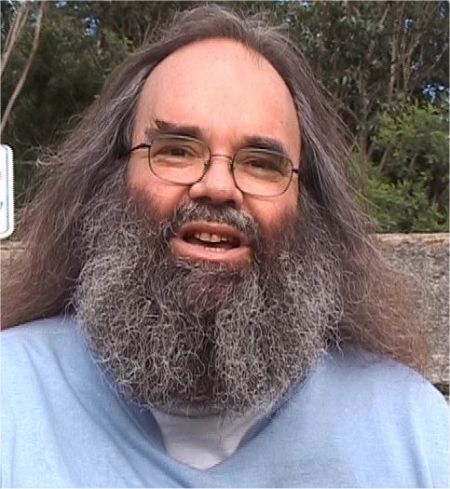 Nu Country TV is one of five Australian nominations in the international section of the prestigious 2019 Country Music Awards in the U.S.
Veteran Victorian journalist, TV and radio host and songwriter David Dawson is nominated for the 2019 Wesley Rose International Media Achievement Award.
Dawson is one of five Australians nominated for the annual awards.
He joins Cessnock singer-songwriter and prolific Golden Guitarist Travis Collins, Sydney marketer Susan Heymann, general manager of Chugg Entertainment , Paul Jackson, group program director of NOVA Entertainment and Trevor Smith of Aloha Media , Byron Bay-based content production house for audio, visual and online.
BLACK KITES FLY IN YARRA VALLEY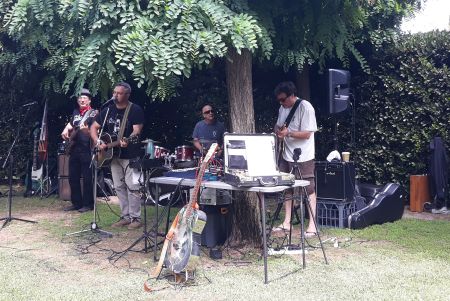 Photo by Jordie Taylor
Melbourne country roots band The Black Kites flew high on a marathon free concert at the Yering Station Farmers Market.
The quartet, who have released an indie 8 track CD, return to the historic station each month to entertain visitors and fresh produce shoppers.
CLICK HERE to read our Black Kites review in our Concerts section.
JOHN HIATT ECLIPSE SESSIONS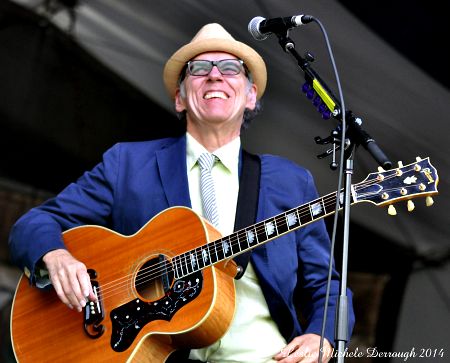 There's no danger of Mid-west refugee John Hiatt hitting the highest notes at the age of 66 on his 23rd solo album The Eclipse Sessions.
But Hiatt, who won acclaim on his Australian tours, delivers droll humour in love metaphors in new single Over The Hill, accompanied by a video we feature on Nu Country TV.
Hiatt recorded his album near Nashville during the total solar eclipse on August 21, 2017.
CLICK HERE for our Hiatt CD feature and interview in The Diary.
TRACTORS DRIVER STEVE RIPLEY RIP AT 69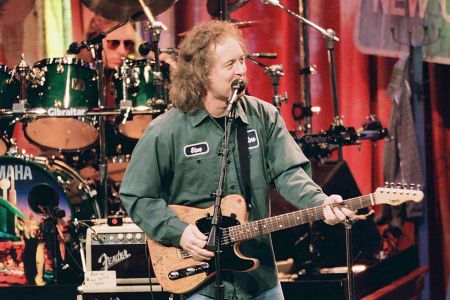 Steve Ripley, founder of the chart topping Oklahoma band The Tractors , died two days after his 69 th birthday on January 3 after a battle with cancer at his Pawnee home.
The multi-talented singer-songwriter-multi-instrumentalist-producer Ripley made seven albums with The Tractors and 2002 solo album Ripley that he promoted in an interview with Nu Country .
Ripley created the Red Dirt music genre in 1972 that morphed into Americana .
He sampled Hillary Clinton in the Hale Bop Boogie - a hidden track on The Tractors 1998 album Farmers In A Changing World .
WESTERN DISTRIBUTORS – A HAPPENING THANG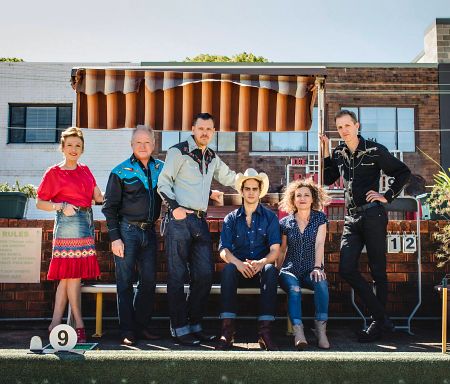 Sydney septet The Western Distributors arose from the ashes of The Happening Thang more than 25 years after winning a Golden Guitar in 1990.
Co-founders Andrew Travers and Catherine Wearne front the band on its 13 original songs after also raising a family.
CLICK HERE for our Western Distributors CD review in The Diary.
ERIC CHURCH DESPERATE MAN AFTER SURGERY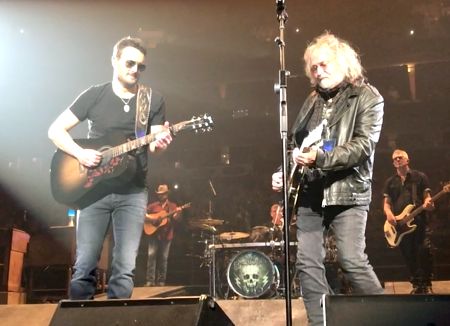 North Carolina singer-songwriter Eric Church survived life threatening surgery to release his eighth album Desperate Man.
Church, 41 and father of two sons, featured title track co-writer and veteran Texan outlaw Ray Wylie Hubbard in the video filmed at famed abandoned Cornelia Fort Airpark north of Nashville.
The singer also lampooned political power brokers in several of his 11 original songs written in his fishing cabin near the airport.
CLICK HERE for a Church CD feature and interview in The Diary.
KEVIN WELCH DUST DEVILS
Expatriate Californian singer-songwriter Kevin Welch has released his 12 th album Dust Devil with a little help from son Dustin and daughter Savannah .
It's the first album in eight years for Welch, 63, who moved to Nowra on the NSW south coast with his Australian wife.
Welch returned to Nashville to produce the album featuring eight memorable new original songs and two by peers.
CLICK HERE for our Kevin Welch Dust Devils feature in The Diary.
CARRIE UNDERWOOD CRIES PRETTY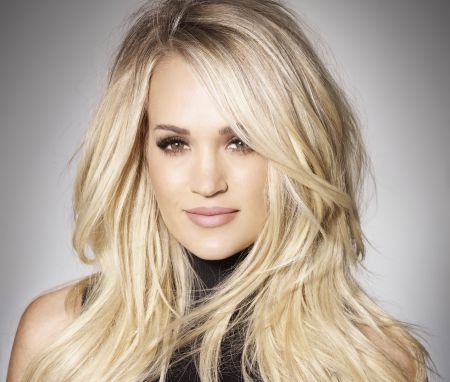 Seven time Grammy winner Carrie Underwood topped U.S. charts with her sixth album Cry Pretty during her short Australian return tour in September.
Underwood, 35, headlined the 20 th Deni Ute Muster and announced her pregnancy after recovering from a fall that broke her wrist with horrific facial injuries that required about 50 stitches.
Carrie revealed how she turned her pain into pleasure in nine originals on her 13 song album.
CLICK HERE for our Underwood Cry Pretty feature in The Diary.
BENNETT BOWTELL URQUHART NEW CD FEATURE
OUT ON THE WEEKEND FESTIVAL REVIEW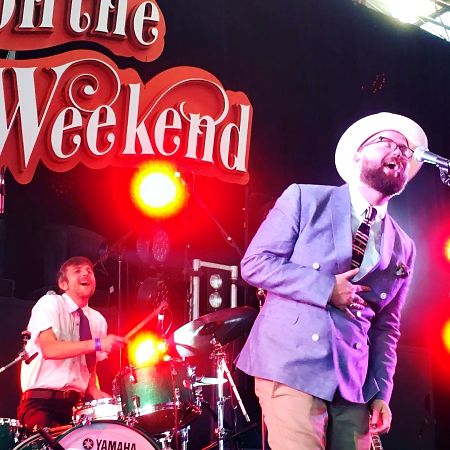 Photo by Jeremy Lee
Midwest Farmer's Daughter Margo Price debuted at Brian Taranto's fifth Out On The Weekend Festival at Seaworks in Williamstown.
Florida born Joshua Hedley and The Hedliners also returned to the popular festival with a vast cast including Courtney Marie Andrews, Willie Watson, the ReChords, Sierra Ferrell, Henry Wagons, Weeping Willows and Cartridge Family.
AUSTRALIAN AMERICANA AWARDS HONOURS SHOW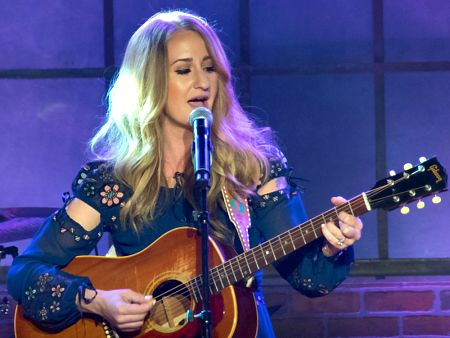 Photo by Kip Karpik
Revered Shipwreck Coast singer-songwriter and Goanna co-founder Shane Howard OAM and veteran 3RRR-FM Off The Record radio host Brian Wise were presented with Vanguard Awards at the second Australian Americana Honours show at Thornbury Theatre .
Howard performed two songs with his daughter Myra on the show featuring inaugural Vanguard award winner Kasey Chambers.
Expat American singer-songwriter Kevin Welch, Margo Price, Joshua Hedley, Weeping Willows and Little Georgia were among the diverse artists who also performed on the memorable show.
CLICK HERE for a review on our Concerts Page.
CATHERINE CHRONICLES - ROSTREVOR TO LOUISIANA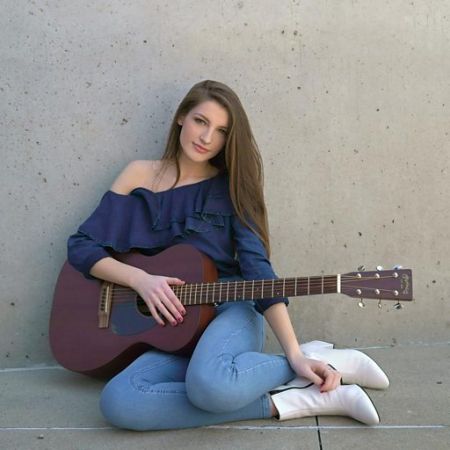 Irish singer-songwriter Catherine McGrath was discovered as a teenager by Sir Elton John who also nurtured another Catherine as a teen.
Novocastrian Catherine Britt was just 20 when she recorded a duet with Sir Elton on Top 40 single Where We Both Say Goodbye.
But McGrath's duet Don't Let Me Forget on her debut album Talk Of This Town was with another former child prodigy - Louisiana singing actor Hunter Hayes.
Catherine, just 21, promoted Don't Let Me Forget that debuts on Nu Country TV on Saturday October 13, and her album on her September Australian tour with another Novocastrian Morgan Evans.
CLICK HERE for our interview with Catherine in The Diary.
MATT JOE GOW CD LAUNCH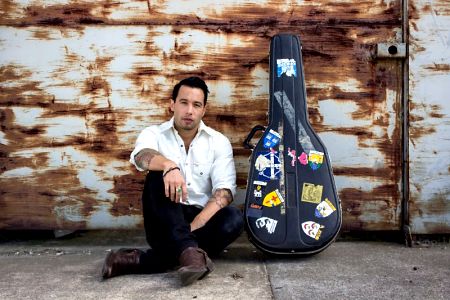 Expatriate Kiwi singer-songwriter Matt Joe Gow has long mastered the art of videos to promote his narrative songs on his CDS.
Gow filmed his recent videos in Melbourne but has enlisted his sister Cat Jean to direct and appear in the video for his third album title track Break, Rattle And Roll in his homeland.
The singer launches his CD on October 5 with concerts here and in New Zealand as we feature his Ride On video on Nu Country TV on Saturday October 13.
CLICK HERE for our new Matt Joe Gow interview in The Diary.
MARGO PRICE MOONSHINE OUTBACK IN HER BACKYARD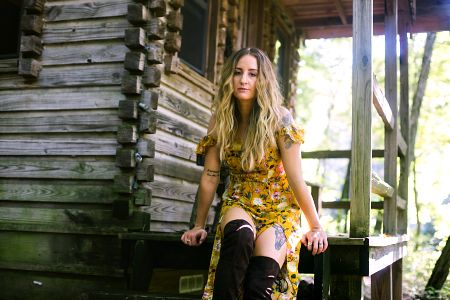 Midwest Farmer's Daughter Margo Price enjoyed good tidings on the eve of her debut Australian tour in October.
Her guitarist husband Jeremy Ivey discovered moonshine barrels from an historic still on the hill in the back of their five acre home north of Nashville where outlaw Jesse James and his gang once roamed.
Acclaimed singer-songwriter Margo also has her own brand of marijuana akin to Octogenarian mentor Willie Nelson's Reserve .
"They're in the process of growing this amazing plant, we couldn't decide what strain it was going to be," Margo revealed in an interview with Nu Country TV from her pick-up truck in her home driveway.
"My brand is Indica which is good for insomnia. It's very relaxing, it's a beautiful purple colour and I'm very pleased with how it came out.
MEGAN COOPER HONOURS RETIRED FOOTBALL STAR
Brisbane singer-songwriter Megan Cooper had good reason to honour a local football star forced into early retirement.

Megan quit an early passion for flamenco dancing that was cut short by painful ankle injuries.

So she wrote Running With Ghosts - one of the highlights of her second album Wild Mountain that followed an EP North and 2013 debut album Ghosts, Choirs and Kings.

Cooper also filmed a video for her tribute song that will be featured on Nu Country TV.

CLICK HERE for our Megan Cooper CD feature in The Diary.
MASON BOYS FEEL LIKE HOME WITH UNCLE NEV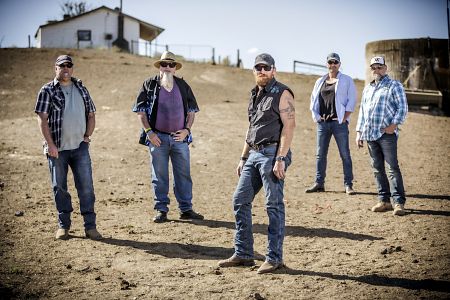 When Victorian quintet The Mason Boys needed a locale to film their video for nostalgia fuelled album title track Feels Like Home they didn't have to look far.
They chose the historic rural retreat - Uncle Nev's Trail Rides north of Melbourne at Upper Plenty - with its rustic charm.
The band is performing at major music festivals and venues to promote its album that also features a song about a fictional Byron Bay outlaw - The Ballad Of Billy M.
CLICK HERE to read our Mason Boys CD feature in The Diary.
BRAD COX DROUGHT BENEFACTOR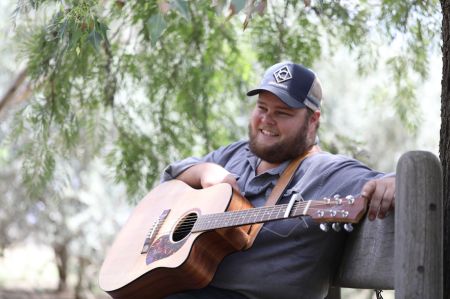 Jindabyne singer-songwriter Brad Cox was surrounded by lakes and rivers when he was raised in the Snowy Mountains high country.
But the 39th Toyota Starmaker winner experienced the soul destroying aftermath of drought in his four years as a stockman in the parched plains of the Northern Territory .
Now, as the latest drought worsens, the singer is raising awareness with his new single Water on The Ground and three rural charities.
CATHERINE BRITT RECORDS OUTBACK IN HER BACKYARD
Novocastrian singer-songwriter Catherine Britt boomeranged from storms of life on her earthy seventh album recorded in her bucolic Beverley Hillbillies studio, outback in the her backyard.

It's a true testament of her resilience that she wrote all songs after recovering from breast cancer diagnosed when she was just 30.

Now, three years down the Lost Highway , she has reaped riches from her post-operative journeys to the heart of our nation with her Cold-Cold Hearts trio.

The young mother illustrated entrée song Red Dirt with a vivid video shot at Silverton near Broken Hill.

CLICK HERE for our Catherine CD feature in The Diary.
KENNY CHESNEY SONGS FOR THE SAINTS AND VIRGIN ISLANDS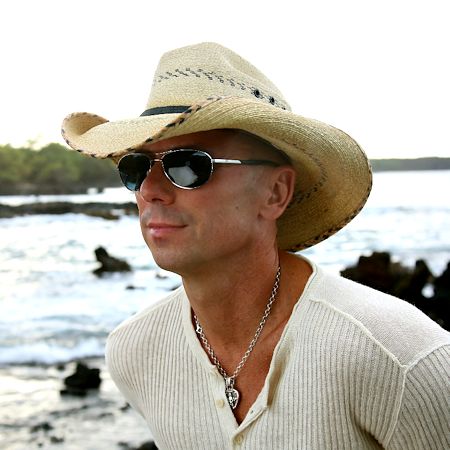 Singer-sailor-songwriter Kenny Chesney was born in Luttrell - the same east Tennessee town as the late Chet Atkins - but found fame and fortune deeper south in the Virgin Islands.
Chesney, 50, has swum in the slipstream of fellow briny balladeer Jimmy Buffett and debuted at #2 on the mainstream Billboard chart with his 20th CD Songs For The Saints.
The title track is also a perfect anthem for the struggling St Kilda football team who lost their major country music fans - former captain Nick Riewoldt and ruck-man Rhys Stanley - to retirement and Geelong.
Chesney exuded altruism by donating money and rescuing residents, anonymously at first, from his St John island home away from home after ravages of recent hurricanes Irma and Maria.
Kenny's album was inspired by human struggles and recovery and benefit his Love for Love City Fund Foundation for Virgin Island relief.
KIRSTY HONOURS HUNTER VALLEY STUDENT
Kirsty Lee Akers wrote and filmed a video and song for one of her music students who died at just 15 from cancer in the Hunter Valley.

Akers eulogy House Full Of Flowers (Hannah's Song ) was played at the funeral of Hannah Rye and is one of the highlights of her fifth album Under My Skin.

She is releasing the single and video on the anniversary of Hannah's death on August 21.

Hannah also appeared in one of Akers videos - Ain't That Kind Of Girl - during remission.
KEVIN DEALS TEXAN MUSIC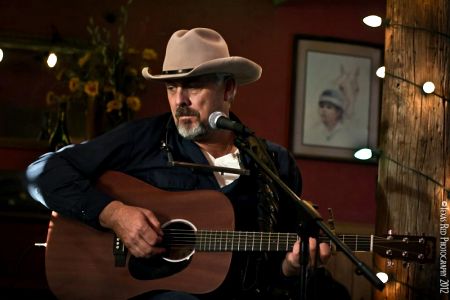 Texan troubadour Kevin Deal appeared in a live phone interview on Nu Country FM during our radio resurrection at our Harley House studio at the Paris , Texas , end of Collins St in 2001.
Now, 17 years down the Lost Highway the singer-songwriter-stone mason has released his ninth album The Long Road Home .
We will feature several new Deal video clips during our spring series of Nu Country TV.
CLICK HERE for our Kevin Deal CD review in The Diary.
GRANGER SMITH GOES VILLAGE GREEN
CHARLIE WORSHAM INTERVIEW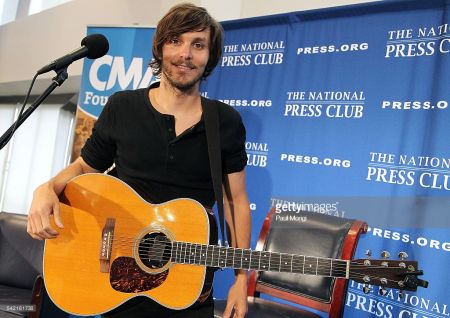 Mississippi minstrel Charlie Worsham won many fans during his April tour when he played historic Melbourne Forum Theatre with Georgian Kip Moore and South Carolina star Lee Brice.
That was after they headlined The Way Out West festival at the Waltzing Matilda Centre in Winton , Queensland.
Charlie, 32, also enjoyed a short but memorable role in TV crime series Bones.
But art didn't imitate life when struggling country singer Colin Haynes, played by Worsham, was murdered.
Instead Worsham released his second album Beginning Of Things for his Australian tour.
CLICK HERE for our interview with Charlie in The Diary.
LUKE COMBS FROM ASHEVILLE TO NASHVILLE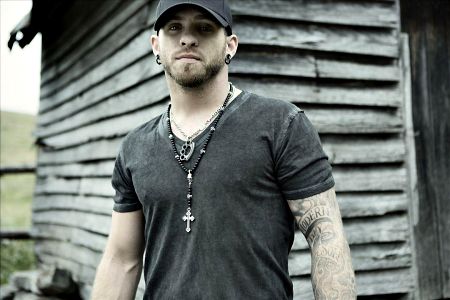 Nouveau new age North Carolina outlaw Luke Combs did it his way when he blew into Nashville from that other music mecca Asheville .
Combs dropped out of the fourth year of an Appalachian University degree and self-financed his debut single Hurricane in 2016 after releasing three indie EPs dating back to 2014.
Now, in the chilly winter of 2018, Luke is so hot after touring here with South Carolina star Darius Rucker his debut album has been re-released with five bonus tracks as This One's For You Too .
WILLIE LAST MAN STANDING
Shotgun Willie Nelson lives up to the title of his 67th studio album Last Man Standing released just two days before his 85th birthday.

The Octogenarian's wry wit permeates his self-effacing title track entrée that name checks deceased pioneer mates Waylon Jennings, Ray Price, Merle Haggard and Norro Wilson.

Willie bemoans passing of his peer pals in his mortality missive that ends him with him changing his mind and settling for longevity enjoyed by elder sister pianist Bobbie, now 87.

The seasoned singer-songwriter and actor has too much to live for - there's his 44th July 4 Picnic in Austin, his national Outlaw Music Festival tours and the long running Farm Aid festivals.

CLICK HERE for our CD feature of Last Man Standing in The Diary.
ASHLEY MONROE SPARROW FLIGHT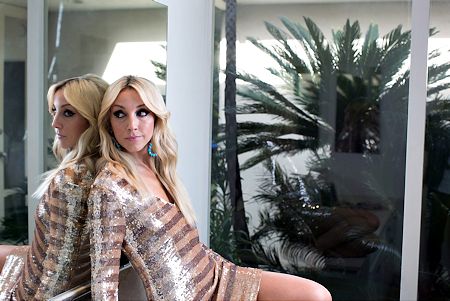 Knoxville girl Ashley Monroe had a little help from Texan singing actor Waylon Payne and her Pistol Annies pals Angaleena Presley and Miranda Lambert when she recorded her fifth solo album Sparrow .
The singer-songwriter co-wrote all 12 songs on her album that includes new video clips featured on Nu Country TV .
Monroe , 31, revealed in her Nu Country interview that Pistol Annies also have plans for their third CD.
CLICK HERE for our Ashley interview in The Diary.
JOHN FLANAGAN PRESTON PORCH PICKING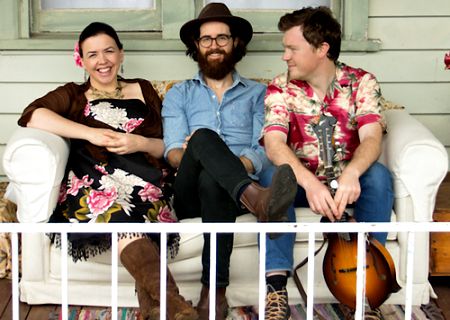 Preston singer-songwriter John Flanagan's Trio attracted a crowd to their Preston porch picking hoedown to promote his video Something To Complain About on his third album Honest Man.
It was recorded in February 2017 over four days at Dog & Bear studio in Trentham - the central Victorian town that veteran country singer and DJ Gene Bradley Fisk now calls home after moving from Moriac.
It also features songs on uber driving for Paul Kelly that inspired The Last of The Cassette Men and historic lament Free John Zarb.
Pascoe Vale postman Zarb went to gaol - instead of delivering mail - in 1968 as a Vietnam War conscientious objector.
MUSGRAVES MASS INVASION OF TV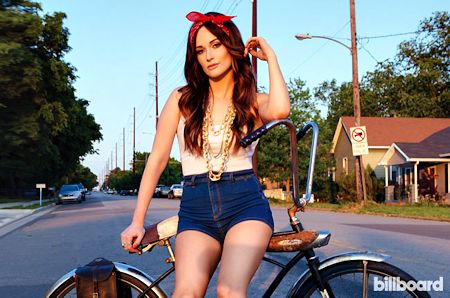 Kacey Musgraves recently performed new songs High Horse and Slow Burn on popular TV show Saturday Night Live hosted by Amy Schumer.
She also appeared in a pre-taped Spirituality Rap skit that features Musgraves as a choir girl - spoof of a rap music video airing on MTV Hungary.
The singer also headed south to Texas where she appeared live on Austin City Limits to promote her huge selling seventh album Golden Hour.
BLAKE SHELTON REVISITS TEXOMA SHORE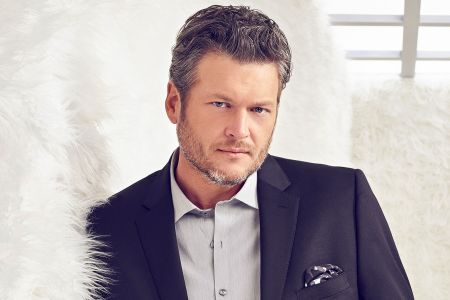 Oklahoma chart-topper Blake Shelton has long honoured his home state in his music so it's fitting he named his 13th album after a lake near his home.

Lake Texoma is a reservoir formed by Denison Dam on the Red River at the border of Oklahoma and Texas.

The lake is south of both Tishomingo, Oklahoma where Shelton lives, and his hometown Ada .

Album entrée I'll Name The Dogs exudes extra-marital canine humour for the twice wed singer and his new single I Lived It is accompanied by a video on Nu Country TV on Saturday June 16.

CLICK HERE for a review of Texoma Shore in The Diary.
WOLFE BROTHERS SURVIVE ON VAN DIEMANS LAND BERRIES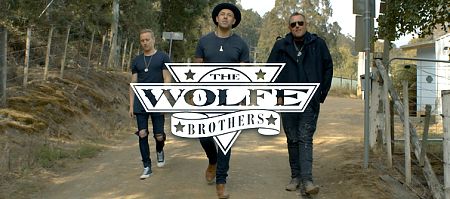 Tasmanian country band The Wolfe Brothers have survived on a healthy mixture of home grown berries and music.
The band's music and video clips are a huge promotional tool for their home state and Fairy Glen berry farm that has been in the Wolfe family for almost 110 years.
Nick and Tom Wolfe and band member-songwriter Brodie Rainbird are promoting their fourth album Country Heart on a national tour that includes concerts with their mentor Lee Kernaghan.
CLICK HERE for our interview with Tom Wolfe in The Diary.
DARREN COGGAN - FROM WAGGA WAGGA TO YARRA-YARRA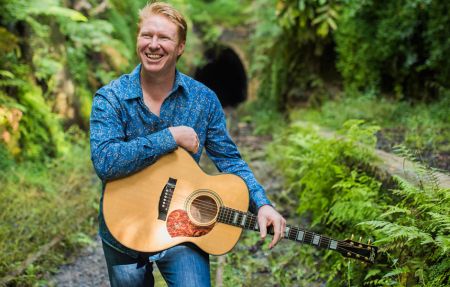 Riverina raised singer-songwriter, TV host and actor Darren Coggan was a huge bonus on the 2018 Powercorp Australian Country Music Festival - the outside curtain raiser for the Geelong-Essendon AFL game.
Coggan, concert opener Michelle Gardiner, Mallee Boy John Williamson and The Black Sorrows kicked the dew off the grass at the Yarra Park free concert.
The concert, promoting fresh country produce, the Food Bank and bush reared footy stars, also showcased armies of volunteer CFA and SES volunteers who keep urban and rural residents free of predatory pestilence.
Former Prahran plumber and superstar marathon Essendon coach Kevin Sheedy hugged babies, kissed babes and promoted the bush with a selfie splurge as fans enjoyed healthy alternatives to that joyous wedding across the ocean.
DEAD LIVERS 40TH ANNIVERSARY RESURRECTION
CONCERT REVIEW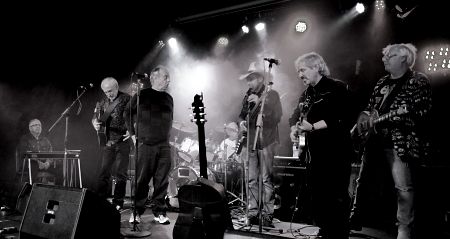 Veteran outlaw country band The Dead Livers celebrated their 40 th anniversary with a CD launch concert at Thornbury Theatre.
The septet was supported by Nu Country TV hosts Paul Hicks and Red Smith and Nu Country FM DJ Kenny Joe Blake and other guest artists.
Lost In Suburbia musician Peter Bird, who re-mastered the band's Greatest Misses CD at his Yelp Studio in Warrnambool, also appeared on the show featuring photographs by former Nu Country treasurer Kip Karpik.
CLICK HERE for our expansive review on our Concert Page.
DEVIN DAWSON RIDES DARK HORSE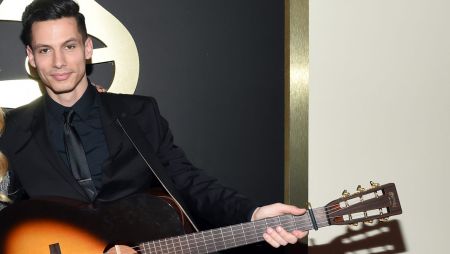 Californian singer-songwriter Devin Dawson first appeared on Nu Country TV with a video clip recorded at the old Tennessean state prison.
Dawson , 28, returns with his debut CD Dark Horse that has been released here ahead of a planned tour.
CLICK HERE for our Devin Dawson CD review in The Diary.
KASEY CHAMBERS IGNITES CAMPFIRE ALBUM AND TOUR
THREE WISE MEN AT THE FORUM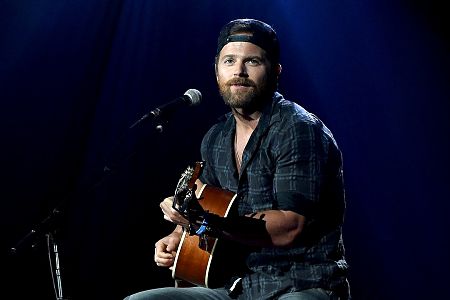 Georgian Kip Moore headlined an Anzac Day spectacular concert at the historic majestic Forum in Melbourne CBD during his latest Australian tour.
South Carolina born Lee Brice and Mississippi man Charlie Worsham also performed to a capacity crowd on a tour created by late Nu Country TV benefactor Rob Potts and fellow Tasmanian born promoter Michael Chugg.
CLICK HERE to read our live review in our Concerts Section.
CALAMITY JANE DENHAM LOADED UP AND TRUCKING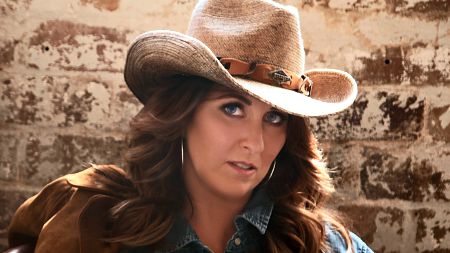 NSW Central Coast chanteuse Jayne Denham has released her fourth album Calamity on the eve of her return to Nu Country TV .
The trucking troubadour recorded at the Nashville studio of Rascal Flatts bassist Jay De Marcus during one of her many international writing and performing sojourns.
Her Calamity video is one of 14 she has filmed to promote her music.
CLICK HERE for our Calamity CD feature review in The Diary
VALE CYNDI BOSTE
"Our condolences to the family and friends of revered Victorian singer-songwriter Cyndi Boste who passed away on April 21 - just eight days before her 57th birthday.

The much loved artist's life is celebrated at Daylesford Town Hall on Thursday April 26 from 1.30 pm.

Cyndi fought a spirited battle with cancer and died in Daylesford Hospital after a colourful career here and overseas.

The Dandenong Ranges born singer and her double bassist brother Rory, who recorded with The Band Who Knew Too Much , enjoyed a 35 year plus career.

Cyndi released four acclaimed albums and performed a Nu Country TV benefit showcase at the Hotel Kew in August, 2006.

CLICK HERE for a Cyndi feature in The Diary on August 29, 2006.

CLICK HERE for a Peter O'Keefe review of a Cyndi CD launch on August 22, 2004.
WIN KIP MOORE CD SLOWHEART
MARGO PRICE TEAMS WITH OCTOGENARIAN MENTOR WILLIE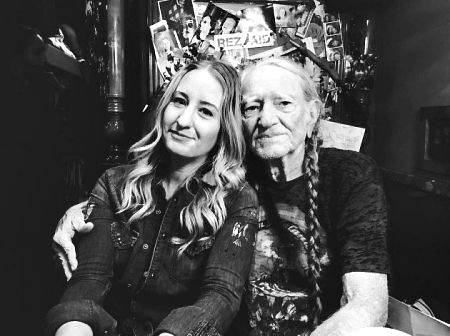 Midwest Farmer's Daughter Margo Price had no trouble recruiting Texan singing actor Willie Nelson and the McCrary Sisters to guest on her second album All American Made .
Willie, 85 on April 29, often hosts Margo on his tours, July 4 festivals, Farm Aid and annual shows at his movie town Luck where she has filmed live videos in his chapel.
Margo, now 34, and guitarist husband Jeremy Ivey wrote all 12 songs on her album that has won wide acclaim.
The singer has primed the sales pump with frequent appearances on top rating U.S. variety shows.
CLICK HERE for a Margo Price CD feature in The Diary.
DEAD LIVERS 40 TH ANNIVERSARY REMASTERED
GREATEST MISSES CD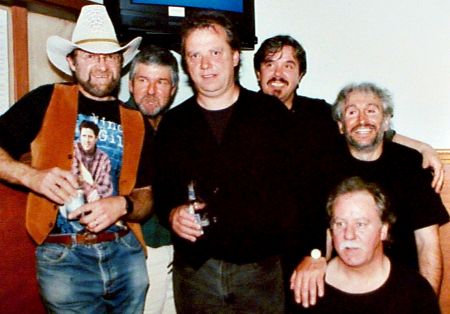 Pioneer Victorian outlaw country band The Dead Livers celebrated its 40th anniversary by releasing a re-mastered edition of debut CD Greatest Misses.
By popular demand the band has changed the CD launch venue to the Velvet Room of Thornbury Theatre at 859 High Street , Thornbury, on Saturday May 12.
There are three new alternate songs on the 14 track CD that was re-mastered by Lost In Suburbia guitarist Peter Bird at his Warrnambool recording studio Yelp .
Ironically, bassist Michael Schack and pedal steel guitarist Brendan Mitchell both boomeranged from successful liver transplants to enjoy their musical and personal longevity.
Their Greatest Misses CD is also available as a digital download.
PETER CAULTON OBITUARY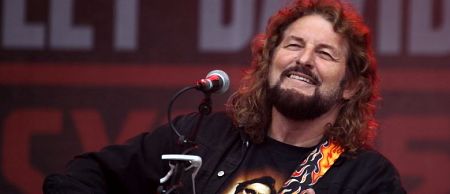 Pioneer New Zealand country music outlaw Peter Caulton who found success in Australia with a 1996 album recorded in Austin , Texas , has died after a heart attack shortly after his 71st birthday.
Caulton was the headliner on the Spurs Cowboy bar circuit in Melbourne , Geelong and Canberra in the eighties and played major festivals and TV shows here and overseas.
The singer also scored wide exposure on his duet with the late A.P. Johnson on his Duncan parody I'd Love To Have A Smoke With Malcolm that he wrote while hosting his country music show on 3RRR-FM.
It first appeared on a four track cassette during Willie Nelson's 1981 Australian tour and The Dead Livers Greatest Misses CD.
Caulton also released acclaimed album Hard Road, Tough Country that he recorded with Austin A Session pickers in Texas in 1996.
It included Caulton's version of former Nu Country FM DJ Kenny Joe Blake song Who Drove The Mystery Train?
Caulton performed it live on a German TV show. https://www.youtube.com/watch?v=GhEyfufbTu0

CLICK HERE for the Caulton obituary in The Diary.
MICHAEL WAUGH CD LAUNCH AND REVIEW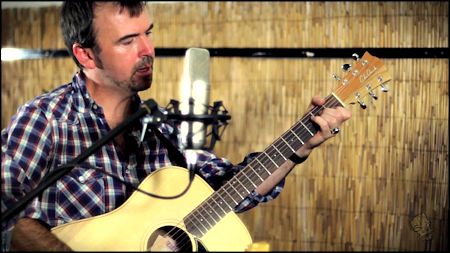 Gippsland dairy farmer's son and latter day singer-songwriter and secondary teacher Michael Waugh launched his second album The Asphalt & The Oval at The Spotted Mallard in Brunswick on Friday March 23.
Also on the bill were Melbourne bluegrass band The Weeping Willows, Canadian troubadour Scott Cook, Lindsay Martin, Mandy Connell and Rich Davies.
Waugh's album, produced by Shane Nicholson, explores a younger brother's battle with cancer, rural family struggles, football challenges and other personalised narratives.
REDGUM ROADIES RELEASE
Veteran Adelaide country folk band Redgum have donated proceeds of their historic 1985 Live In Amsterdam CD to a roadies support group.
Redgum , renowned for support of military veterans and other major causes, is first band to step into the breech for Australian Road Crew Association - a not for profit organisation dedicated to welfare of live production crew.
Live In Amsterdam is the debut disc on Black Box Records for ARCA that provides financial and counselling assistance to road managers who experienced high suicide rates and health issues after their employment ceased.
Roadies amassed a treasure trove of live recordings spanning more than 40 years and made ARCA their custodian.
Acts including Australian Crawl, The Church, Cold Chisel, Crowded House, Men At Work, Mental As Anything, Midnight Oil, The Models and Paul Kelly plan to assist the crews who helped them on their journey.
CLICK HERE for the CD story in The Diary.
RICK HART CHANNELS EMMYLOU AND LEVON HELM
VALE NU COUNTRY TV BENEFACTOR ROB POTTS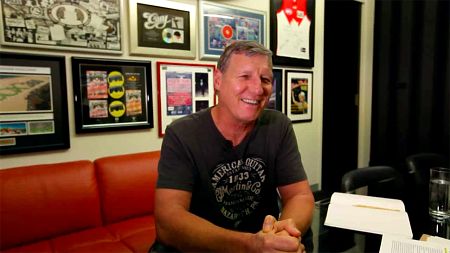 Altruistic country music promoter, indie record label operator and manager Rob Potts died tragically on October 27 doing what he loved - escaping to the wilderness of his home state Tasmania .
Rob, 65, perished when his red Honda motor bike hit a patch of gravel on a sharp corner 31 kilometres west of Tullah on the island state's West Coast Ranges.
Potts, a major benefactor of Nu Country TV with fellow Tasmanian born promoter Michael Chugg, often retreated on hikes through the wilderness before their major festivals and tours.
Rob and Michael have long been generous benefactors of Nu Country TV with sponsorship of their major tours and festivals.
CLICK HERE for our tribute to Rob in The Diary.
KINKY FRIEDMAN FINDS MEMO IN ST KILDA
WIN BRAD PAISLEY CD
We have West Virginia superstar Brad Paisley's huge selling ninth album Wheelhouse that topped charts on debut with sales of 100,000 plus.

Paisley's sensational 21 track album explores racism, religious extremism, domestic abuse and pitfalls of cyber cheating on Facebook.

We also have singing actor Tim McGraw's 12th album Two Lanes Of Freedom and others announced as we count down the days to our return.

You can win the album by visiting our membership and Facebook pages.


CLICK HERE for an exclusive new feature on Brad in our Diary.

CLICK HERE for our Membership Page to see how you can win Wheelhouse.
WIN GARY ALLAN CHART TOPPING CD
SERIES #19 GRAND FINALE OFFER
NU COUNTRY ON CATCH UP TV ON CHANNEL 31
If you miss Nu Country TV live on C 31 Saturday 10.30 pm or Monday 2.30 pm and midnight and Thursday at midnight there is another way to see the show at your leisure.

Visit the Channel 31 programs web page and Click on the Nu Country logo and follow the link to Catch-Up TV.

Here is the Channel 31 web page address - http://www.c31.org.au/program
FACEBOOK DEBUT
You can also follow Nu Country TV on Facebook - courtesy of gig guide collator Annie Christophers and our loyal public officer Denise Kuhl.

They will post photos of their overseas festival tours and local concerts they attend.
You can interact live with them at Facebook - http://www.facebook.com/NuCountryTV
The Nu Country TV show has been added to the C 31 streaming list.

Just follow this link on your computer or mobile phone when we return -
http://www.c31.org.au/program/view/program/nu-country-tv

Nu Country TV also returned to C 31 - Digital 44 - in South Australia on Thursday October 11.

The far-reaching Adelaide station screens Series #18 at 9.30 pm each Thursday.
WIN DIERKS BENTLEY NEW CD
WIN ERIC CHURCH CHIEF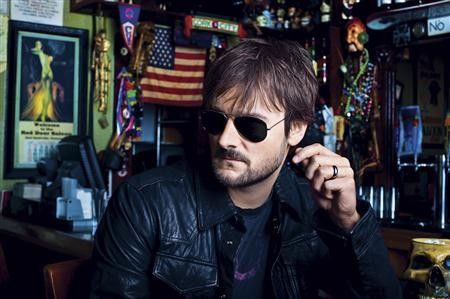 Eric Church
EMI Records Promotions ace Bianca O'Neill has donated copies of the hot albums by North Carolina young gun Eric Church.

Eric, 37, topped the all genre Billboard Top 200 on debut with his third album Chief and 5th album The Outsiders that we feature in Series #25 of Nu Country TV .

You can help Nu Country TV survive and triumph on C 31 and win the Chief CD as a token of our appreciation

CLICK HERE for our membership page to check out your latest rewards for keeping our flame burning bright.

CLICK HERE for an exclusive Eric Church feature in our Diary.
HOW TO WATCH NU COUNTRY TV LIVE ON THE WEB
We have more good news for Nu Country TV fans here and overseas.

Select episodes of the show are now available online at the digital web page of the Victorian mother ship C 31.

That's a bonus for Peter Hosking - our founder and executive producer-in-exile in
Prague - and international artists touring Australia in 2011.

The episodes available for viewing online are the latest episodes of Series 15,
2011.

Visit : www.c31.org.au/program
And Click on Nu Country TV

MORE VIDEO CLIPS NEEDED
Nu Country TV beams into Phillip Island, West Gippsland, Geelong & the Surf Coast, Bellarine Peninsula, north to Mt Macedon and east to the Dandenongs.
We're also featured on C 31 in South Australia - home state of expatriate Greencards multi-instrumentalist Kym Warner and Nashville recording artist Jedd Hughes.
Golden Guitar winner Beccy Cole, Jake Nickolai and 2000 Star Maker winner Cat Southern also earned their stripes in home state South Australia.
This means 750,000 viewers plus for videos, interviews and live gig footage weekly.
Please send your video clips in mini-DV or DVD-R format to Nu Country - 45 Ferndale Rd, Glen Iris 3146
We'll keep you up to date on country music through our concert reviews, features in our Diary and tours in TonkGirl's Gig Guide.
CLICK HERE for our Gig Guide.
And CLICK HERE for our live concert reviews.
©nu country 2003
contact:music@nucountry.com.au


Last update
9 December 2019

Nu Country TV
C31 VICTORIA
SERIES 42
starts on
30 November 2019
Time: 9.30pm
Repeated
Monday 7.30 am

VIEW SELECTED
SHOWS ONLINE
ON C31

DIG COUNTRY RADIO
The ABC has added Dig Country to its on-line jazz and roots radio stations.

Adelaide bluegrass and roots country expert Richard Porteous and peers have created a joyous sound that is reminiscent of Nu Country FM in its halcyon days.

Tune in by visiting Dig Country
LOCAL COMMUNITY RADIO
Other radio avenues include -

David Heard's Acid Country on PBS 106.7 FM
Thursday 3-5.30 PM
Now streaming live

Denise Hylands Twang on RRR 102.7 FM Saturday 2-4 PM
Now streaming live

COLIN WEIDNER
Texas Time Travellin North West FM Glenroy 98.9 Saturday
6 p m - 8 p m

FRANK MCHUGH
That's Country
North West FM Glenroy 98.9 Sunday
12pm - 3 p m
IAN EDWARDS
playing a mix of Oz, US, Bluegrass Western swing & everything in between, on the Double Clutchin Weasel Show On 88.6FM
Wednesday night
@ 10.00PM - 12.00pm
GEELONG COUNTRY 89.3 FM - 24 hours non-stop country
Stereo 974 FM - Bob Taylor 9 am - 6 pm week days.
Truck Stop Country Rod Boyd - midnight to dawn.
Now streaming live

5 Foot High And Rising with Myles O'Neil Shaw PBS - 106.7 FM - Monday 1-3 p m.

3RPP Mornington Peninsula Radio

Monday 7-9pm
Country Mix with Ken Brown
Saturday 7-9pm
Kool Country
Barbara Kuhl
Tuesday & Thursday Breakfast 6-9am
Wild Western Swing and Wicked Wacky
Country - Steve Burley
Sunday 4am-7am
BJs Country Music John Burrows
2AIR FM 107.9 COFFS
HARBOUR/INTERNET RADIO/PLAY
Graham Bell
8PM TO 10PM EVERY THURSDAY NIGHT